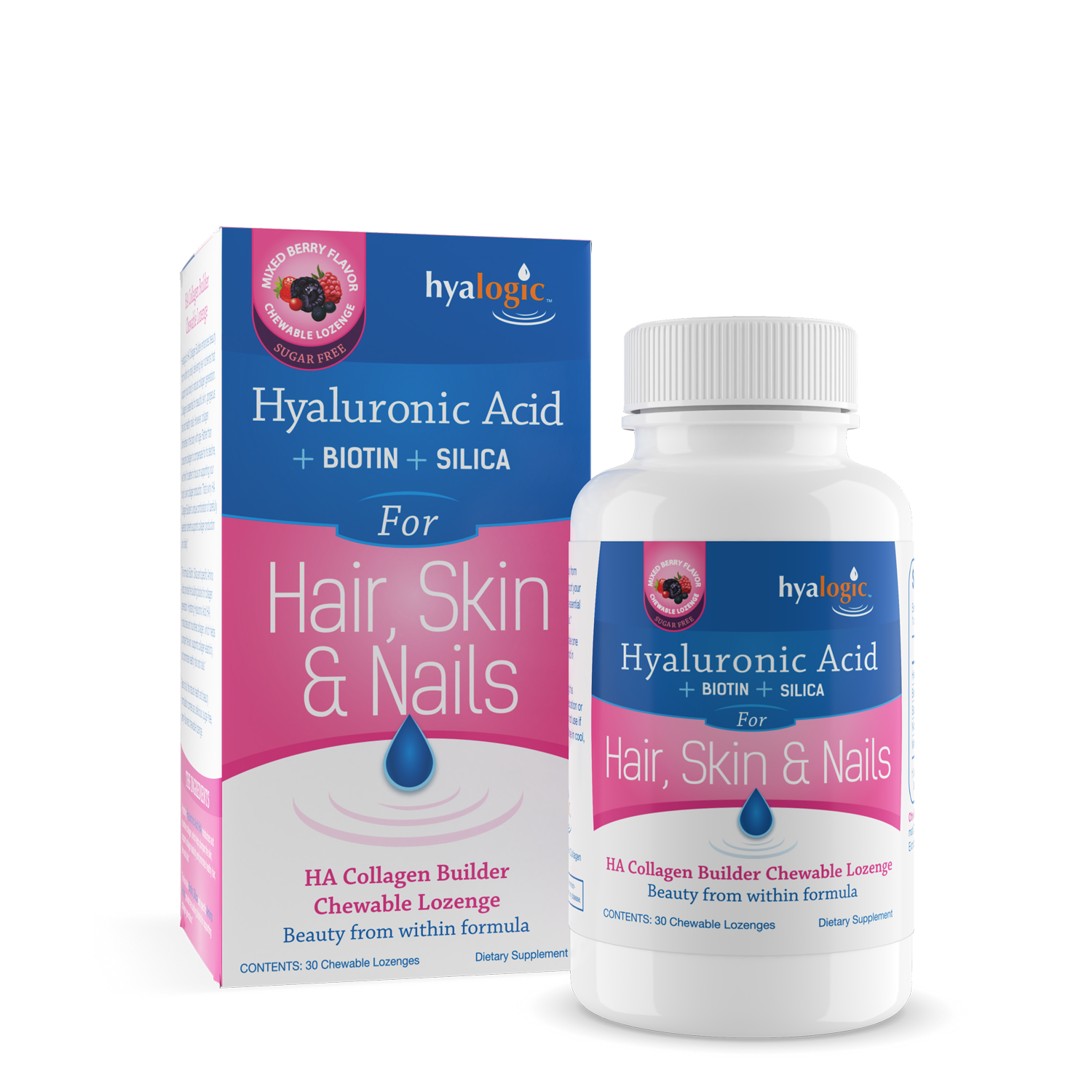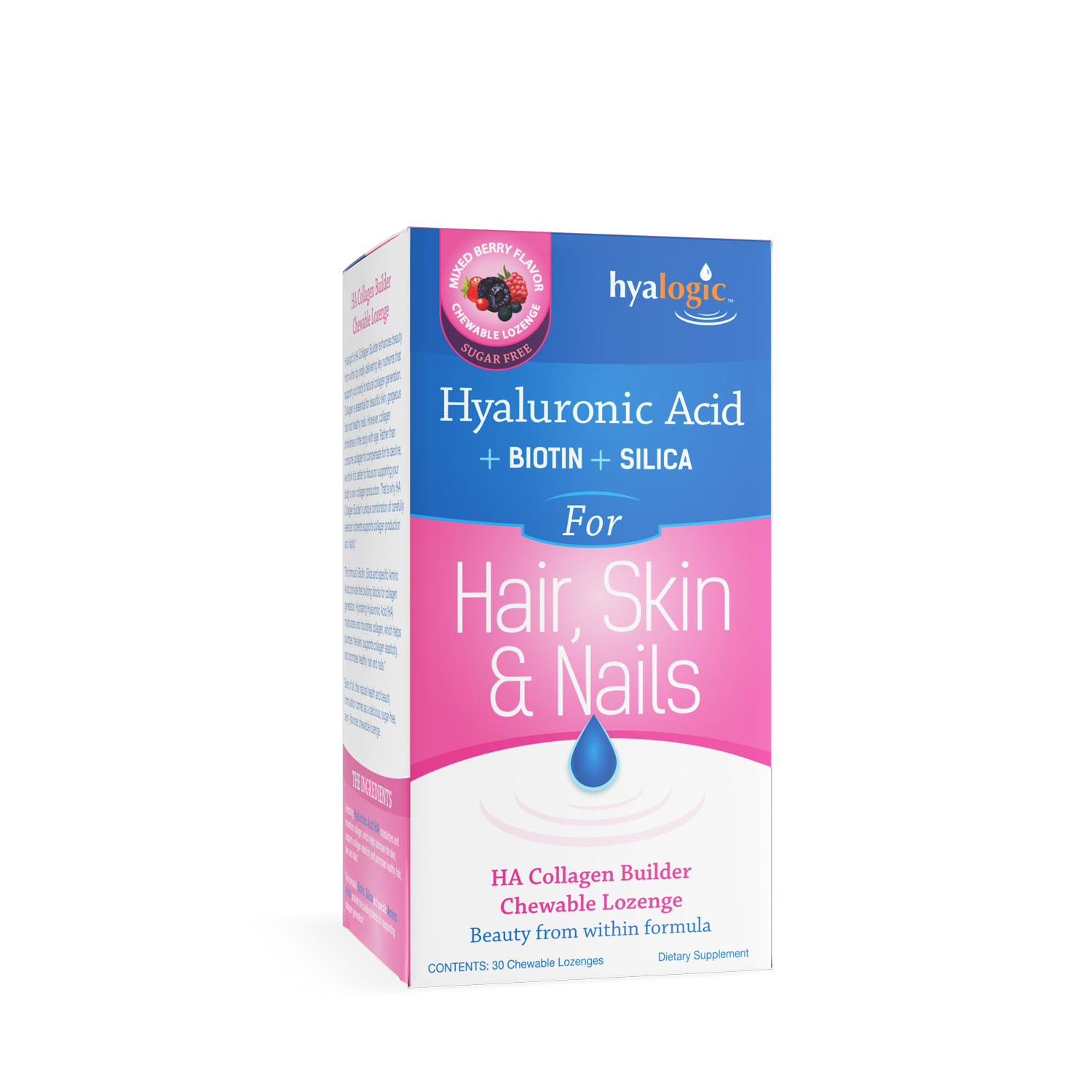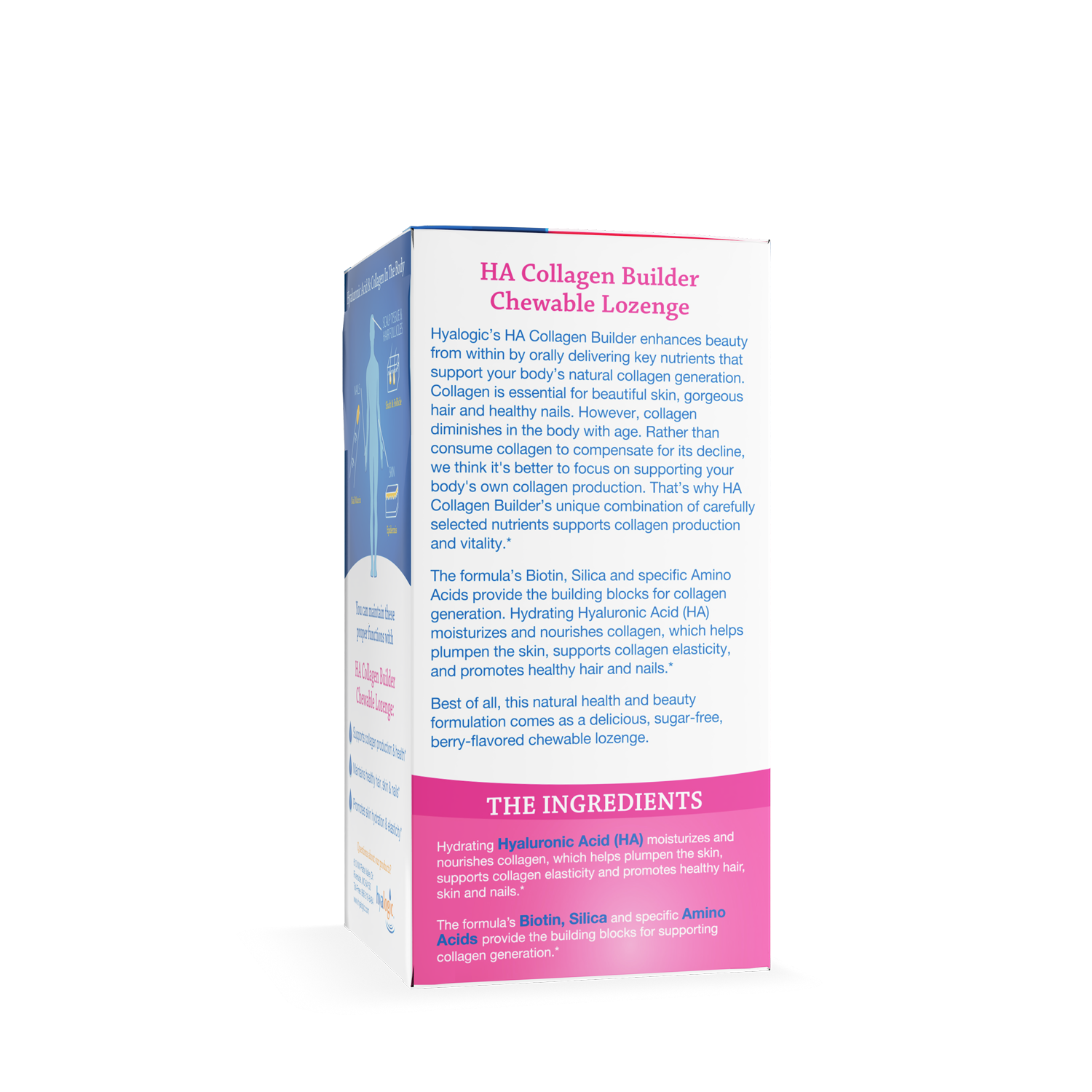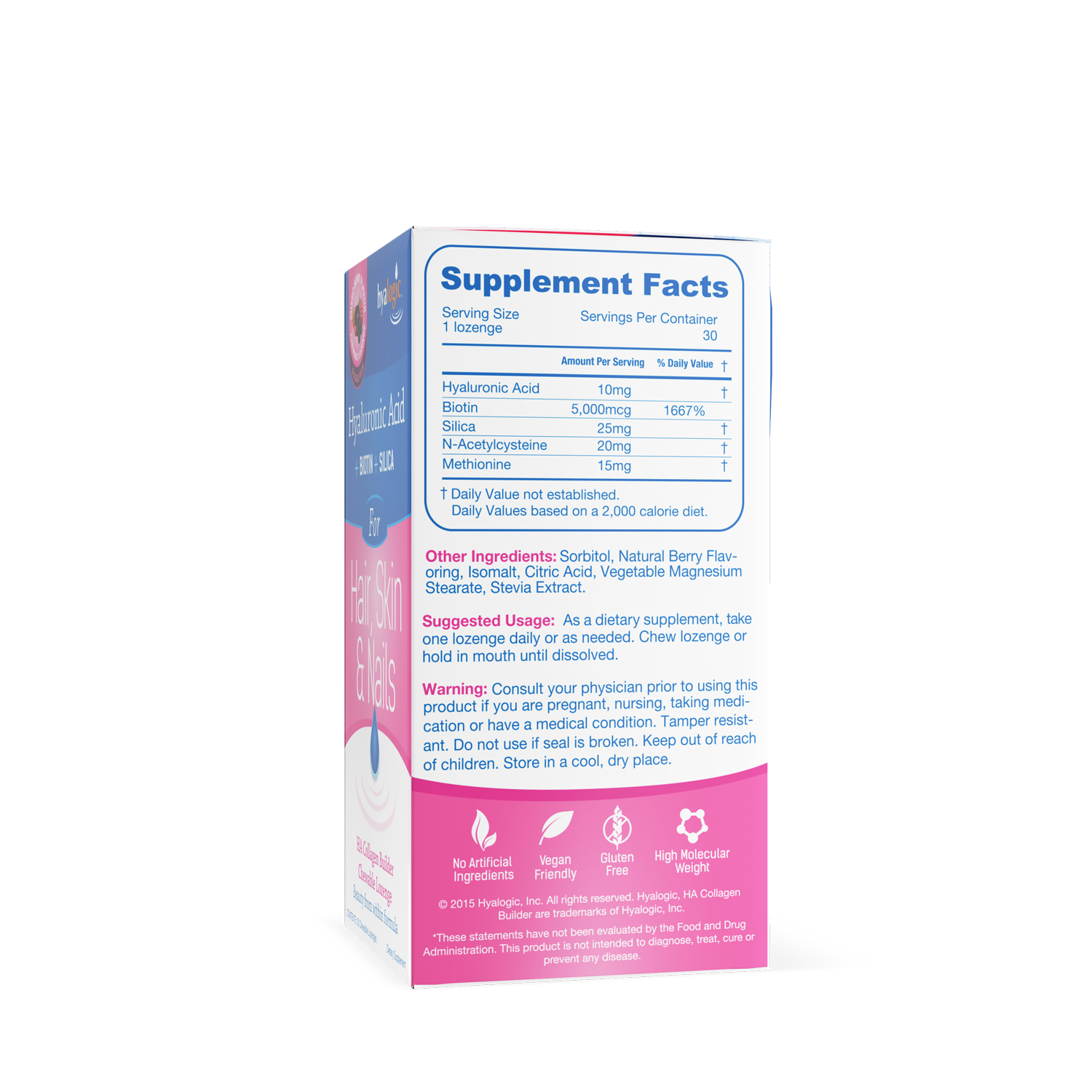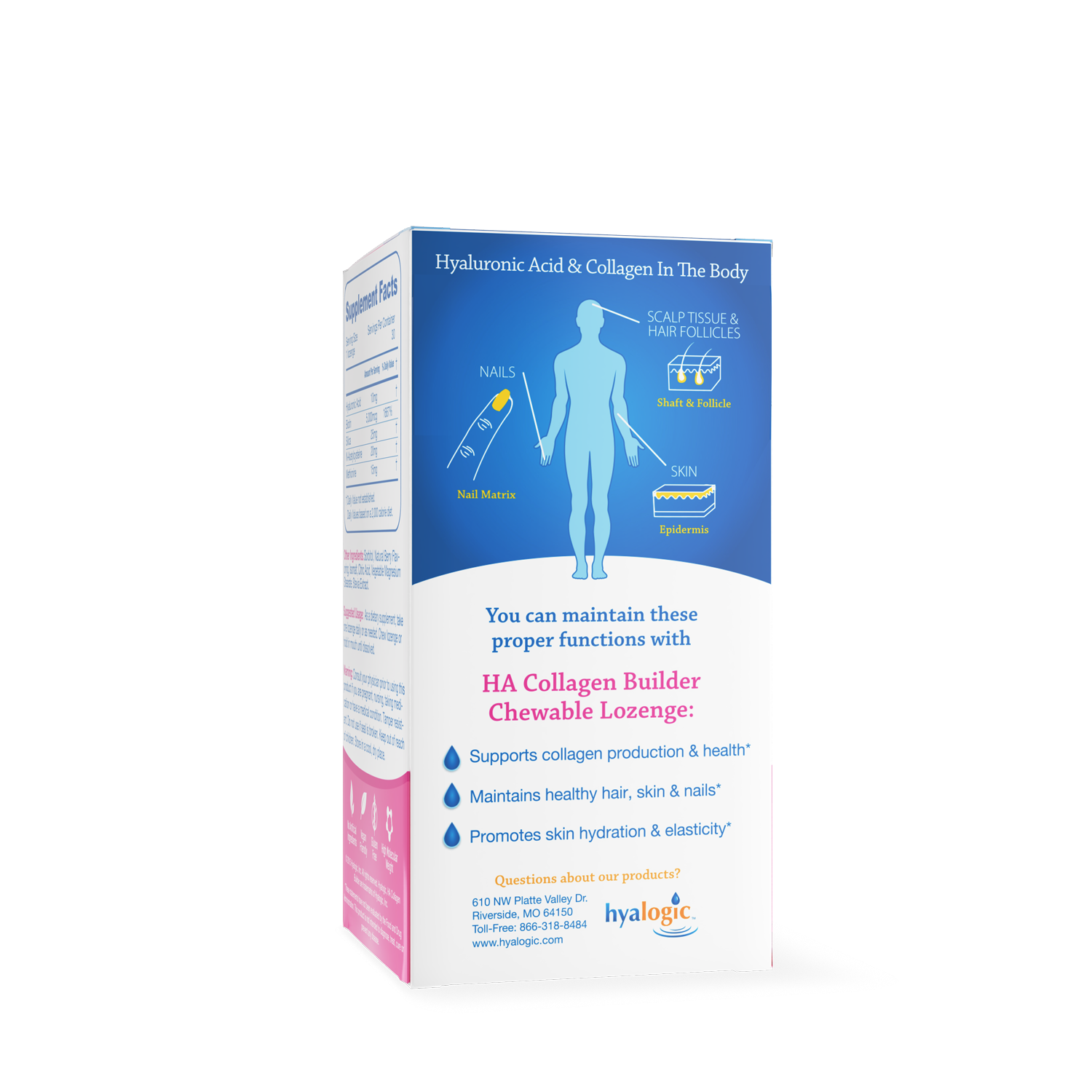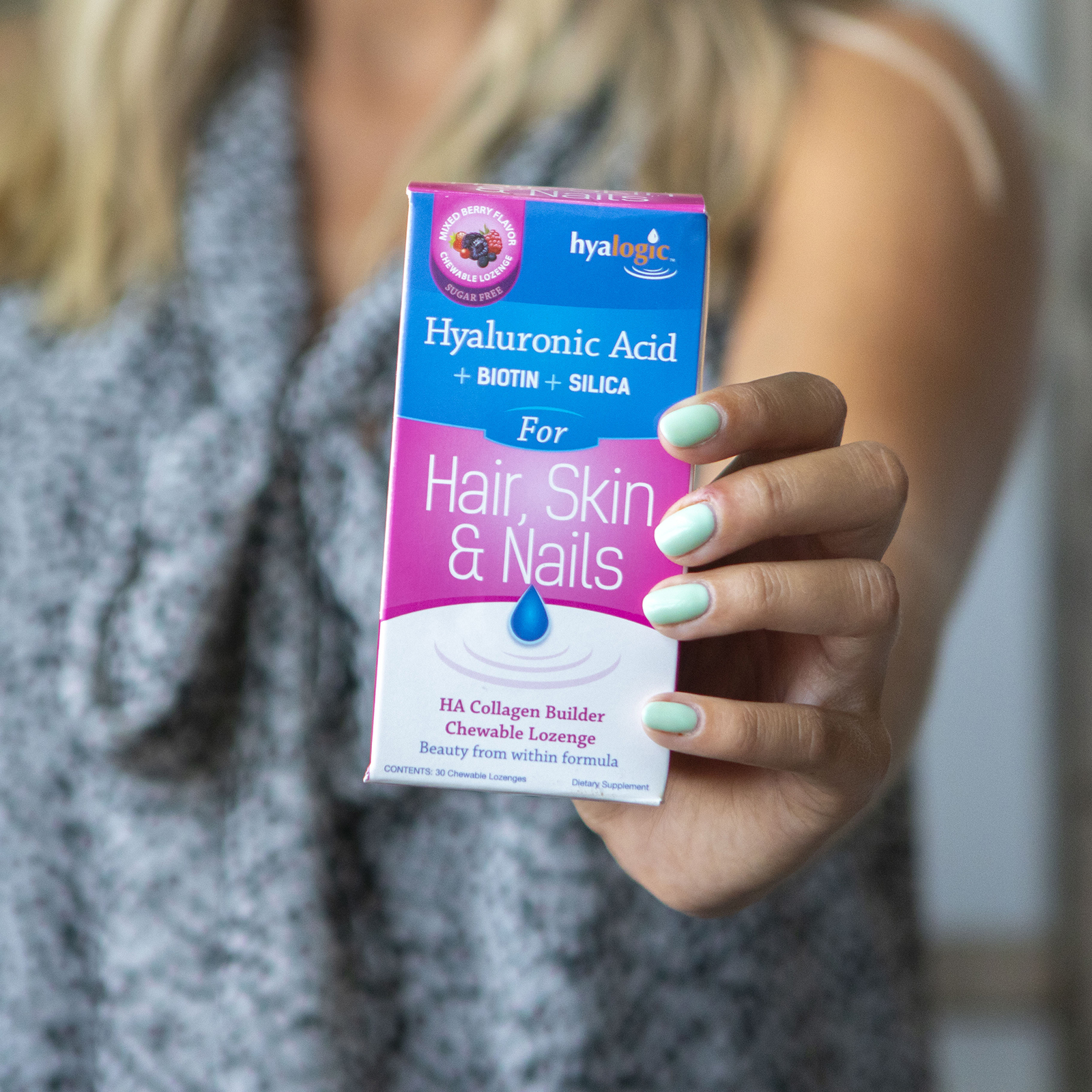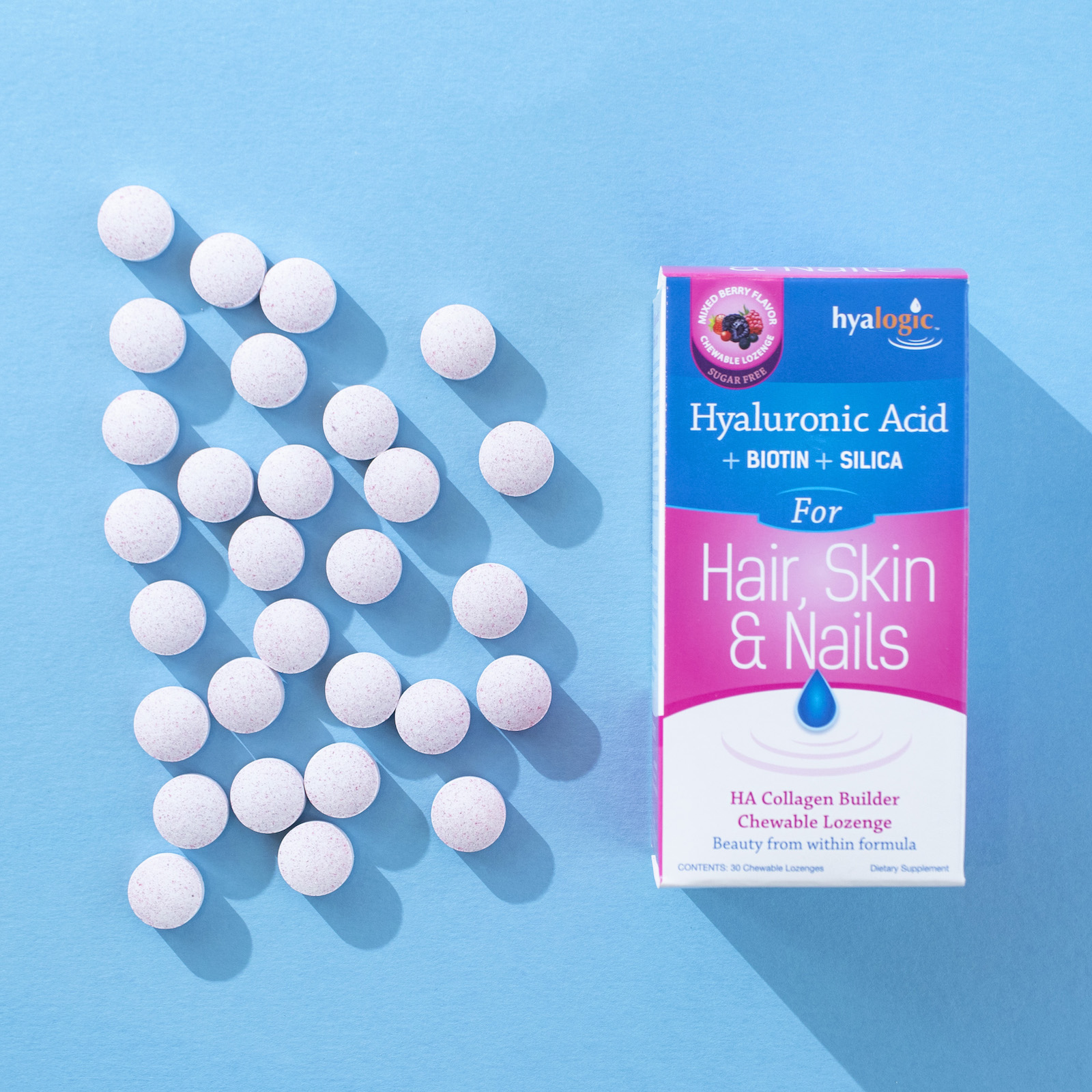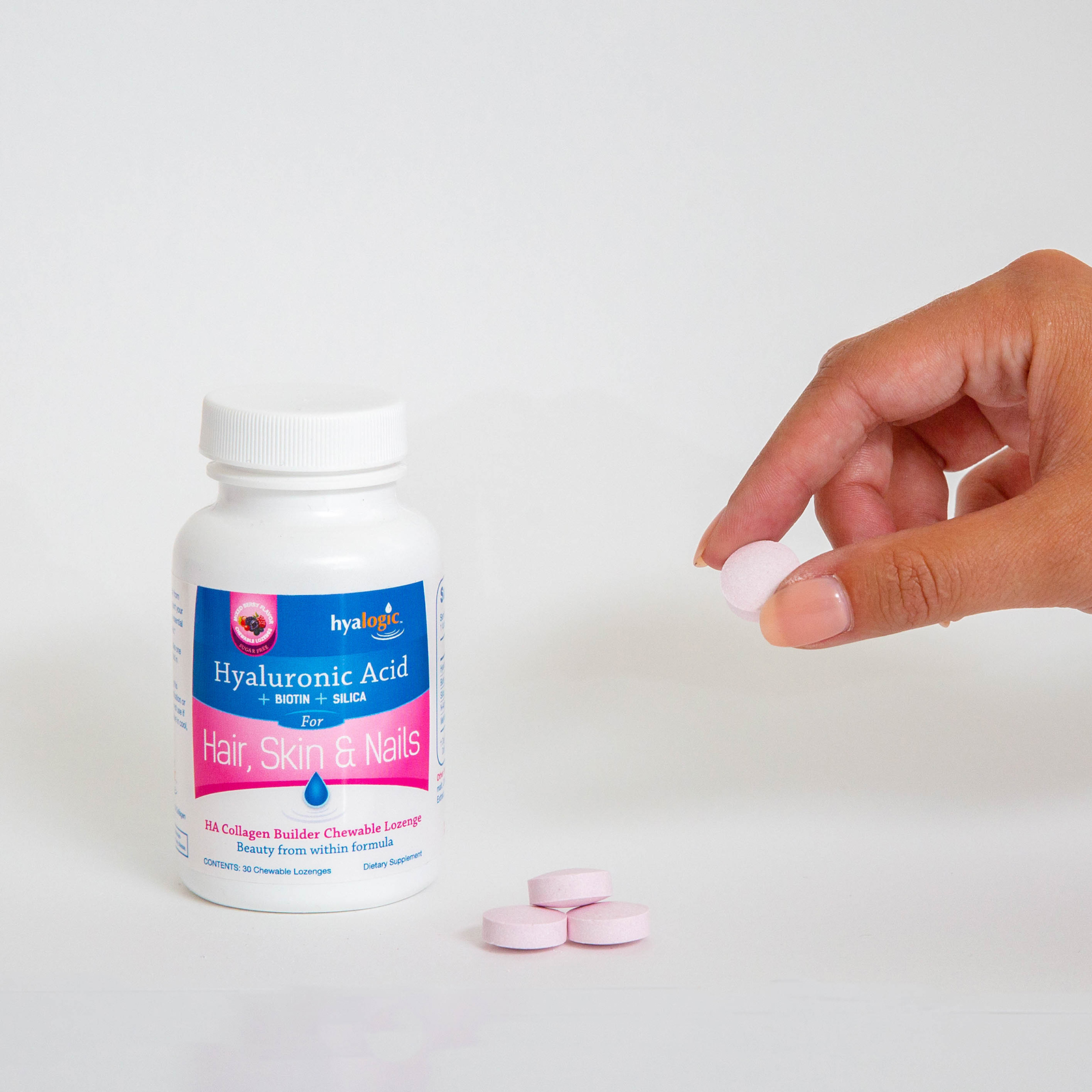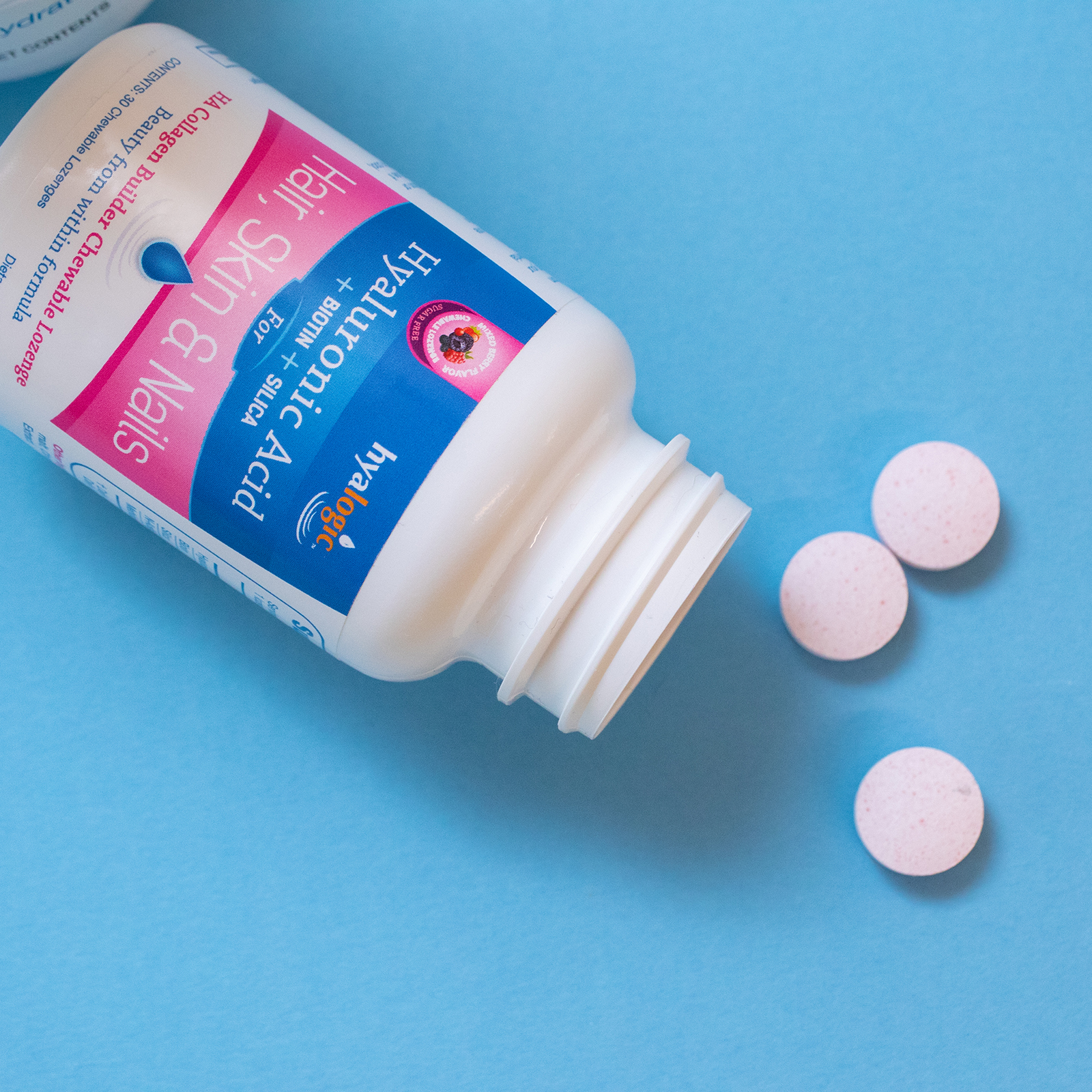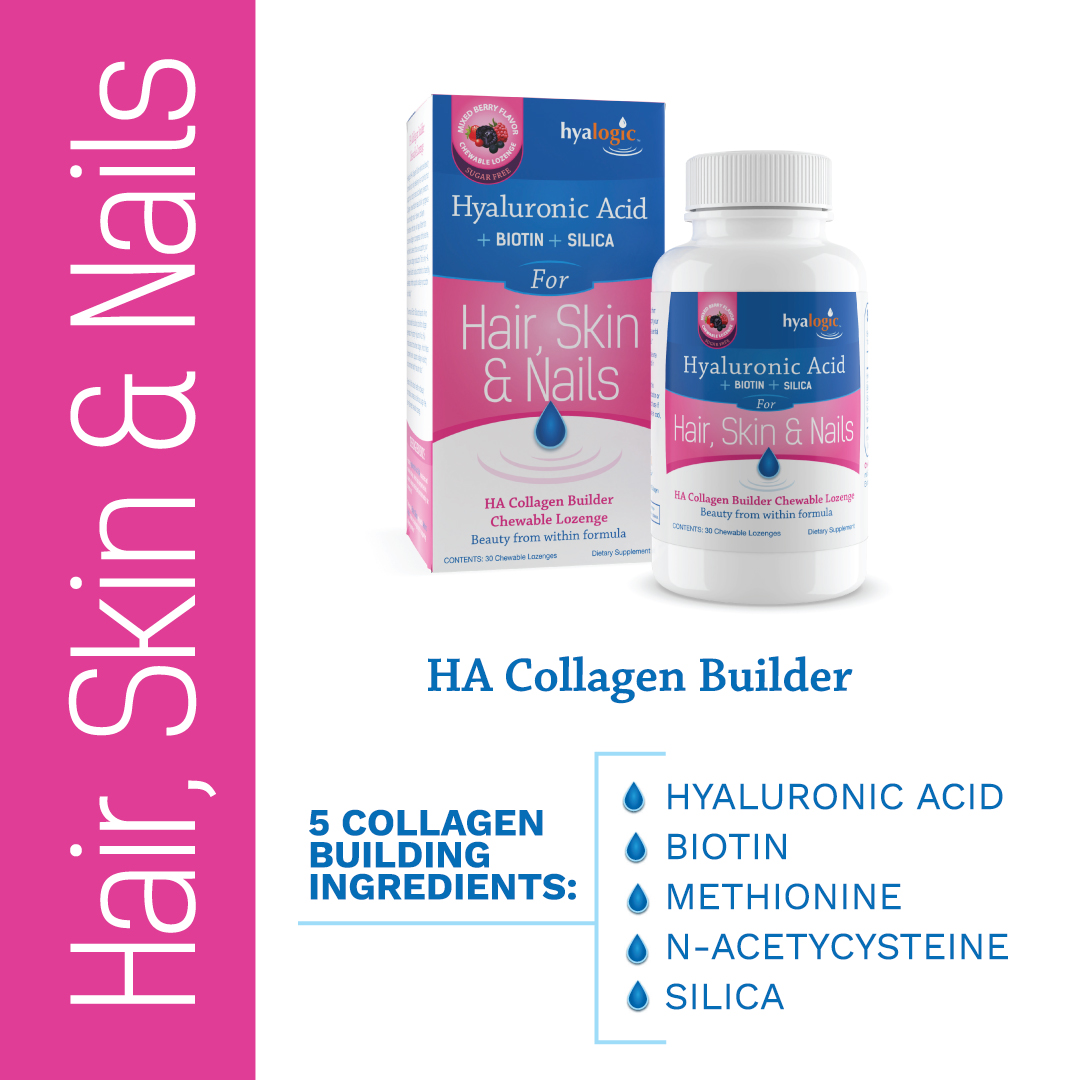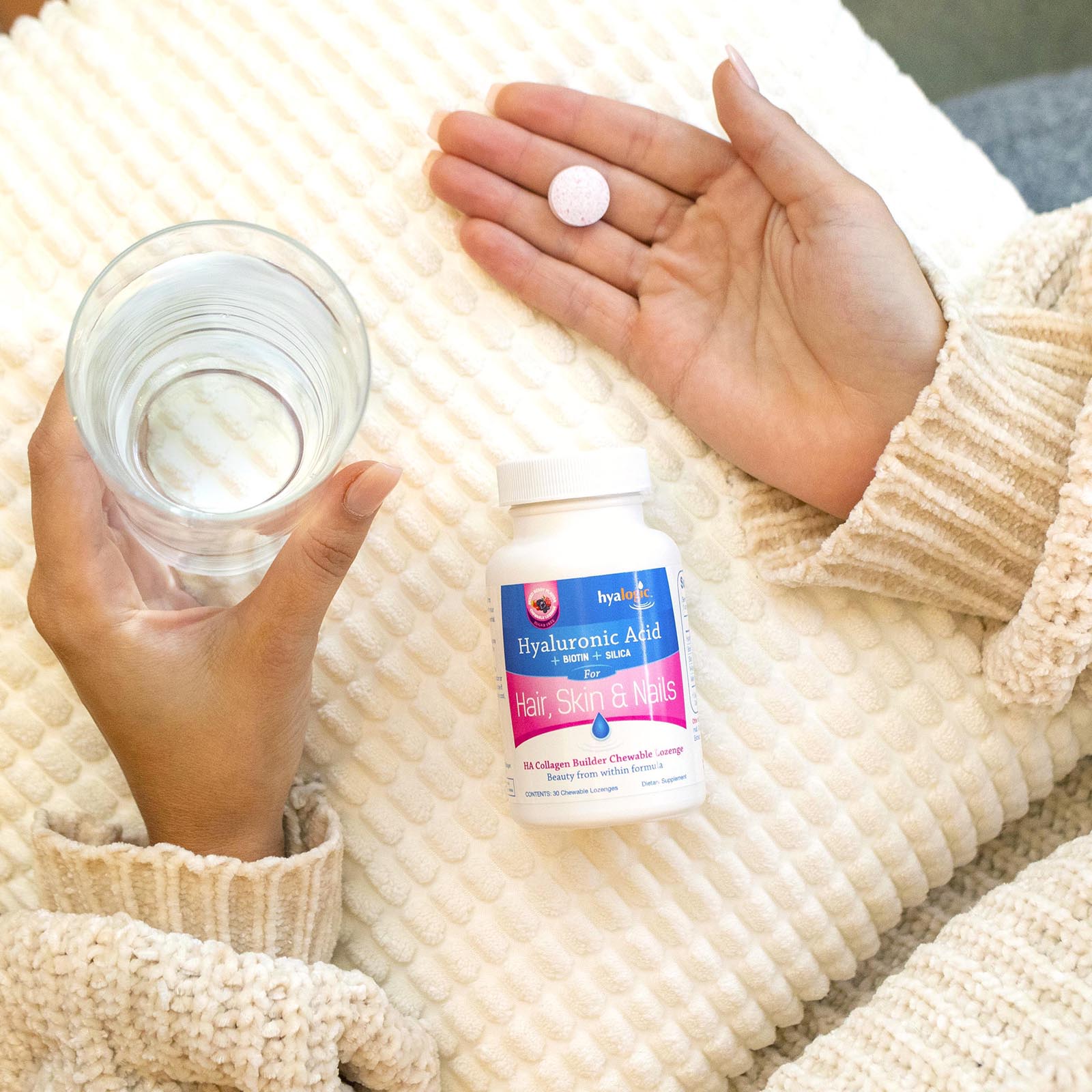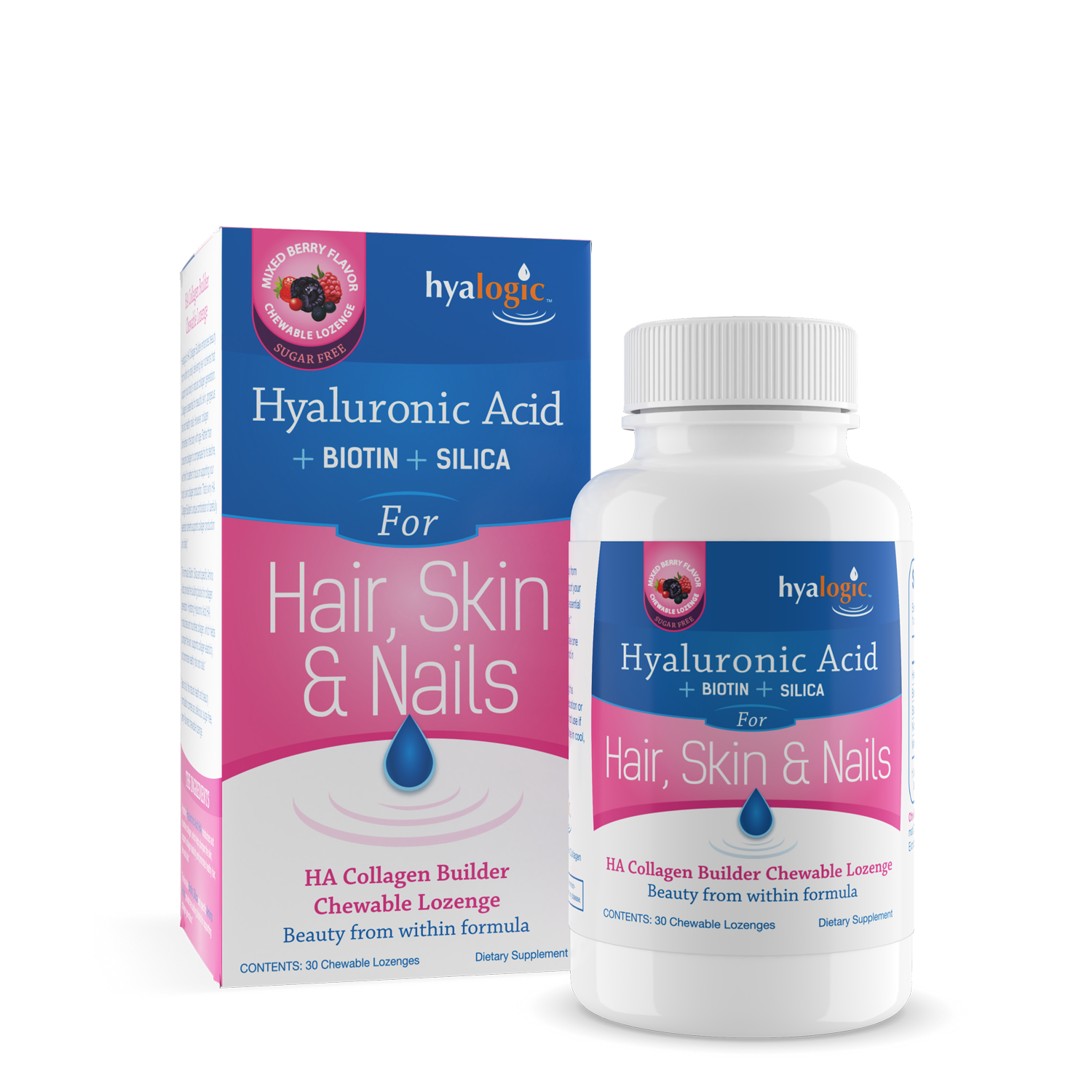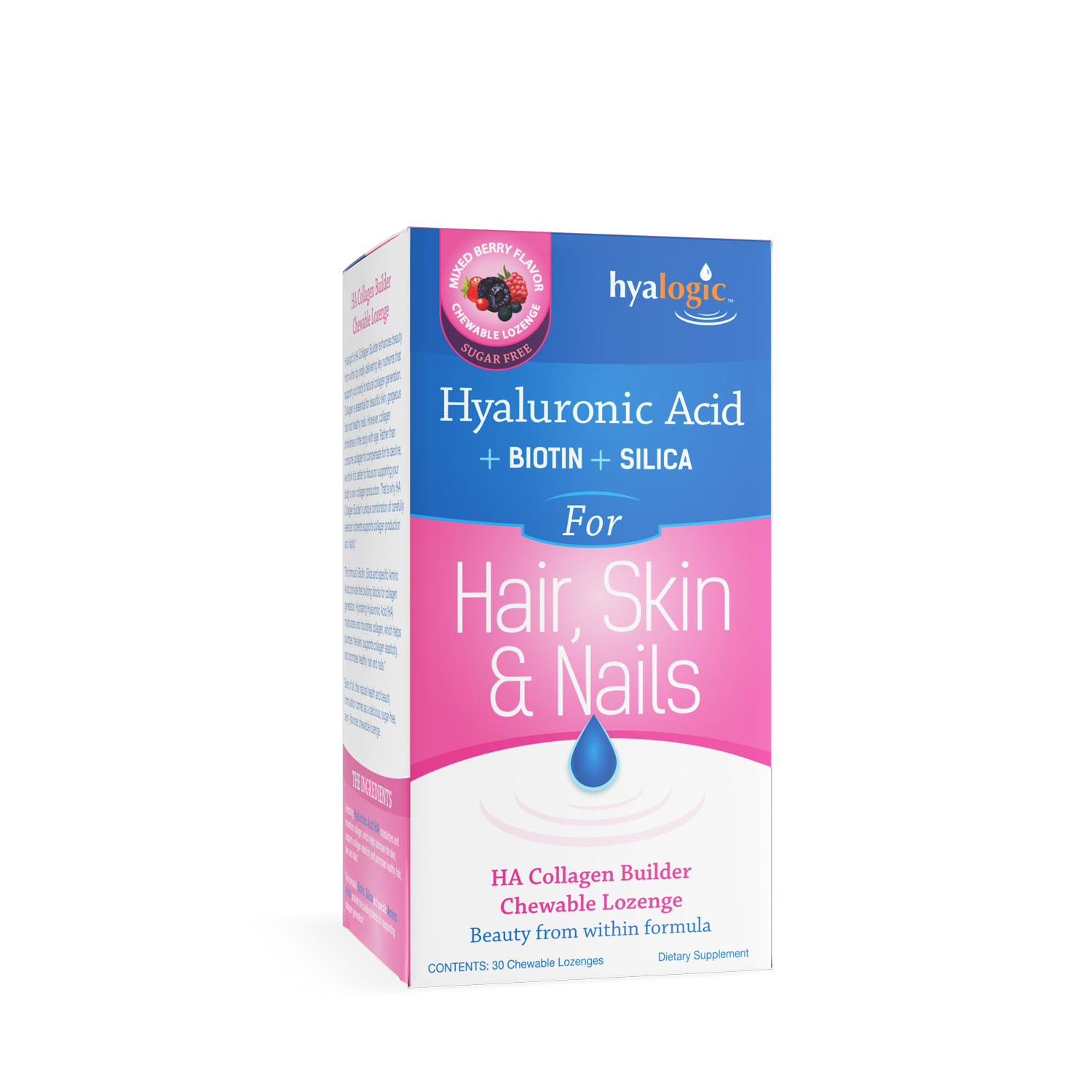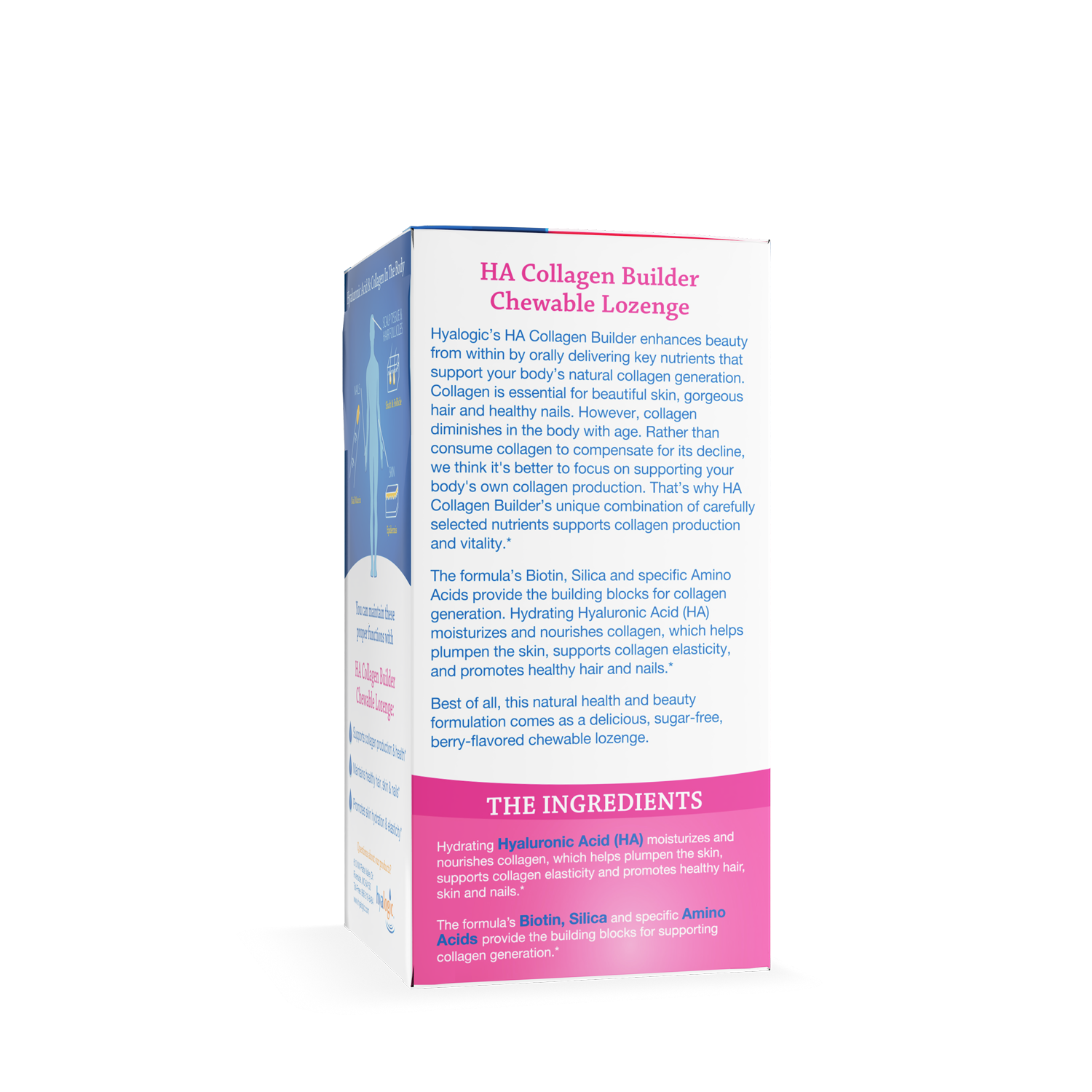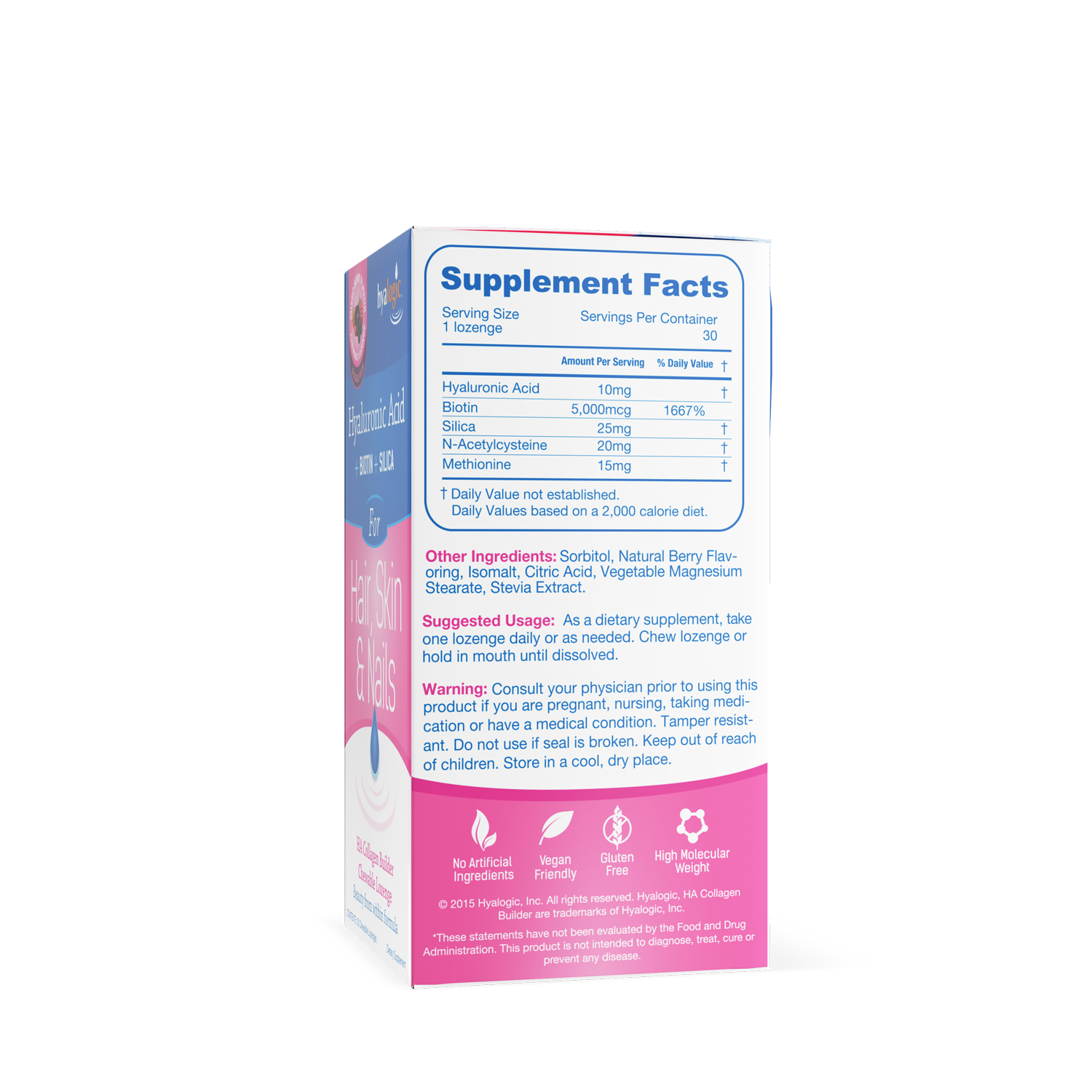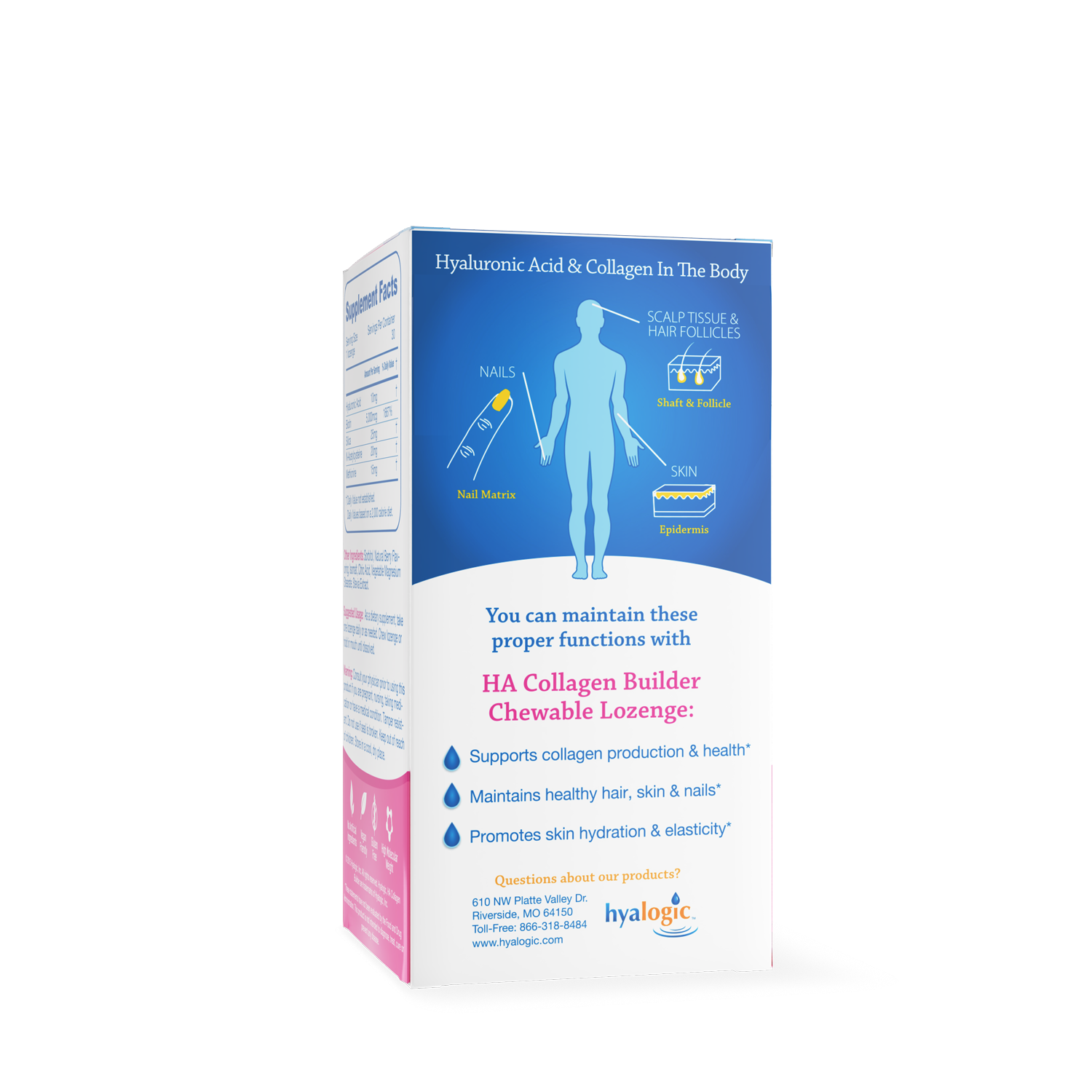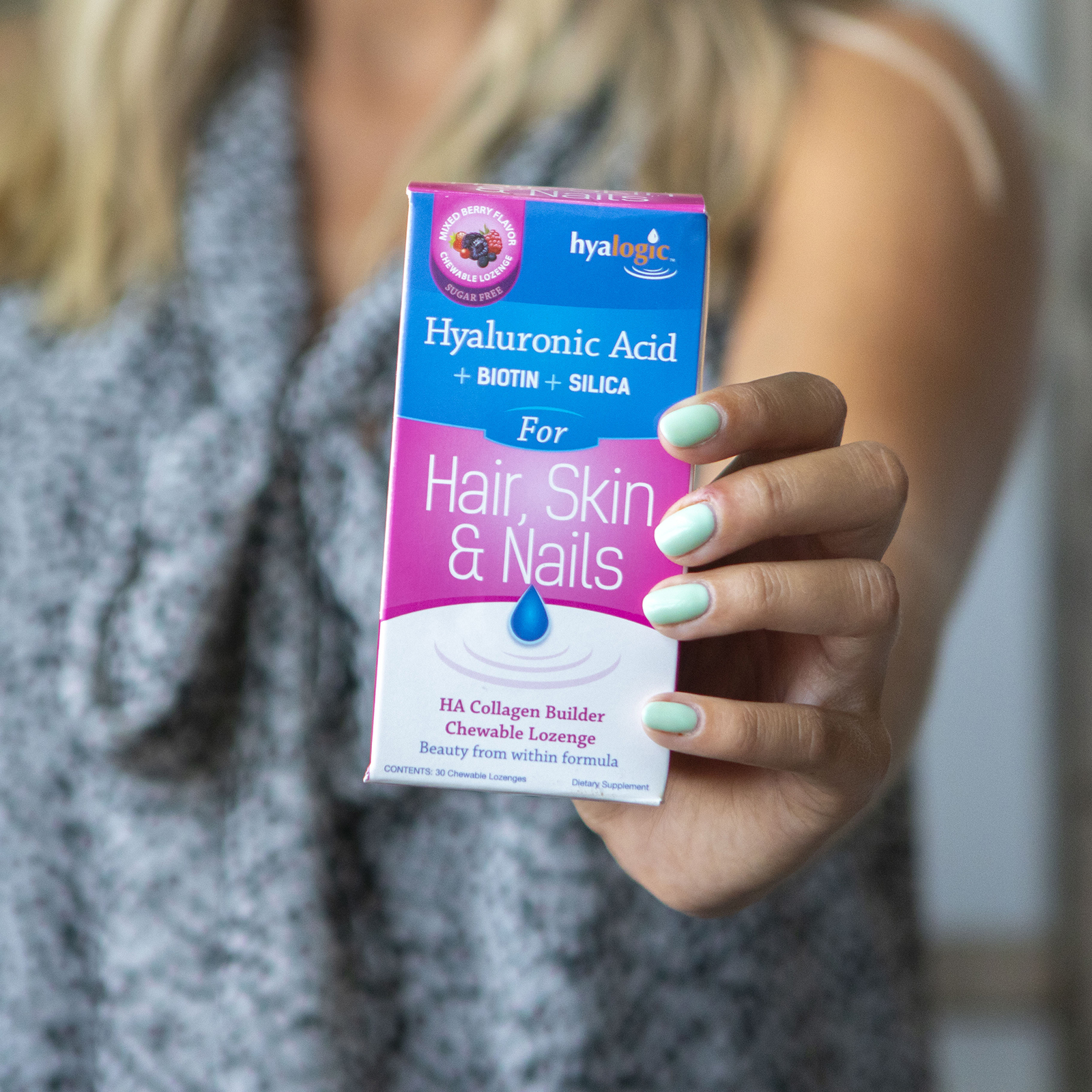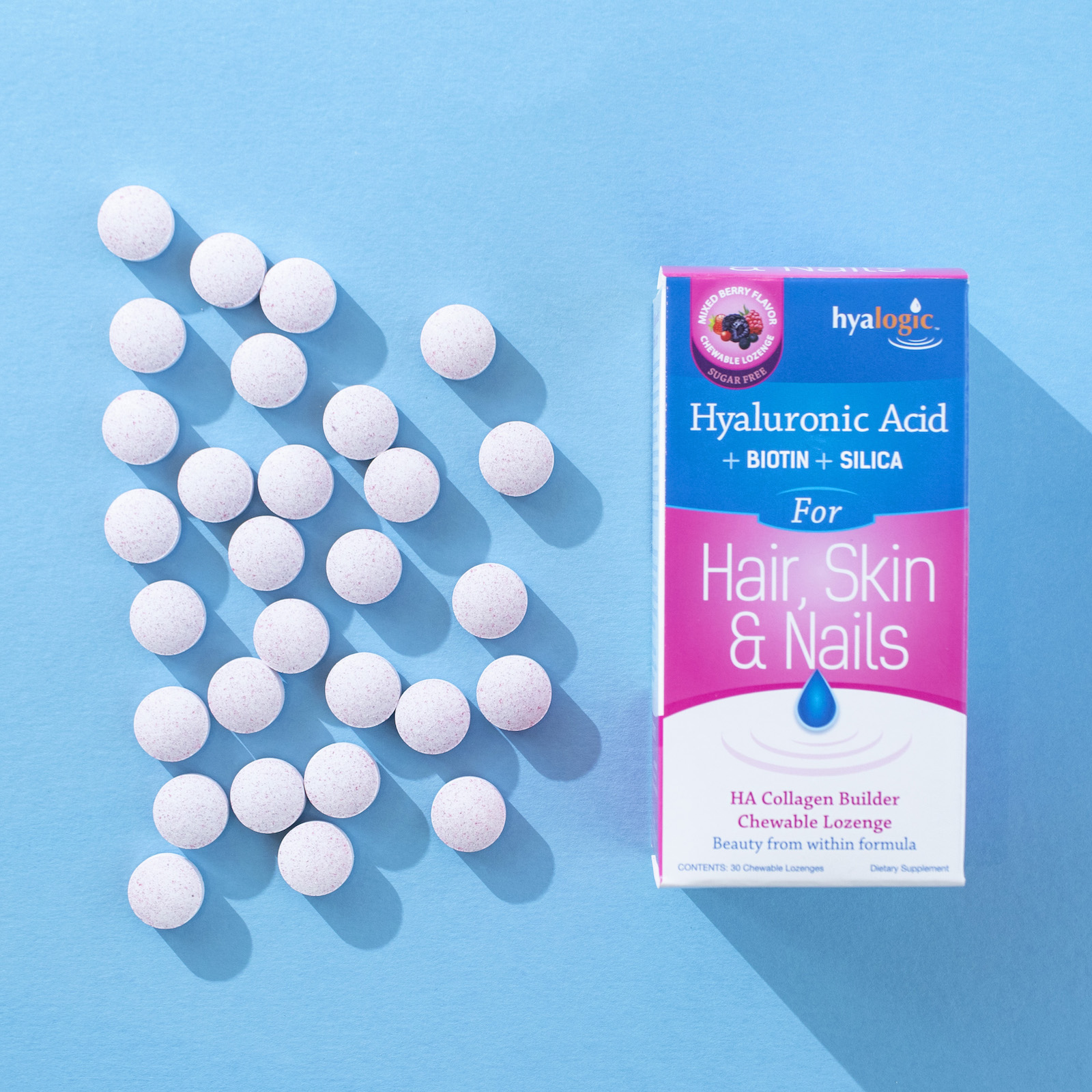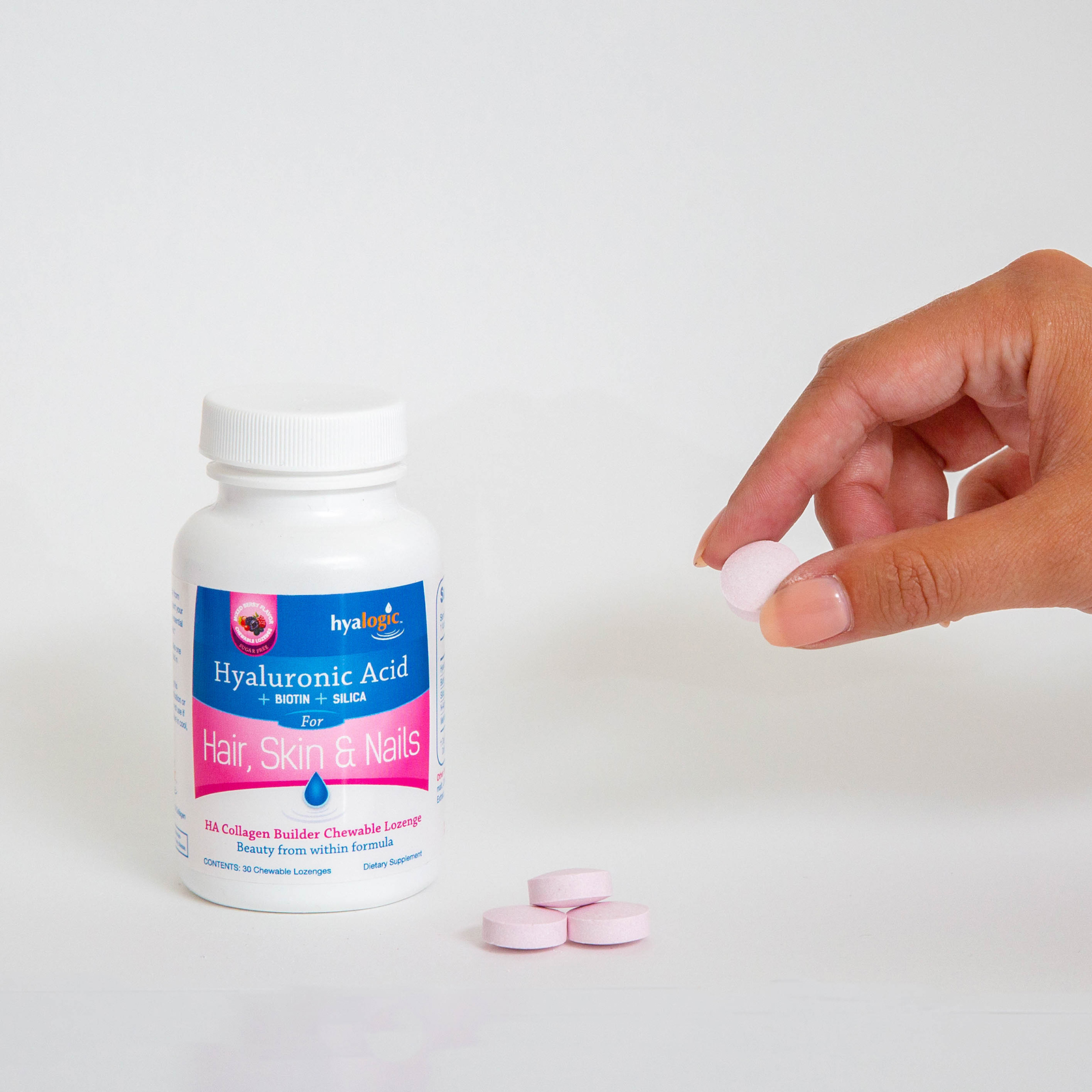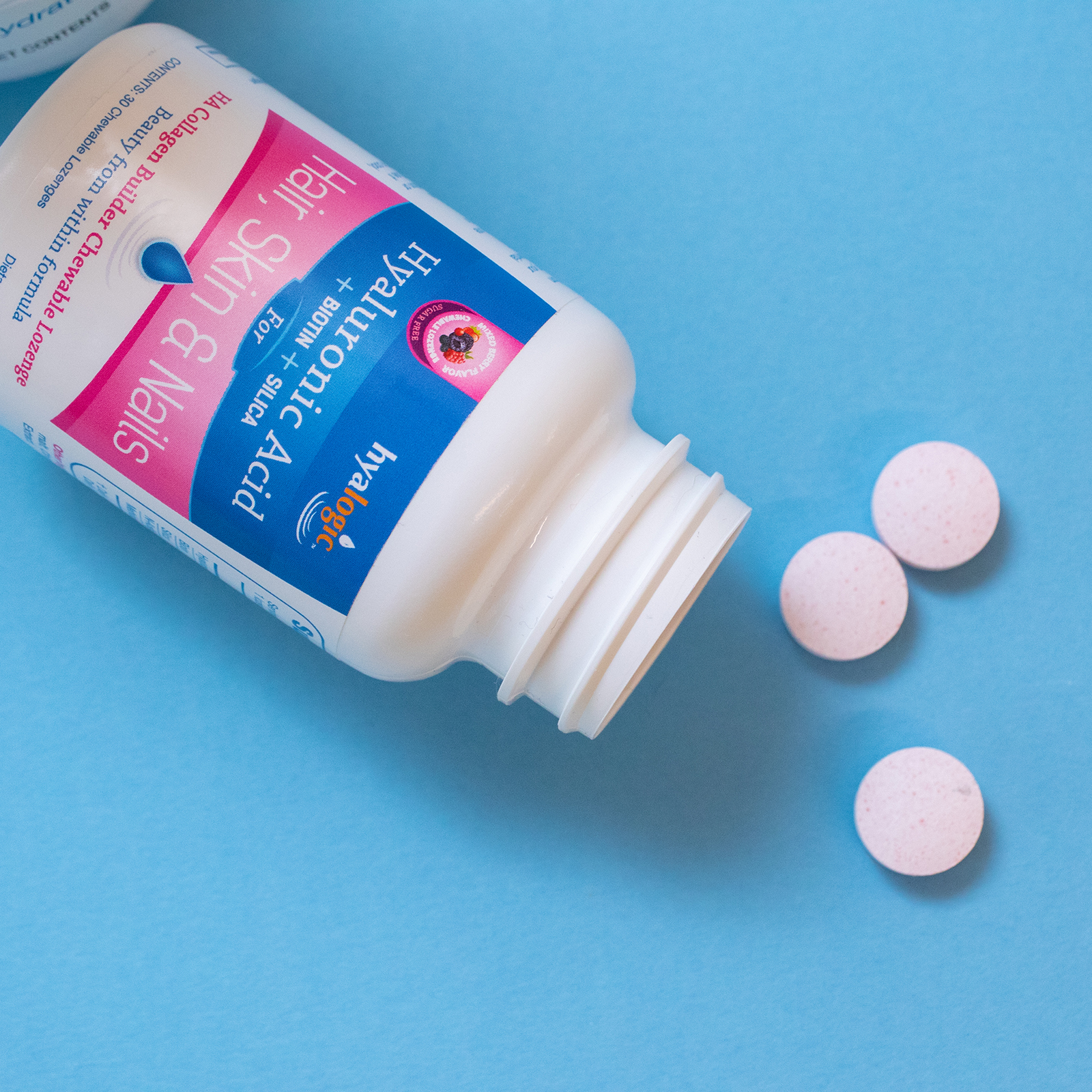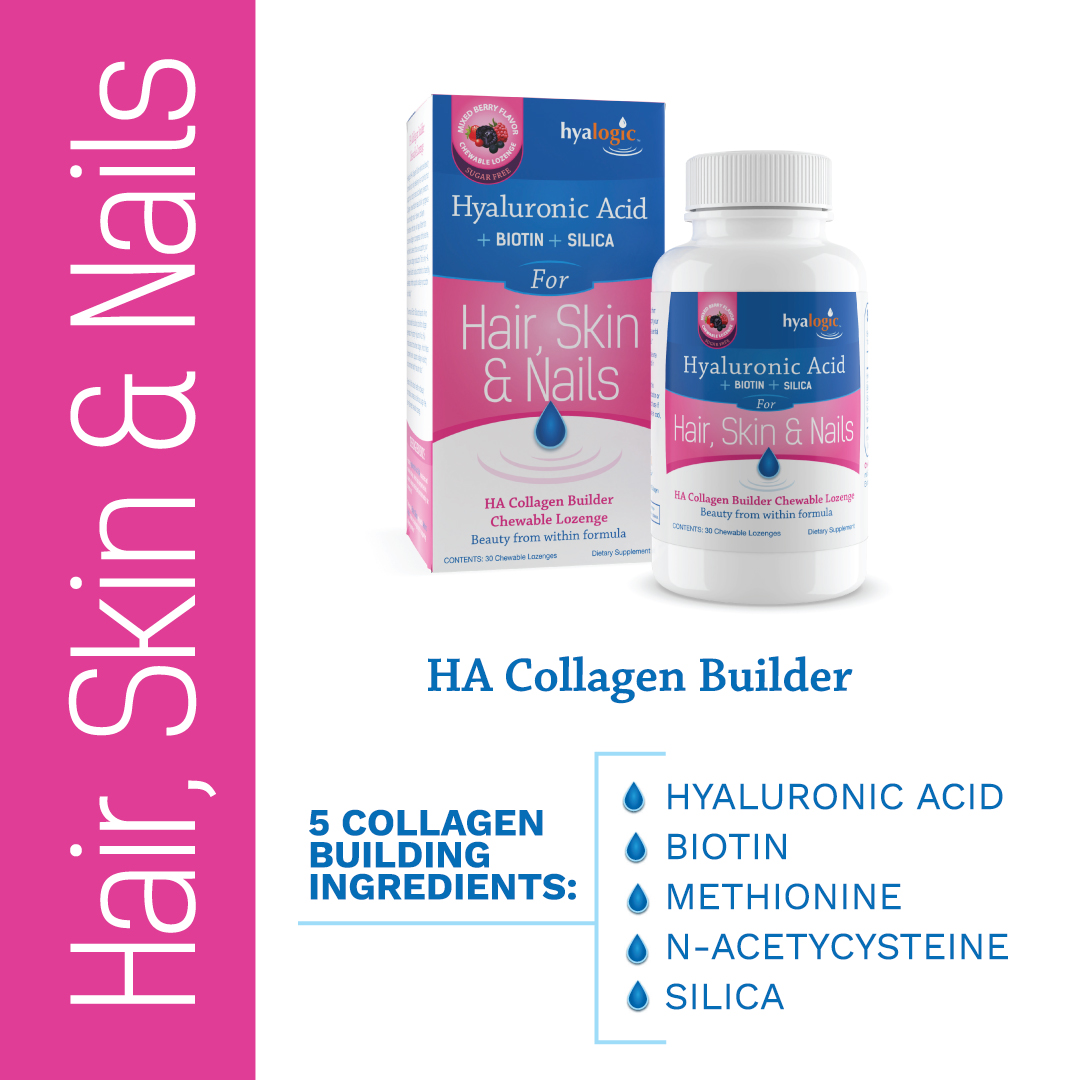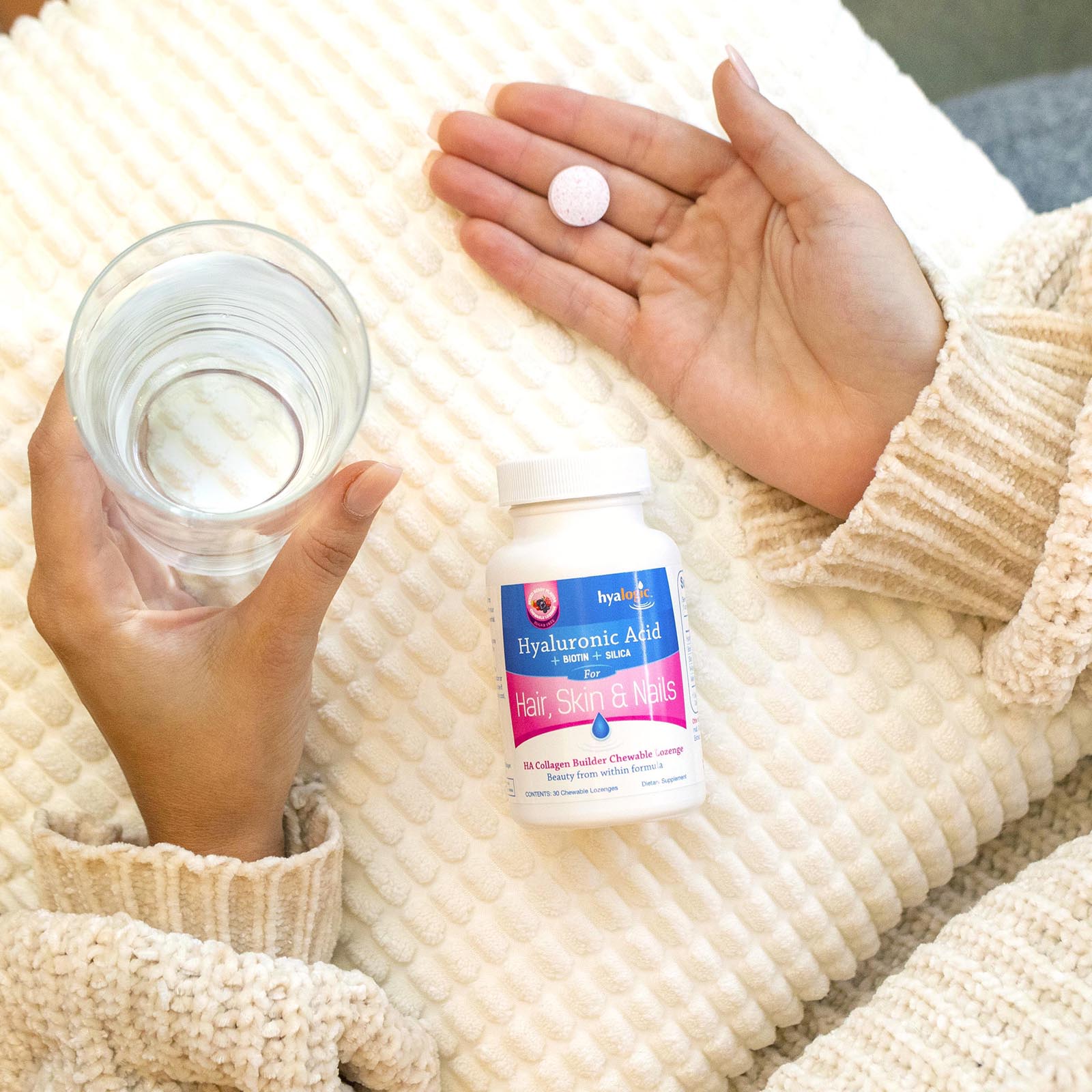 HA Collagen Builder Lozenge
Leave a Review
Hyalogic®'s HA Collagen Builder enhances beauty from within by orally delivering key nutrients that support your body's natural collagen generation. Collagen is essential for beautiful skin, gorgeous hair and healthy nails. However, collagen diminishes in the body with age. Rather than consume collagen to compensate for its decline, we think it's better to focus on supporting your body's own collagen production. That's why HA Collagen Builder's unique combination of carefully selected nutrients supports collagen production and vitality.†
The formula's Biotin, Silica and specific Amino Acids provide the building blocks for collagen generation. Hydrating Hyaluronic Acid (HA) moisturizes and nourishes collagen, which helps to plump up the skin, supports collagen elasticity, and promotes healthy hair and nails.† Best of all, this natural health and beauty formulation comes as a delicious, sugar-free, berry-flavored chewable lozenge.†
We believe in the shortest ingredient list possible. You don't need the entire periodic table to be effective, and we work tirelessly to include only the necessities.
Sorbitol, Natural Berry Flavoring, Isomalt, Citric Acid, Vegetable Magnesium Stearate, Stevia Extract
Directions: As a dietary supplement, take one lozenge daily or as needed. Chew lozenge or hold in mouth until dissolved.
Replenish Collagen
From Within
Feel the difference HA Collagen Builder Chewable Lozenge can make for your hair, skin and nails. With premium Hyaluronic Acid and Collagen, take this supplement daily and support your healthy collagen function.† (30 count)
Useful
Frequently Asked Questions
How does the HA Collagen Builder from Hyalogic work?
Hyalogic's HA Collagen Builder enhances beauty from within by orally delivering key nutrients that support your body's natural collagen generation. Collagen is essential for beautiful skin, gorgeous hair, and healthy nails.†
What is collagen? Why is it so important?
Collagen is a protein. It's the most important building block in the human body. It comprises over a third of your body's proteins. It makes up close to 75% of your skin. In your scalp and nails, it helps to provide vital growth nutrients creating thicker, stronger hair and nails.†
Does my collagen diminish with age?
Yes. In fact, collagen production begins to diminish starting as early as age 21. By the age of 40, the loss may be up to 1% per year. Because of this loss, the skin starts to sag, nails become brittle and hair loses its luster. Collagen fibers are like rubber bands to our bodies. They keep our body parts from losing the battle to gravity and having saggy skin.
What does "Collagen Builder" mean with talking about the HA Collagen Builder Chewable Lozenge?
Collagen diminished in the body with age. Rather than consume collagen to compensate for its decline, at Hyalogic, we think it's smarter to focus on supporting your body's collagen production and health than fortifying it with added collagen. That's why HA Collagen Builder's unique combination of carefully selected nutrients supports collagen production and vitality.
What are the ingredients in the formula and how do they work?
Hydrating Hyaluronic Acid (HA) moisturizes and nourishes collagen, which helps plumpen the skin, supports collagen elasticity and promotes healthy hair, skin, and nails.† The formula's Biotin, Silica, and specific Amino Acids provide the building blocks for supporting collagen generation.†
Some of Our
Customer Favorites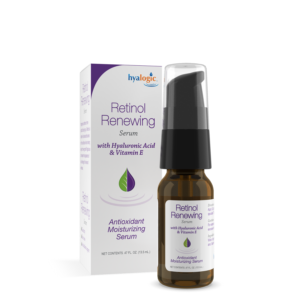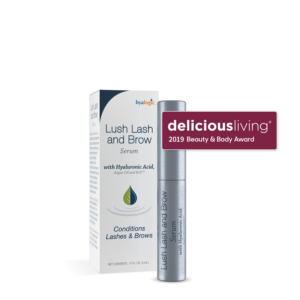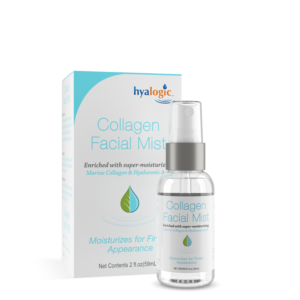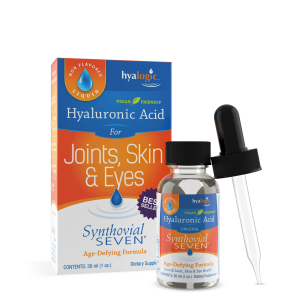 I had tried so many other kinds and they did not work until I found this one. I love it and bought extra for friends/family to try. After years of bleaching my hair, it's not as healthy as it used to be. I love that this formula includes biotin, Hyaluronic Acid, AND helps support collagen production. It's like a 3-in-1! Not only does it taste great, but it also has really been helping support the health of my hair and skin. It's the best!
Stay Hydrated
Latest Tips
When Columbia University scientists Karl Meyer and John Palmer first discovered hyaluronic acid (HA) in 1934, they could scarcely have... Healthy, youthful looking hair relies on ample hydration, both in the hair itself and in the scalp where the hair... Ageless beauty has long been the Holy Grail of the cosmetics industry. Just a quick glance online reveals the abundance...