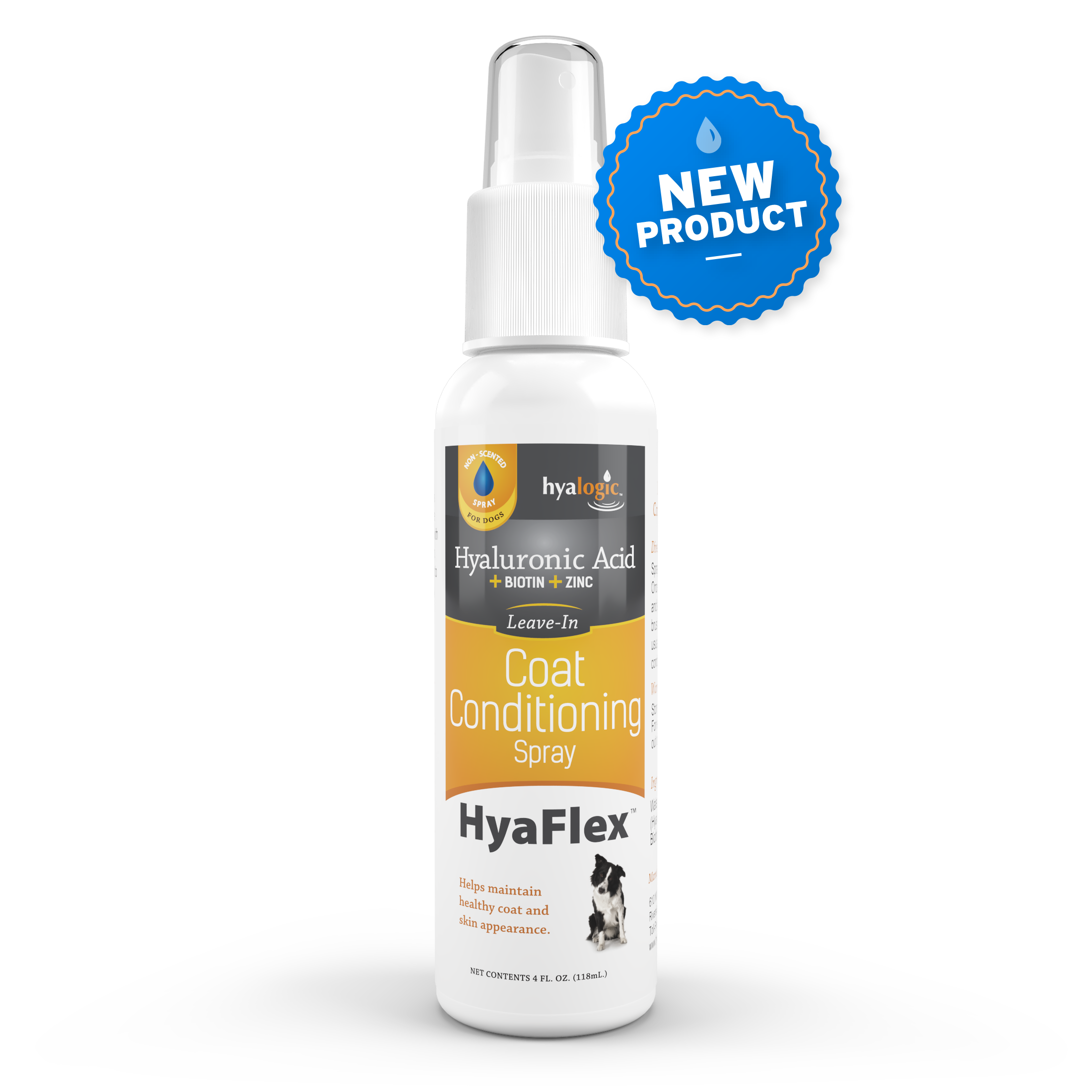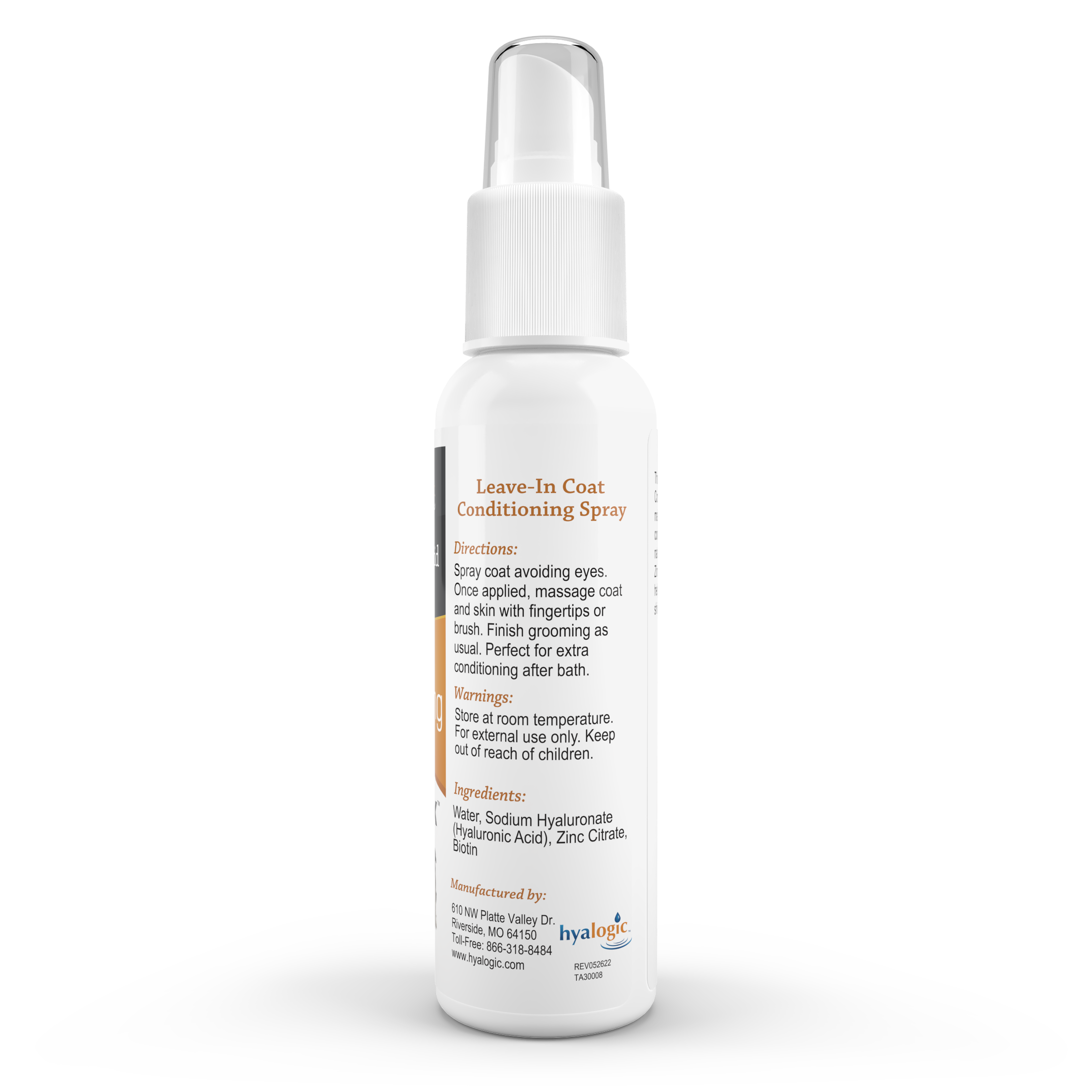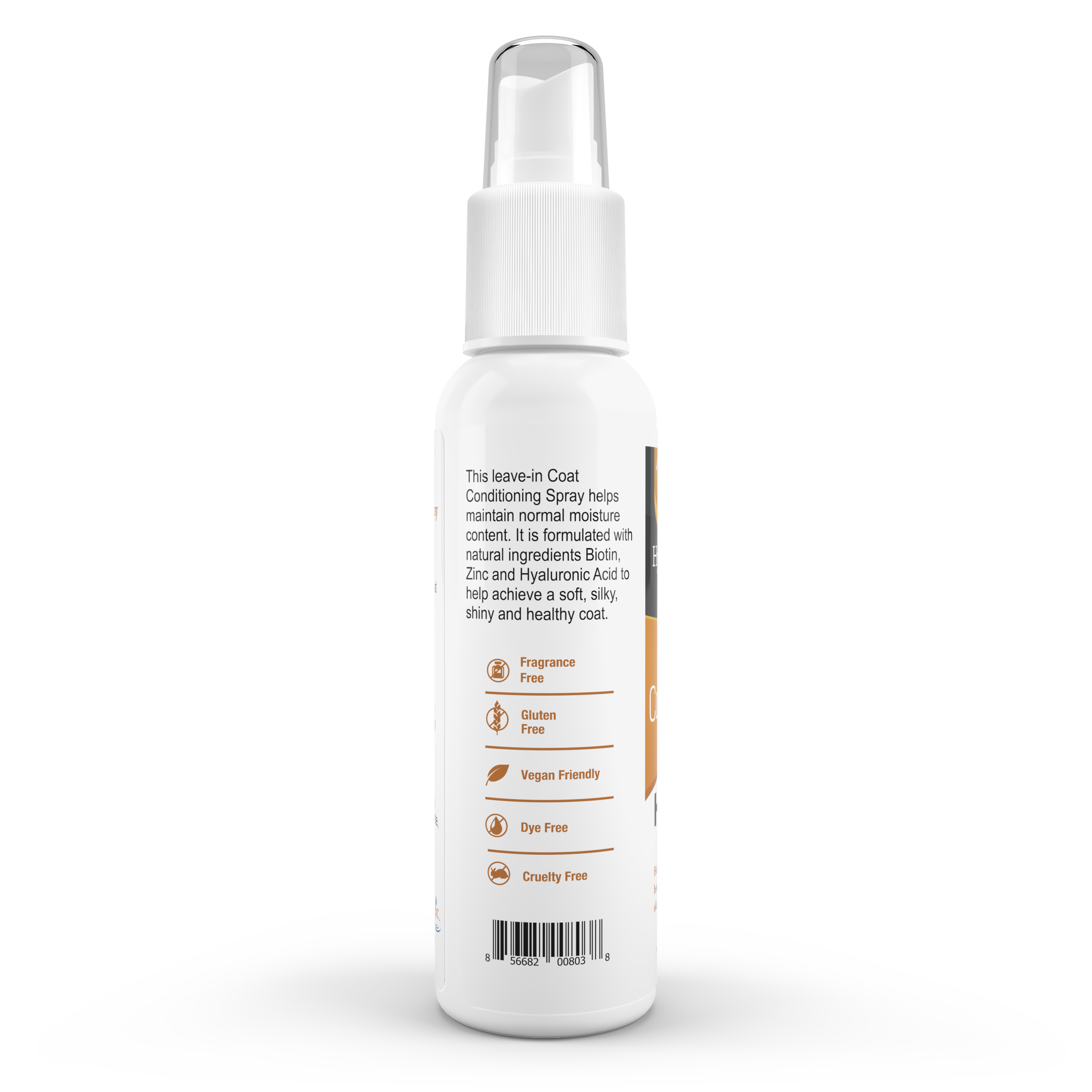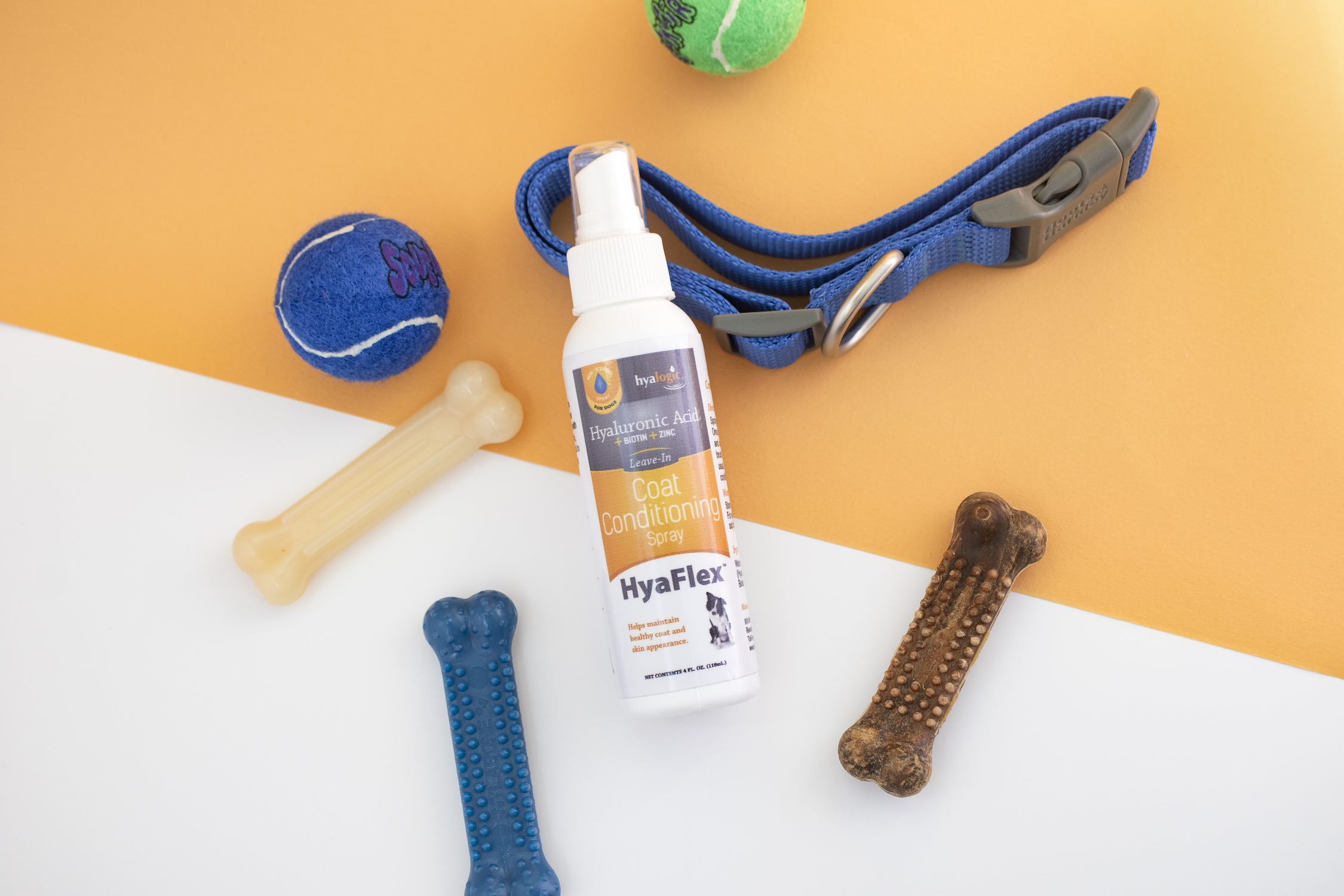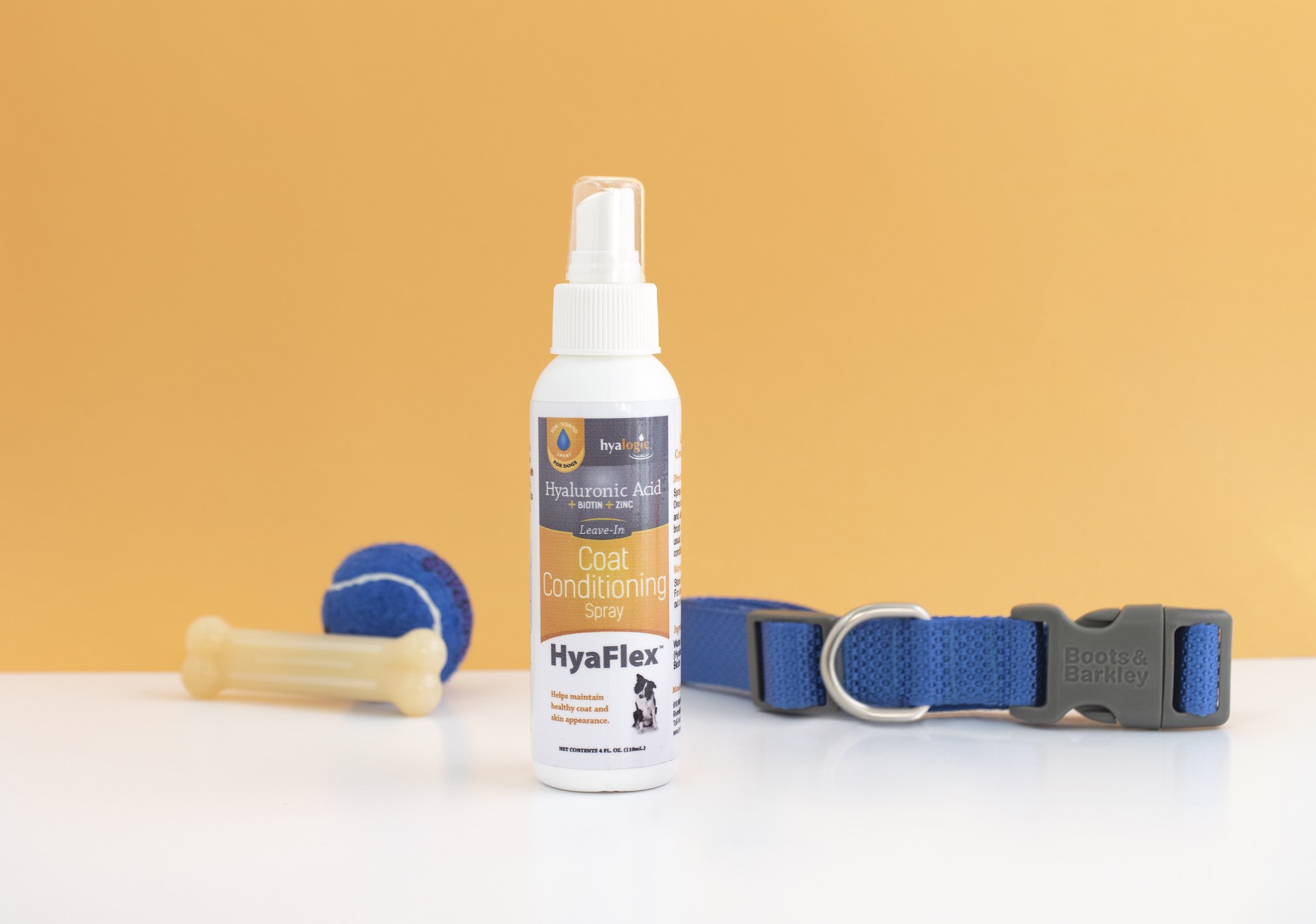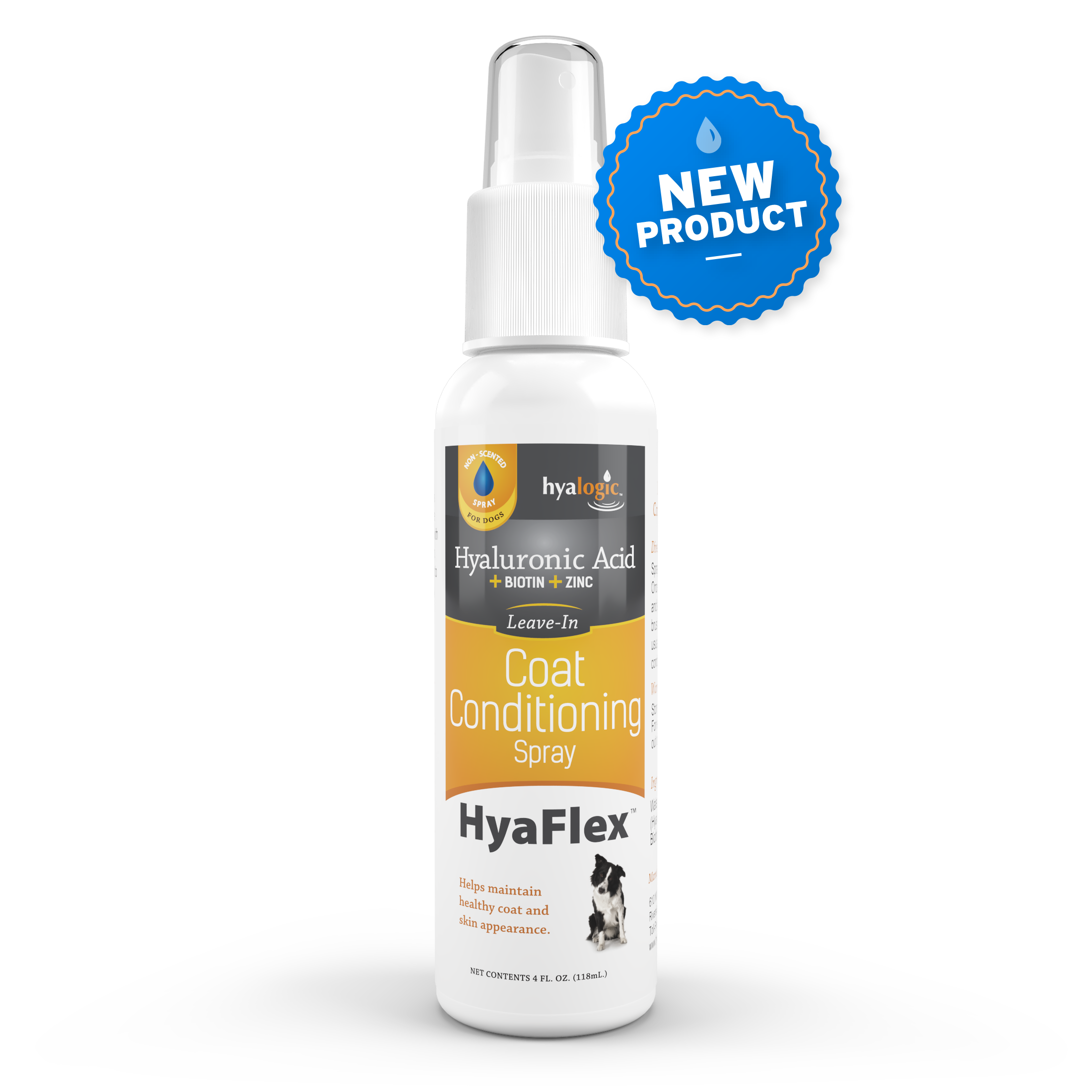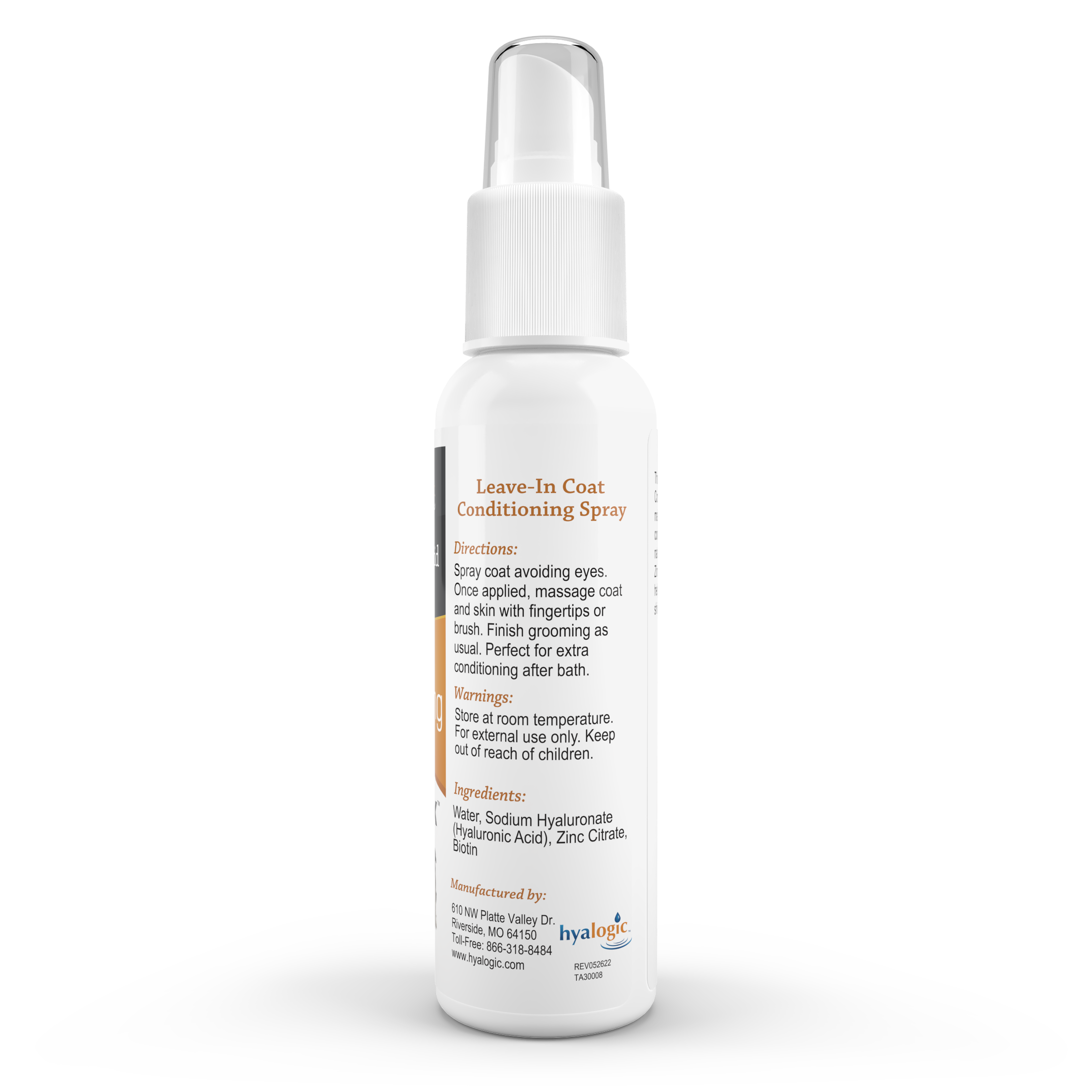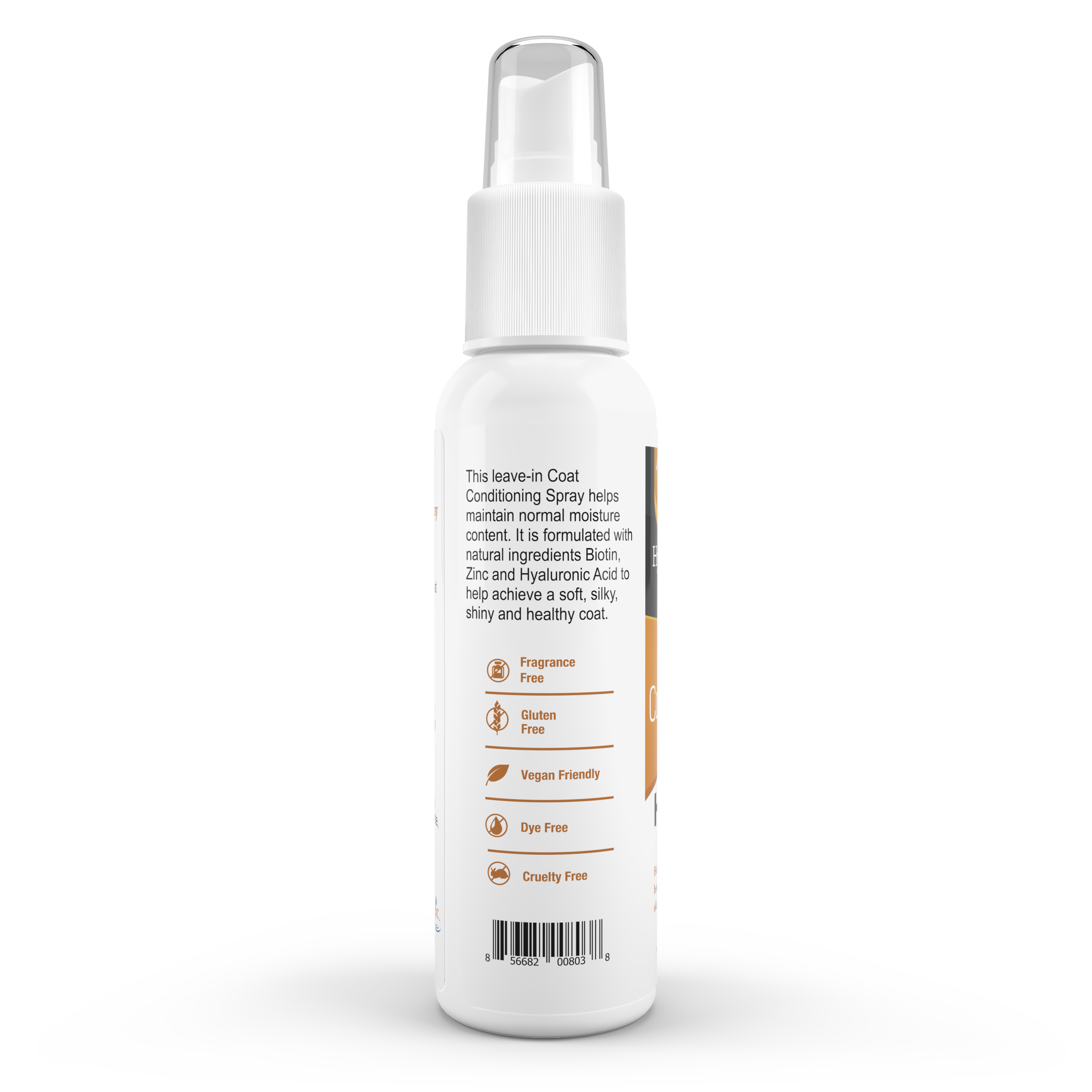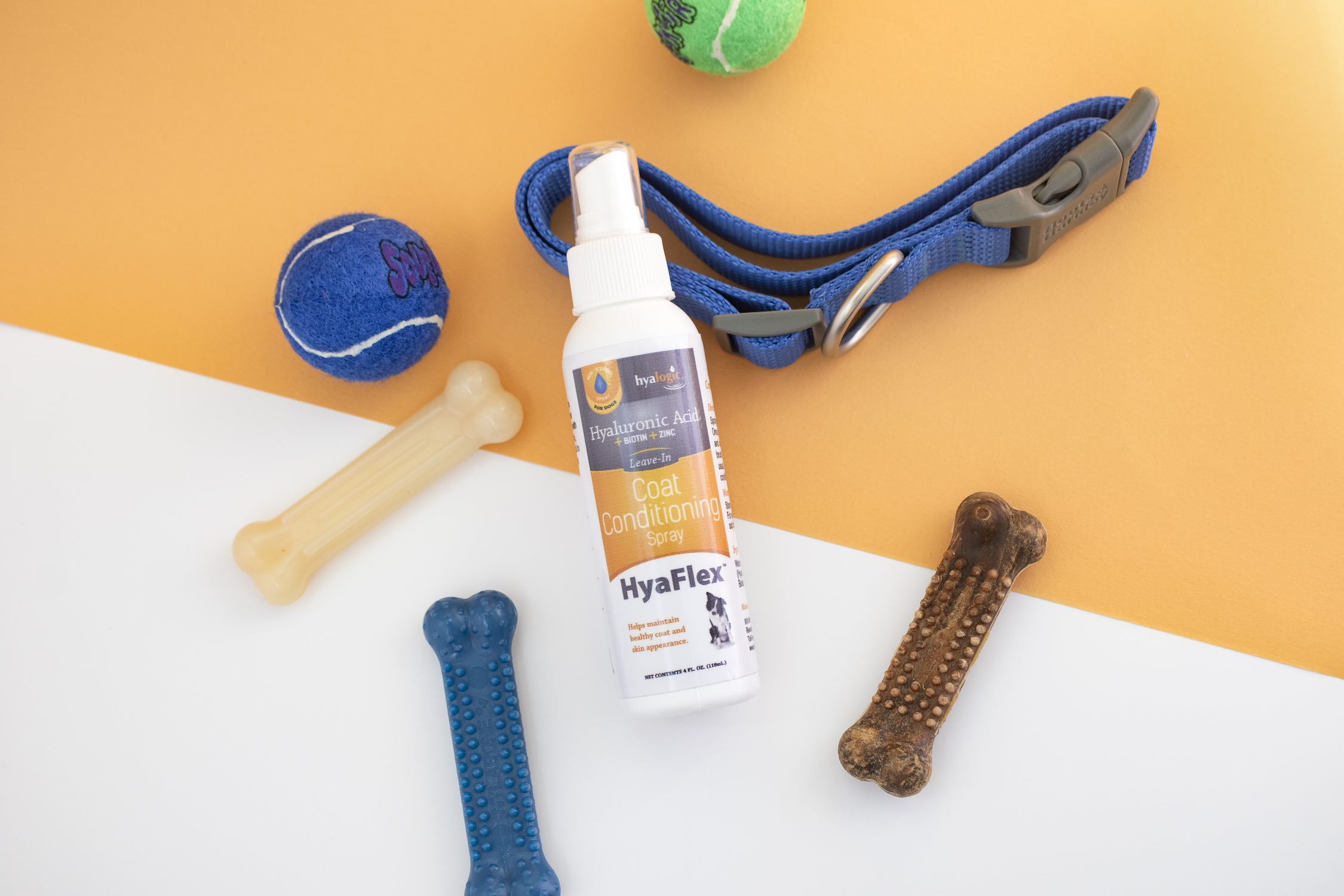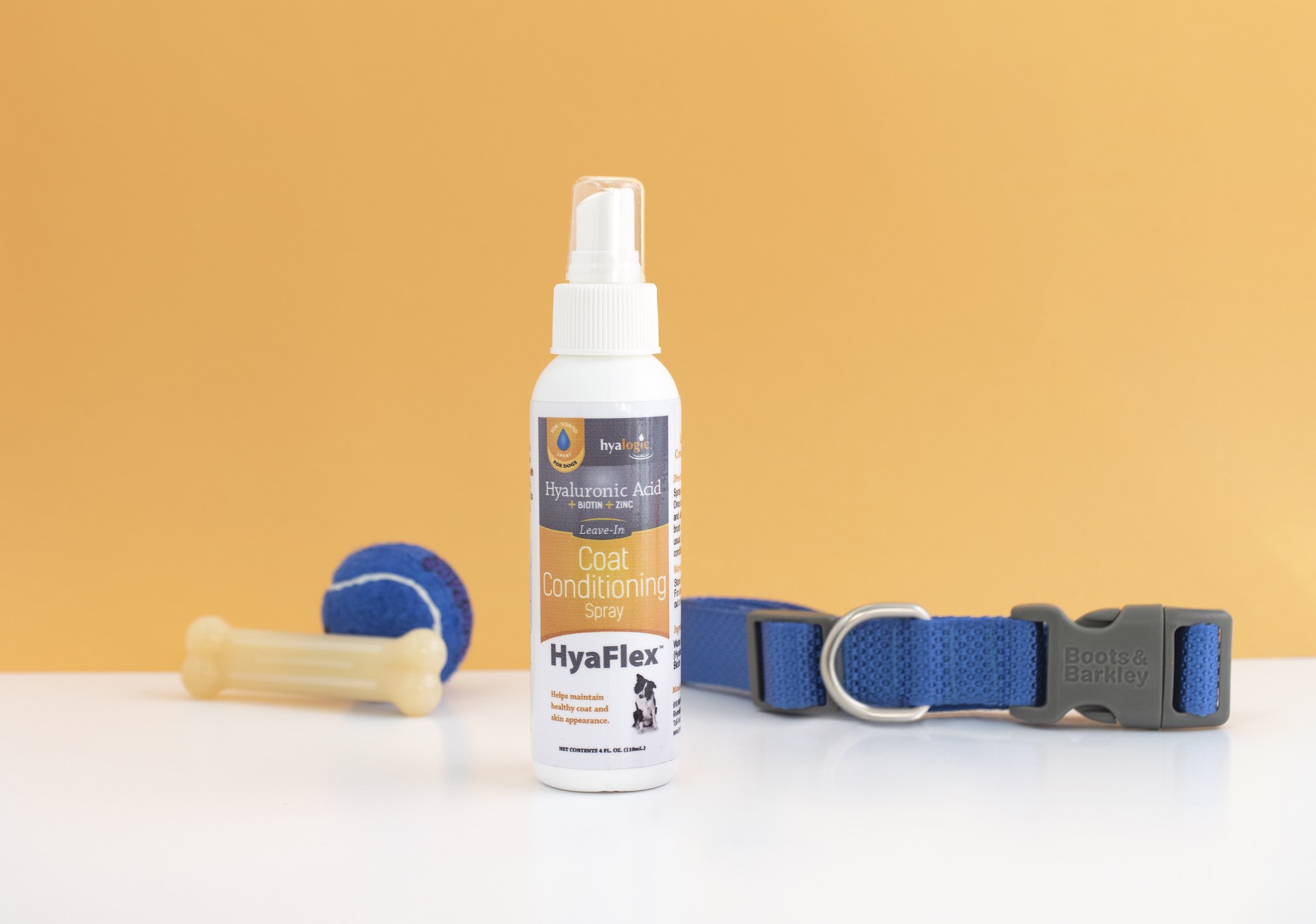 HyaFlex™ Coat Conditioning Spray
Leave a Review
New! HyaFlex™ Coat Conditioning Spray helps maintain healthy coat and skin appearance. This leave in Coat Conditioning Spray is formulated with natural ingredients Biotin, Zinc and Hyaluronic Acid to help achieve a soft, silky, shiny, and healthy coat!
Safe for all coat types.
Directions: Spray coat, avoiding eyes. Once applied, massage coat with fingers or brush. Finish grooming as usual. Perfect for extra conditioning after bath.
Storage and Warnings: Store at room temperature. Keep out of reach of children.
Fragrance free. Gluten free. Vegan friendly. Dye free. Cruelty free.
Useful
Frequently Asked Questions
What is Hyaluronic Acid?
Hyaluronic Acid is a special mucopolysaccharide occurring naturally throughout the human body. One of the most heavily researched substances today. Its function in the body is, amongst other things, to bind water and to lubricate movable parts of the body, such as joints and muscles. Its consistency and tissue-friendliness allow it to be used in skin-care products as an excellent moisturizer. Hyaluronic Acid is one of the most hydrophilic (water-loving) molecules in nature and can be described as "nature's moisturizer".
Why does my pet need a hyaluronic acid product?
Hyaluronic Acid is naturally produced by the body as a constituent of synovial fluid that lubricates the cartilage between the joints. As your pet ages, their body produces less and less HA and it becomes more and more difficult to replenish it and the cartilage and other structures of the joint begin to need support. Joints become less flexible and movement is limited. HA supplements pick up where their bodies fail them.
Where does the Hyaluronic Acid in HyaFlex™ come from?
The Hyaluronic Acid in Hya-Flex™ comes from an extracellular protein produced by natural fermentation. This product is not derived from any animal source. Hypersensitivity reactions should not be a concern. Natural fermentation can yield higher molecular weight HA. The weight of the molecule directly influences its "moisture-binding" capability, and HyaFlex™ has the highest molecular weight HA on the market. This may explain the phenomenal results we are experiencing.
How long has Hyaluronic Acid been used?
Hyaluronic Acid was first used commercially in 1942 when Endre Balazs applied for a patent to use it as a substitute for egg white in bakery products. He went on to become the leading expert on HA, and made the majority of discoveries concerning HA. Hyaluronic Acid has long been used in some of the top-selling commercial skincare products to support skin hydration.
Because it is an acid will it burn mine or my pet's skin or stomach?
Hyaluronic Acid is often called an acid and this is a misnomer. Hyaluronic Acid as a sodium salt (sodium hyaluronate)(HyaFlex™) will have a neutral pH measurement, not an acidic. Because of the water retention capacity of Hyaluronic Acid, it is actually a very good moisturizer for the skin and is being used.
Stay Hydrated
Latest Tips
When Columbia University scientists Karl Meyer and John Palmer first discovered hyaluronic acid (HA) in 1934, they could scarcely have... Healthy, youthful looking hair relies on ample hydration, both in the hair itself and in the scalp where the hair... Ageless beauty has long been the Holy Grail of the cosmetics industry. Just a quick glance online reveals the abundance...