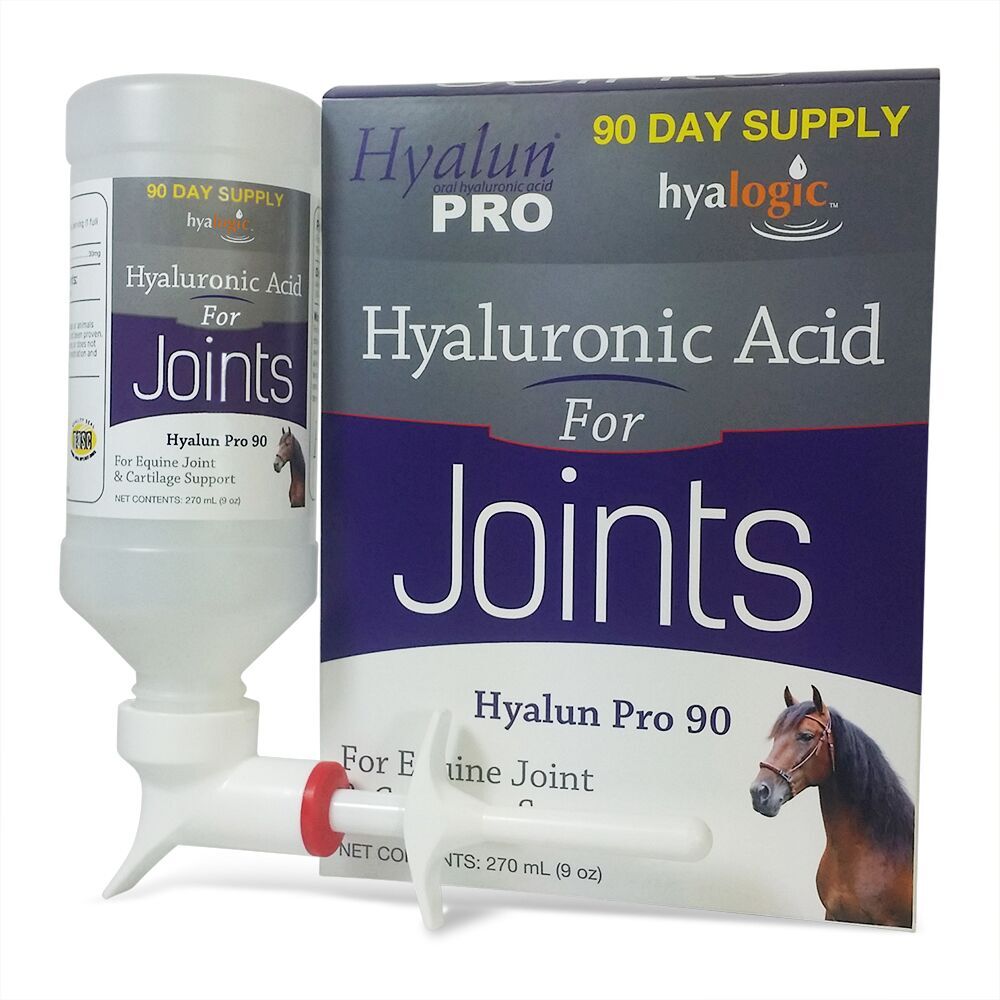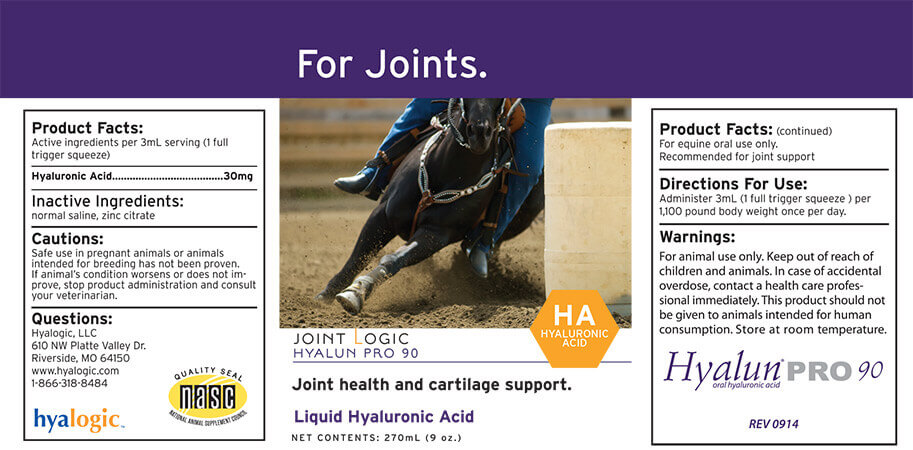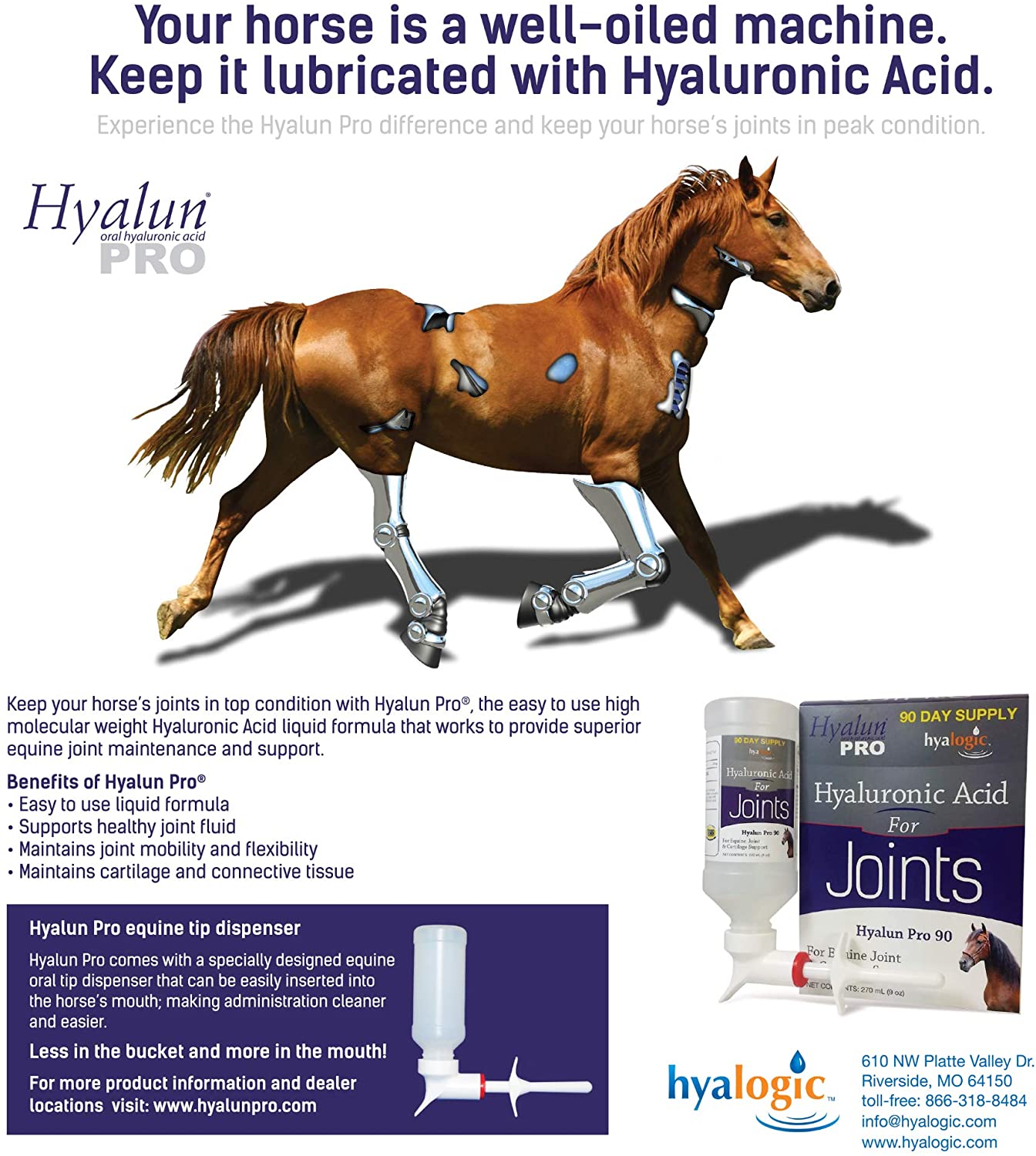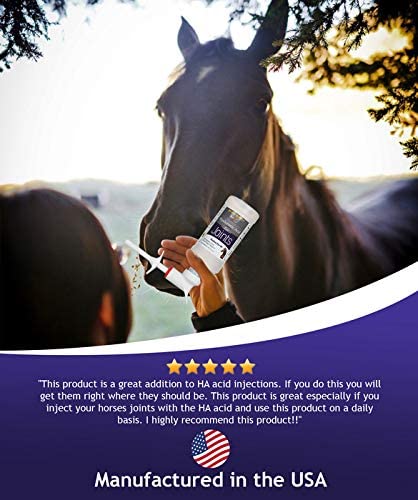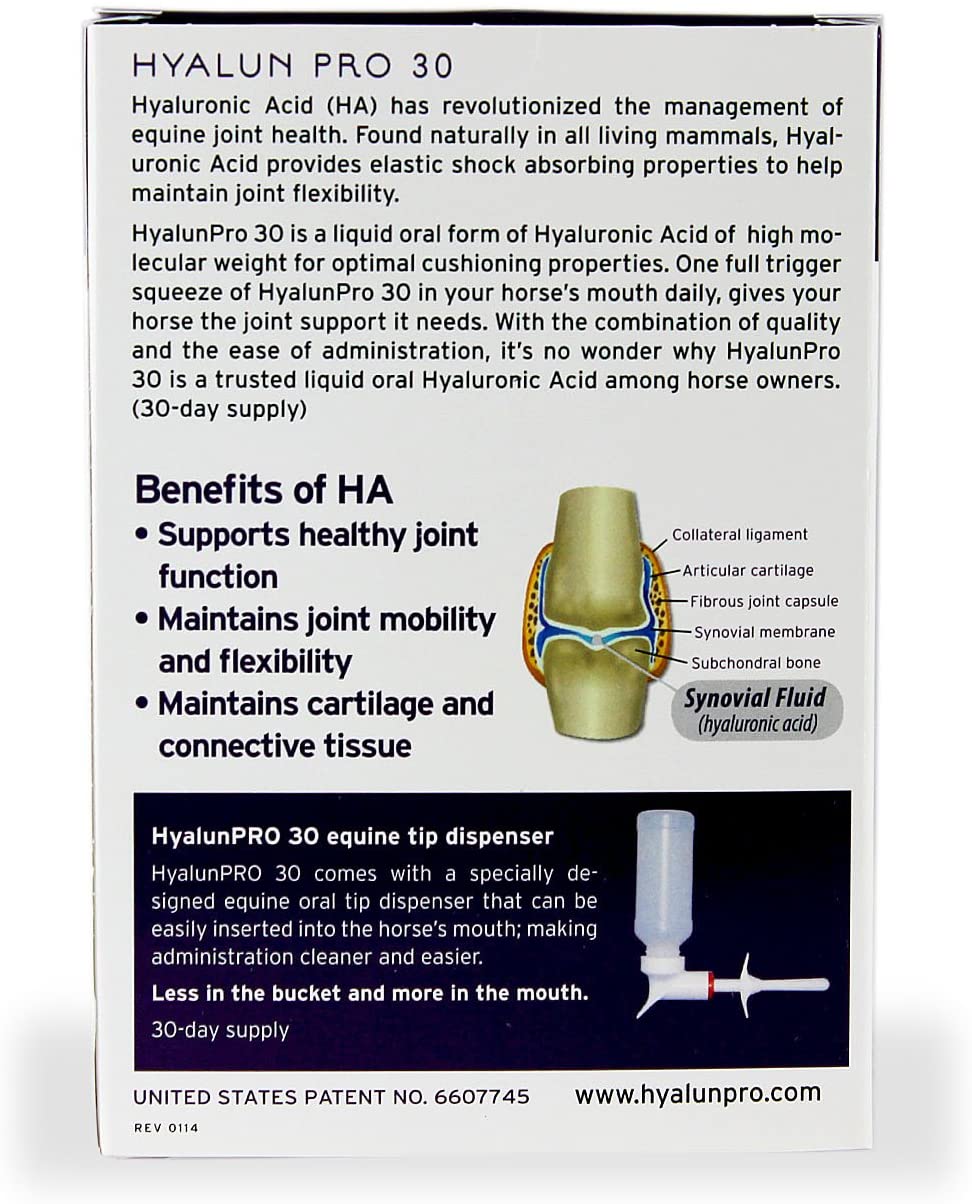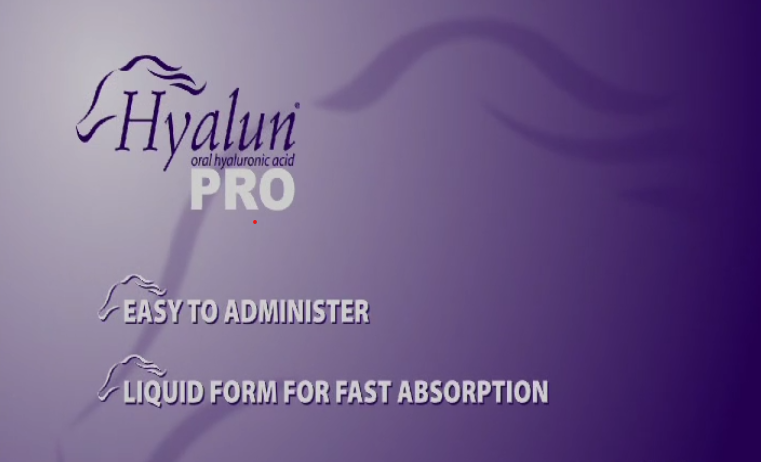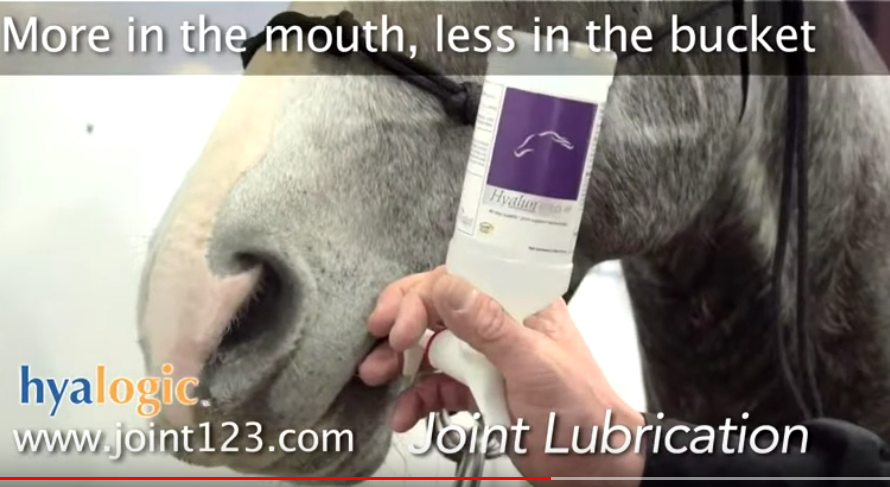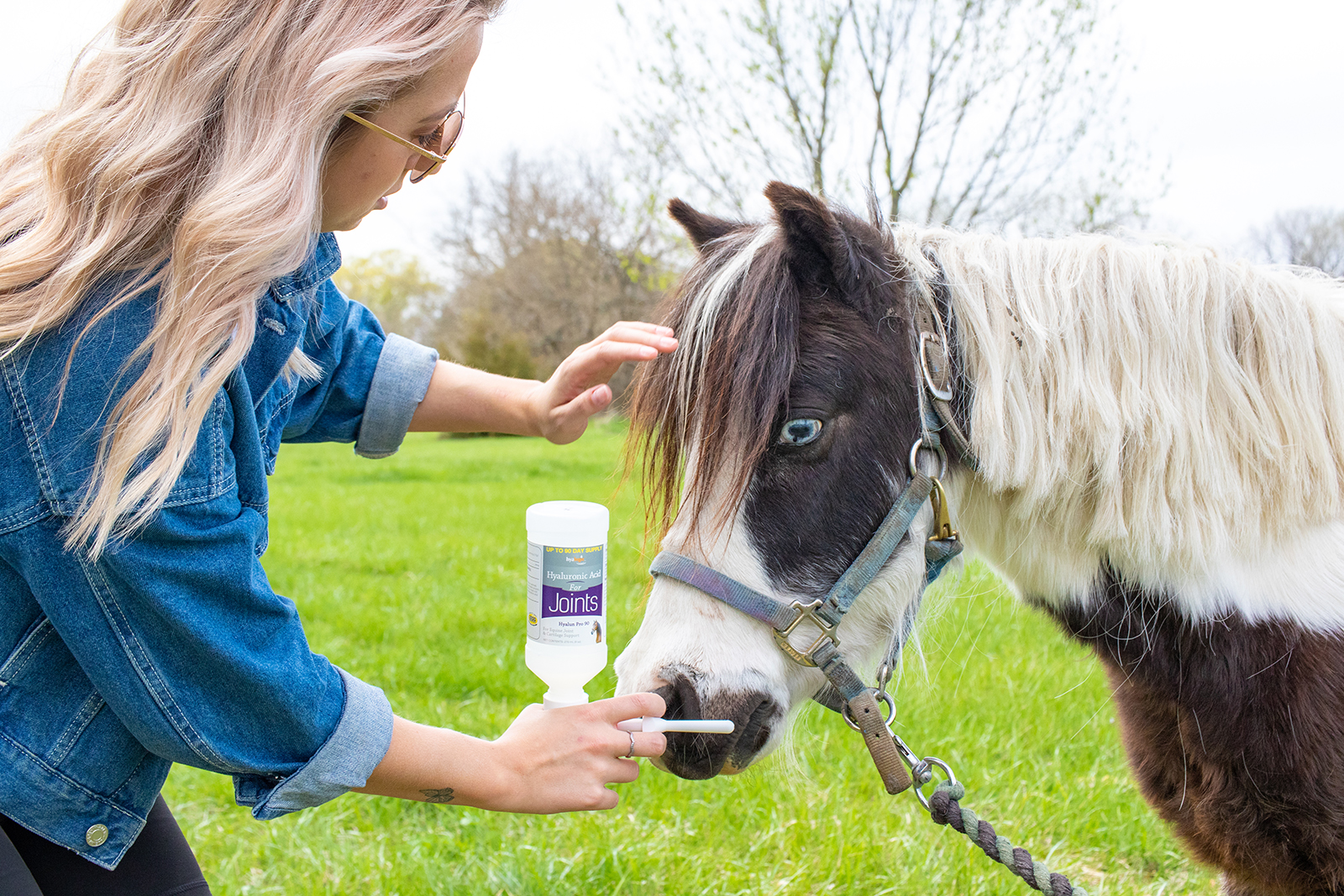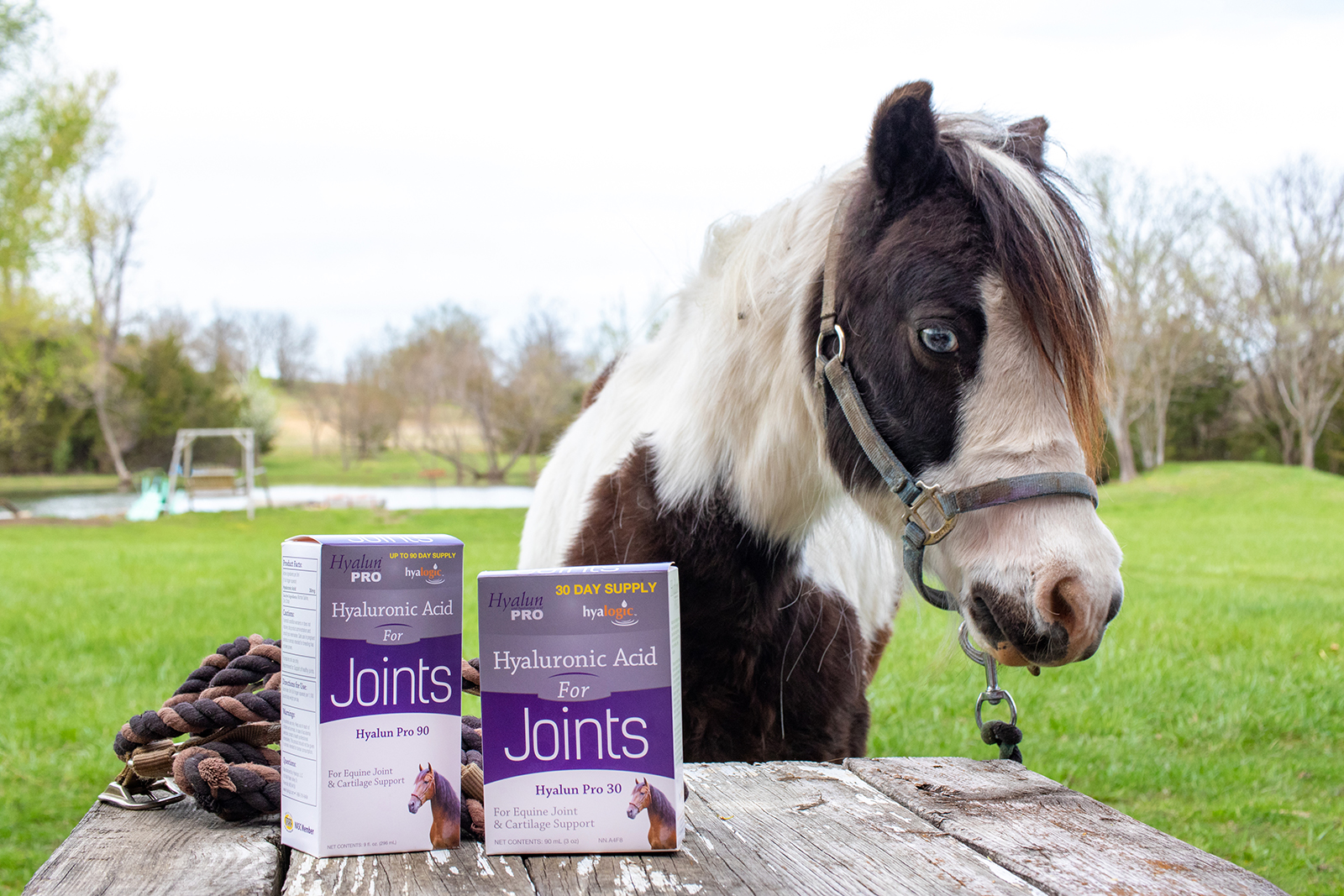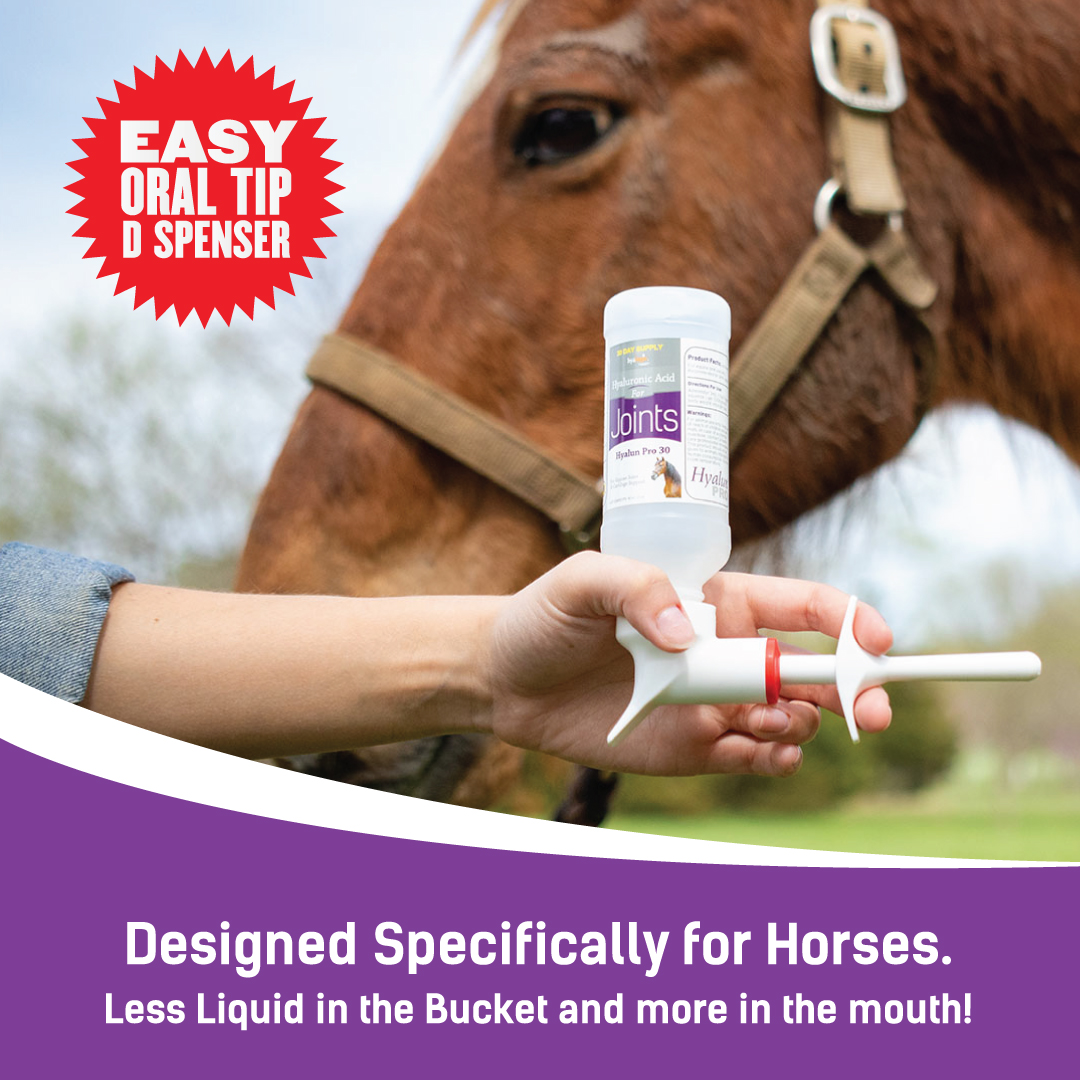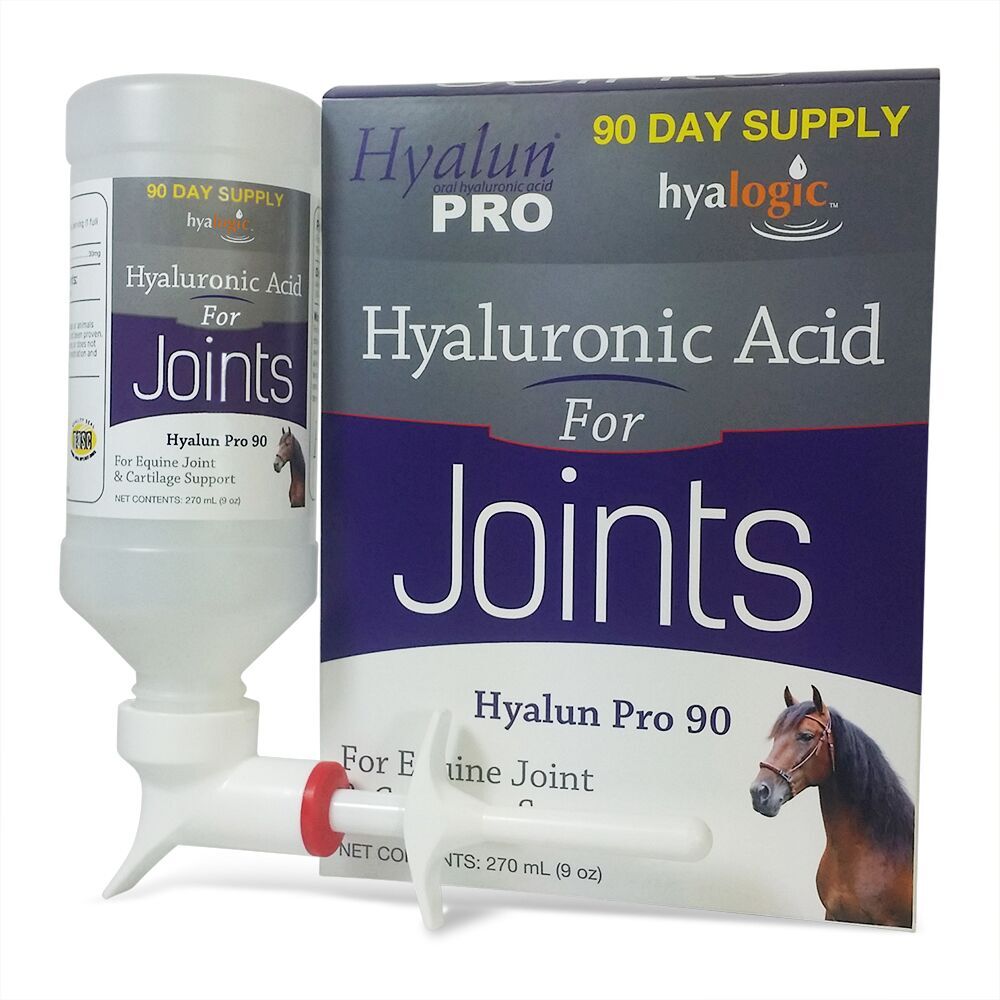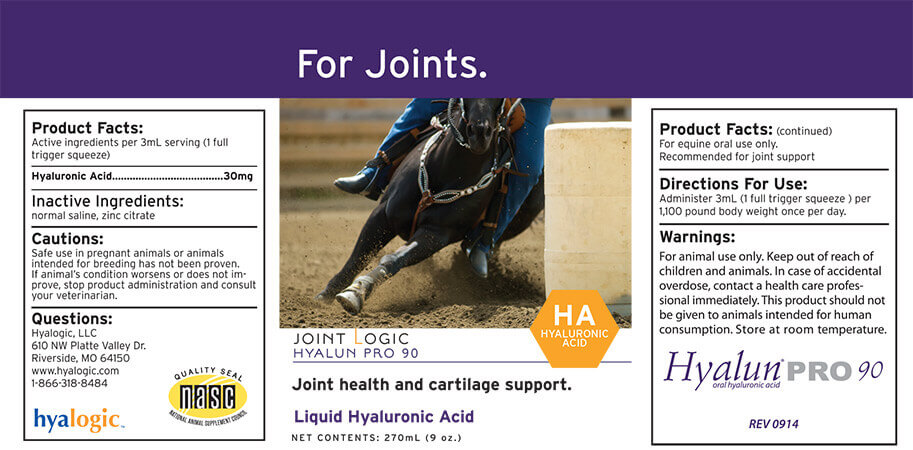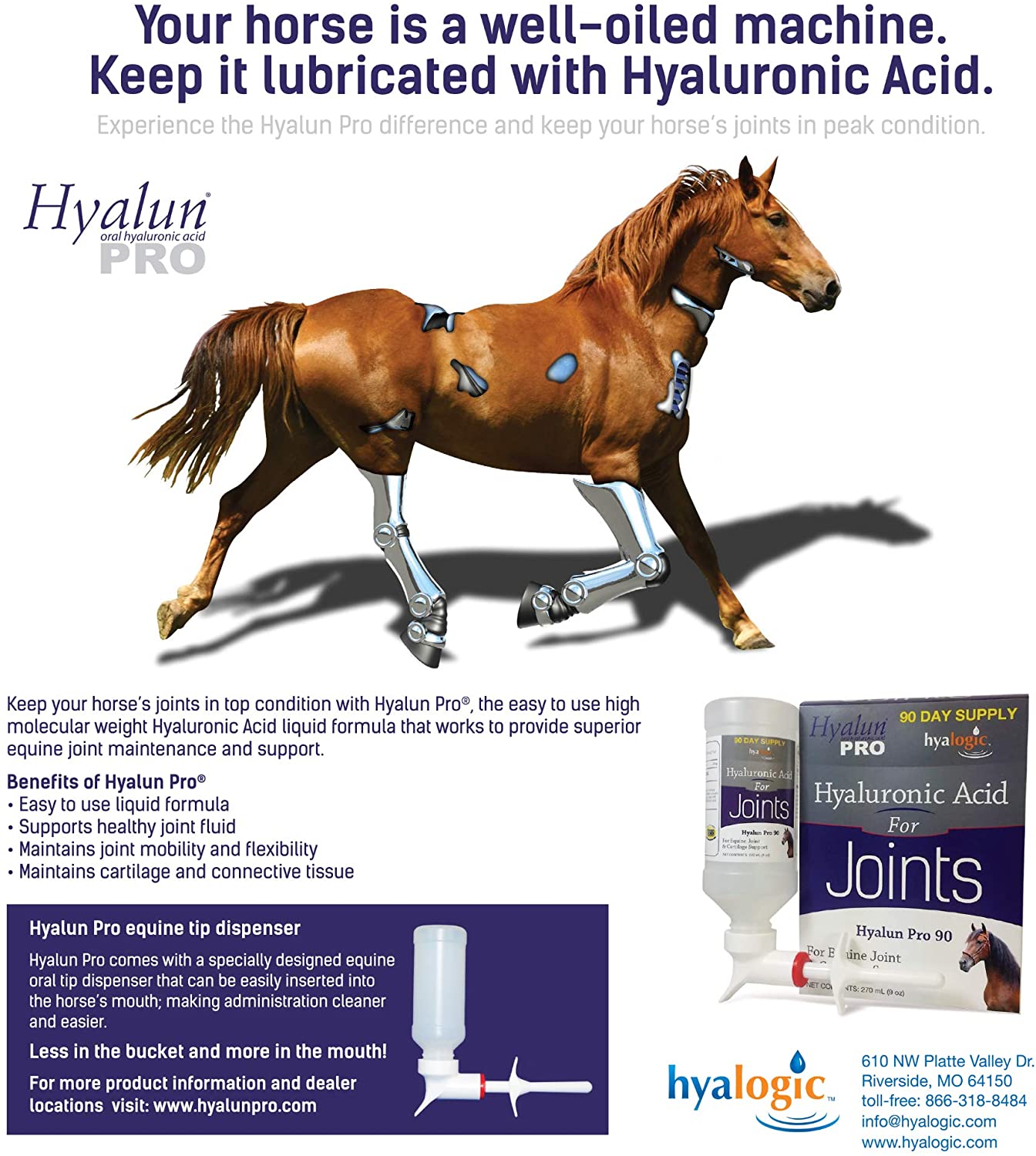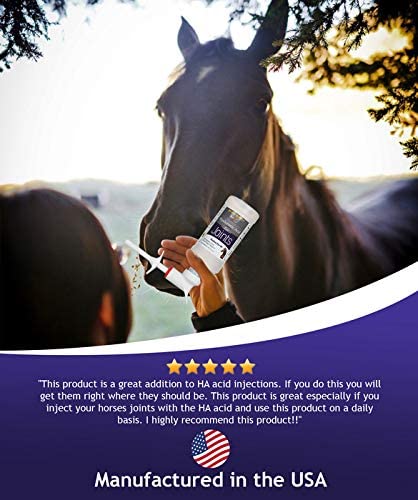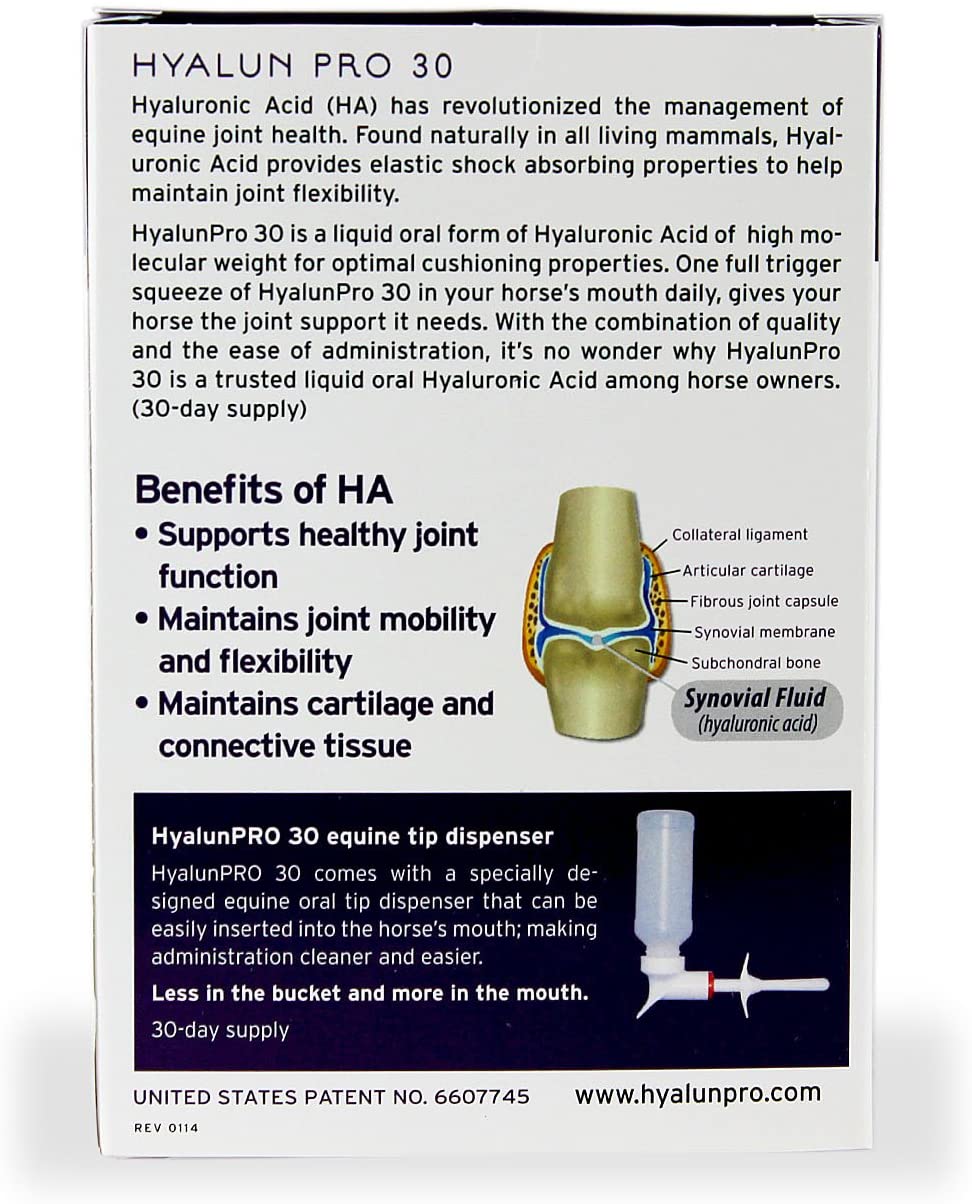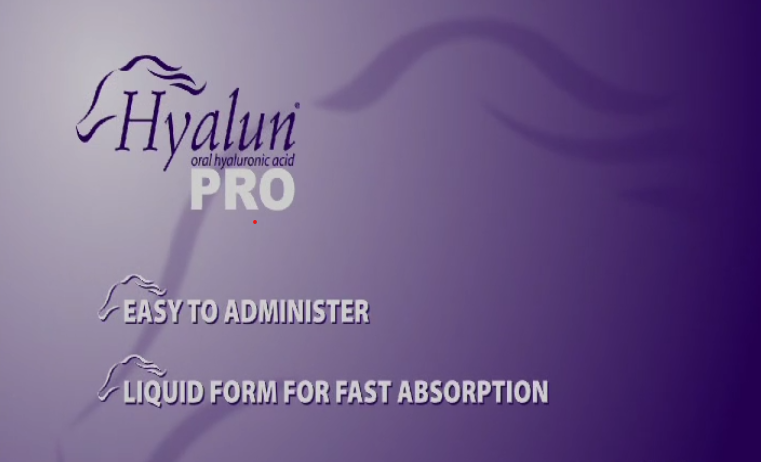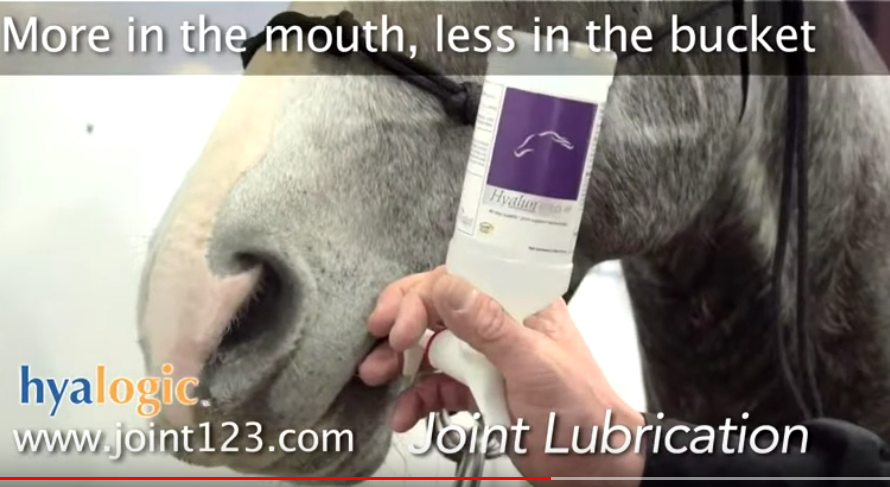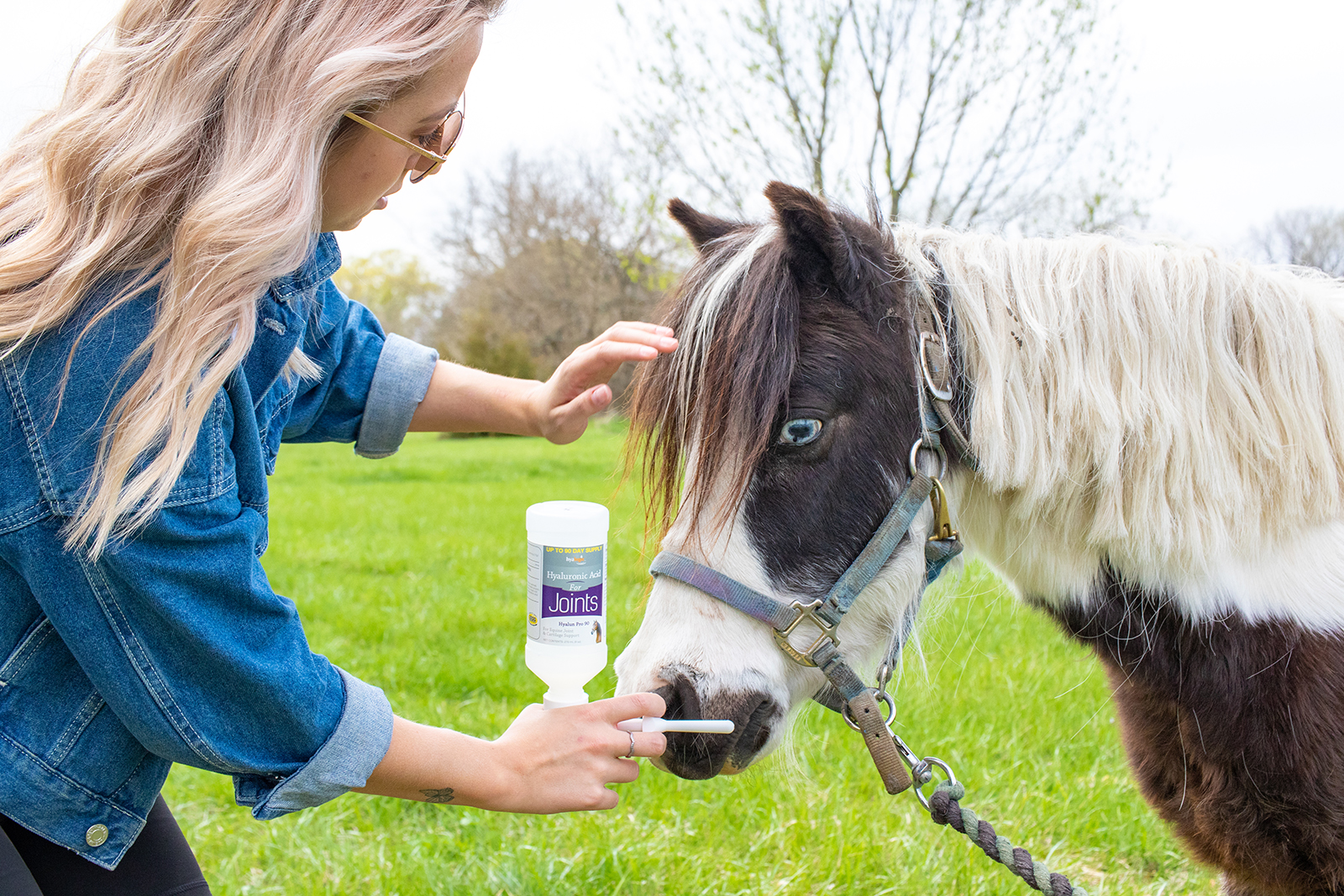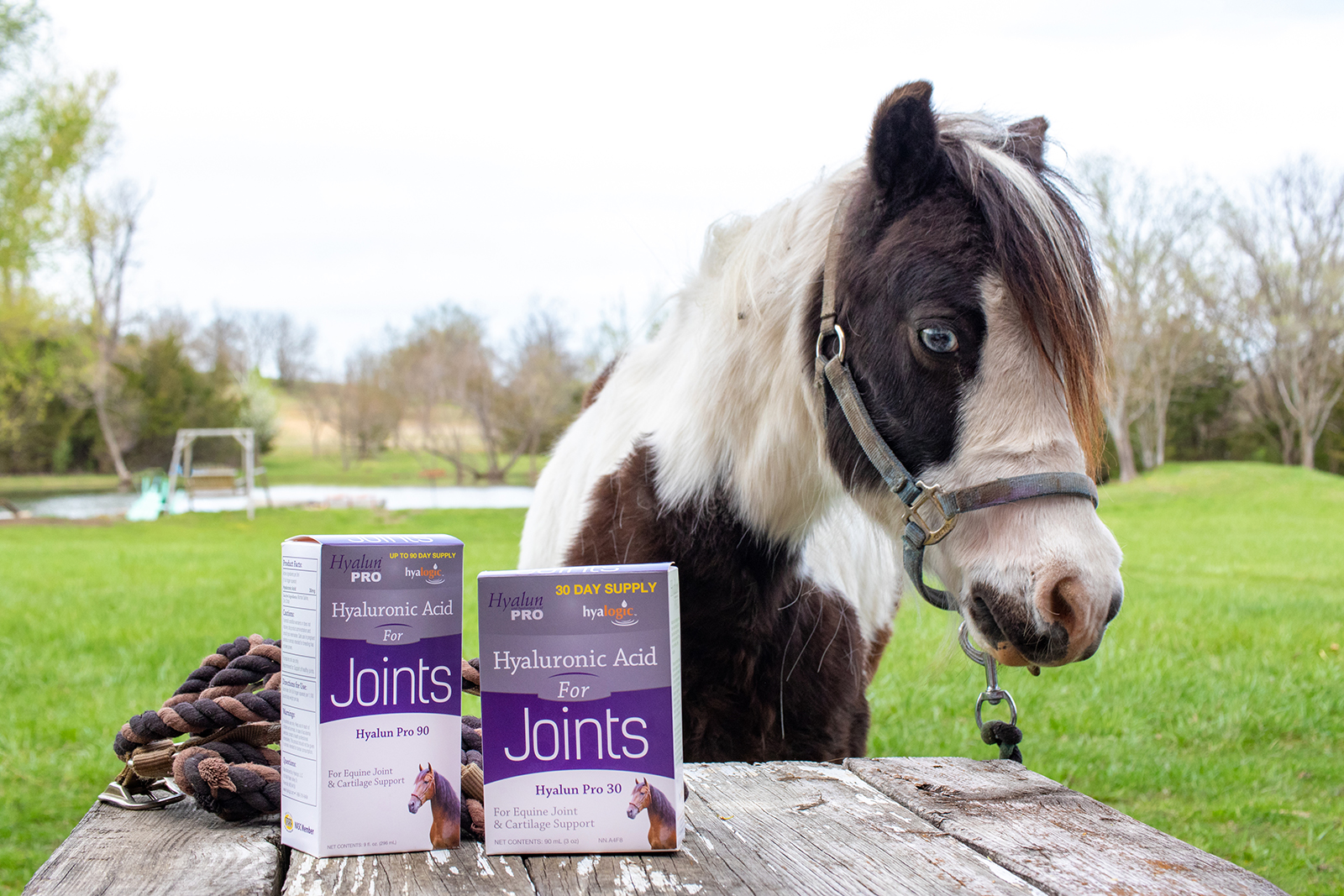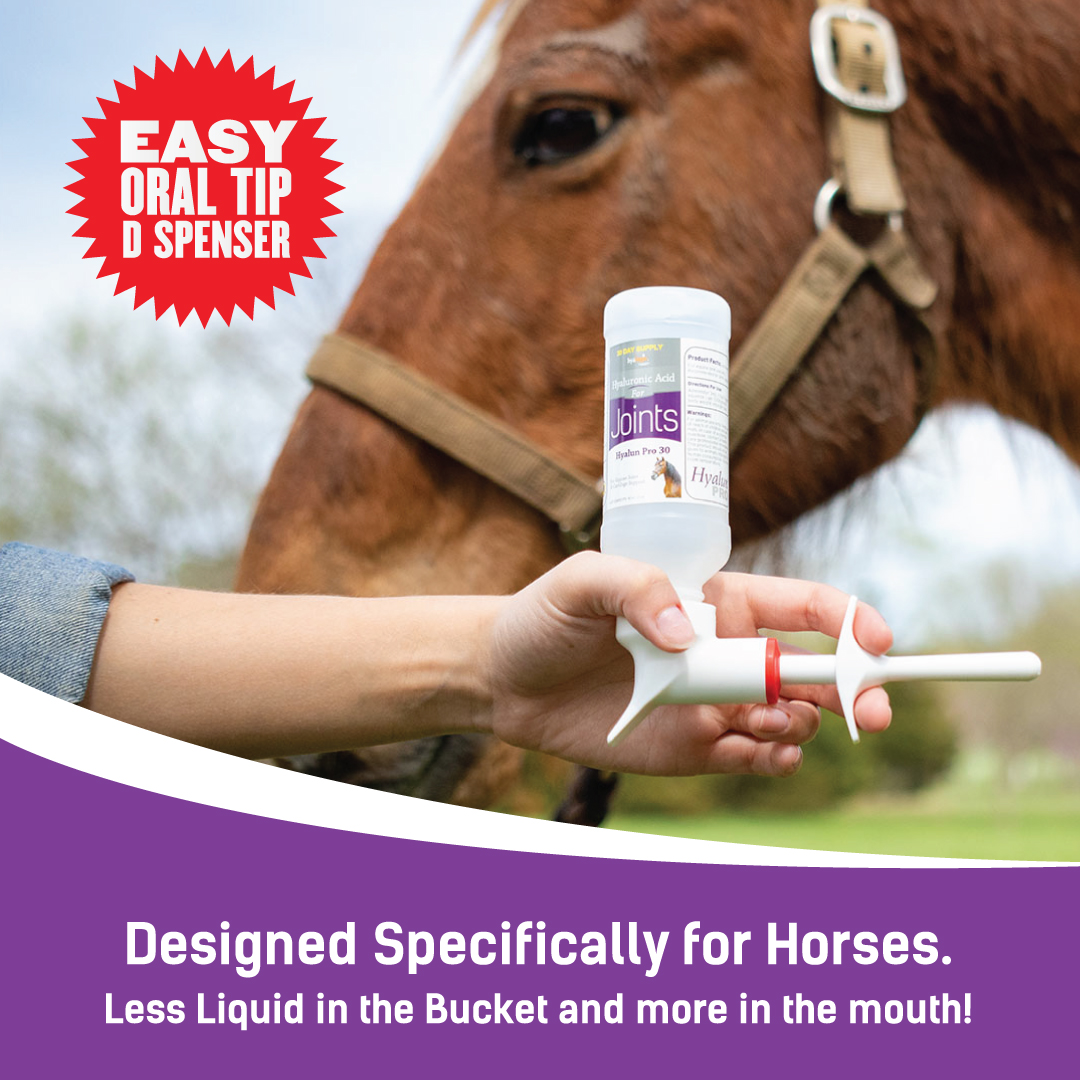 Hyalun PRO 90
Leave a Review
Hyalun® Pro 90 is a liquid, oral solution loaded with premium Hyaluronic Acid and helps support healthy, normal movement of a horse's joints.  (270 ml-90 day supply)
BETTER JOINT HEALTH: Horses are heavy! Equine joints can deteriorate quickly; factors such as turnout availability, riding, driving, footing, and especially anatomical imperfections can increase the compression of your horse's joints. An oral hyaluronic acid joint supplement may help joints and cartilage bounce back!
JOINT SUPPLEMENT: Equine vet visits can be expensive, help keep your horses' joints supported. Hyaluronic acid supplements with a high molecular weight are a easy, tasteless solution for supporting joints and cartilage naturally, and keeping your horse healthy, happy and cared for.
AGE FIGHTING CARTILAGE SUPPORT: As age, anatomy and activity wear down the cartilage and joint lubrication of the joints, a joint supplement for horses can prolong the life of the joint and the cartilage cushion. Hyalun eases joint stiffness due to normal exercise and activity, enhancing healthy joint fluid viscosity.
EASY TO ADMINISTER 90 DOSES: This HA supplement administers 90 doses of 30mg of pure hyaluronic acid for horses, quickly, easily and without fuss. The oral injector is easy to use and releases the perfect amount. No wasted powder in your feed tubs.
HIGHEST QUALITY AVAILABLE: Hyalogic Hyaluronic Acid Horse Joint Supplement has a high-molecular weight. We pride ourselves in providing you quality products that produce amazing benefits for your pets. Our product line, HyaFlex for dog or cat joint care and Hyalun PRO for equine performance supplements keep your pets vibrant, healthy and happy, inside and out.
Directions: Administer 3mL (1 fill trigger squeeze) per 1,100 pound bodyweight per day
Useful
Frequently Asked Questions
What is Hyalun®Pro?
Patented Hyalun®Pro is a liquid solution of pure hyaluronic acid for oral administration with horses. Hyaluronic Acid has been shown to support healthy joint and cartilage function as well as maintaining normal, healthy joint function.
How do I give Hyalun®Pro to my horse?
Administer one full trigger squeeze of Hyalun®Pro once daily into the oral cavity. Hyalun®Pro is available in a 30 day and 90 day supply.
How long before I will see results?
There is no exact time. Most animals observed have noticeable results within 7 to 14 days.
What sizes are available?
Hyalun®Pro comes in 2 different sizes. Hyalun®Pro 30 contains a 30 day supply of Hyalun® (not including loading amounts) and has been fitted with an ergonomic handle designed to make administration easier on your hands and fingers when treating multiple horses. Hyalun®Pro 90 contains a 90 day supply and has been fitted with the same ergonomic handle. Hyalun®Pro Gel, a pre and post-event loader, has been designed to allow you to boost your horse with an additional supply of HA before or after a competition when they need the support the most. Hyalun®Pro Gel comes in a 3-time use, 30cc syringe.
What is Hyaluronic Acid?
Hyaluronic Acid is a special mucopolysaccharide occurring naturally throughout the human body. One of the most heavily researched substances today. Its function in the body is, amongst other things, to bind water and to lubricate movable parts of the body, such as joints and muscles. Its consistency and tissue-friendliness allow it to be used in skin-care products as an excellent moisturizer. Hyaluronic Acid is one of the most hydrophilic (water-loving) molecules in nature and can be described as "nature's moisturizer".
Where does your Hyaluronic Acid come from?
The Hyaluronic Acid in Synthovial SEVEN®, as well as the rest of the products from Hyalogic, comes from an extracellular protein during a natural fermentation process; not an animal source. This high molecular weight Hyaluronic Acid produced is equivalent to the Hyaluronic Acid in the body.†
Why is the molecular weight of supplemental Hyaluronic Acid important?
A study done by Wobig et al in 1999, compared Hyaluronic Acids of various molecular weights and found there are far more benefits derived from higher molecular weight acid. The higher molecular weight acid can hold more water, thus better lubrication properties. Hyalun®Pro is one of the purest and highest in molecular weight. Molecular weight is no less than 2.4 million.
How does Hyaluronic Acid compare to glucosamine or chondroitin?
Glucosamine is a precursor of Hyaluronic Acid. Hyaluronic Acid in turn makes the synovial fluid. Glucosamine must combine with a glucuronic acid molecule to make Hyaluronic Acid. Often times the body is not able to join these two molecules together and the production of the much needed Hyaluronic Acid is never achieved. By administering Hyaluronic Acid, you take away the risk of this integral process not happening and may see results with Hyaluronic Acid that you did not see with glucosamine or chondroitin.
Why would I want to give my horse a Hyaluronic Acid (HA) product?
Hyaluronic Acid is naturally produced by the body as a constituent of synovial fluid that lubricates the cartilage between the joints. As the horse ages, it produces less HA and it becomes more and more difficult to replace the lost HA. HA products will pick up where the horse's body fails them.
How does Hyaluronic Acid benefit a horse's joints?
The HA in Hyalun®Pro acts to help maintain proper joint movement, lubrication, and cushioning. If we can compare the joints of the horse to an automobile engine, the synovial fluid in the joint mimics the oil in a car engine. At regular intervals, we replace the oil in our car engines because the heat and friction of normal operation cause a breakdown of the oil viscosity. The oil becomes thinner and less able to protect the metal surfaces from excessive wear. The Hyaluronic Acid in the horse's body breaks down in the same way. Hyalun®Pro protects the joints just like the oil protects an engine.
What if my horse does not have joint issues?
Because of the natural anatomical construction of the horse's limbs, all horses are susceptible to the breakdown of Hyaluronic Acid. Just as we change the oil in our vehicles for routine maintenance, using Hyalun®Pro may help by maintaining proper joint fluid viscosity.
Do veterinarians use Hyaluronic Acid?
Yes. Hyaluronic Acid has been used for years.
Will Hyalun®Pro create a test positive?
No. HA is something that is created by the horse's body naturally and it will not show up in a post-competition test.
We are using a multi-technique approach to helping our horse's joints by using several different techniques and joint supplements. Should Hyalun® be something we try as well?
We always recommend that whenever you are helping your horse with joint issues, that you utilize one joint supplement at a time. If multiple products are being used at once, it could become very difficult to determine which supplement is working the best for your horse.
Haven't used it long enough to notice a difference BUT I know it will work. I love the pump dispenser. Makes it so easy and no waste. I wish they had a dog size version with the pump. I plan to use this for my dogs as well. The little dropper bottle I bought for them was not as good as this and not easy to use. Ended up spilling all over. I will be using this and just giving them less... Excellent product. My horse moves without any issues when I use this product. I give it 5 stars. Excellent product. After 3-4 days in can feel the difference in my horse's joints and he can move without any problems. I give it 5 stars. So far it seams to be helping my Senior mare stay more comfortable and move around a little more at one month out. She is very good at taking her wormer so I thought this would be a breeze but she does give just a little sass about taking it. But I mean little. I can still administer without a halter. Lol I'm trying it on my forehead for my wrinkles that a a little noticeable. To be continued... My horse is much better since I started this product 5 years ago. Will keep him on it until he is no longer with me. I also give this to my 14 year old Doxie has help him also. I buy this for my dogs, it almost a miracle worker! I have a Frenchy that has had three back operations, and this Hyalun Pro 30 has kept her playful and active without a problem for the last five years! I buy equine in most of the dog items I use, if available, because the equine version is usually without a preservative.
Stay Hydrated
Latest Tips
When Columbia University scientists Karl Meyer and John Palmer first discovered hyaluronic acid (HA) in 1934, they could scarcely have... Healthy, youthful looking hair relies on ample hydration, both in the hair itself and in the scalp where the hair... Ageless beauty has long been the Holy Grail of the cosmetics industry. Just a quick glance online reveals the abundance...