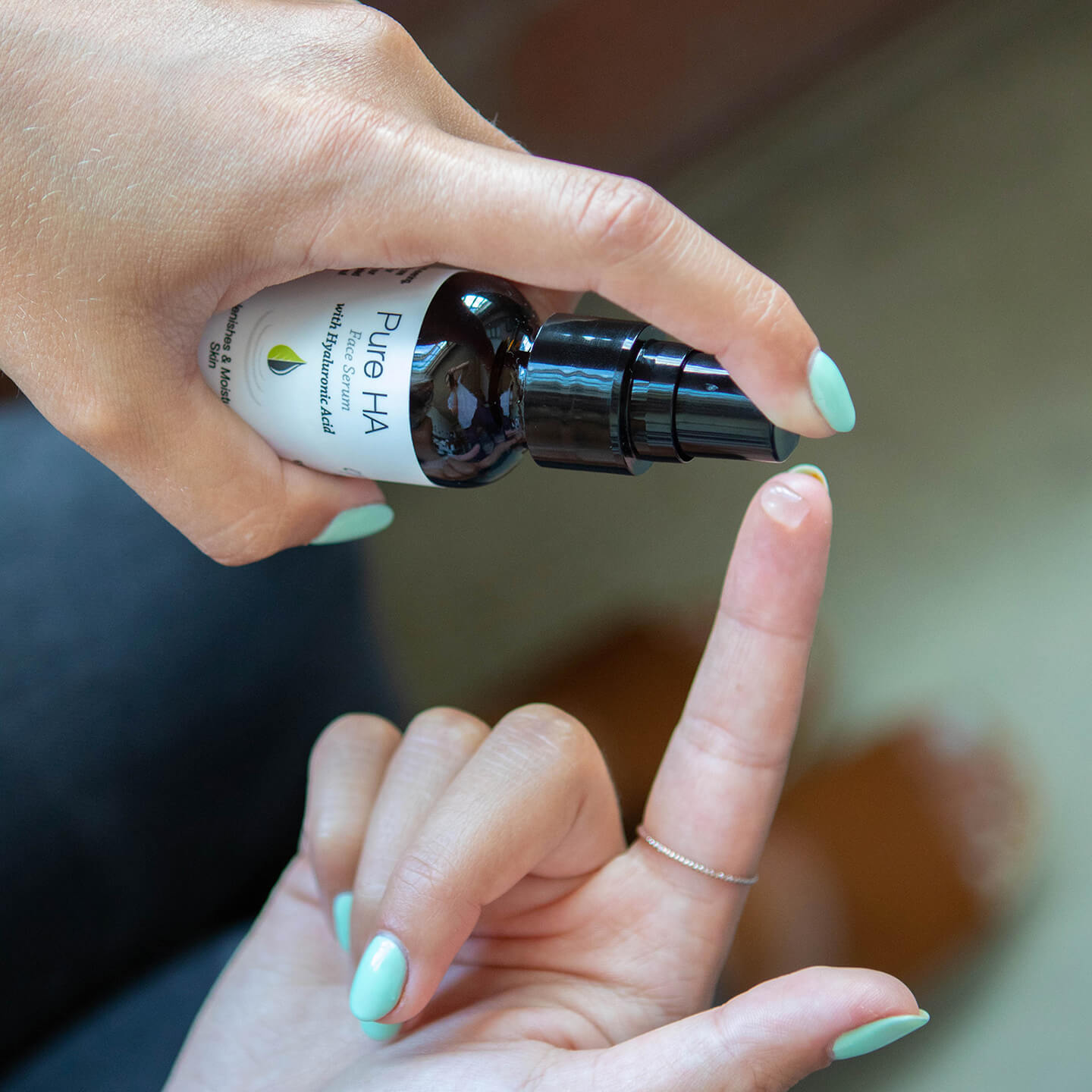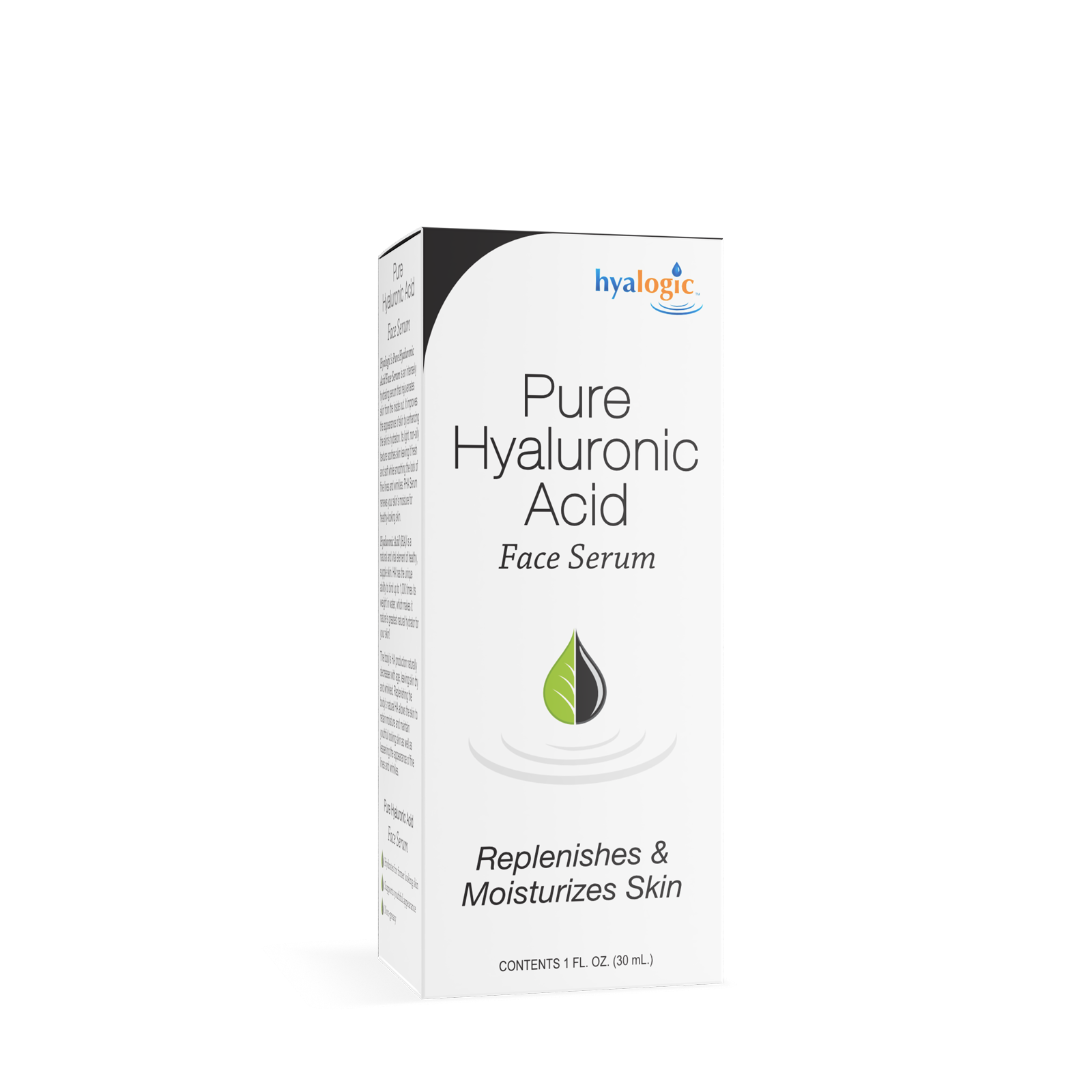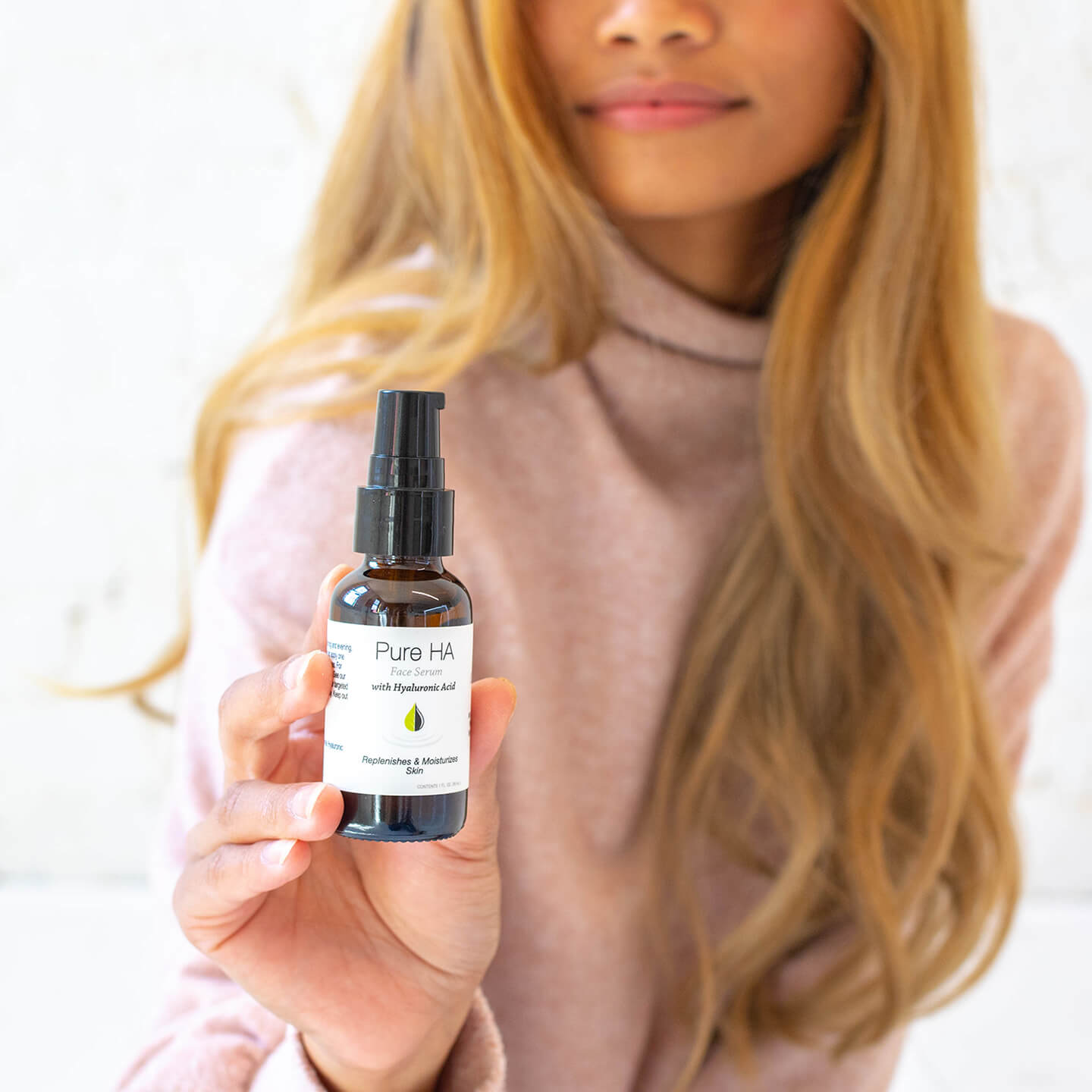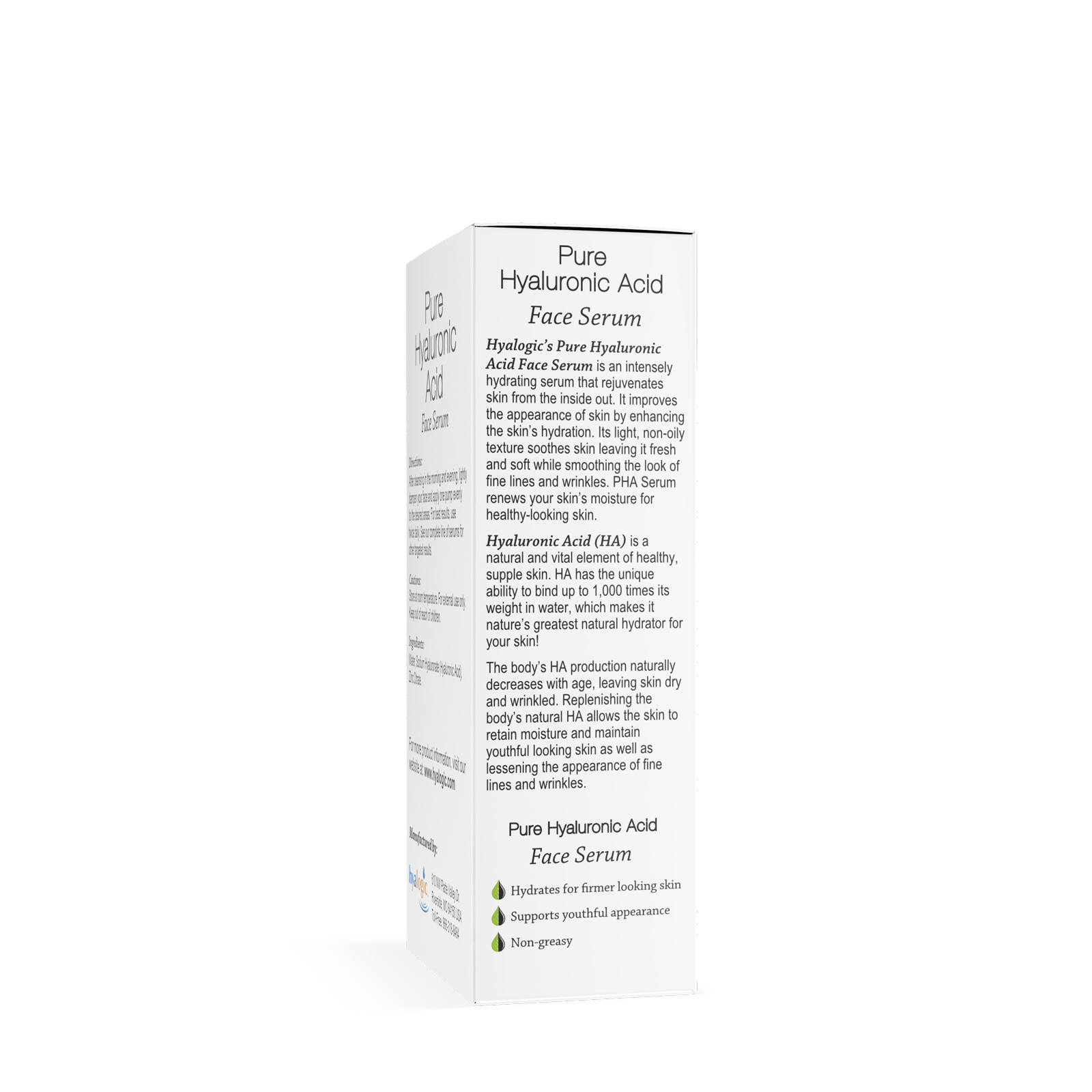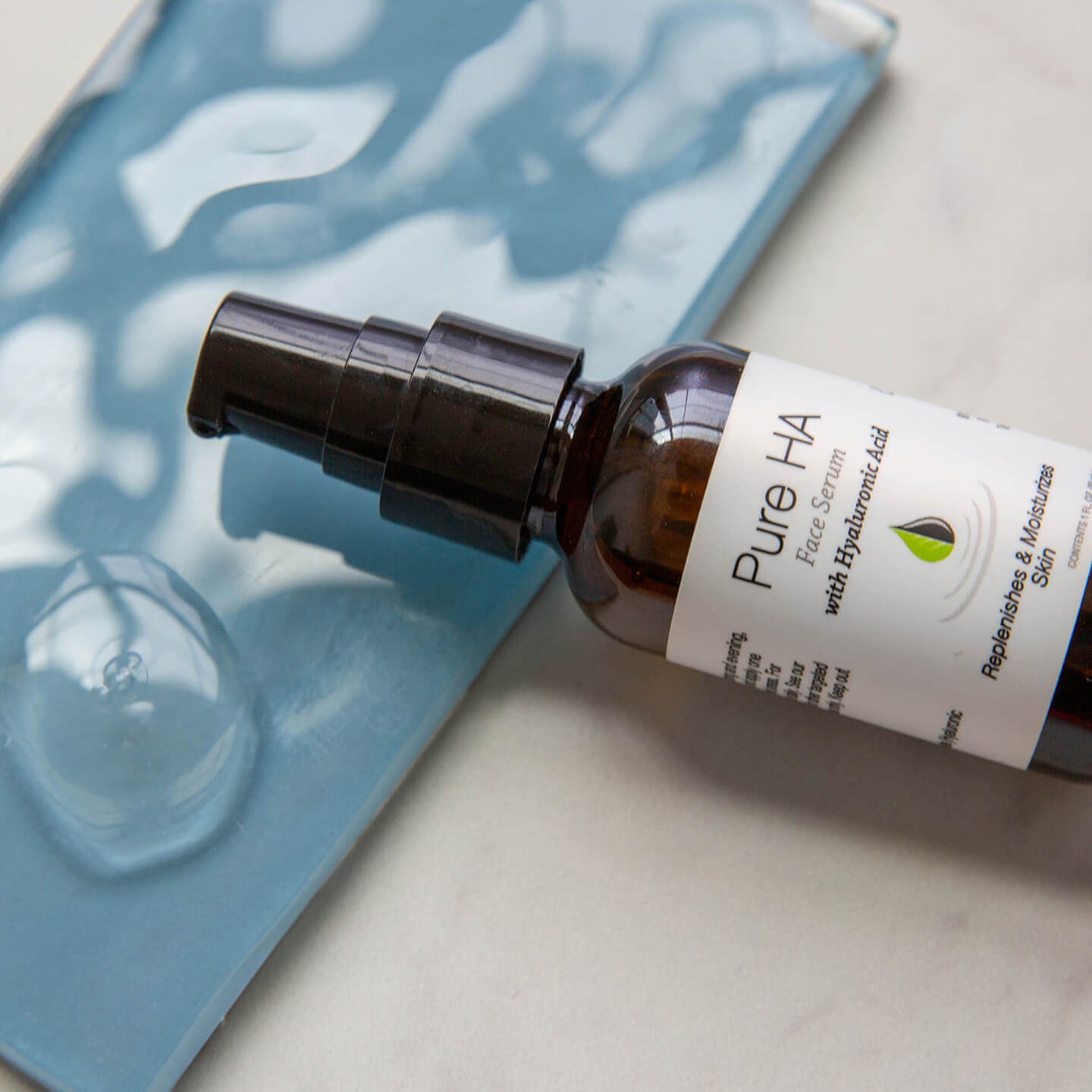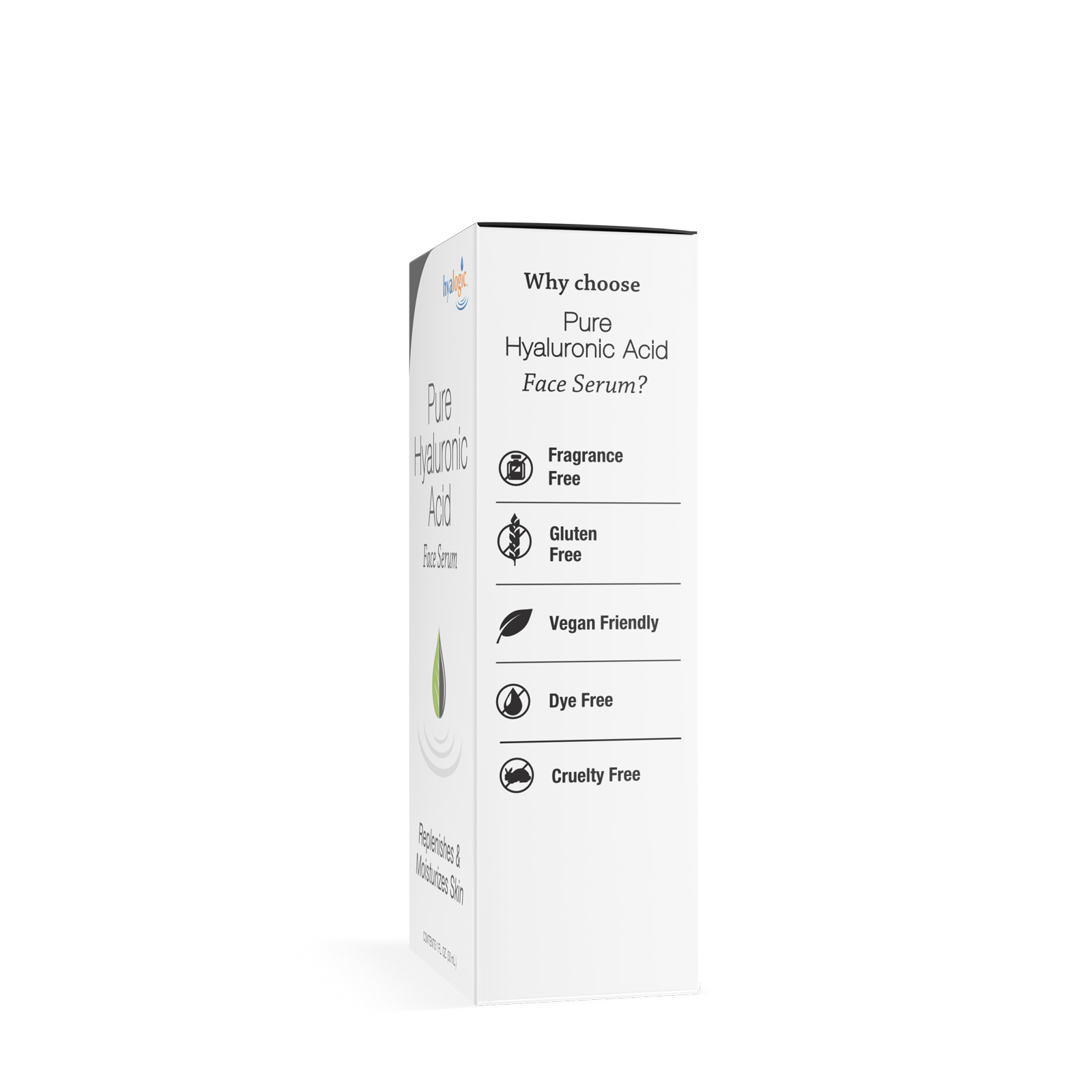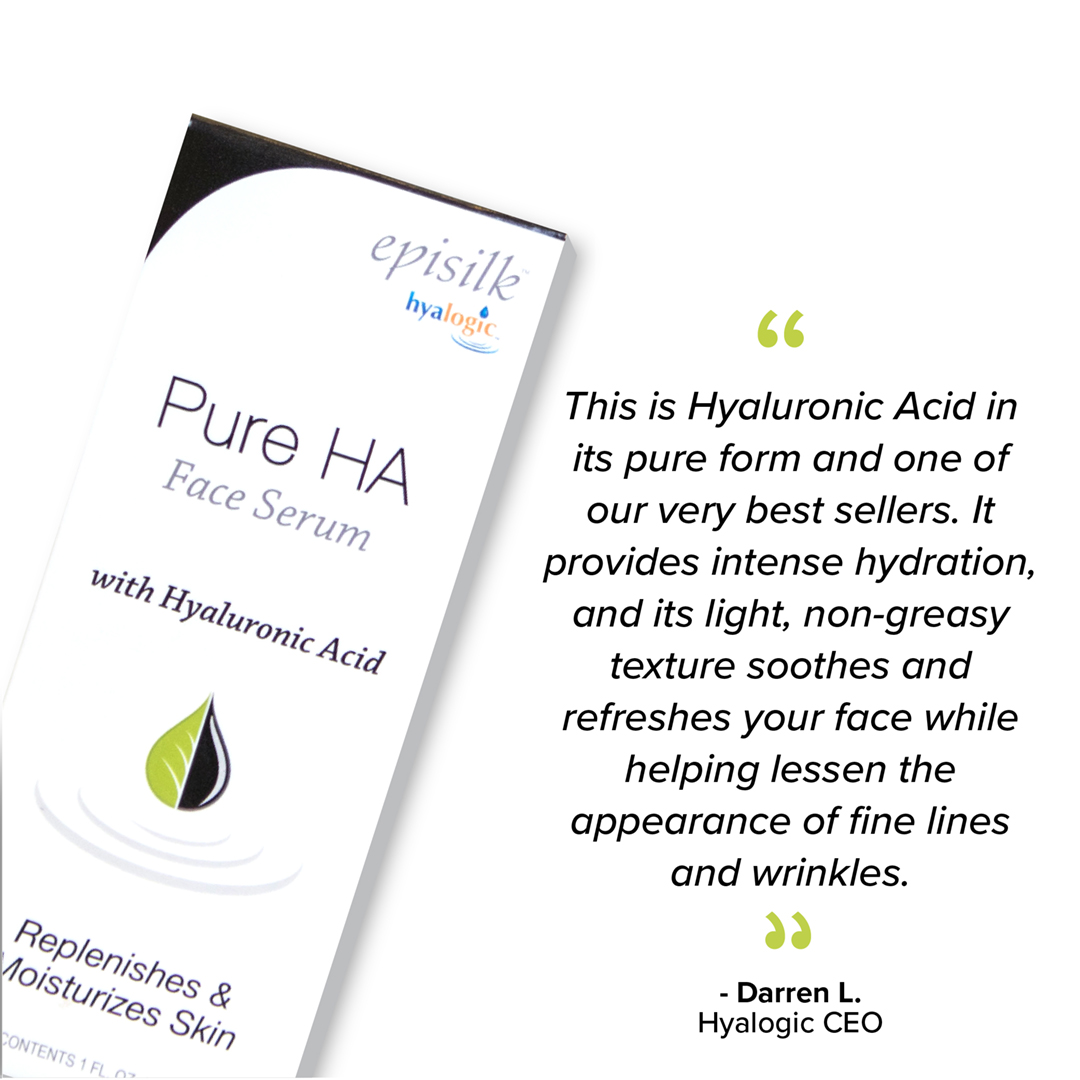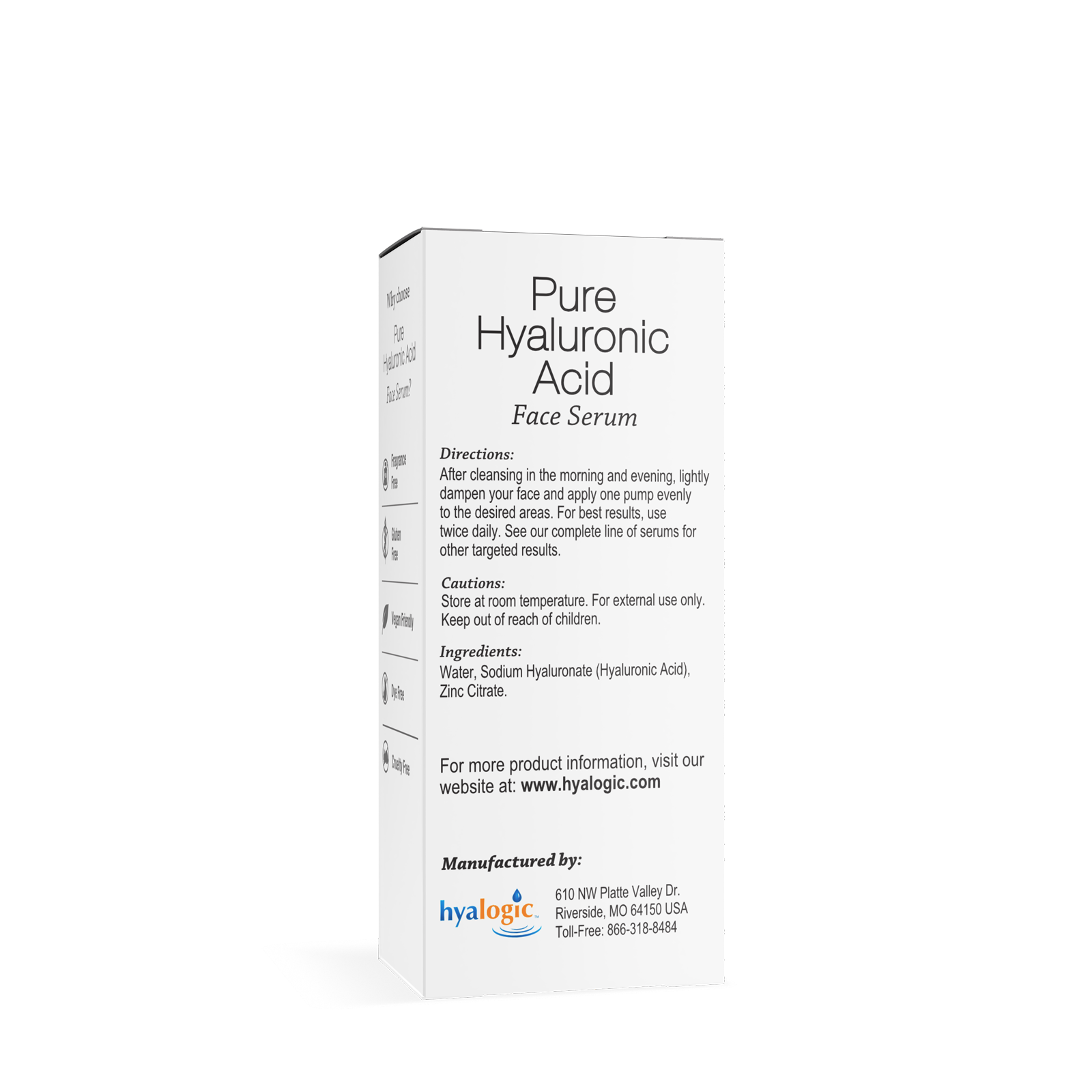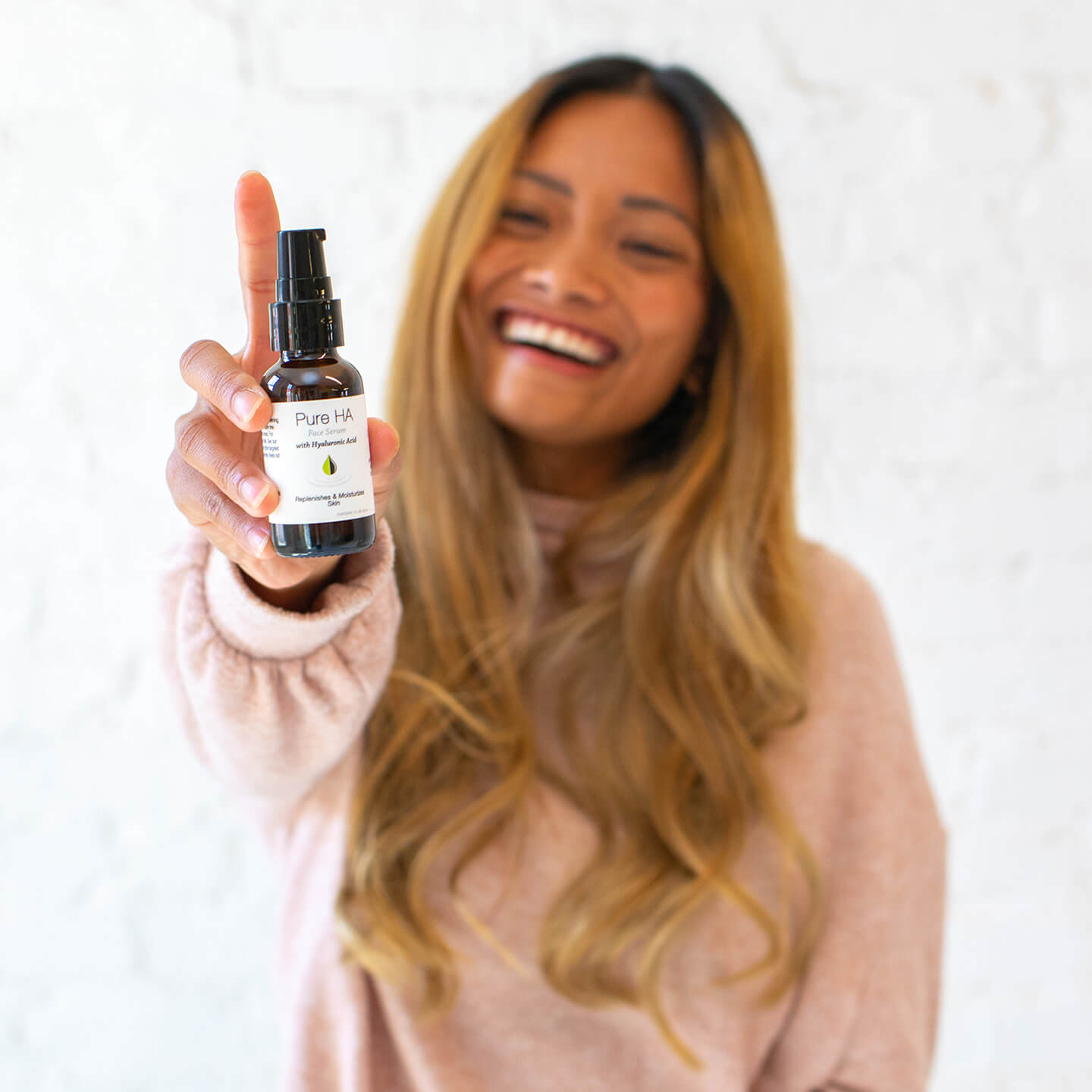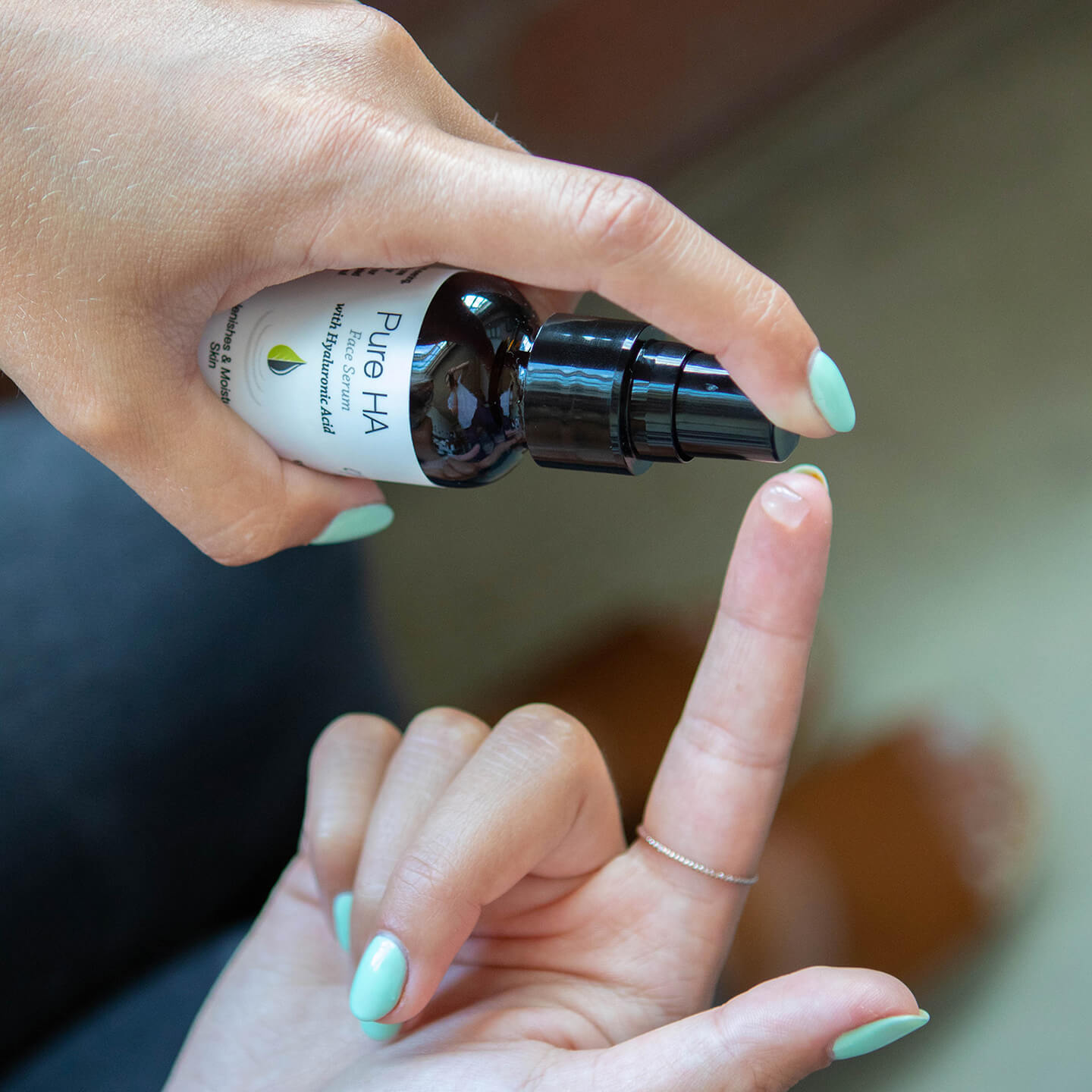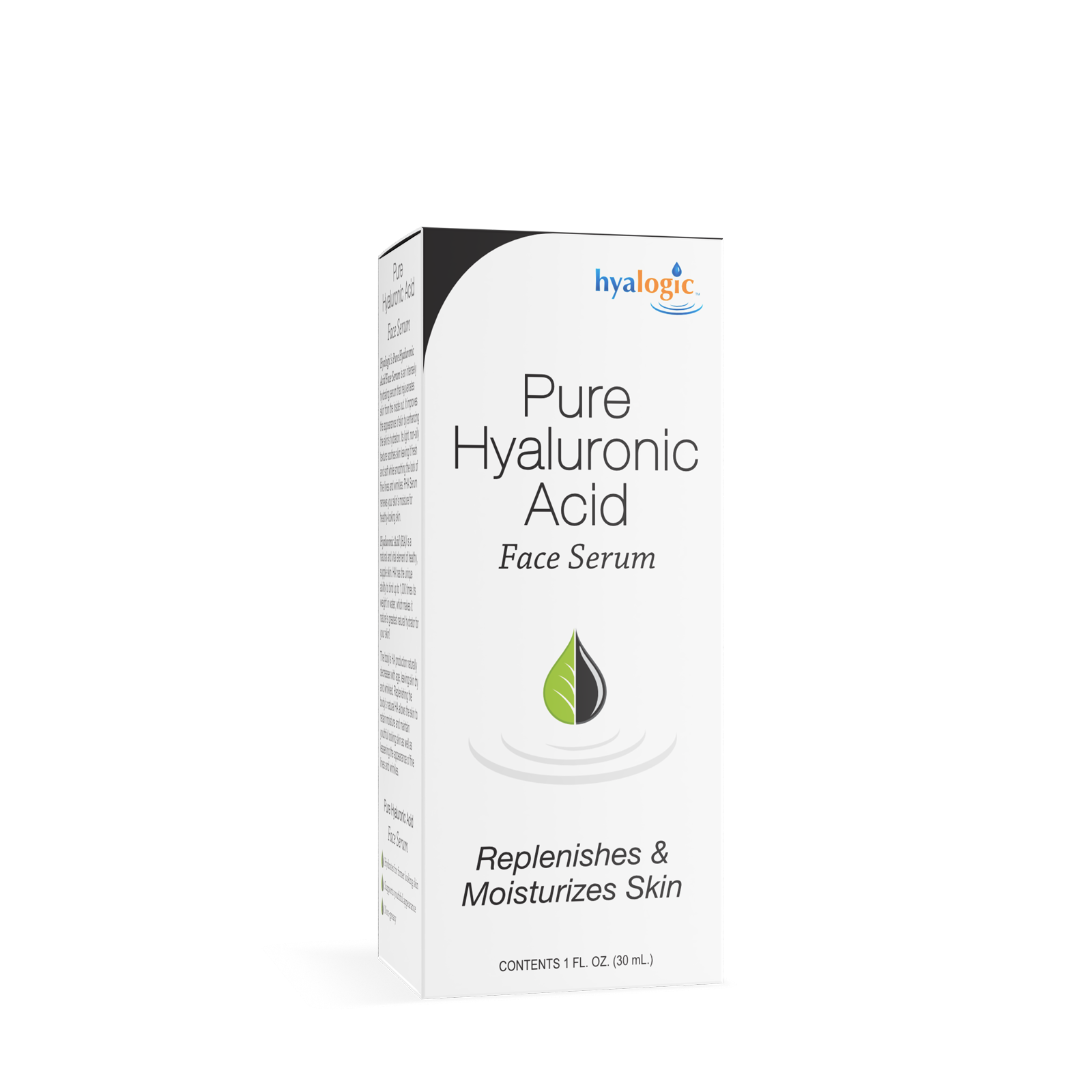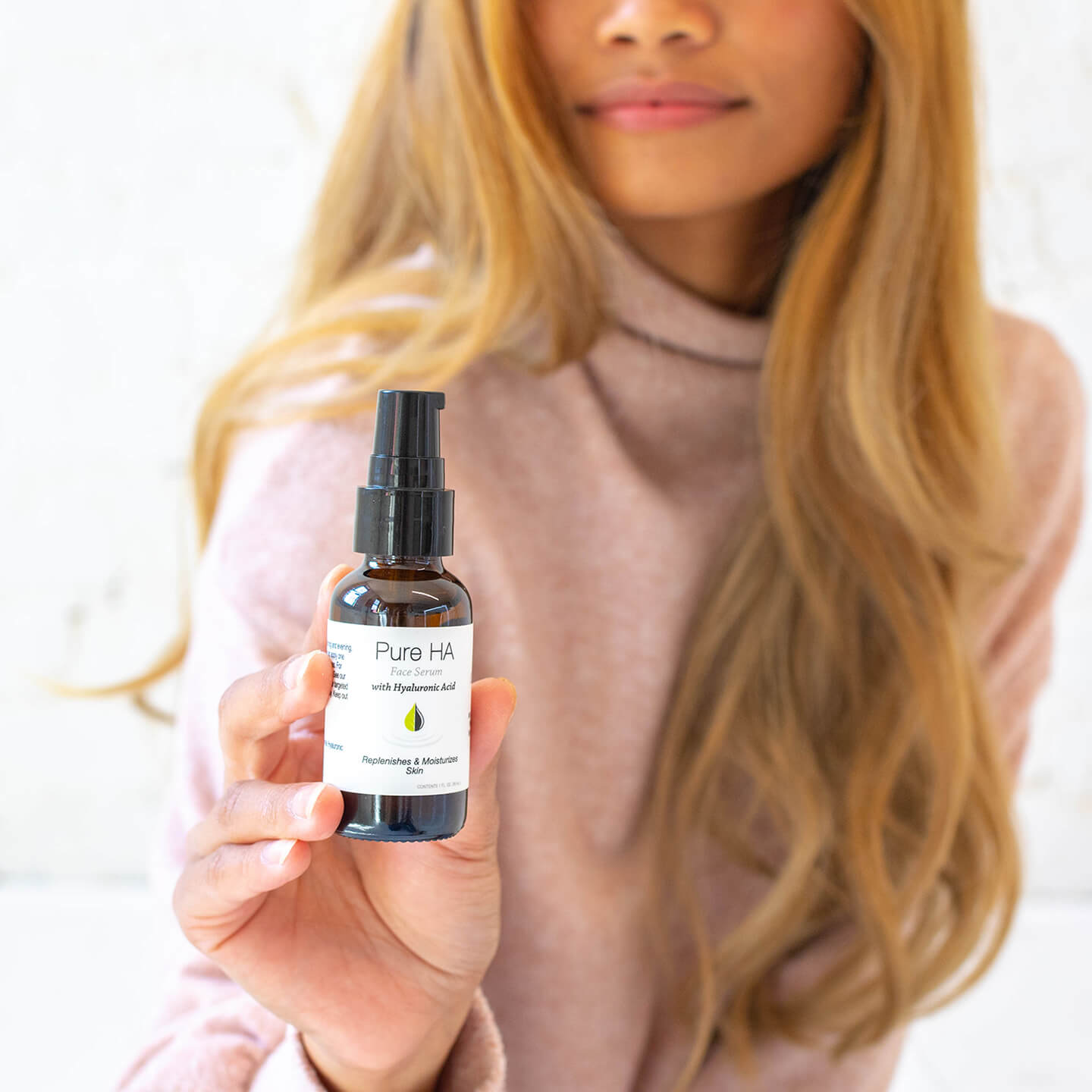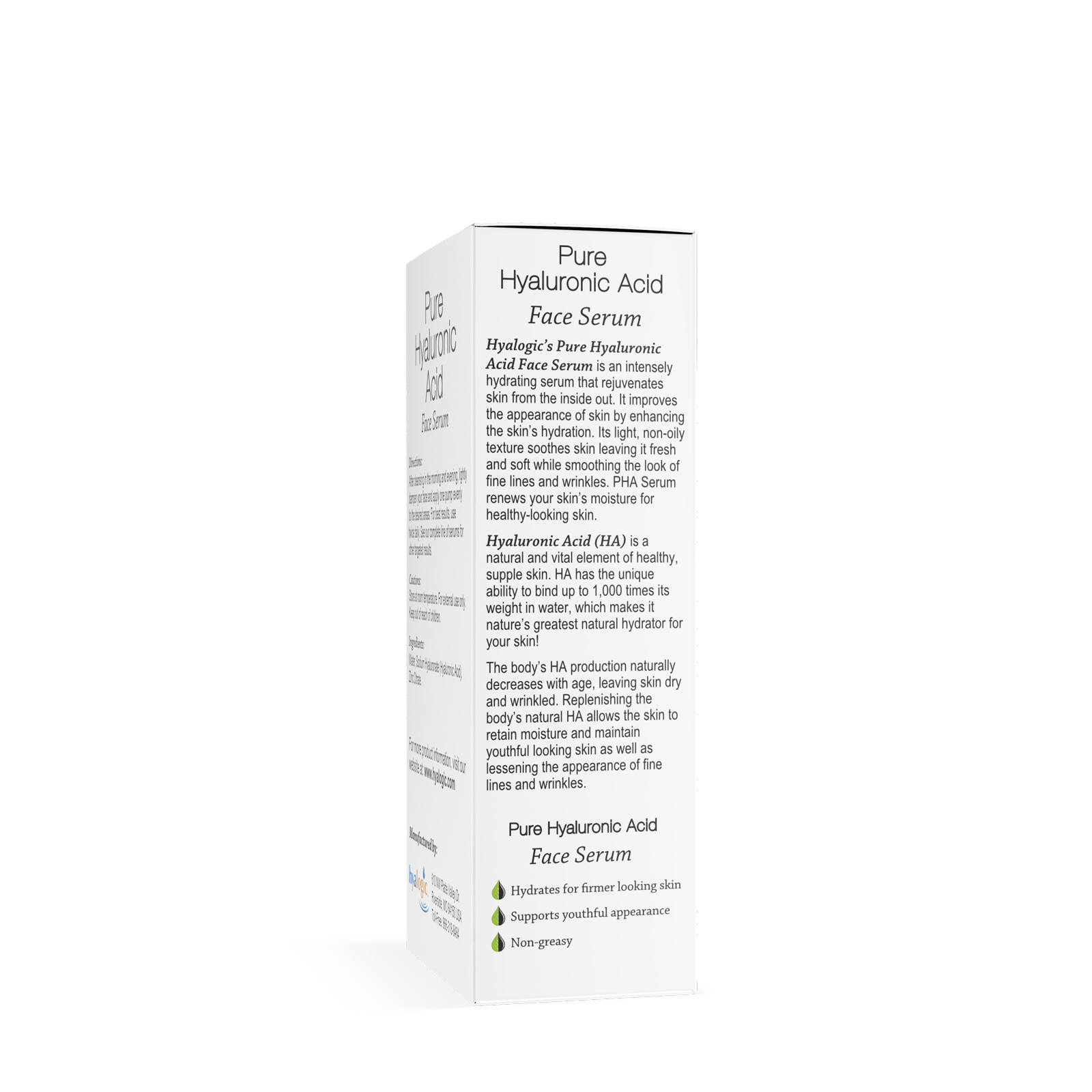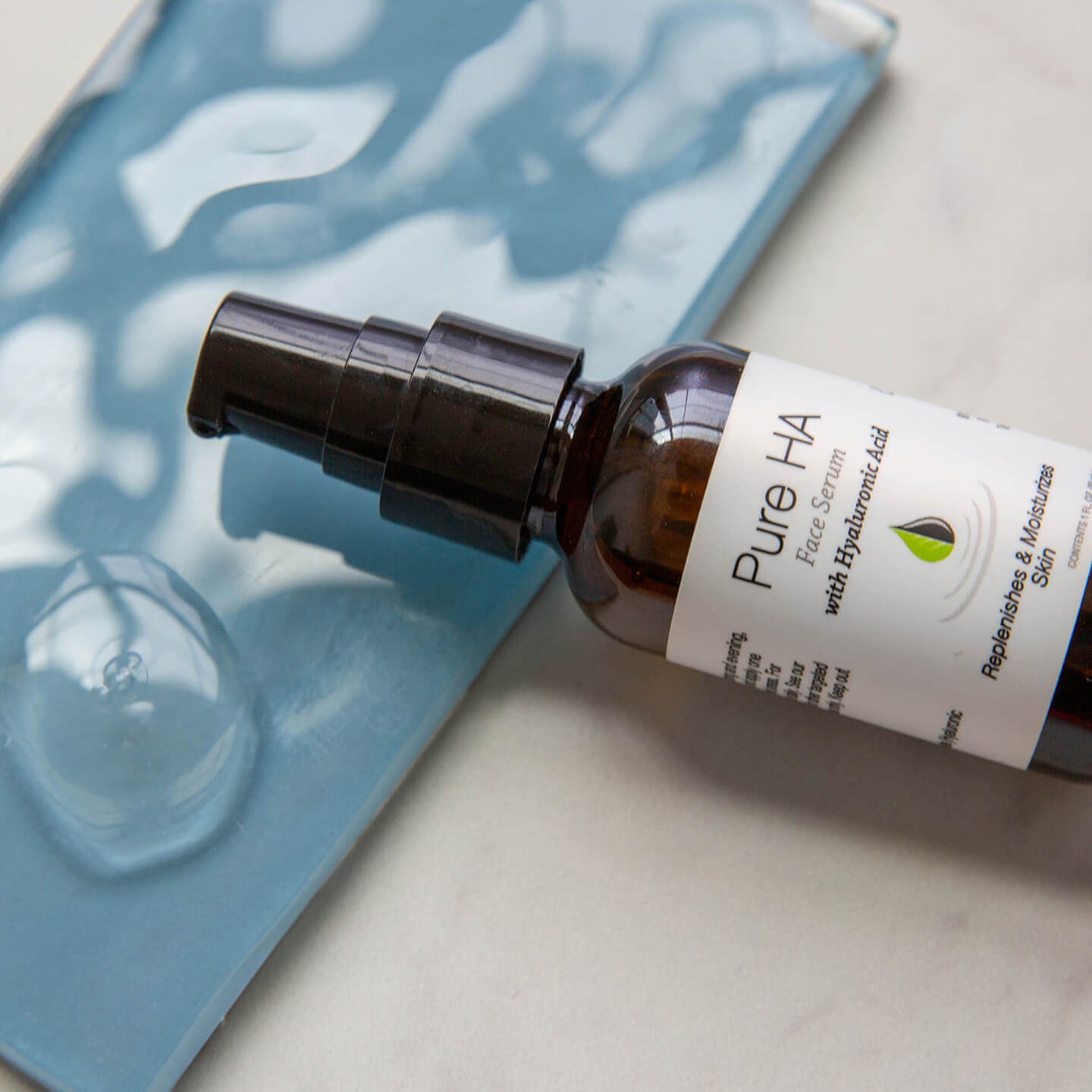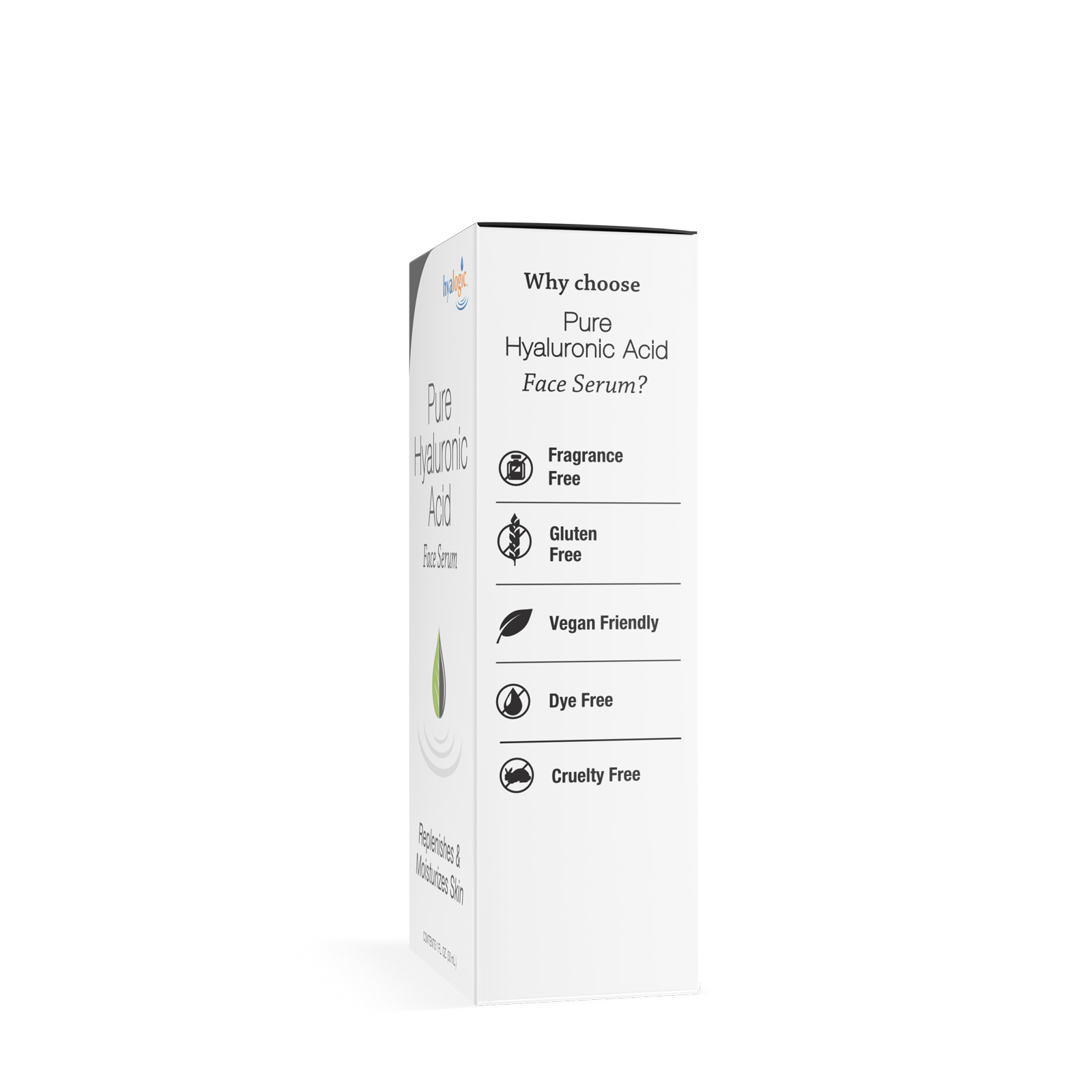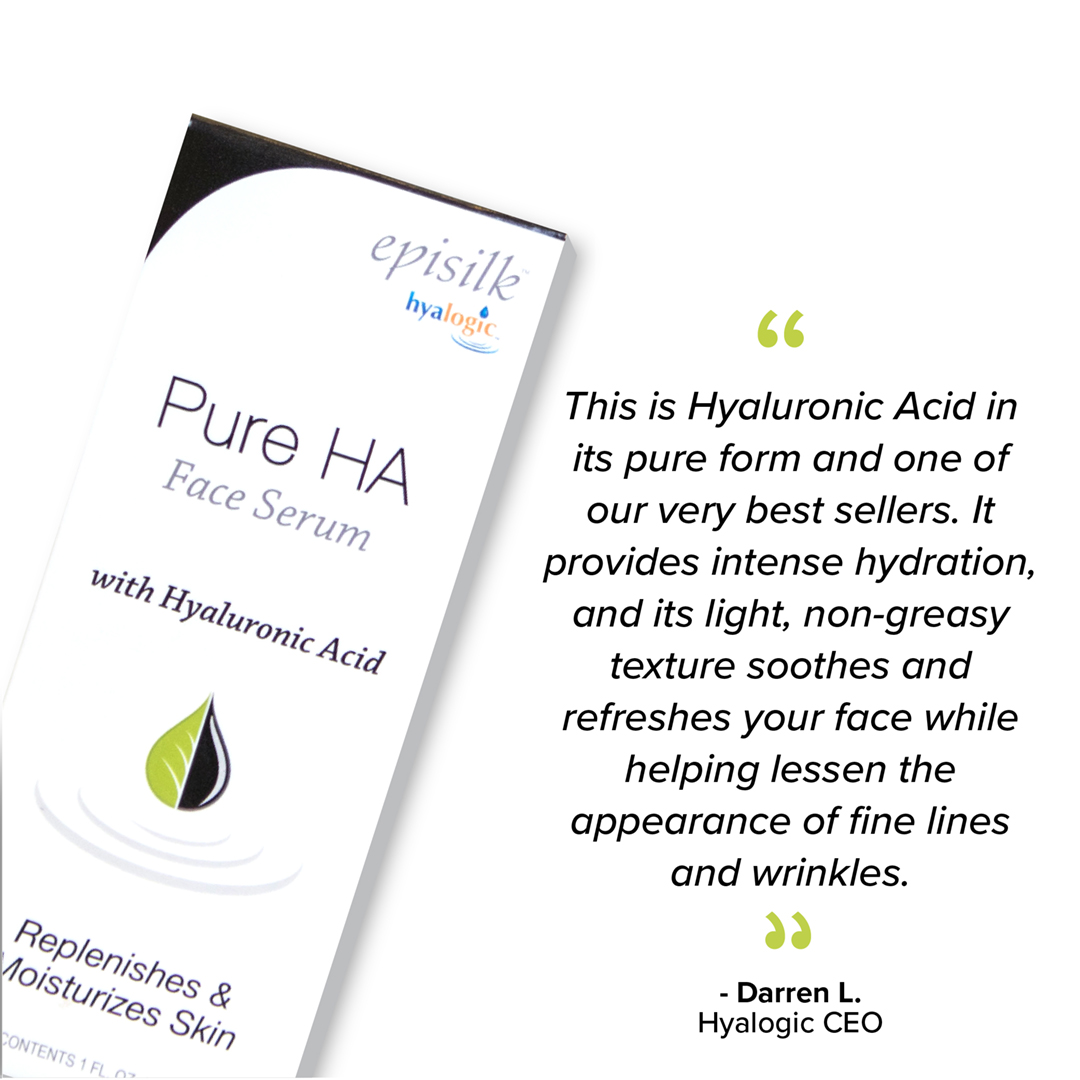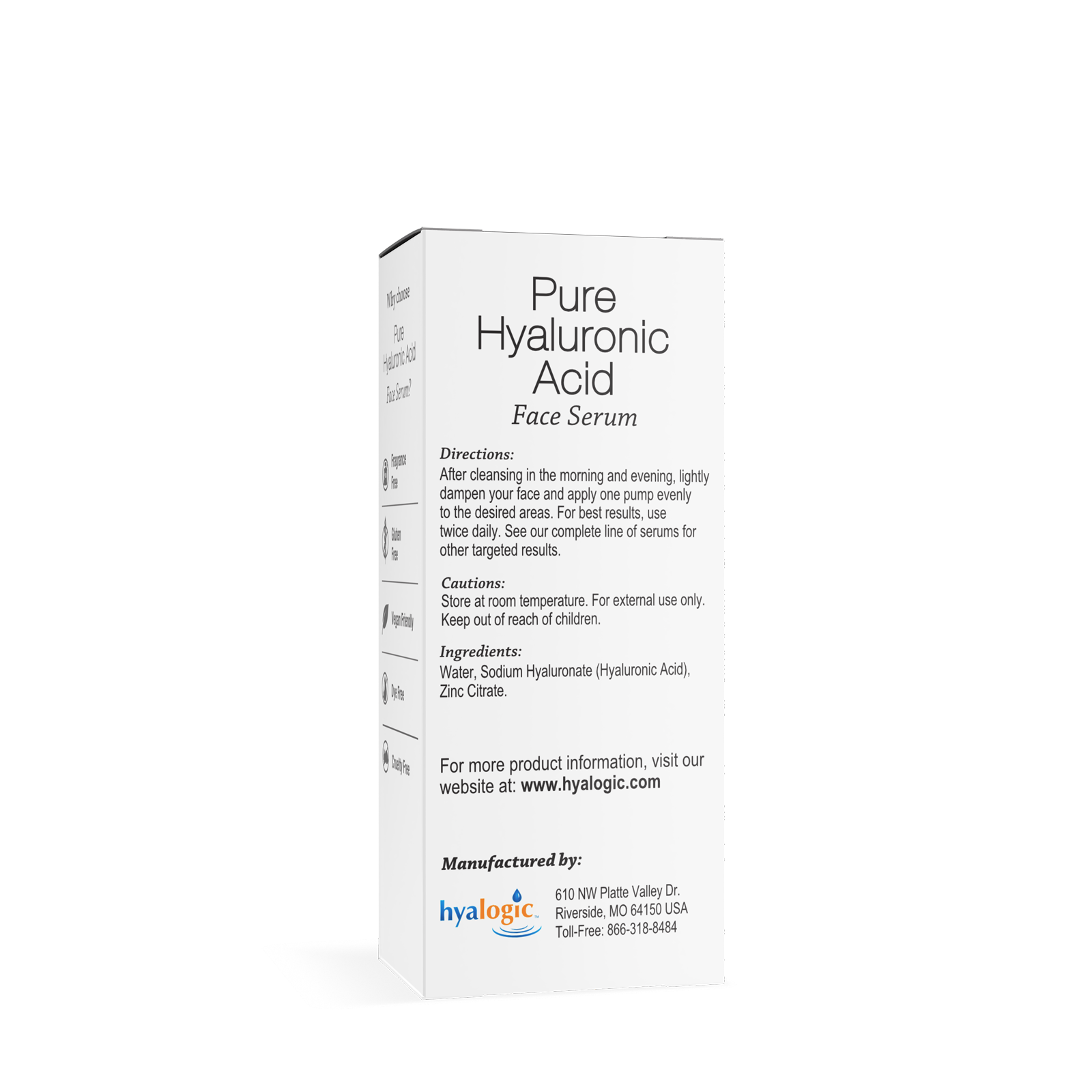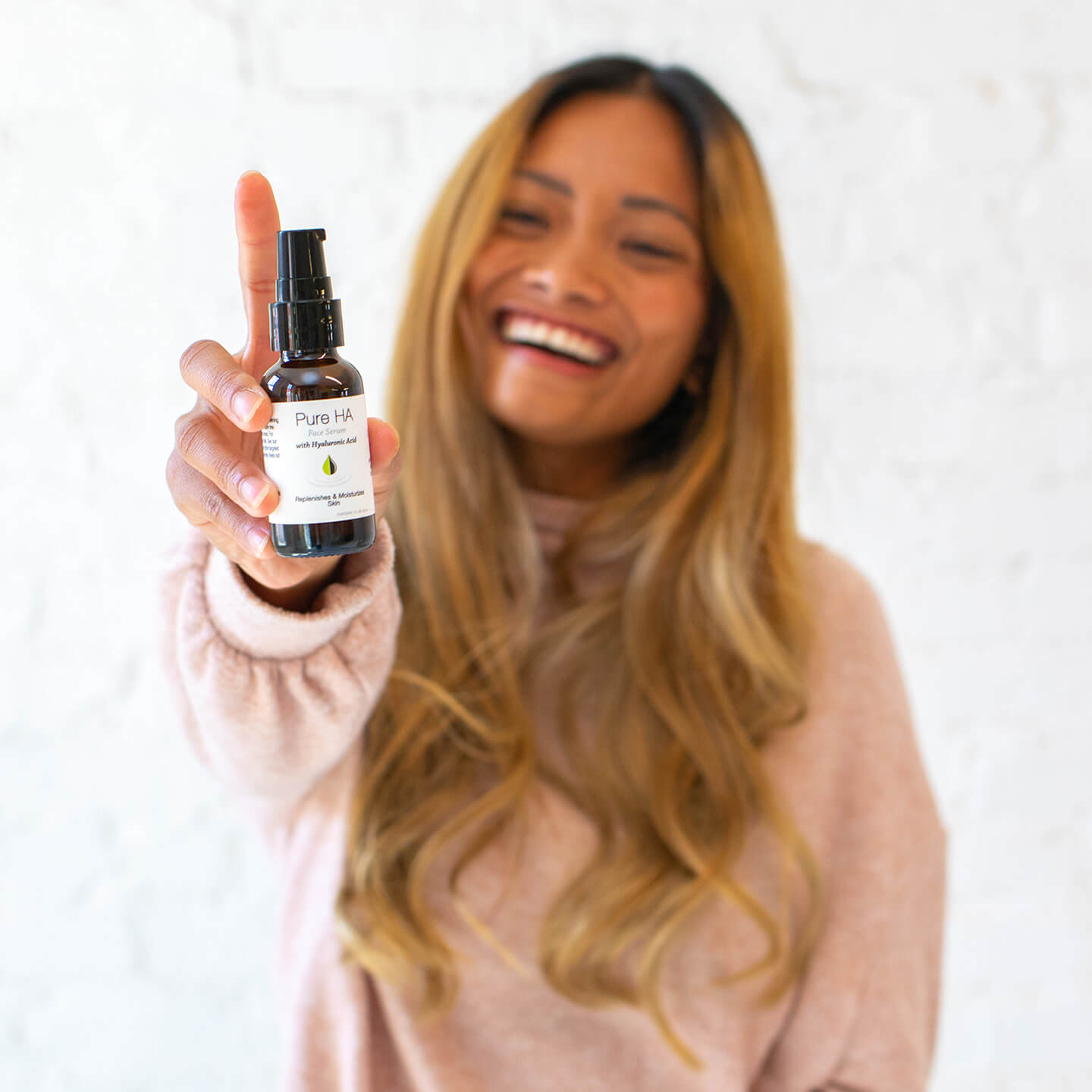 Pure HA Serum
Leave a Review
Experience the incredible moisturizing effect of Hyalogic®'s Pure HA Serum. Made with pure Hyaluronic Acid to support skin hydration.  This formula's light, non-greasy texture soothes and refreshes facial skin as well as helps to lessen the appearance of fine lines and wrinkles.
Premium sourced Hyaluronic Acid
Hydration for Firmer Looking Skin
Supports Youthful Appearance
Non-Greasy
Fragrance Free
The smooth pump action bottle ensures just the right amount of product is dispensed with every pump. Use Pure HA Serum today and feel the difference!
1 oz UPC 858259000186
1/2 oz UPC 858259000889
We believe in the shortest ingredient list possible. You don't need the entire periodic table to be effective, and we work tirelessly to include only the necessities.
Ingredients:
Water, Sodium Hyaluronate (Hyaluronic Acid), Zinc Citrate. 1 oz
Directions: After cleansing in the morning or evening, lightly dampen your face and apply one pump evenly to the desired areas. For greater support, use twice daily. See our complete line of serums for other targeted concerns. For external use only. Keep out of reach of children.
Ultra-Hydrating
Hyaluronic Acid
Hyalogic® Pure HA Serum contains premium Hyaluronic Acid formulated to support moisturizing and softening skin benefits. This intensely hydrating serum helps support skin moisture and hydration to maintain a healthy skin appearance. It is available in convenient 1/2 ounce and 1 ounce sizes. Perfect for travel and TSA compliant, now your skin can stay hydrated no matter where you go!
Premium sourced Hyaluronic Acid
Non-Greasy
Fragrance Free
There is nothing else like Pure HA Serum. Feel the difference today!
Useful
Frequently Asked Questions
What is Pure HA (Pure Hyaluronic Acid) Serum?
Pure HA facial serum that contains a non-animal derived form of Hyaluronic Acid to help support and hydrate the skin.
What is Hyaluronic Acid?
Hyaluronic Acid is a special mucopolysaccharide occurring naturally throughout the human body. One of the most heavily researched substances today. Its function in the body is, amongst other things, to bind water and to lubricate movable parts of the body, such as joints and muscles. Its consistency and tissue-friendliness allow it to be used in skin-care products as an excellent moisturizer. Hyaluronic Acid is one of the most hydrophilic (water-loving) molecules in nature and can be described as "nature's moisturizer".
Why is Hyaluronic Acid so important to the skin?
Young skin is usually smooth and highly elastic because it has been known to contain high concentrations of Hyaluronic Acid, which helps skin stay healthy. As we grow older, the body loses its ability to maintain this same concentration in the skin. As a result, the skin can have an unhealthy appearance.
How long has Hyaluronic Acid been used?
Hyaluronic Acid was first used commercially in 1942 when Endre Balazs applied for a patent to use it as a substitute for egg white in bakery products. He went on to become the leading expert on HA, and made the majority of discoveries concerning HA. Hyaluronic Acid has long been used in some of the top-selling commercial skincare products to support skin hydration.
Because it is an acid will it burn my skin?
Hyaluronic Acid is often called an acid and this is a misnomer. Hyaluronic Acid as a sodium salt (sodium hyaluronate)(Episilk™) will have a neutral pH measurement not an acidic. Because of the water-binding capacity of Hyaluronic Acid, it is actually very good for skin health.
Some of Our
Customer Favorites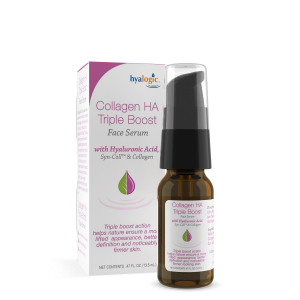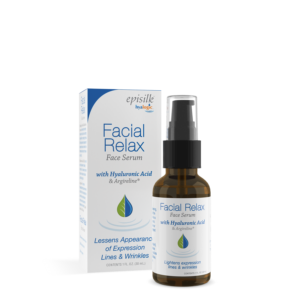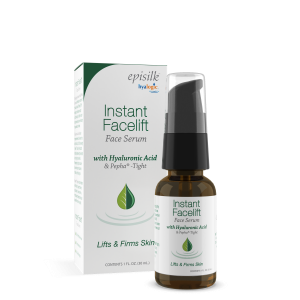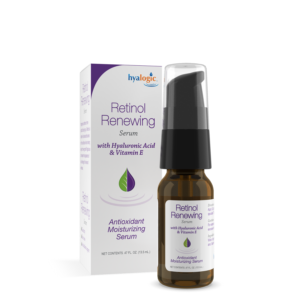 Enhance your beauty from within 💗⠀⠀⠀⠀⠀⠀⠀⠀⠀ ⠀⠀⠀⠀⠀⠀⠀⠀⠀ Our HA Collagen Builder enhances beauty from within by orally delivering key nutrients that support your body's natural collagen generation! Our natural formula is delicious, sugar-free, and berry-flavored.⠀⠀⠀⠀⠀⠀⠀⠀⠀ .⠀⠀⠀⠀⠀⠀⠀⠀⠀ .⠀⠀⠀⠀⠀⠀⠀⠀⠀ .⠀⠀⠀⠀⠀⠀⠀⠀⠀ .⠀⠀⠀⠀⠀⠀⠀⠀⠀ #hyaluronicacid #hyaluronic #collagen #biotin #hairskinandnails #healthynails #healthyskin #healthyhair #hairgoals #skincaregoals #strongnails #beautysupplements #nutritionalsupplements #collagenproduction #dailyroutine #healthylifestyle Are you hydrating?! We're not just talking about water…⠀⠀⠀⠀⠀⠀⠀⠀⠀ ⠀⠀⠀⠀⠀⠀⠀⠀⠀ 👉🏼 The human body is about 70% water, and that supply must be refreshed throughout the day, especially if you're active. We can also help our bodies hold and use water, too. ⠀⠀⠀⠀⠀⠀⠀⠀⠀ ⠀⠀⠀⠀⠀⠀⠀⠀⠀ 👉🏼 Hyaluronic Acid is capable of binding up to 1000x its weight in water. It can migrate throughout the body, bringing life-giving water where it's needed. Because your HA levels decrease with age, supplementing with it can support your joints, skin, hair, eyes and more!⠀⠀⠀⠀⠀⠀⠀⠀⠀ .⠀⠀⠀⠀⠀⠀⠀⠀⠀ .⠀⠀⠀⠀⠀⠀⠀⠀⠀ .⠀⠀⠀⠀⠀⠀⠀⠀⠀ .⠀⠀⠀⠀⠀⠀⠀⠀⠀ #hydrationtips #getactive #activelifestyle #liveinspired #healthyliving #selfcare #selflove #jointhealthmatters #jointhealth #skinhealth #healthyskin #glowingskin #hyaluronicacid #HA #hyaluronic Ever heard of Bentonite Clay?!⠀⠀⠀⠀⠀⠀⠀⠀⠀ ⠀⠀⠀⠀⠀⠀⠀⠀⠀ This unique ingredient can be found in our Facial Cleanser, and it's known for its ability to absorb toxins and impurities. Our lavish cleanser also includes premium Hyaluronic Acid to help moisturize the skin for a smooth and healthy appearance!⠀⠀⠀⠀⠀⠀⠀⠀⠀ .⠀⠀⠀⠀⠀⠀⠀⠀⠀ .⠀⠀⠀⠀⠀⠀⠀⠀⠀ .⠀⠀⠀⠀⠀⠀⠀⠀⠀ .⠀⠀⠀⠀⠀⠀⠀⠀⠀ #hyaluronicacid #HA #hyaluronic_acid #skincare #skincareroutine #cleanser#facialcleanser #hyaluronicacidserum #skincaretips #luxuryskincare #smootherskin #youthfulskin #glowingskin #hydratedskin #skincareobsessed #skincareexperts #naturalskincare #facemasks #beautifulskin The health of your scalp matters… ⠀⠀⠀⠀⠀⠀⠀⠀⠀ ⠀⠀⠀⠀⠀⠀⠀⠀⠀ Why? The surface of your scalp is the first line of protection against environmental damage, toxins, etc. And Hyaluronic acid nourishes and hydrates the millions of cells deep within your scalp!⠀⠀⠀⠀⠀⠀⠀⠀⠀ ⠀⠀⠀⠀⠀⠀⠀⠀⠀ Our hair RELIES on this HA to help retain nutrients, support new scalp structure, and hold up to the effects of environmental damage, while supporting a thicker, fuller hair appearance ✨⠀⠀⠀⠀⠀⠀⠀⠀⠀ .⠀⠀⠀⠀⠀⠀⠀⠀⠀ .⠀⠀⠀⠀⠀⠀⠀⠀⠀ .⠀⠀⠀⠀⠀⠀⠀⠀⠀ .⠀⠀⠀⠀⠀⠀⠀⠀⠀ #hyaluronicacid #hyaluronic #healthyhair #hydratedhair #hairroutine #hairtips #longhair #hairtips #hairandscalp #dailyroutine #HA #beautifulhair #hairgoals You may have heard about our Award-Winning Synthovial SEVEN, but did you know about Synthovial SEVEN Plus?⠀⠀⠀⠀⠀⠀⠀⠀⠀ ⠀⠀⠀⠀⠀⠀⠀⠀⠀ This kit combines our popular Synthovial SEVEN with Resveratrol and Grape Seed Extract to support healthy joints and help lessen the breakdown of Hyaluronic Acid levels in your body 🙌🏽 Supercharge your joint health with just one capsule and one dropper a day!⠀⠀⠀⠀⠀⠀⠀⠀⠀ .⠀⠀⠀⠀⠀⠀⠀⠀⠀ .⠀⠀⠀⠀⠀⠀⠀⠀⠀ .⠀⠀⠀⠀⠀⠀⠀⠀⠀ .⠀⠀⠀⠀⠀⠀⠀⠀⠀ #HyaDifference #hyaluronicacid #HA #hyaluronic #resveratrol #grapeseedextract #healthyjoints #jointhealth #jointhealthmatters #activelifestyle #getactive #getmoving #naturalsupplements #supplementsdaily #dailyroutine #healthandwellness #healthyliving Did you know that Hyaluronic Acid can support your gums?! As we age, the amount of HA in our gums lessens. Brushing daily with our fluoride-free Toothpaste Gel:⠀⠀⠀⠀⠀⠀⠀⠀⠀ ⠀⠀⠀⠀⠀⠀⠀⠀⠀ 👉🏼 Supports healthy teeth & gums ⠀⠀⠀⠀⠀⠀⠀⠀⠀ 👉🏼 Promotes good dental health⠀⠀⠀⠀⠀⠀⠀⠀⠀ 👉🏼 Supports healthy enamel surfaces⠀⠀⠀⠀⠀⠀⠀⠀⠀ .⠀⠀⠀⠀⠀⠀⠀⠀⠀ .⠀⠀⠀⠀⠀⠀⠀⠀⠀ .⠀⠀⠀⠀⠀⠀⠀⠀⠀ .⠀⠀⠀⠀⠀⠀⠀⠀⠀ #Hyaluronicacid #HyaDifference #HA #hyaluronic #healthygums #healthyteeth #dentalhealth #dentalroutine #gumhealth #toothpastegel #fluoridefree #toothpaste #dailyroutine #morningroutine #healthylifestyle Obsessed with that SMOOTH feeling after exfoliating your skin? You're gonna want to try our HA Facial Scrub 💛⠀⠀⠀⠀⠀⠀⠀⠀⠀ ⠀⠀⠀⠀⠀⠀⠀⠀⠀ Not only does it help exfoliate your skin, but it also helps hydrate it with Hyaluronic Acid. The best part? It's mild enough to use daily so you can enjoy that smooth feeling every day. ⠀⠀⠀⠀⠀⠀⠀⠀⠀ .⠀⠀⠀⠀⠀⠀⠀⠀⠀ .⠀⠀⠀⠀⠀⠀⠀⠀⠀ .⠀⠀⠀⠀⠀⠀⠀⠀⠀ .⠀⠀⠀⠀⠀⠀⠀⠀⠀ #hyaluronicacid #hyaluronic #HA #glowingskin #youthfulskin #healthyskin #glow #igskincare #skincaretips #agelessbeauty #skincareroutine #luxuryskincare #loveyourskin #beautifulskin #skincareexperts If you live an active lifestyle, chances are, your joints could use some support 🙌🏽⠀⠀⠀⠀⠀⠀⠀⠀⠀ ⠀⠀⠀⠀⠀⠀⠀⠀⠀ As we get older, our body's natural ability to produce Hyaluronic Acid diminishes. You can help support your body's HA levels by supplementing with Synthovial SEVEN. Bonus - It also supports healthy eyes AND skin!⠀⠀⠀⠀⠀⠀⠀⠀⠀ .⠀⠀⠀⠀⠀⠀⠀⠀⠀ .⠀⠀⠀⠀⠀⠀⠀⠀⠀ .⠀⠀⠀⠀⠀⠀⠀⠀⠀ .⠀⠀⠀⠀⠀⠀⠀⠀⠀ #hyaluronicacid #hyaluronic #HA #healthyjoints #jointhealthmatters #naturalsupplements #nutritionalsupplements #jointhealth #skinhealth #healthyskin #hydration #scienceofhydration #healthyliving #dailyroutine
I've used the serum for a few years now and I keep wondering what my face would look like if I hadn't started using this great product! I'm approaching my late 60's with few wrinkles, soft and smooth face, and a suppleness that I can attribute to this serum because this and the facial cleanser are the only facial products I use. Highly recommend! I have used this amazing product for many years to hydrate and moisturize my skin. There is no better product. This serum is the best thing that has happened to my skin in many, many years. PLEASE don't change the formula! The reason I found you is because my previous product has been discontinued and once again I had to find something new. I get reactions to most additives so it's really difficult to find a simple, pure product without all the ingredients that bother me. I chose your serum because it didn't have those extra unnecessary "improvements", and I'm so glad I did. I have suffered with rosacea for 35 years, and every cream I try triggers a red, burning, swollen mess so my face has become very dehydrated because I can't use any moisturizers. Through the years I've come to realize that dehydration is my biggest trigger for rosacea, so I've been stuck in a vicious cycle. This serum and the HA Mist have calmed my face so much! I can see the red start to drain out of my face. My skin doesn't look dried up and neglected any more. It doesn't burn. My face has a nice youthful glow. I usually rub the backs of my hands with any residual serum clinging to my palms, and I have a noticeable difference on my hands now too. I love the viscous feel of the serum and the way it glides over wet skin. I finally have hydration without irritation. I never want to be without this stuff! A heartfelt thank you to everyone at your company who has made my skin more comfortable! I have pretty smooth skin to begin with, but I've noticed even the tiniest lines on my forehead and near my eyes have begun to smooth out after using this serum! I use it every night and it makes my skin feel incredibly firm and it looks so glowy. I cannot get enough of this product. It is by far the best HA on the market. I love how pure it is and that is in vegan. Since using this product, I feel my complexion has improved so much that I do not wear makeup anymore. I spray the Hyalogic HA facial mist all over my face and then this serum. I don't miss a morning or night. A must have for everyone! I love this serum. Been using it for about 10 yrs now. Sometimes I try something else but always come back to this product. I have sensitive skin that loves HA. I don't use many skincare products, but this serum is amazing. It's texture feels awesome, and the short-as-all-get-out ingredient list CANNOT be beat. I use this after every shower, and especially as an aftershave moisturizer. Can not recommend highly enough!! excellent product i can see results from first use, my skin is moisturized and looking younger, highly recommended
Stay Hydrated
Latest Tips
Healthy, youthful looking hair relies on ample hydration, both in the hair itself and in the scalp where the hair... Ageless beauty has long been the Holy Grail of the cosmetics industry. Just a quick glance online reveals the abundance... In 1934, biochemist Karl Meyer and his colleague John Palmer, for the first time, described an unusual long-chain sugar molecule...