Announcing Hyalogic's full line of spa skin care products, featuring premium hyaluronic acid.
Each product specifically addresses each phase of the skin care regimen for total Inside and Out beauty. Formulated to work well for all skin types and each skin care phase – cleansing, hydrating, toning, prepping, boosting and more.
Sold exclusively in premium Spa and Beauty retail outlets only.
Order your Spa products today!
email [email protected]  or call 866-318-8484
Hyalogic's Facial Cleanser is a sulfate-free deep moisturizing cleanser that washes away make up, dirt, oil and impurities. Its rich lather will leave the skin cleansed, smooth and refreshed with ultra hydrating Hyaluronic Acid. It also contains Bentonite Clay which is known to absorb dirt and impurities.
Hyalogic's Facial Scrub will give skin a renewed youthful glow. The gentle exfoliating properties of Exfo Amber are powerful enough for deep cleaning while mild enough to use daily. Reveal silky, smooth skin while helping to reduce the appearance of fine lines and wrinkles
Hyalogic's Facial Toner is a gentle, hydrating toner that soothes and softens the skin, leaving you with a clean, supple feel. Formulated with Witch Hazel and premium Hyaluronic Acid that help strengthen the skin's barrier and minimize moisture depletion, this alcohol-free product naturally transforms your skin without stripping it of much needed hydration. Can be used for all skin types.
Hyalogic's Collagen Facial Mist uses Marine Collagen with Hyaluronic Acid to support moisture levels and a firm, elastic appearance. This facial mist provides skin with a more lifted appearance, better definition and makes skin noticeably firmer.
Step 4: Hydrate & Moisturize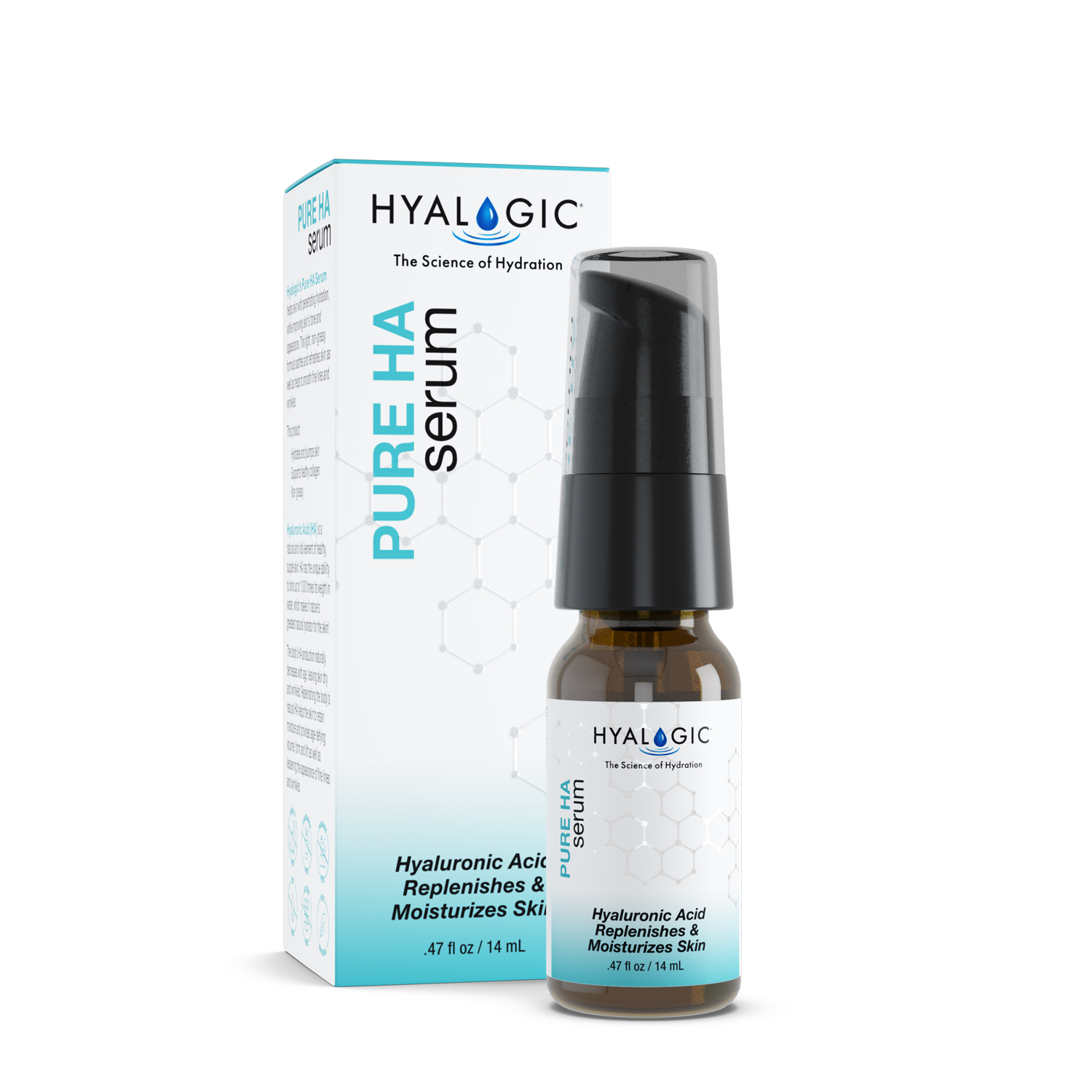 Hyalogic's Pure HA Serum helps skin with penetrating hydration, while improving skin's tone and appearance. This light, non-greasy formula soothes and refreshes skin as well as helps to smooth fine lines and wrinkles.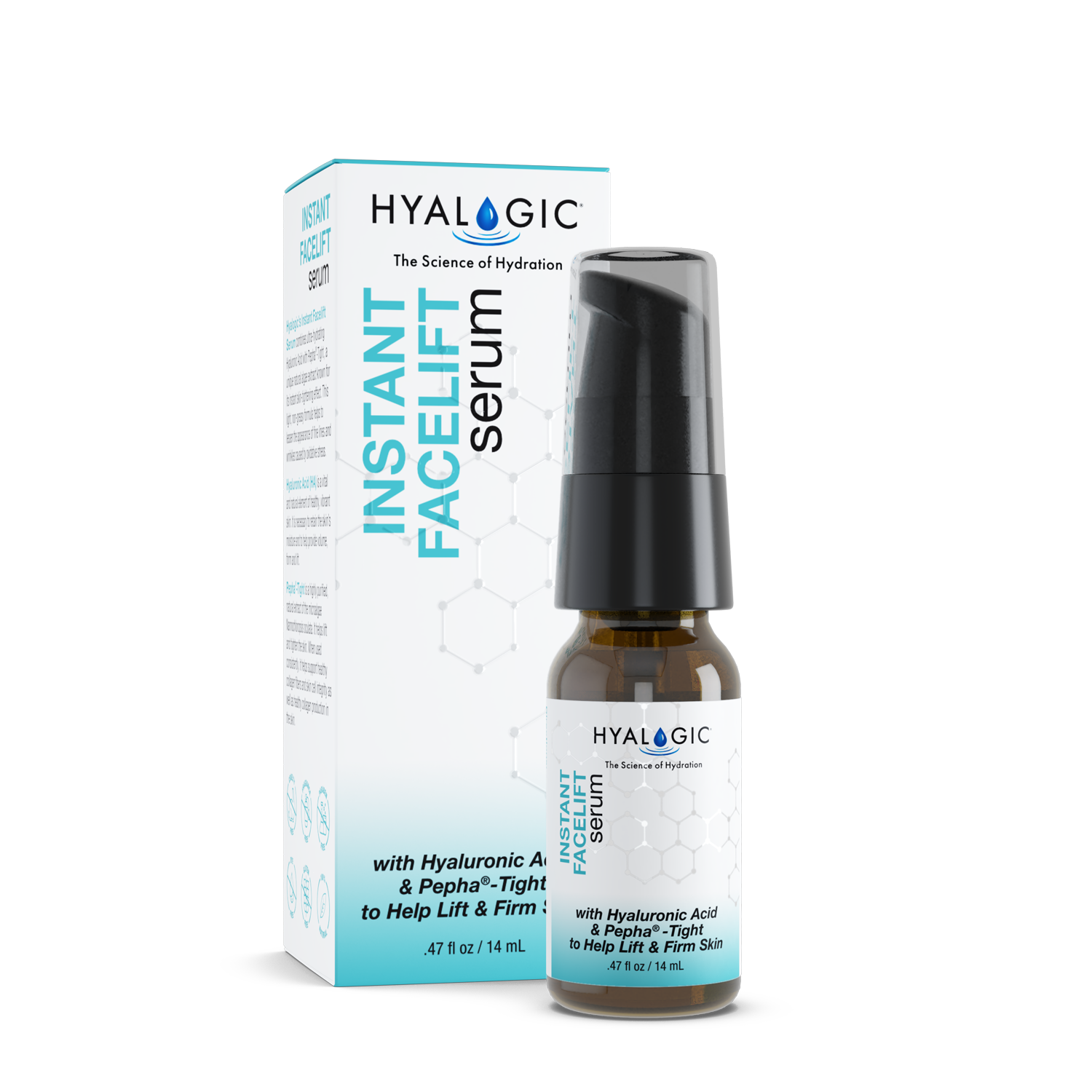 Hyalogic's Instant Facelift Serum combines ultra-hydrating Hyaluronic Acid with Pepha®-Tight, a unique natural algae extract known for its instant skin-tightening effect. This light, non-greasy formula helps to lessen the appearance of fine lines and wrinkles caused by oxidative stress.
This serum is formulated to help nature boost collagen and restore youthful volume to skin that has lost its elasticity and firmness. Multi-level action helps ensure a healthier, firmer appearance of the skin.
Retinol is a vitamin A derivative that works on the surface skin cells helping dead skin cell turn over. Regular use can help lessen the appearance of sun damage, fine lines, congested pores and wrinkles.
LACTIC ACID EXFOLIATING Serum
This skin-brightening, non-abrasive blend of Lactic Acid, Hyaluronic Acid and essential oils exfoliates overnight revealing a bright, even-looking skin tone.
PROBIOTIC BEAUTY Boost Powder
Probiotic Beauty Boost Powder uniquely combines Hyaluronic Acid and Triclysl® probiotic blend to hydrate and support the skin microbiome. This easy-to-use powder allows you to enhance your favorite moisturizer in the palm of your hand. The powder form also helps to ensure shelf life stability.
VITA C+ BEAUTY Boost Powder
Hyalogic's Vita C+ Beauty Boost Powder combines Vitamin C, Panthenol
(provitamin BS) and Glutathione to help brighten and even skin tone for a healthy glow. This easy-to-use powder boosts the power of your favorite serum or moisturizer.
DAILY SKIN PERFECTING Lotion
Daily Skin Perfecting Lotion utilizes the patented cleansing properties of REGU®-SEB to help lessen skin oiliness. Hyaluronic Acid and Argan oil have been added to soothe and moisturize skin leaving it smooth and fresh all day.
Hyalogic's Nightly Recover Cream is a unique blend of Hyaluronic Acid and other moisturizing ingredients, formulated to soothe and moisturize your skin.
Step 7: Whole Body Hydration/Support
BEAUTY FROM WITHIN HA Liquid Supplement
Beauty From Within Hyaluronic Acid Liquid is an oral Hyaluronic Acid supplement that supports the natural HA in your body. This is an easy-to-take liquid to hydrate the skin from within.