OUR HYALURONIC ACID STORY
It Began With An Idea
Like most pioneers, the founding of Hyalogic® began when two friends, Darren and Mark, who had been working as respiratory therapists in the home health industry, had an idea to try something new. They simply wanted to create a way to more easily help their patients to better mobility, and decided to focus specifically on finding an alternative to glucosamine for joint health.
As luck would have it, their mutual friend Tom told them about a special molecule—Hyaluronic Acid—a remarkable naturally occurring lubricant found in nearly every part of the human body. When Tom explained how Hyaluronic Acid (HA) worked to keep the body's joints healthy, cushioned and mobile, but that the body produces less of it as we age, a light went off for both Darren and Mark. Could supplementing the body with this water-loving molecule deliver the improved mobility results they were looking for?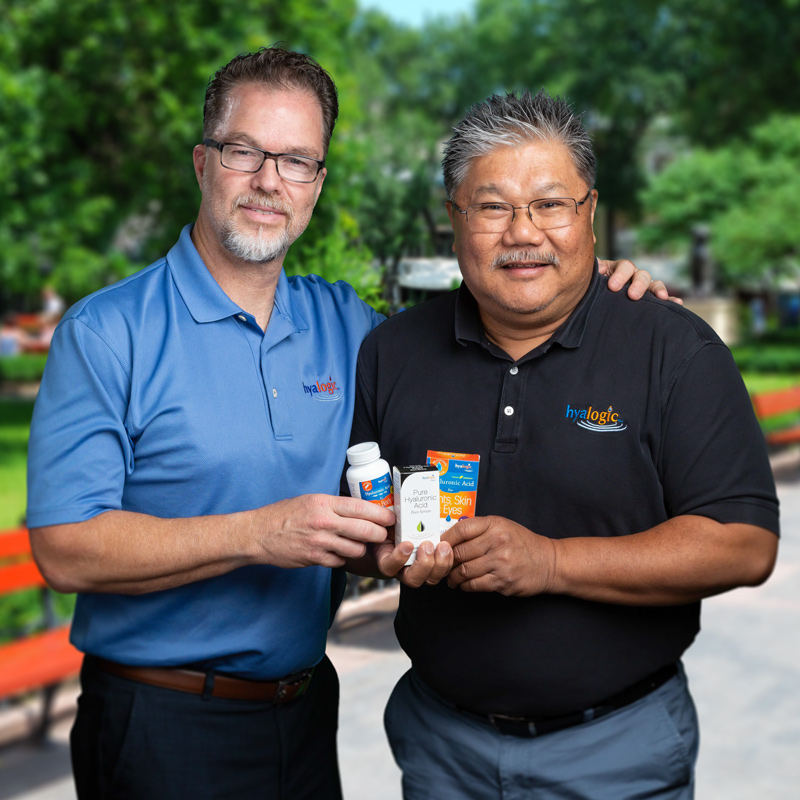 Hyaluronic Acid Breakthrough
Remarkably, many rounds of research and testing resulted in daily amazement and the creation of a liquid Hyaluronic Acid product that delivered real joint health benefits. This was not a gimmick; it was science! In 2000, Darren and Mark sold their respiratory health business and joined Tom on the journey to co-founding Hyalogic®. Hyalogic® became the producer of the first oral liquid Hyaluronic Acid for supplementation.
Hyaluronic Acid
The Beauty Surprise
What occurred next truly astonished the Hyalogic® co-founders. Shortly after releasing their first liquid oral Hyaluronic Acid joint product, consumers began reporting a myriad of "fountain of youth" benefits beyond joint health. A recurring theme developed in these customer stories.  Hyaluronic Acid was not only helping joint mobility, it was also supporting healthy hair and skin textures of the users—and users were excited about it!
Customers began asking if Hyaluronic Acid could be added to shampoo, lip balm, creams, lotions and other products. Completely amazed, Darren, Mark and Tom launched an extensive research endeavor that led to the creation of both health and beauty products formulated using Hyaluronic Acid.  Soon, they developed a full line of joint health and beauty products all using HA. Today, Hyalogic® has over 60 Hyaluronic Acid-based products for humans and animals.
Unsurpassed Hyaluronic Acid Quality
Applying their high standards for quality and efficacy, the founders set out to ensure that all Hyalogic® Hyaluronic Acid products would be beneficial, safe and stable. They developed a five-stage process called Hyalock™ that rigorously examined ingredients for compatibility and stability. Hyalogic®'s Hyaluronic Acid is non-animal derived, vegan friendly. With total focus on HA, Hyalogic® is now known in the natural health and beauty world as having among the highest quality Hyaluronic Acid available.
OUR PASSION
Educating the Masses
Hyalogic® recognized the medical field's long-term successful professional use of Hyaluronic Acid. However, in making HA available directly to consumers with supplements and beauty products, they knew that education was critical.  Carrying the responsibility of this new movement, Hyalogic® had its work cut out. They launched an extensive education endeavor to bring this knowledge to the public.  The opportunities to train and educate presented themselves in health food stores, spas, clinics and at trade shows.
From the origins of the first premium oral Hyaluronic Acid product, Synthovial Seven®, to the more common recognition of Hyaluronic Acid today in beauty products, Hyalogic® has continued pioneering the development of HA products to enhance peoples' lives.
OUR MISSION
Educate Authentically & Passionately
We are a company driven by a team of responsible individuals dedicated to providing effective Hyaluronic Acid products by building relationships through our passion and perseverance.
We serve people with an enthusiasm for health who purchase supplements and skin care products that use trusted ingredients to hydrate and replenish.
We are passionately leading the way to educate our partners and customers about the miracle water-loving molecule that is Hyaluronic Acid.
Giving Back
Causes We Support
Hyalogic® Hyaluronic Acid Products
Our Commitment To You
We want you to be completely satisfied with your purchase of Hyalogic® Hyaluronic Acid products. We offer satisfaction guaranteed. After trying any of our products for 30 days (or one complete bottle), if you feel you have not received any benefit, we will refund the purchase price upon receipt of your written request and empty container, (one bottle per customer only – shipping not applicable). Refunds will only be given within 45 days of product purchase date.
If you would like to return one of our products, please refer to our Return Policy. 
Hyalogic® products go through our extensive 5-step Hyalock™ process to ensure a high quality product:
Using Non-Animal Derived, Vegan-Friendly Hyaluronic Acid
Ingredient Compatibility Testing
Preservative Compatibility Testing
Product Quality Control Testing
Finished Product Analysis
Quality Assurance
Hyalock™
In keeping with our absolute commitment to the integrity of every Hyaluronic Acid product we sell, Hyalogic® includes our quality assurance services with each order. This service assures that your products are manufactured with the best ingredients, in a clean environment, and in keeping with FDA regulations.
Hyalogic®'s quality assurance services include:
Quality Raw Materials Selection
Ingredient Testing
FDA Compliance
Climate Control
For more information on Hyalogic®'s quality assurance service, or to speak with someone about our premium, high molecular weight Hyaluronic Acid products, give us a call or email today.