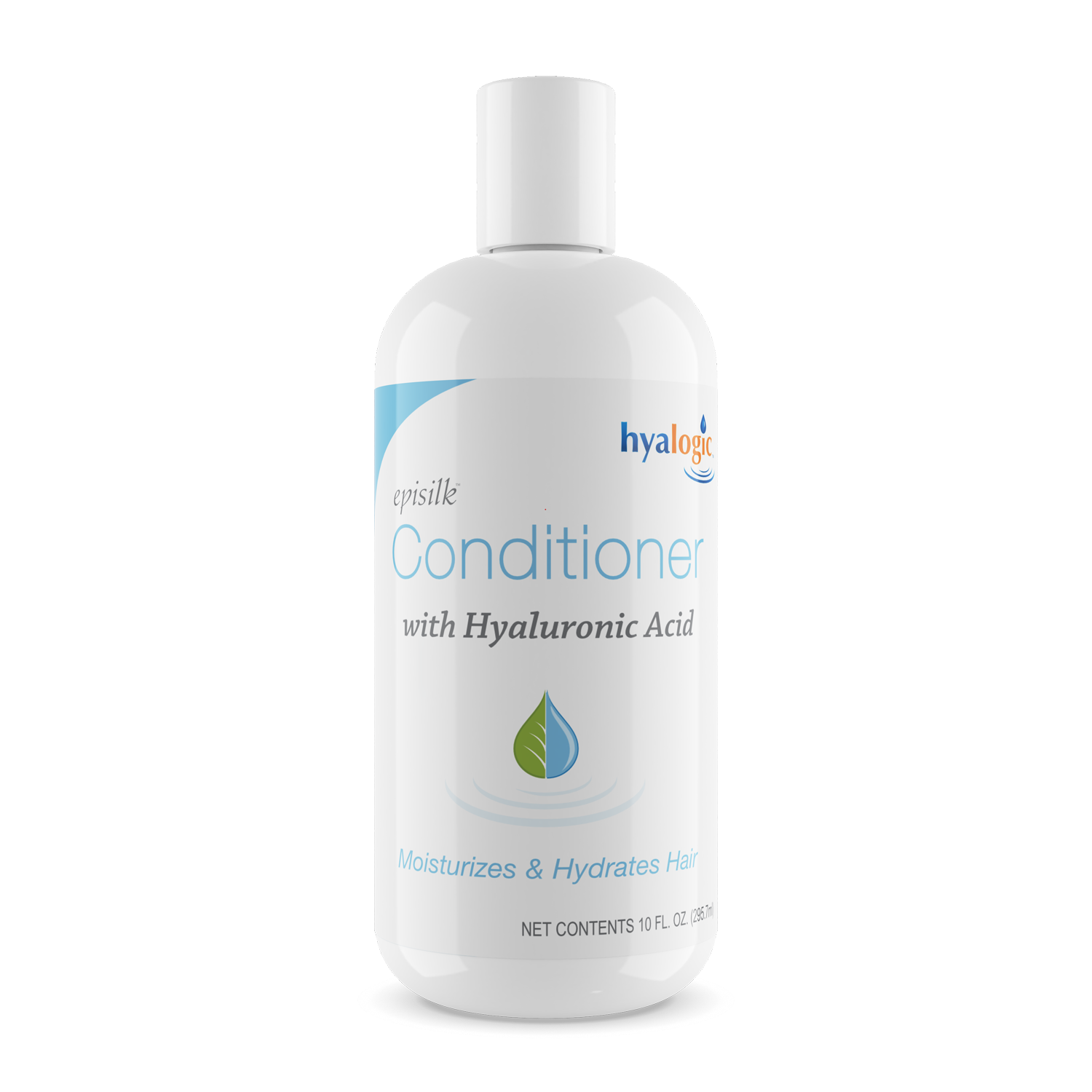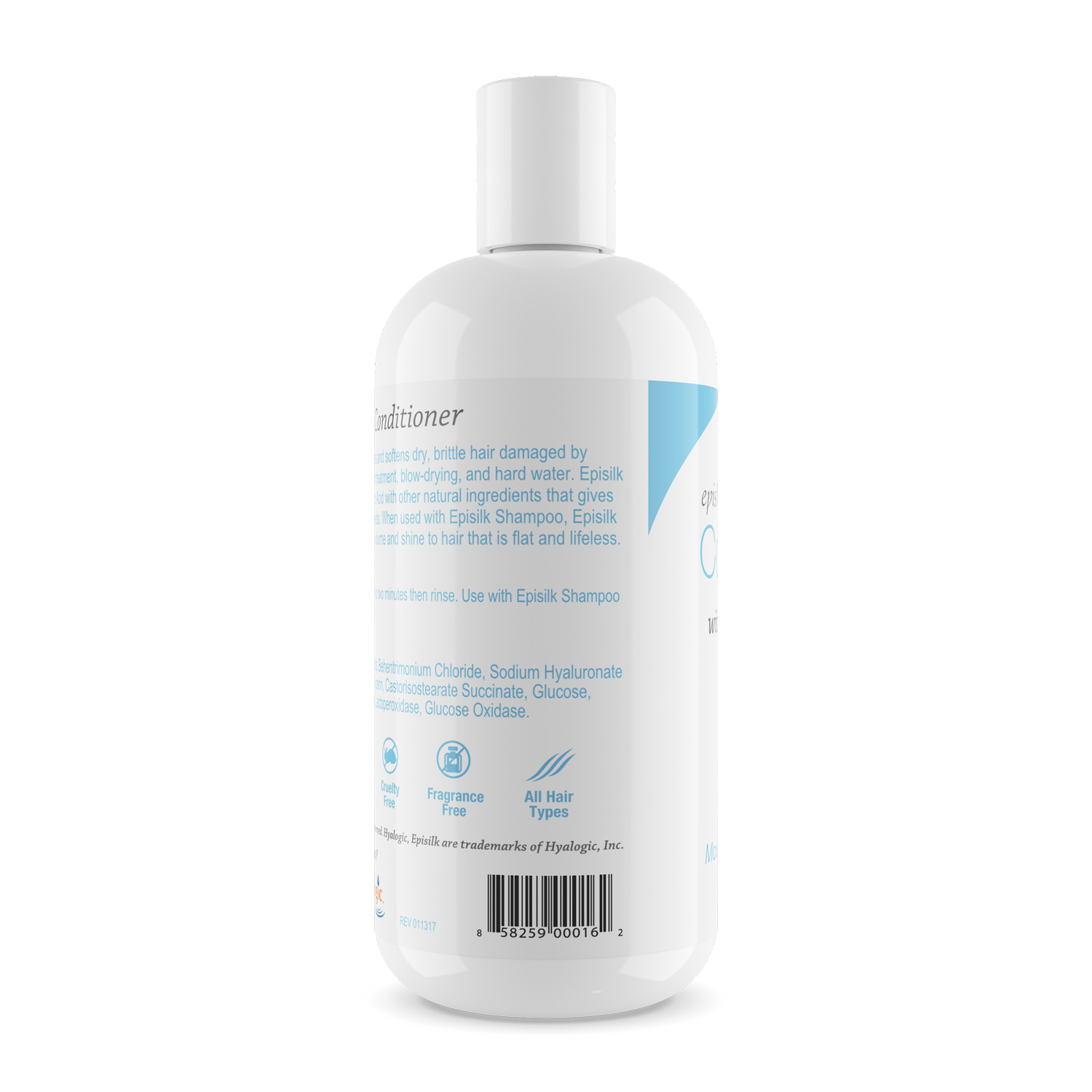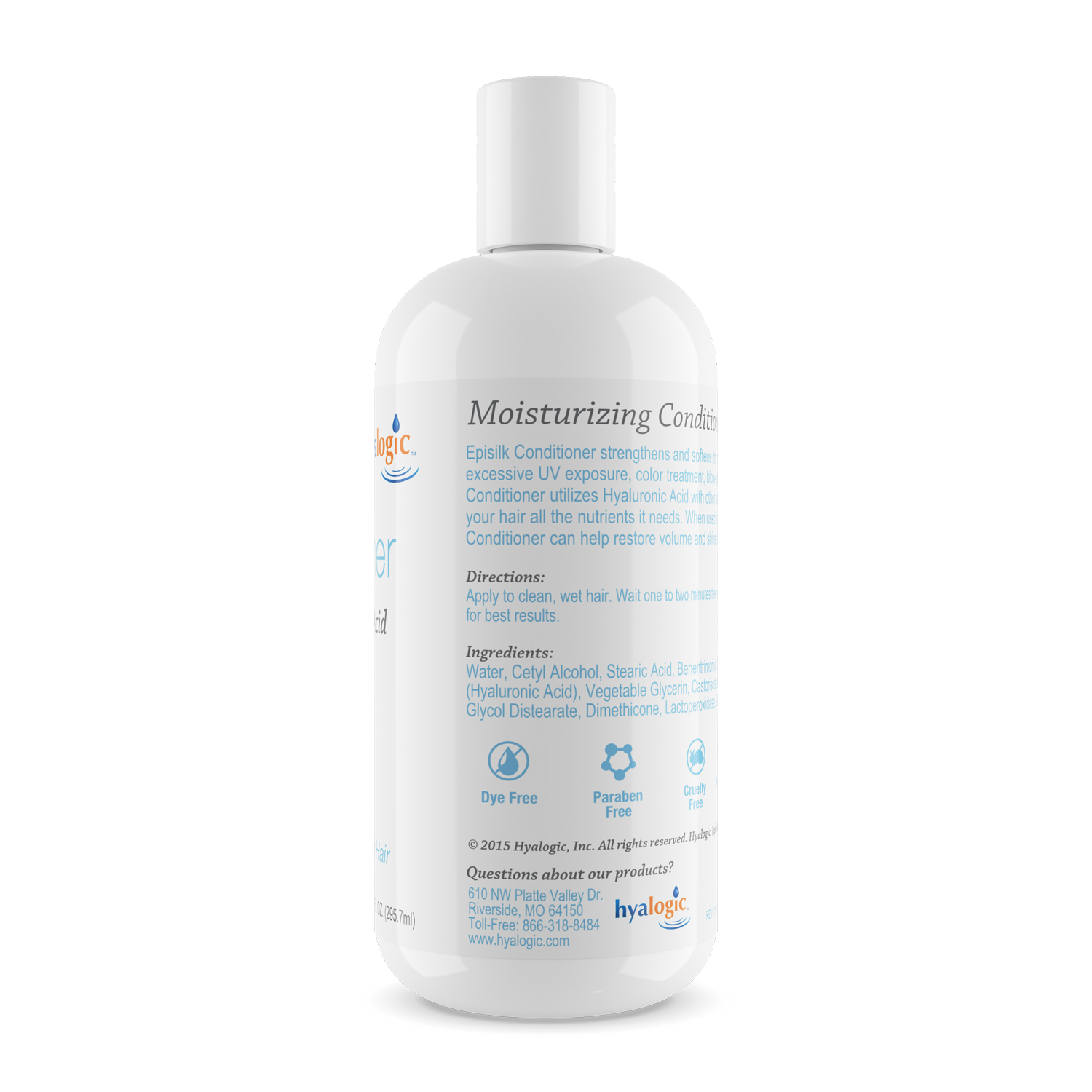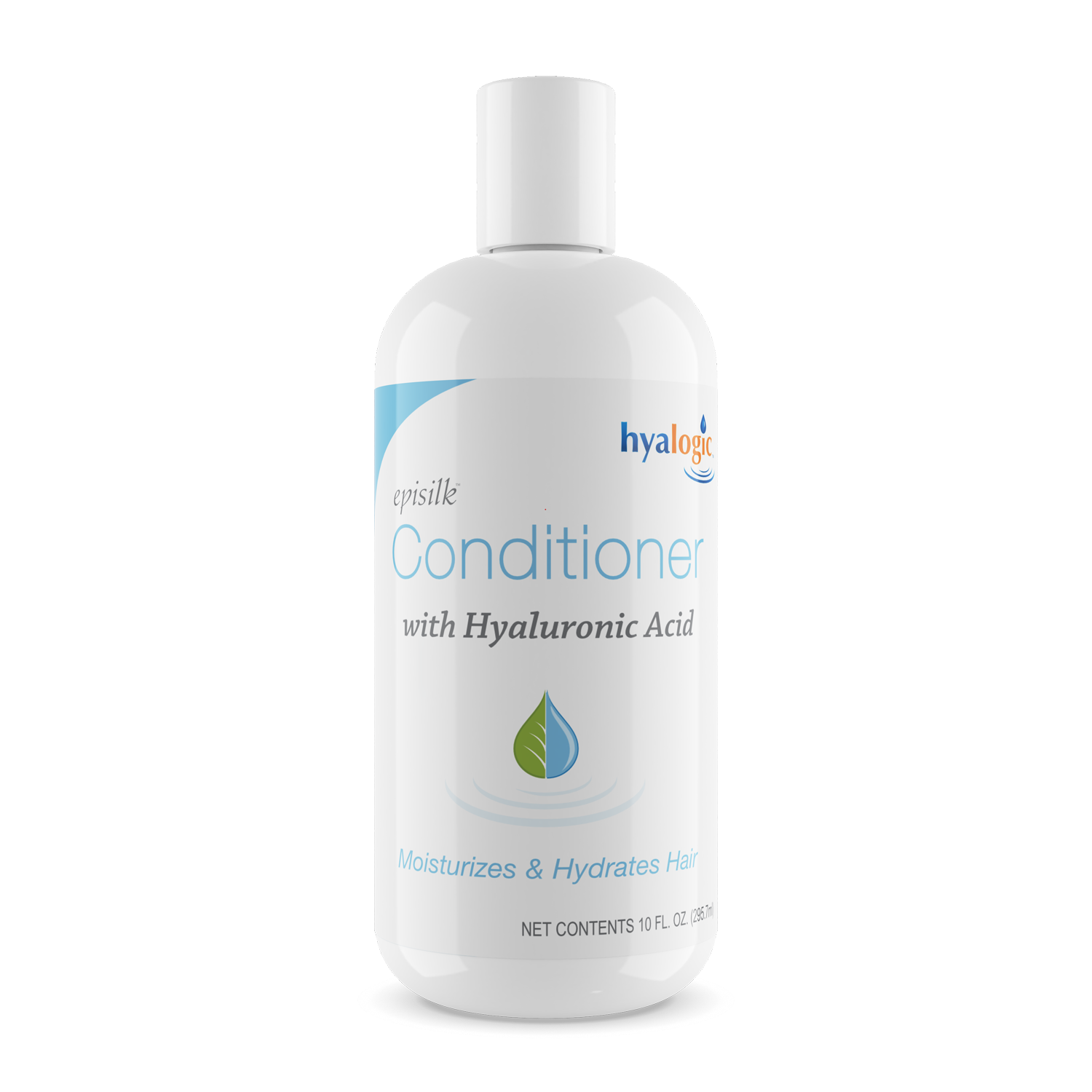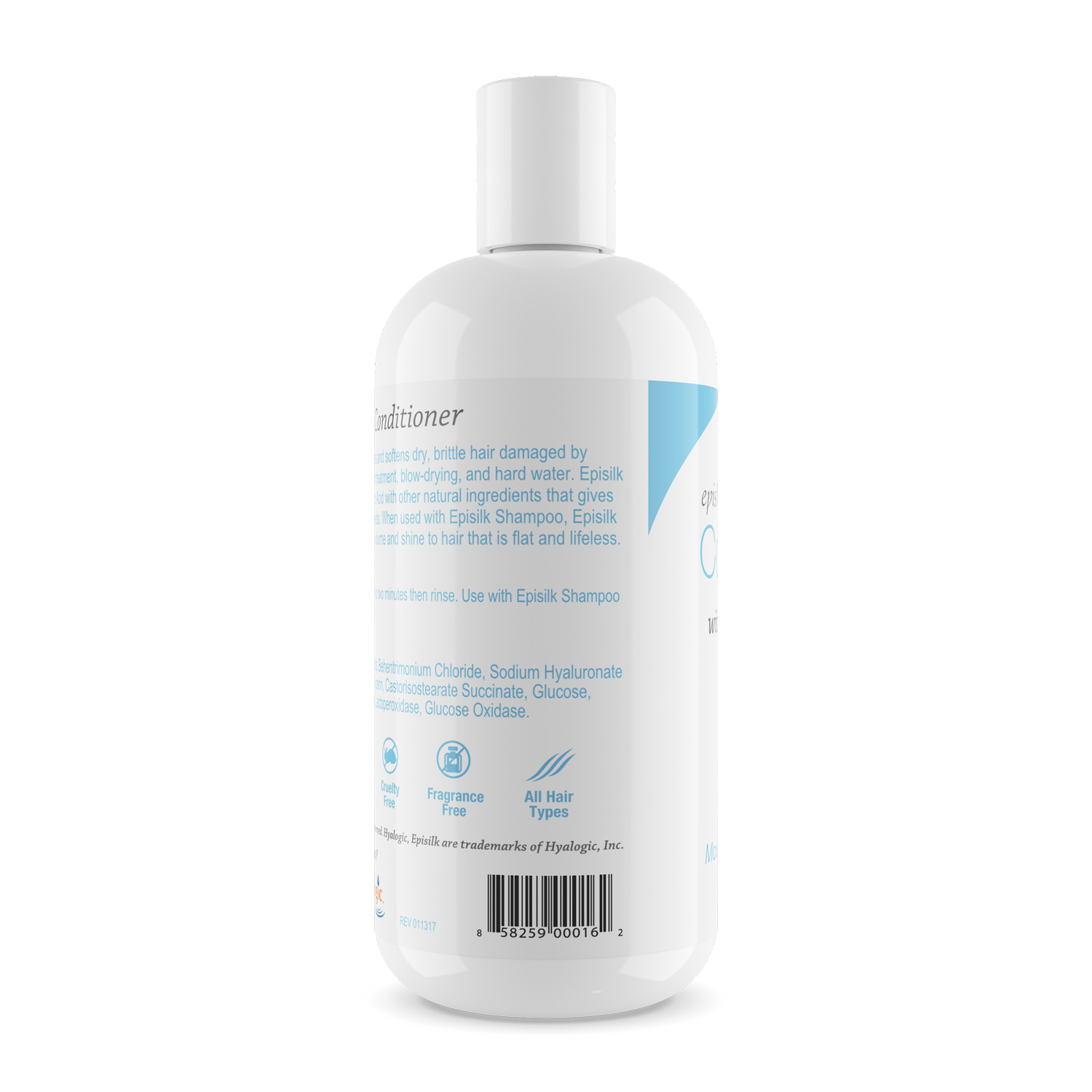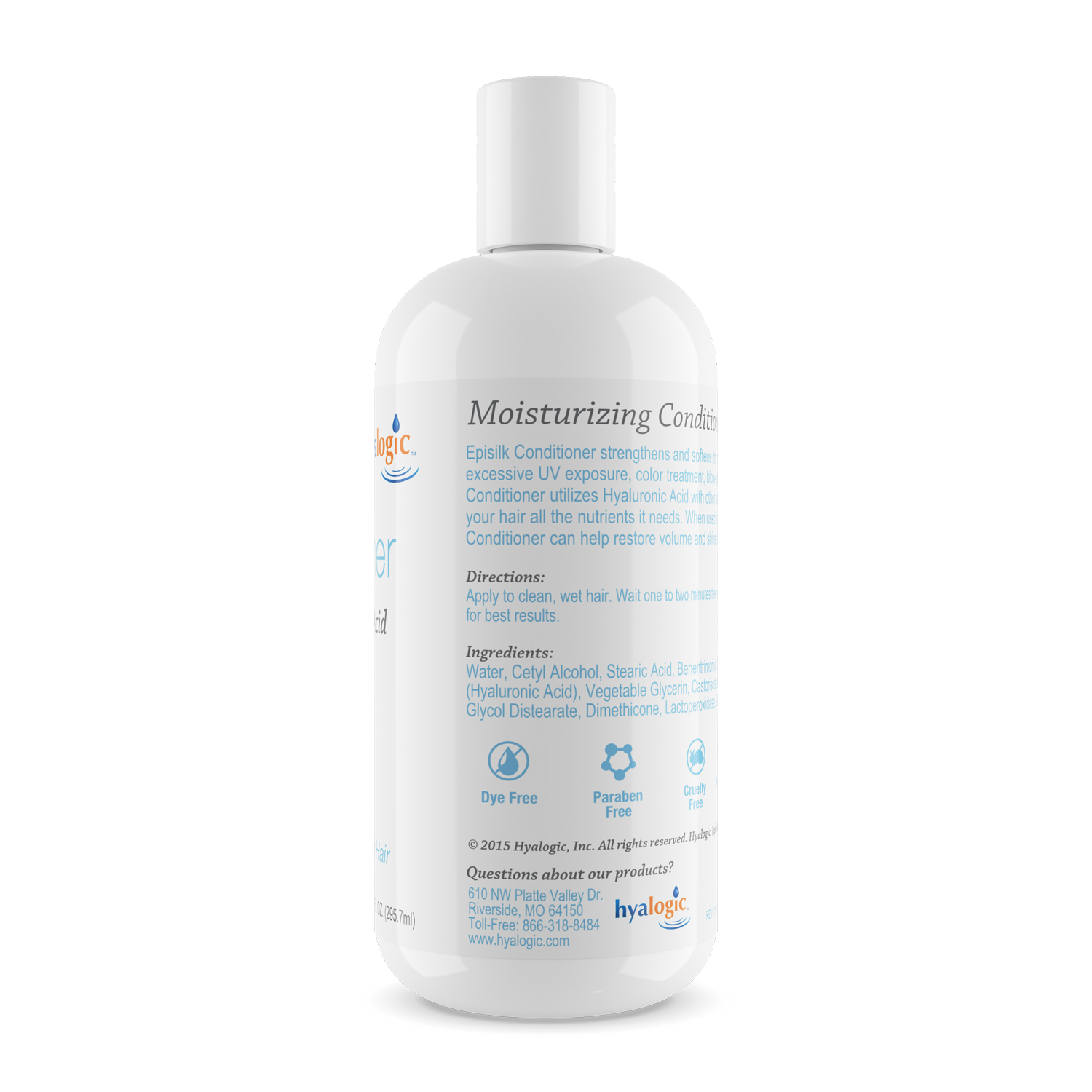 HA Conditioner
Leave a Review
Promote healthy hair and scalp with this unique Hyaluronic Acid Conditioner. Use along with HA Shampoo to support manageability, luster and volume to lifeless hair stripped of its natural moisture. HA Conditioner is suitable for all hair types including permed or color-treated.
Key Features:
No harmful parabens, and fragrance free
Infused with Hyaluronic Acid
Gentle, moisturizing formula
We believe in the shortest ingredient list possible. You don't need the entire periodic table to be effective, and we work tirelessly to include only the necessities.
Ingredients:
Water, Cetyl Alcohol, Stearic Acid, Behentrimonium Chloride, Sodium Hyaluronate (Hyaluronic Acid), Vegetable Glycerin, Castorisostearate Succinate, Glucose, Glycol Distearate, Dimethicone, Lactoperoxidase, Glucose Oxidase
Directions: Apply to clean, wet hair. Wait for one to two minutes, then rinse. Use with HA Shampoo for best results. (10 fl ounces)
Premium Grade
HA Conditioner
This rich, luxurious conditioner is the perfect companion to our HA enriched Shampoo. Enriched with super moisturizing Hyaluronic Acid for maintaining healthy scalp and hair.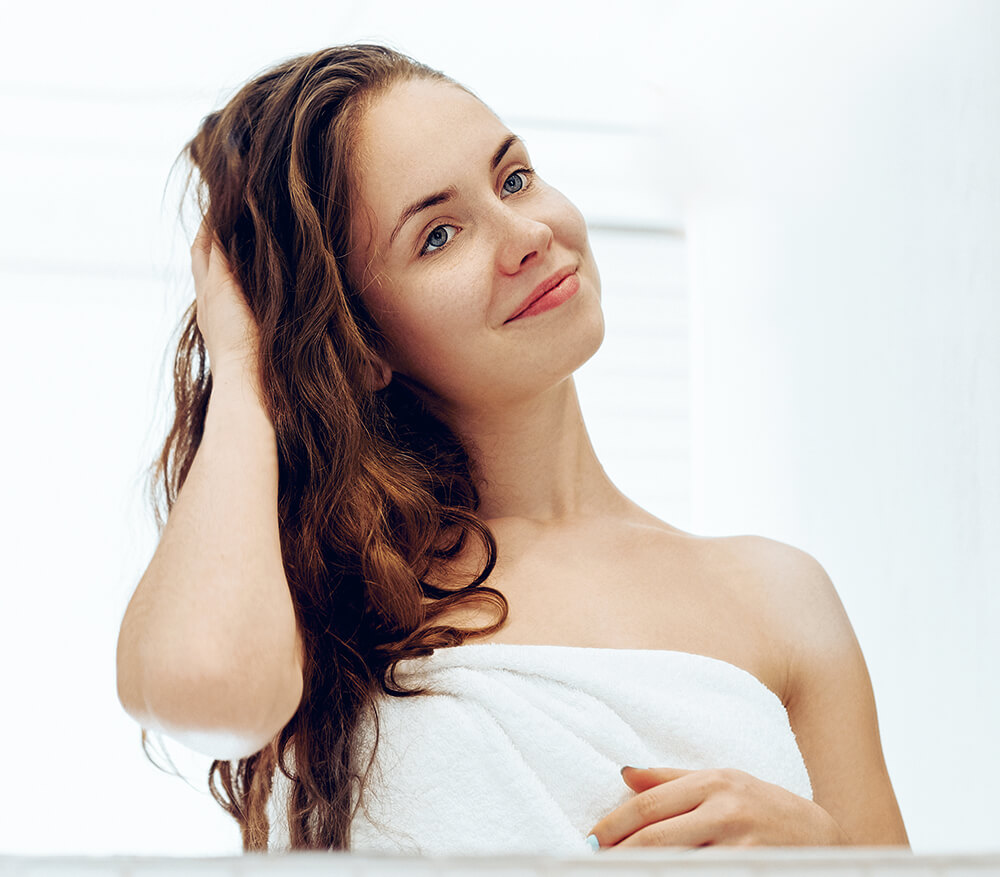 Useful
Frequently Asked Questions
Can I use HA Conditioner with my other hair care products?
Yes. HA Conditioner can be used with any other hair products and works especially well when used after using HA Shampoo.
What can Hyaluronic Acid do for my hair and scalp?
Structurally the scalp is identical to the skin tissue located throughout the body, except it also contains about 100,000 hair follicles that give rise to hair. Actually the hair and the hair follicle are a derivative of skin tissue. There are two distinctive skin layers, one, the epidermis (outer layer) which gives rise to the protective shield of the body, and the other, the dermal layer (deep layer) which makes up the bulk of the skin and is where the hair follicle is located. This dermal layer is composed of connective tissue that has gelatinous fluid-like characteristics, which nourishes and hydrates the deep layers of the scalp. The result is healthy lustrous hair and a moisturized scalp. Again, all of this is made possible because of the presence of hyaluronic acid (HA) in the scalp tissue and its ability to form this fluid and hold water.
Some of Our
Customer Favorites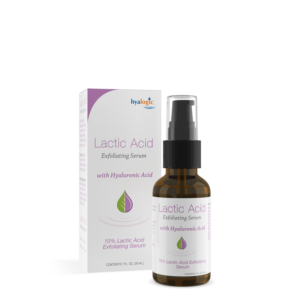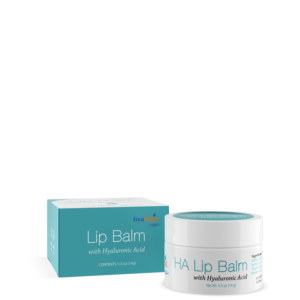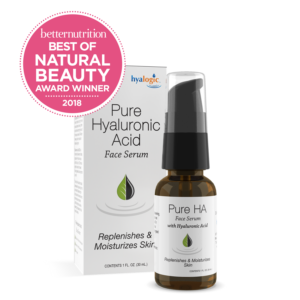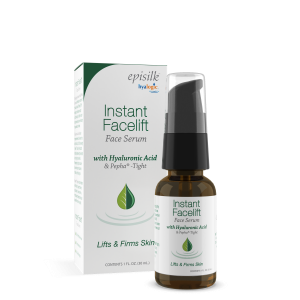 Enhance your beauty from within 💗⠀⠀⠀⠀⠀⠀⠀⠀⠀ ⠀⠀⠀⠀⠀⠀⠀⠀⠀ Our HA Collagen Builder enhances beauty from within by orally delivering key nutrients that support your body's natural collagen generation! Our natural formula is delicious, sugar-free, and berry-flavored.⠀⠀⠀⠀⠀⠀⠀⠀⠀ .⠀⠀⠀⠀⠀⠀⠀⠀⠀ .⠀⠀⠀⠀⠀⠀⠀⠀⠀ .⠀⠀⠀⠀⠀⠀⠀⠀⠀ .⠀⠀⠀⠀⠀⠀⠀⠀⠀ #hyaluronicacid #hyaluronic #collagen #biotin #hairskinandnails #healthynails #healthyskin #healthyhair #hairgoals #skincaregoals #strongnails #beautysupplements #nutritionalsupplements #collagenproduction #dailyroutine #healthylifestyle Are you hydrating?! We're not just talking about water…⠀⠀⠀⠀⠀⠀⠀⠀⠀ ⠀⠀⠀⠀⠀⠀⠀⠀⠀ 👉🏼 The human body is about 70% water, and that supply must be refreshed throughout the day, especially if you're active. We can also help our bodies hold and use water, too. ⠀⠀⠀⠀⠀⠀⠀⠀⠀ ⠀⠀⠀⠀⠀⠀⠀⠀⠀ 👉🏼 Hyaluronic Acid is capable of binding up to 1000x its weight in water. It can migrate throughout the body, bringing life-giving water where it's needed. Because your HA levels decrease with age, supplementing with it can support your joints, skin, hair, eyes and more!⠀⠀⠀⠀⠀⠀⠀⠀⠀ .⠀⠀⠀⠀⠀⠀⠀⠀⠀ .⠀⠀⠀⠀⠀⠀⠀⠀⠀ .⠀⠀⠀⠀⠀⠀⠀⠀⠀ .⠀⠀⠀⠀⠀⠀⠀⠀⠀ #hydrationtips #getactive #activelifestyle #liveinspired #healthyliving #selfcare #selflove #jointhealthmatters #jointhealth #skinhealth #healthyskin #glowingskin #hyaluronicacid #HA #hyaluronic Ever heard of Bentonite Clay?!⠀⠀⠀⠀⠀⠀⠀⠀⠀ ⠀⠀⠀⠀⠀⠀⠀⠀⠀ This unique ingredient can be found in our Facial Cleanser, and it's known for its ability to absorb toxins and impurities. Our lavish cleanser also includes premium Hyaluronic Acid to help moisturize the skin for a smooth and healthy appearance!⠀⠀⠀⠀⠀⠀⠀⠀⠀ .⠀⠀⠀⠀⠀⠀⠀⠀⠀ .⠀⠀⠀⠀⠀⠀⠀⠀⠀ .⠀⠀⠀⠀⠀⠀⠀⠀⠀ .⠀⠀⠀⠀⠀⠀⠀⠀⠀ #hyaluronicacid #HA #hyaluronic_acid #skincare #skincareroutine #cleanser#facialcleanser #hyaluronicacidserum #skincaretips #luxuryskincare #smootherskin #youthfulskin #glowingskin #hydratedskin #skincareobsessed #skincareexperts #naturalskincare #facemasks #beautifulskin The health of your scalp matters… ⠀⠀⠀⠀⠀⠀⠀⠀⠀ ⠀⠀⠀⠀⠀⠀⠀⠀⠀ Why? The surface of your scalp is the first line of protection against environmental damage, toxins, etc. And Hyaluronic acid nourishes and hydrates the millions of cells deep within your scalp!⠀⠀⠀⠀⠀⠀⠀⠀⠀ ⠀⠀⠀⠀⠀⠀⠀⠀⠀ Our hair RELIES on this HA to help retain nutrients, support new scalp structure, and hold up to the effects of environmental damage, while supporting a thicker, fuller hair appearance ✨⠀⠀⠀⠀⠀⠀⠀⠀⠀ .⠀⠀⠀⠀⠀⠀⠀⠀⠀ .⠀⠀⠀⠀⠀⠀⠀⠀⠀ .⠀⠀⠀⠀⠀⠀⠀⠀⠀ .⠀⠀⠀⠀⠀⠀⠀⠀⠀ #hyaluronicacid #hyaluronic #healthyhair #hydratedhair #hairroutine #hairtips #longhair #hairtips #hairandscalp #dailyroutine #HA #beautifulhair #hairgoals You may have heard about our Award-Winning Synthovial SEVEN, but did you know about Synthovial SEVEN Plus?⠀⠀⠀⠀⠀⠀⠀⠀⠀ ⠀⠀⠀⠀⠀⠀⠀⠀⠀ This kit combines our popular Synthovial SEVEN with Resveratrol and Grape Seed Extract to support healthy joints and help lessen the breakdown of Hyaluronic Acid levels in your body 🙌🏽 Supercharge your joint health with just one capsule and one dropper a day!⠀⠀⠀⠀⠀⠀⠀⠀⠀ .⠀⠀⠀⠀⠀⠀⠀⠀⠀ .⠀⠀⠀⠀⠀⠀⠀⠀⠀ .⠀⠀⠀⠀⠀⠀⠀⠀⠀ .⠀⠀⠀⠀⠀⠀⠀⠀⠀ #HyaDifference #hyaluronicacid #HA #hyaluronic #resveratrol #grapeseedextract #healthyjoints #jointhealth #jointhealthmatters #activelifestyle #getactive #getmoving #naturalsupplements #supplementsdaily #dailyroutine #healthandwellness #healthyliving Did you know that Hyaluronic Acid can support your gums?! As we age, the amount of HA in our gums lessens. Brushing daily with our fluoride-free Toothpaste Gel:⠀⠀⠀⠀⠀⠀⠀⠀⠀ ⠀⠀⠀⠀⠀⠀⠀⠀⠀ 👉🏼 Supports healthy teeth & gums ⠀⠀⠀⠀⠀⠀⠀⠀⠀ 👉🏼 Promotes good dental health⠀⠀⠀⠀⠀⠀⠀⠀⠀ 👉🏼 Supports healthy enamel surfaces⠀⠀⠀⠀⠀⠀⠀⠀⠀ .⠀⠀⠀⠀⠀⠀⠀⠀⠀ .⠀⠀⠀⠀⠀⠀⠀⠀⠀ .⠀⠀⠀⠀⠀⠀⠀⠀⠀ .⠀⠀⠀⠀⠀⠀⠀⠀⠀ #Hyaluronicacid #HyaDifference #HA #hyaluronic #healthygums #healthyteeth #dentalhealth #dentalroutine #gumhealth #toothpastegel #fluoridefree #toothpaste #dailyroutine #morningroutine #healthylifestyle Obsessed with that SMOOTH feeling after exfoliating your skin? You're gonna want to try our HA Facial Scrub 💛⠀⠀⠀⠀⠀⠀⠀⠀⠀ ⠀⠀⠀⠀⠀⠀⠀⠀⠀ Not only does it help exfoliate your skin, but it also helps hydrate it with Hyaluronic Acid. The best part? It's mild enough to use daily so you can enjoy that smooth feeling every day. ⠀⠀⠀⠀⠀⠀⠀⠀⠀ .⠀⠀⠀⠀⠀⠀⠀⠀⠀ .⠀⠀⠀⠀⠀⠀⠀⠀⠀ .⠀⠀⠀⠀⠀⠀⠀⠀⠀ .⠀⠀⠀⠀⠀⠀⠀⠀⠀ #hyaluronicacid #hyaluronic #HA #glowingskin #youthfulskin #healthyskin #glow #igskincare #skincaretips #agelessbeauty #skincareroutine #luxuryskincare #loveyourskin #beautifulskin #skincareexperts If you live an active lifestyle, chances are, your joints could use some support 🙌🏽⠀⠀⠀⠀⠀⠀⠀⠀⠀ ⠀⠀⠀⠀⠀⠀⠀⠀⠀ As we get older, our body's natural ability to produce Hyaluronic Acid diminishes. You can help support your body's HA levels by supplementing with Synthovial SEVEN. Bonus - It also supports healthy eyes AND skin!⠀⠀⠀⠀⠀⠀⠀⠀⠀ .⠀⠀⠀⠀⠀⠀⠀⠀⠀ .⠀⠀⠀⠀⠀⠀⠀⠀⠀ .⠀⠀⠀⠀⠀⠀⠀⠀⠀ .⠀⠀⠀⠀⠀⠀⠀⠀⠀ #hyaluronicacid #hyaluronic #HA #healthyjoints #jointhealthmatters #naturalsupplements #nutritionalsupplements #jointhealth #skinhealth #healthyskin #hydration #scienceofhydration #healthyliving #dailyroutine
Love this product! My hair is softer and healthier!
Stay Hydrated
Latest Tips
Healthy, youthful looking hair relies on ample hydration, both in the hair itself and in the scalp where the hair... Ageless beauty has long been the Holy Grail of the cosmetics industry. Just a quick glance online reveals the abundance... In 1934, biochemist Karl Meyer and his colleague John Palmer, for the first time, described an unusual long-chain sugar molecule...