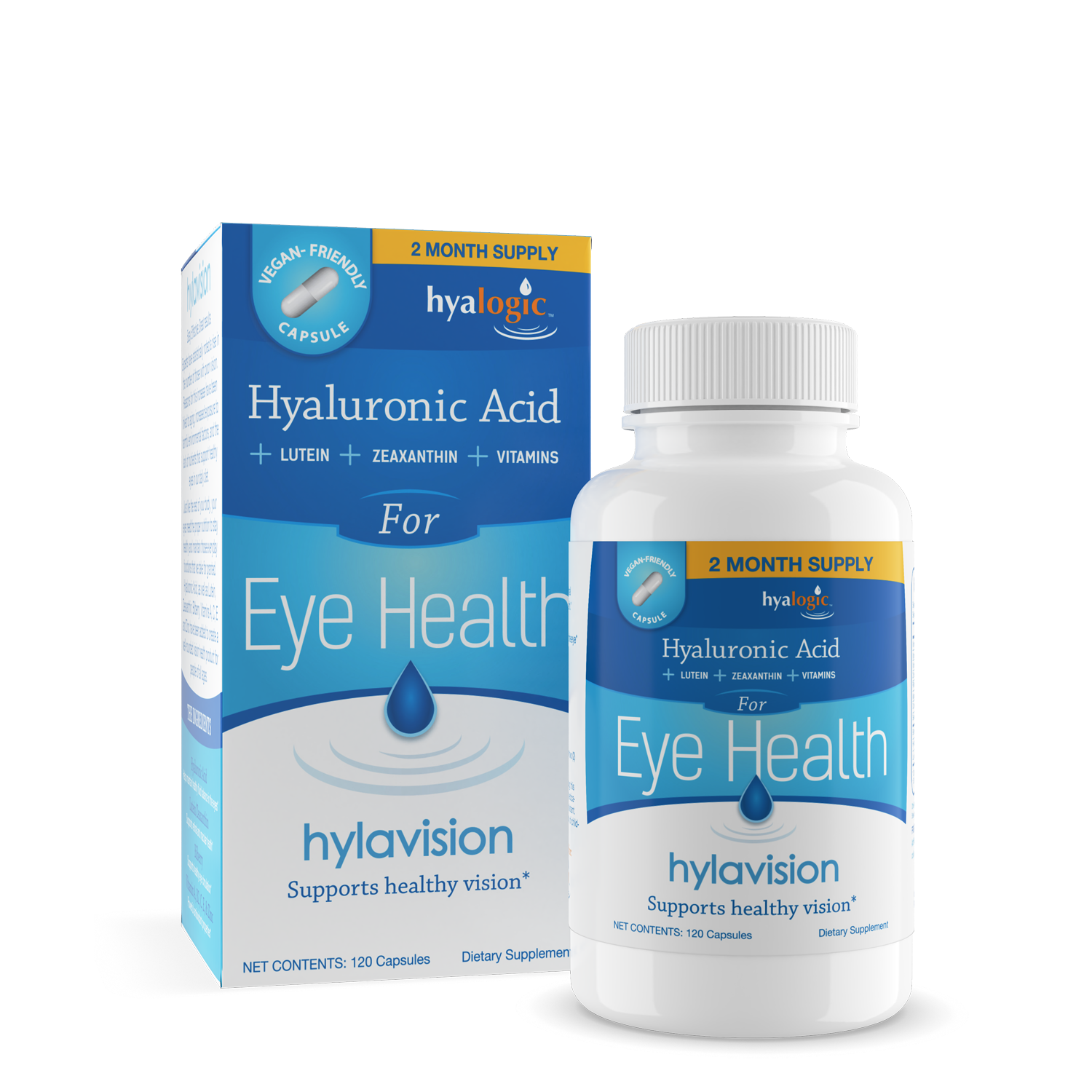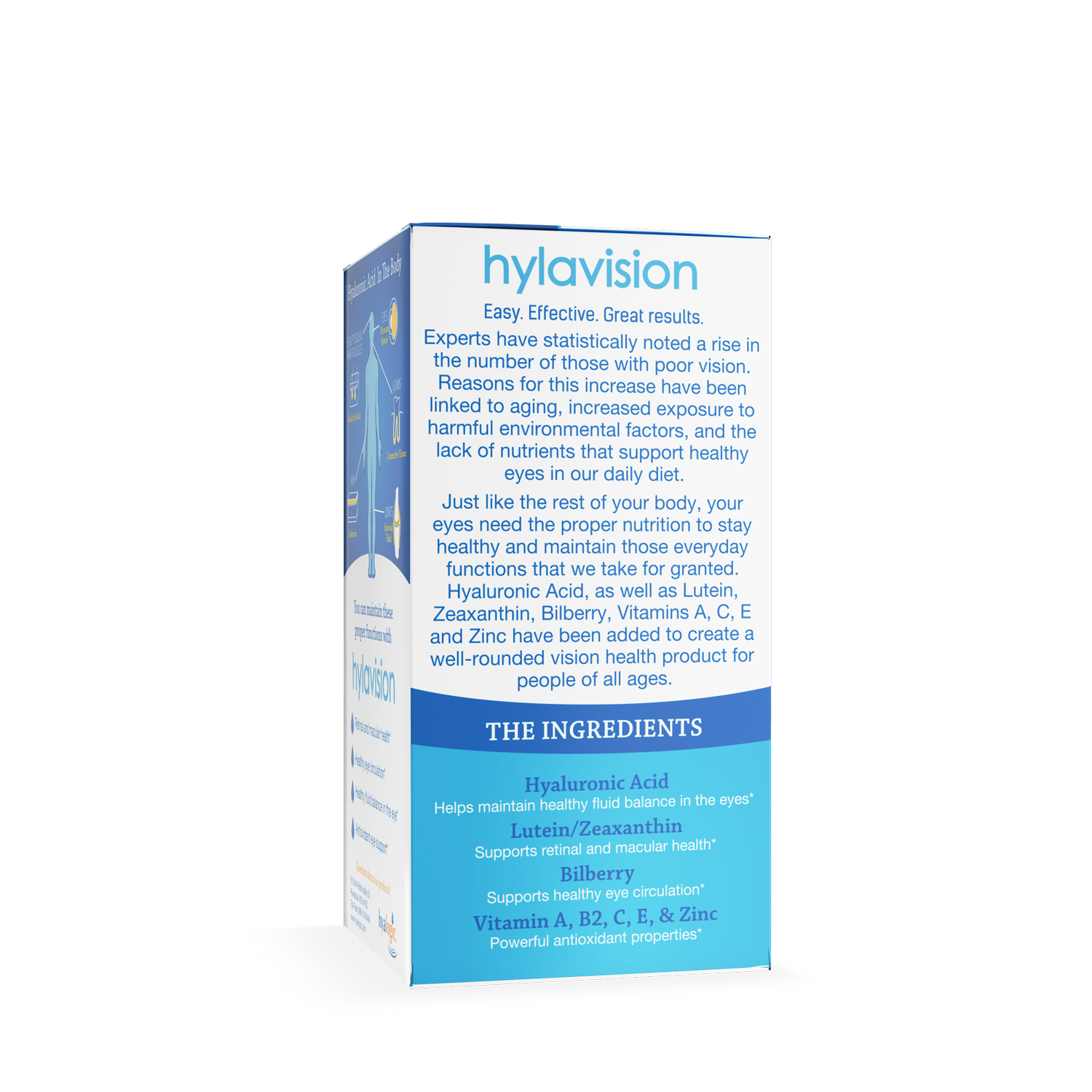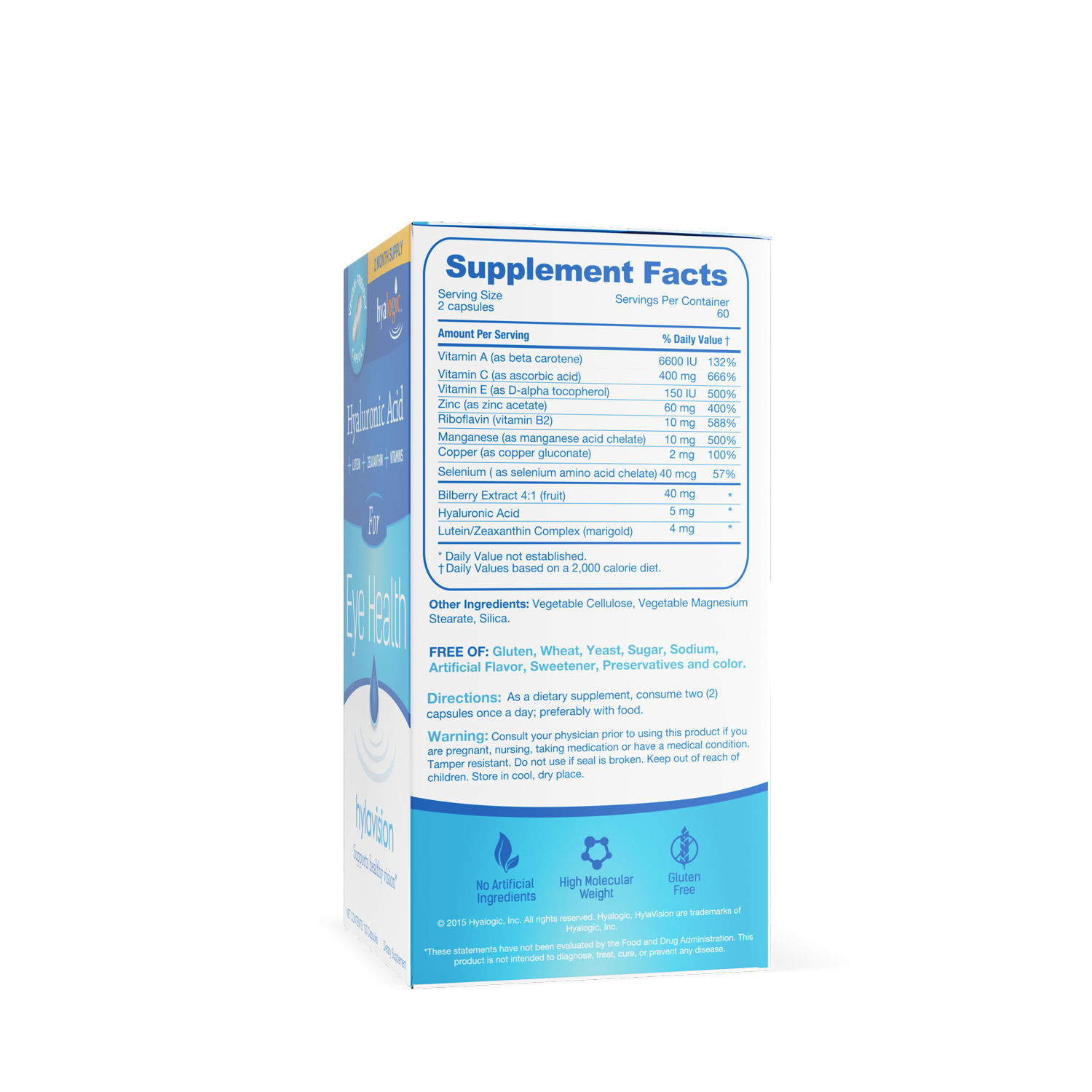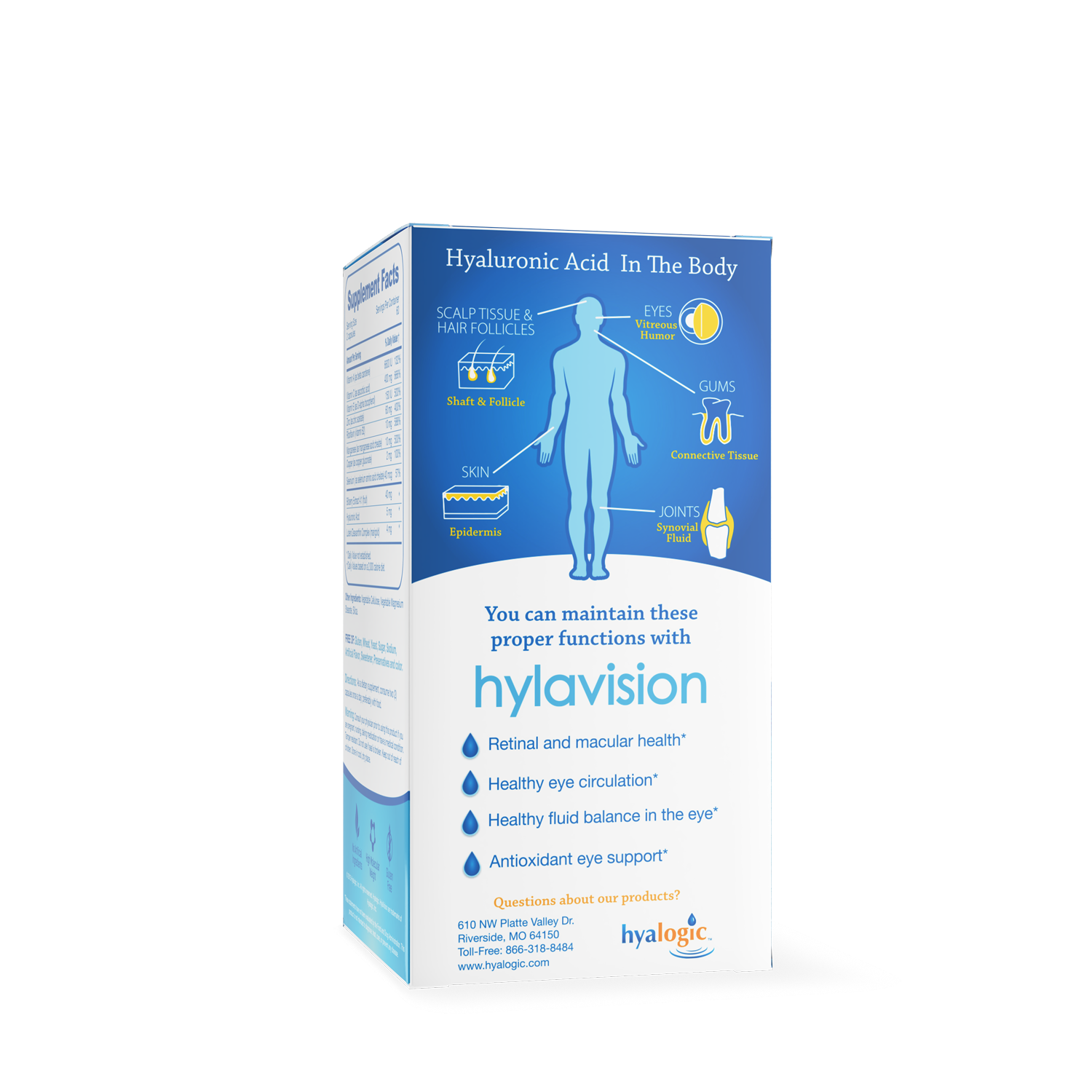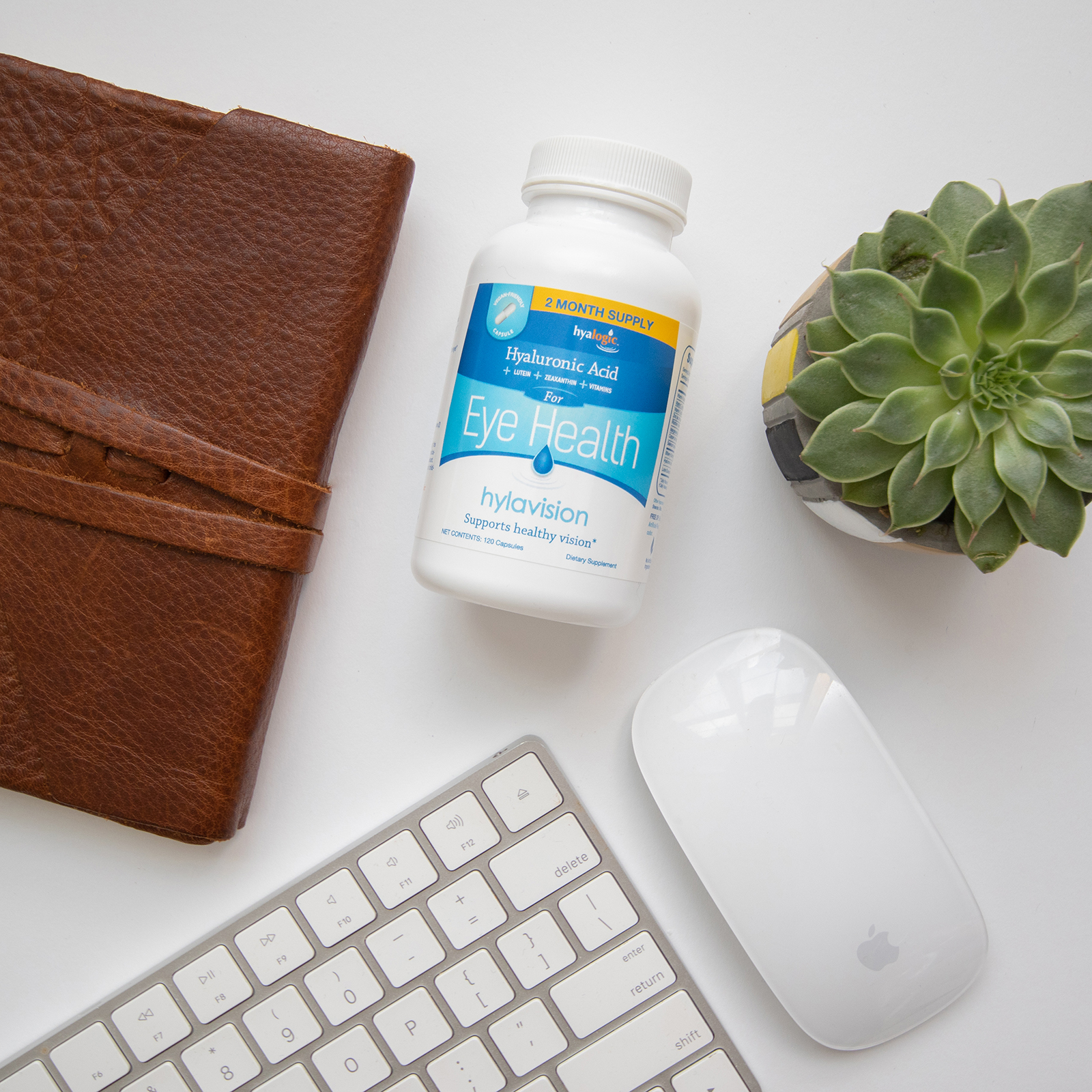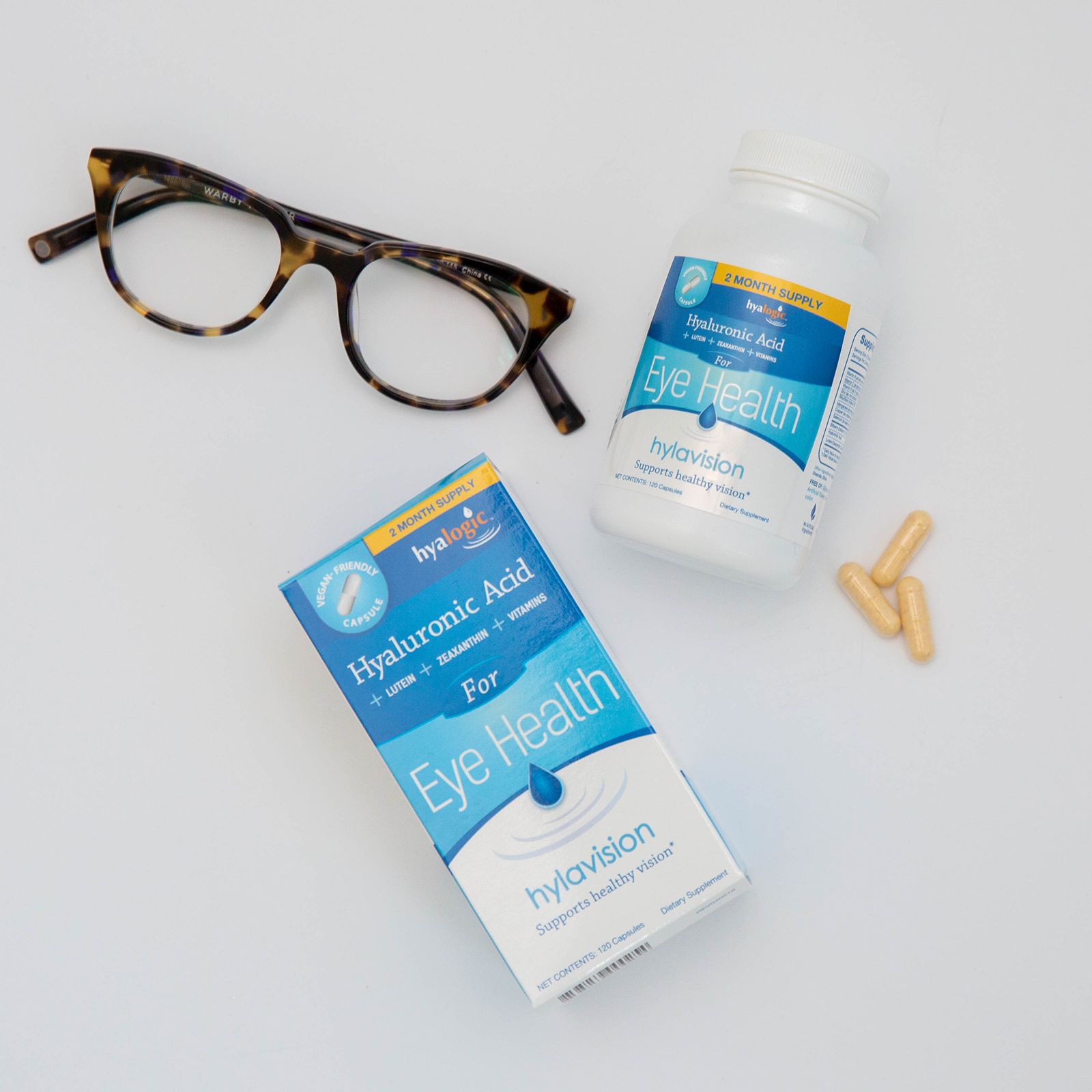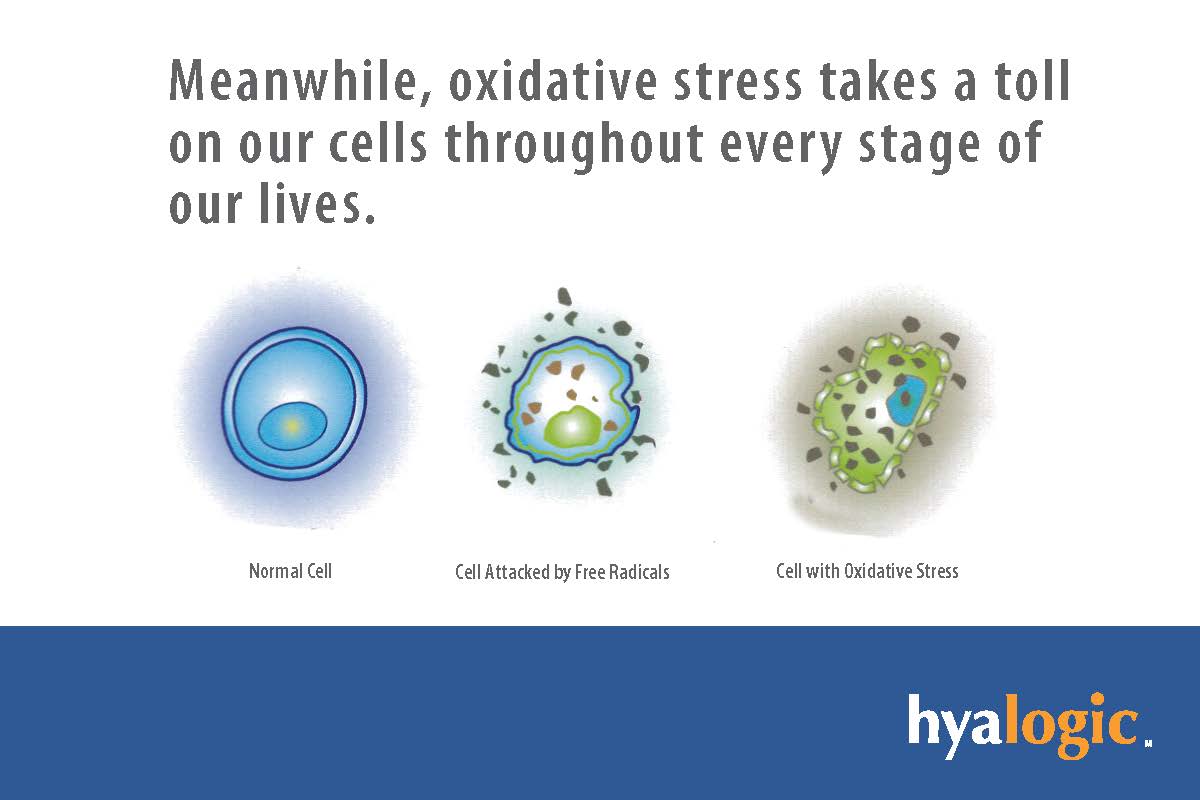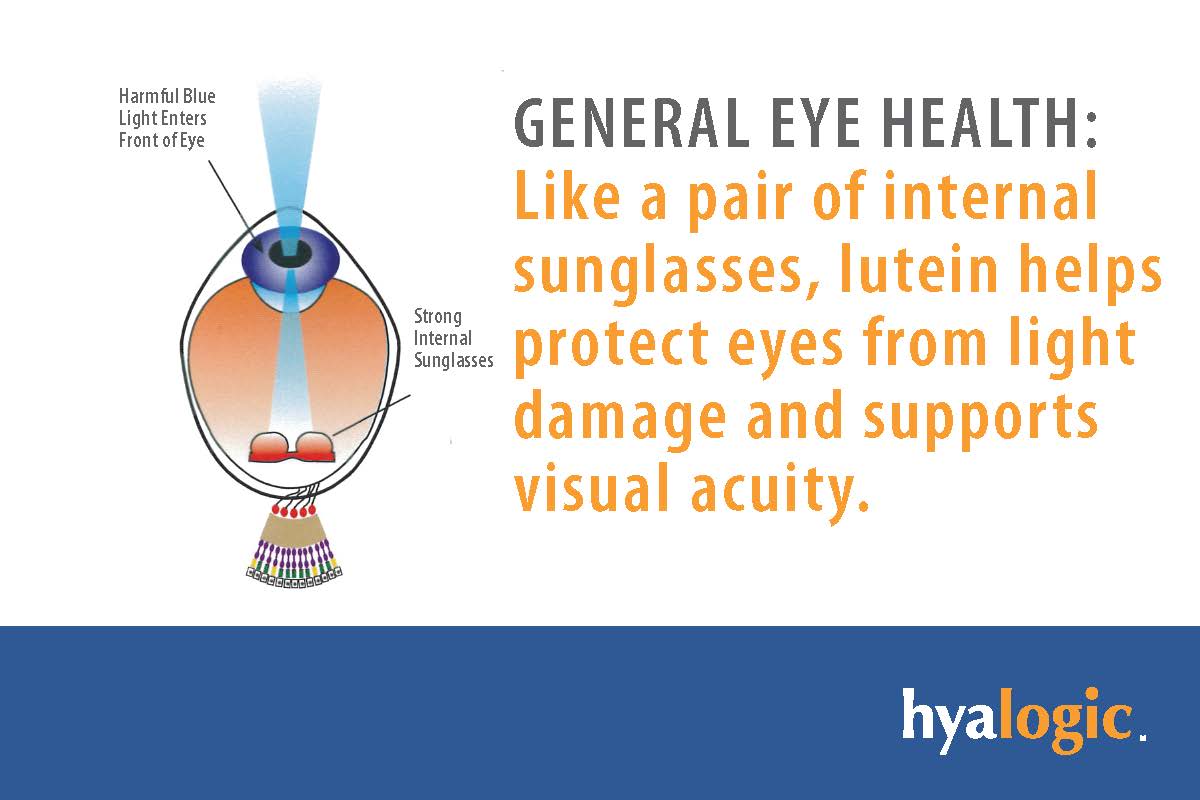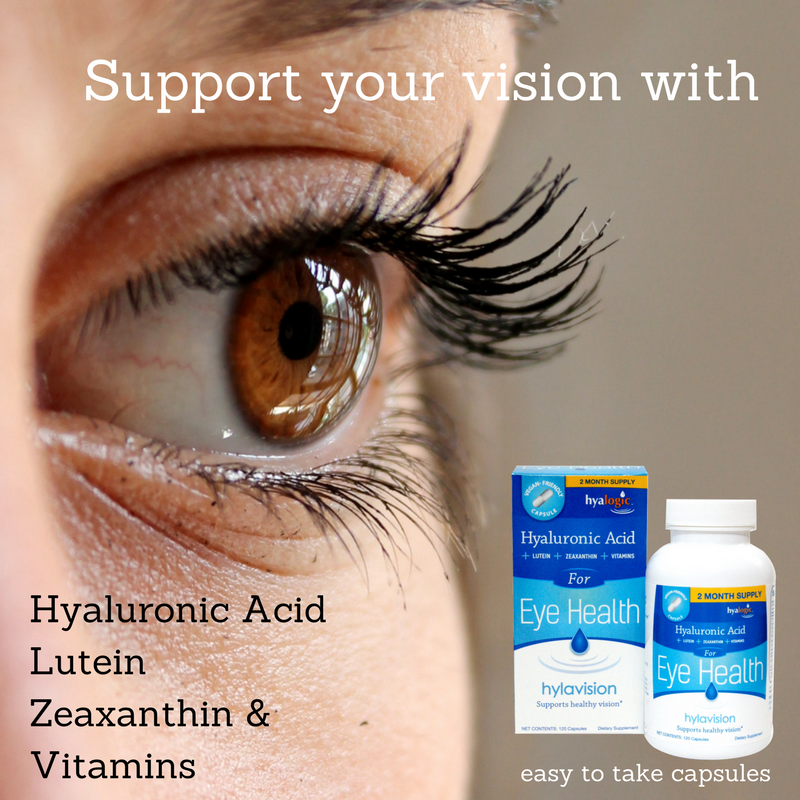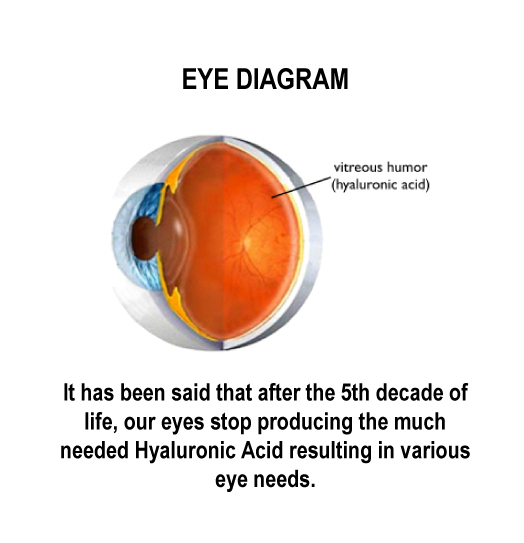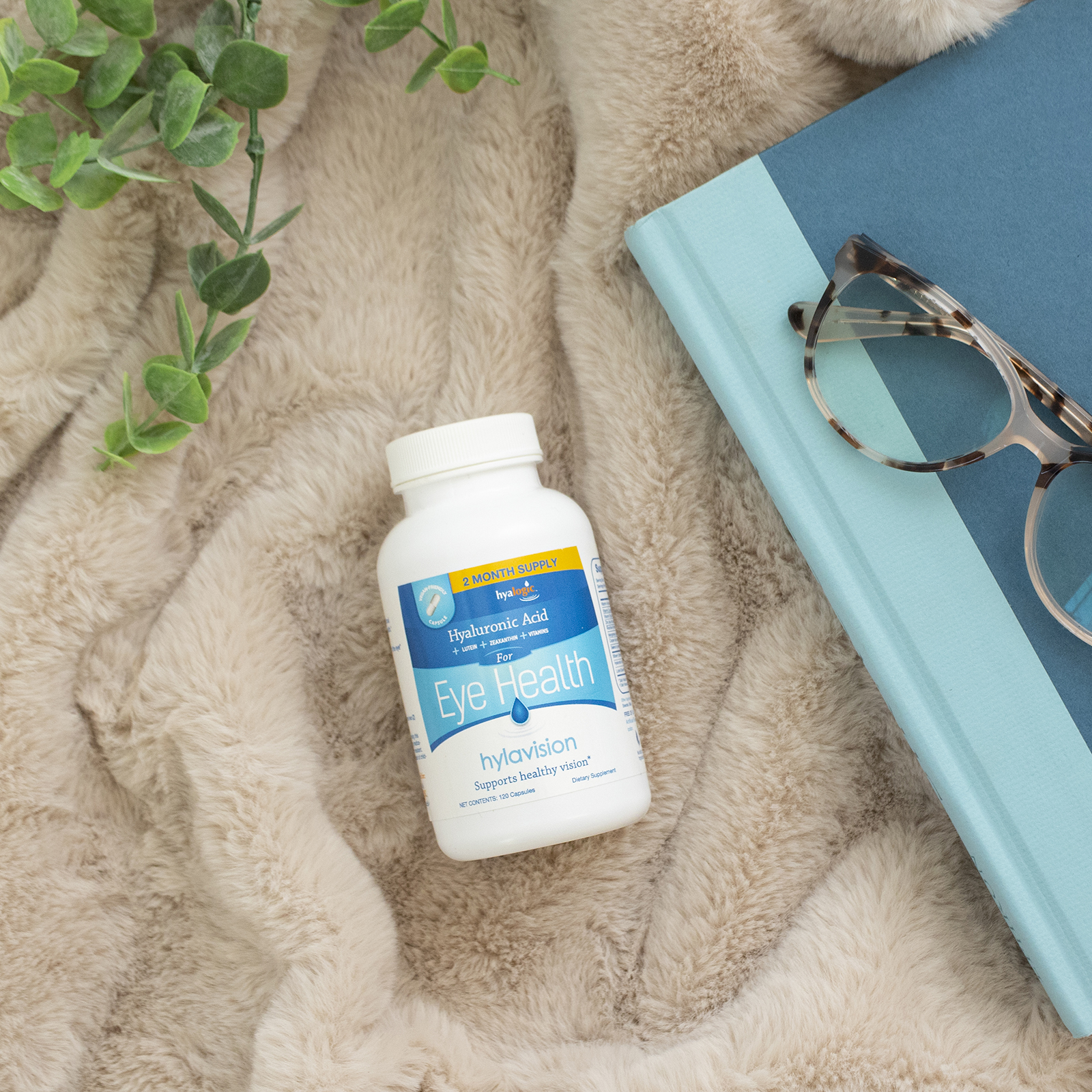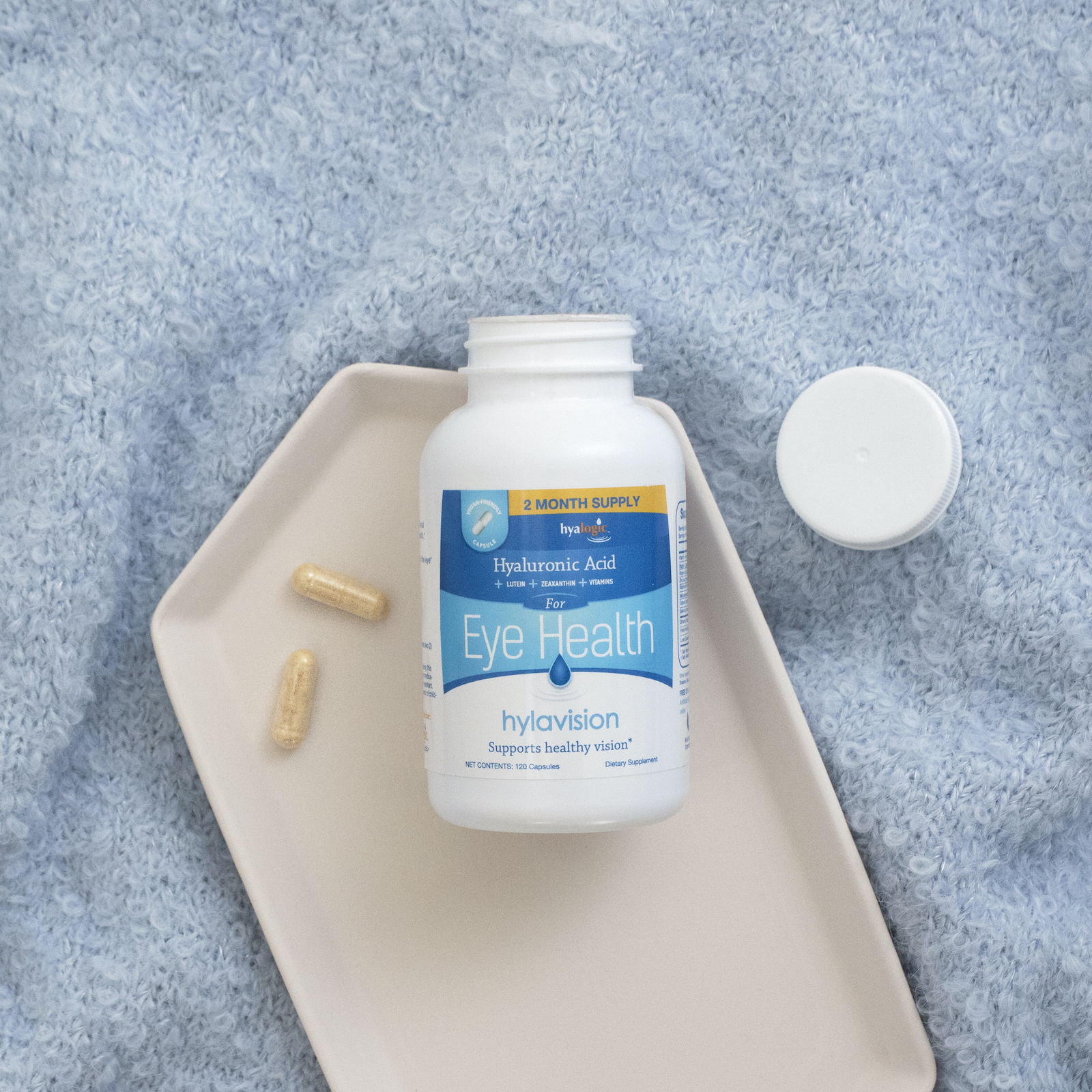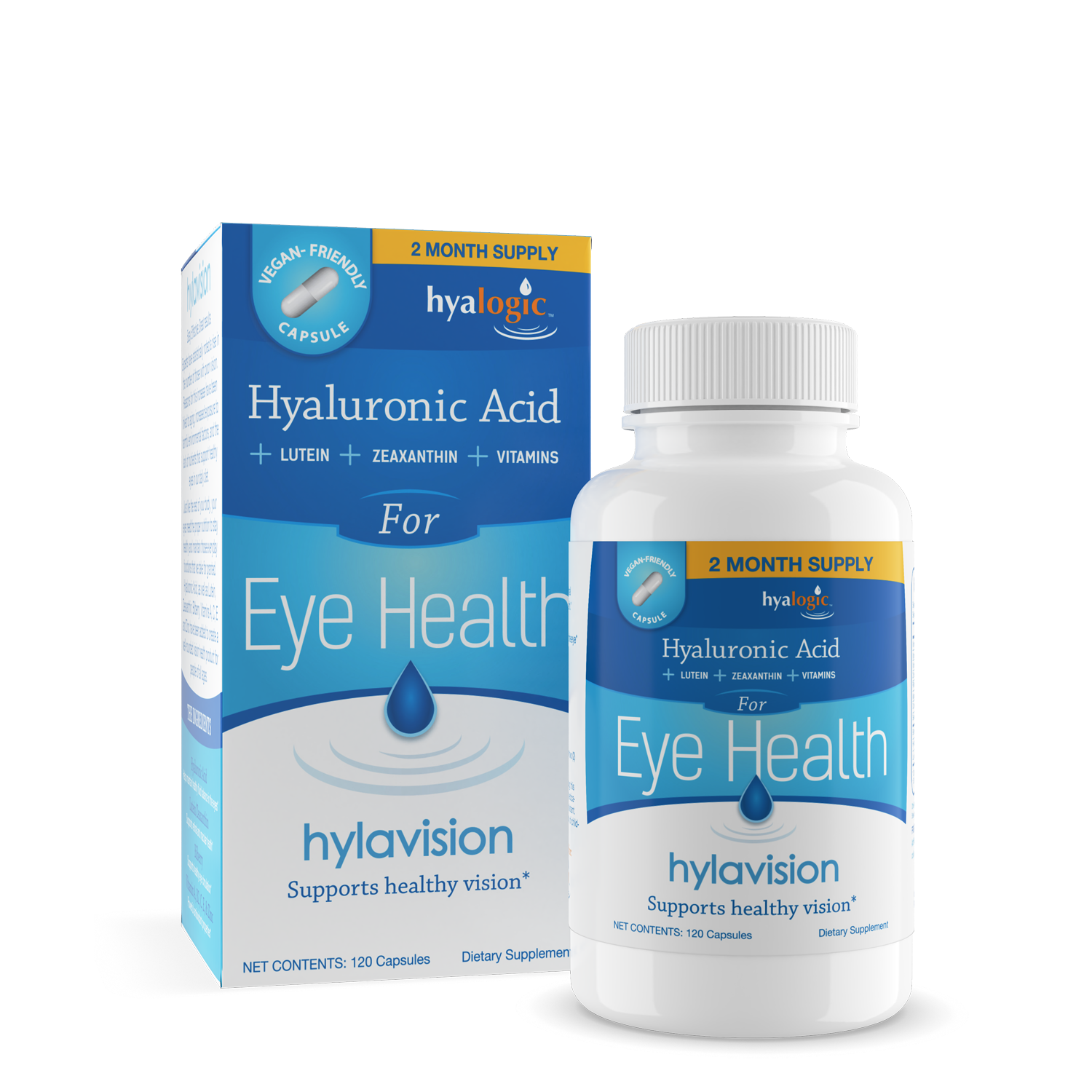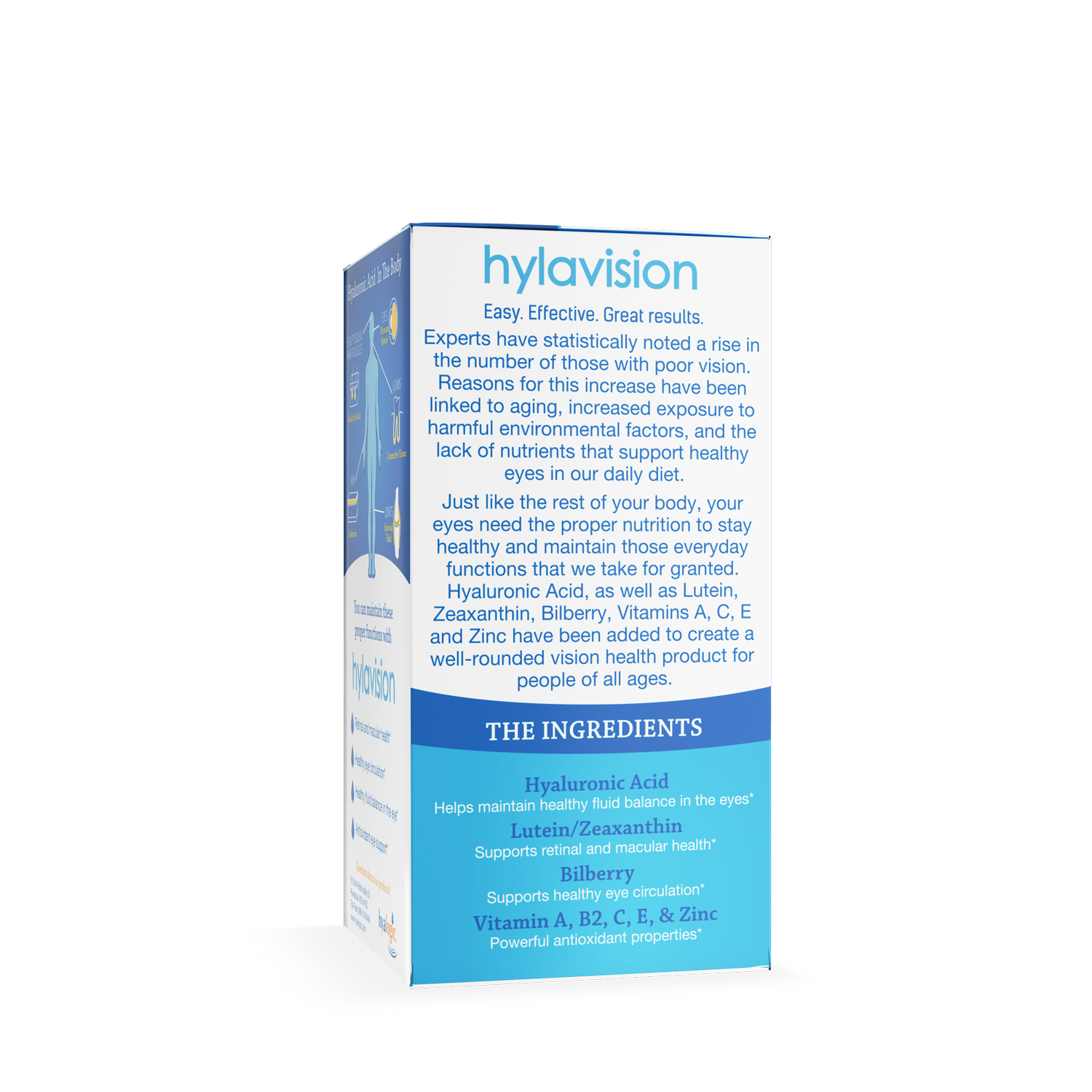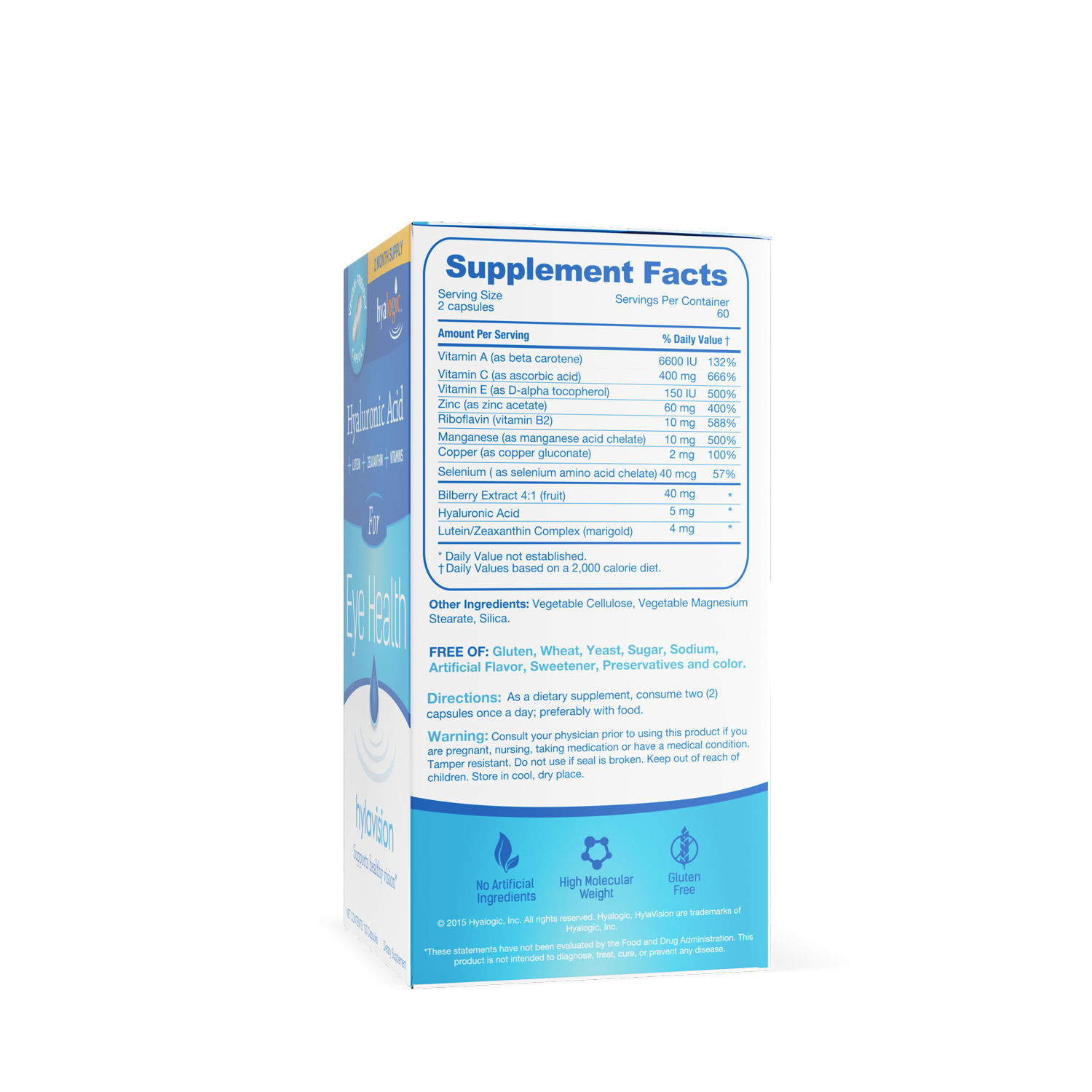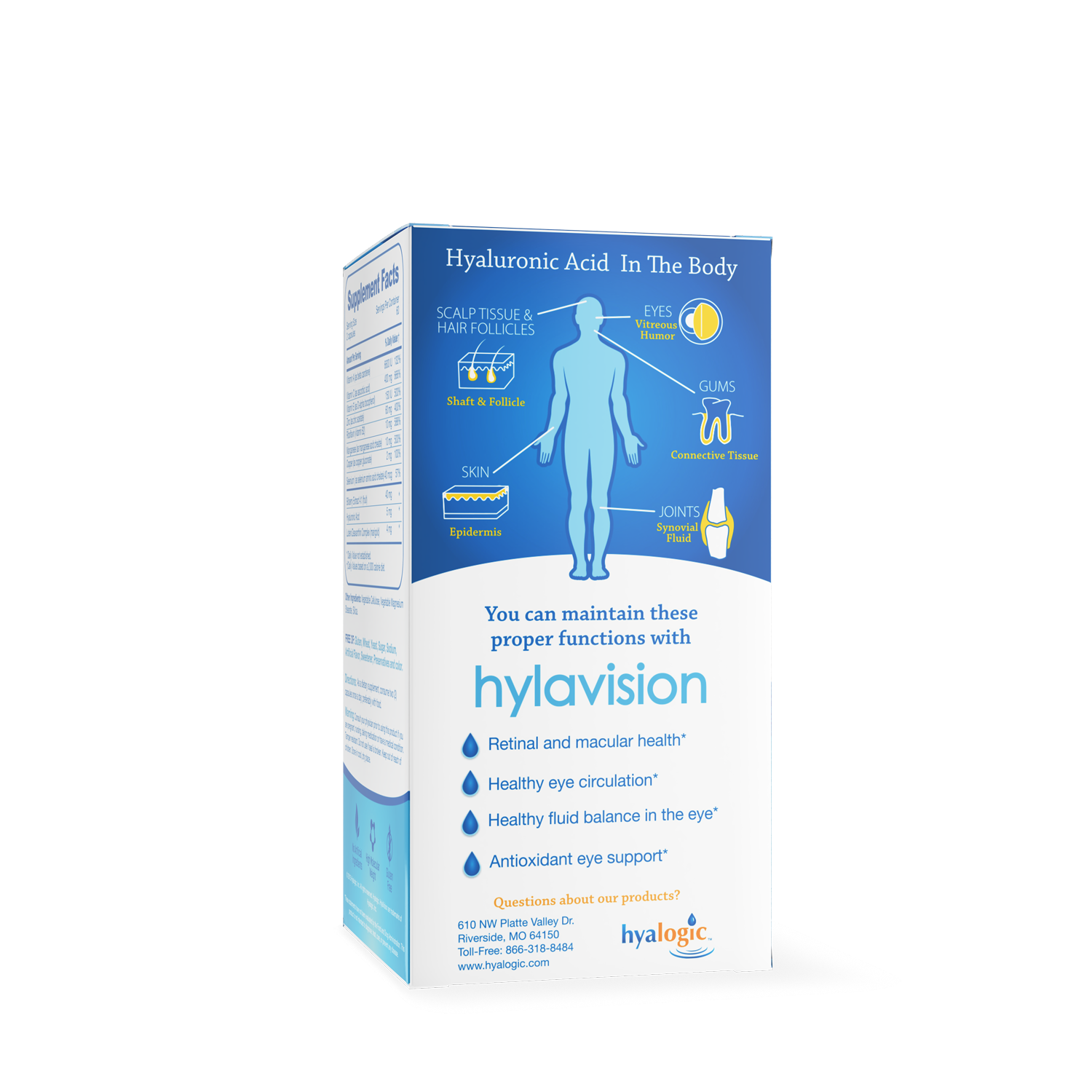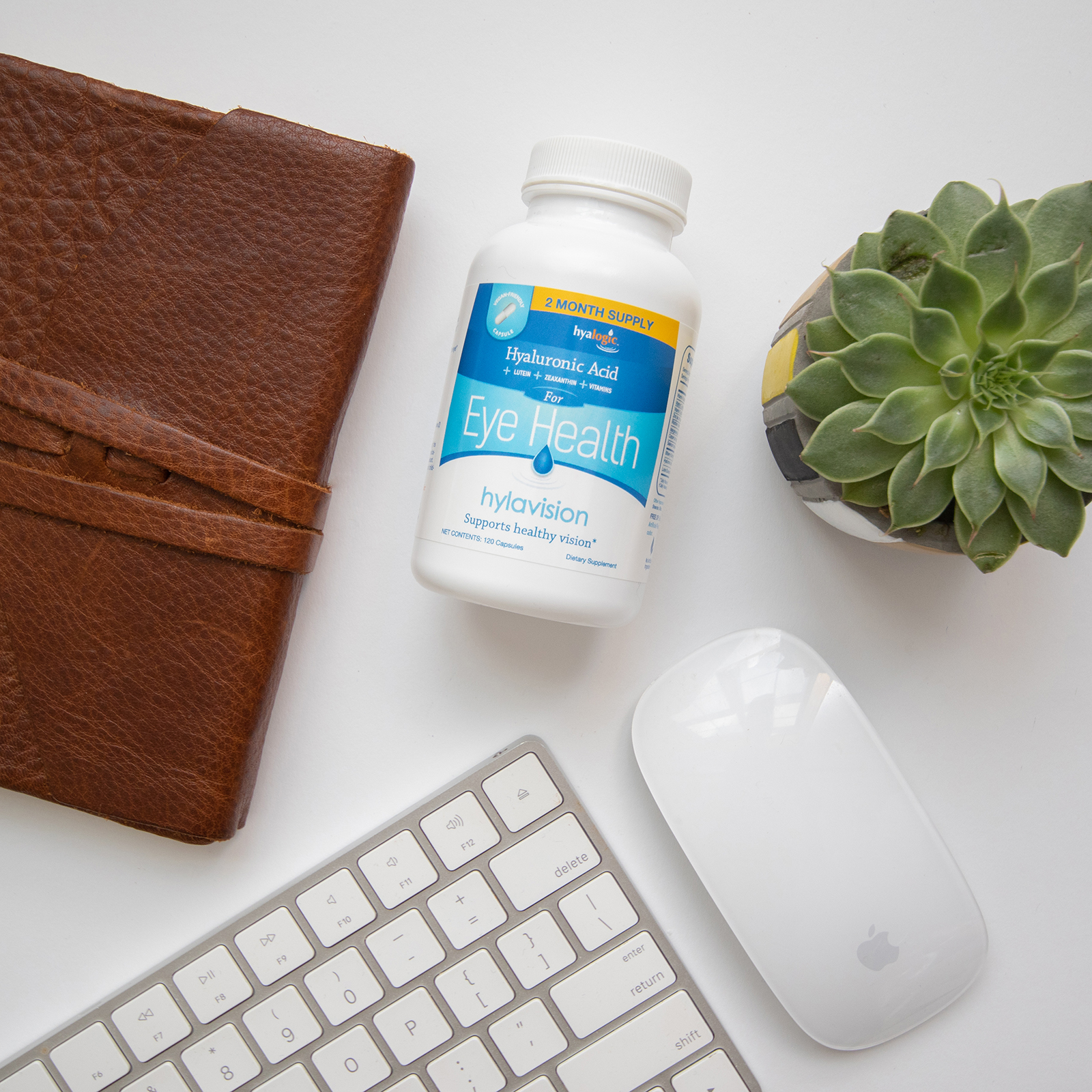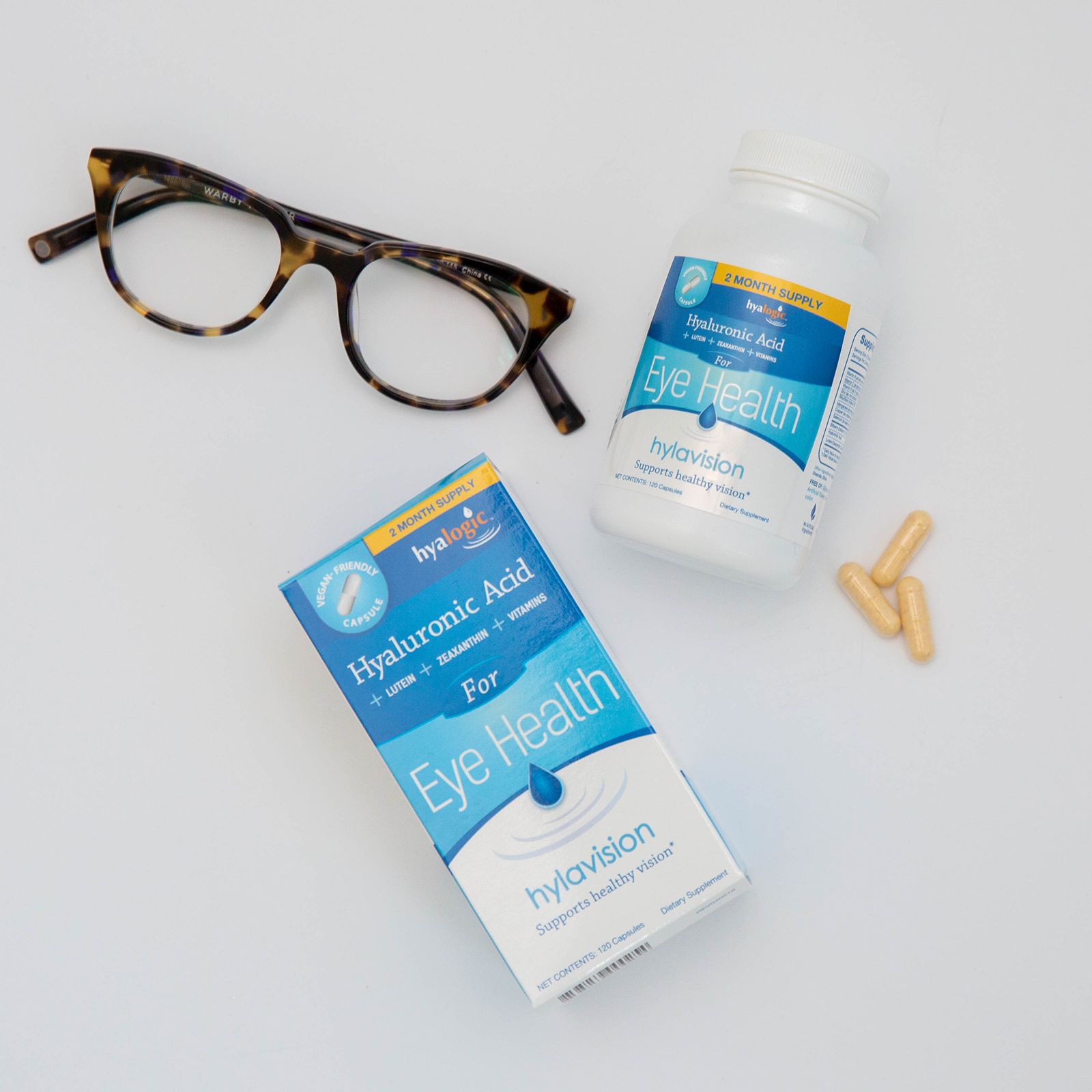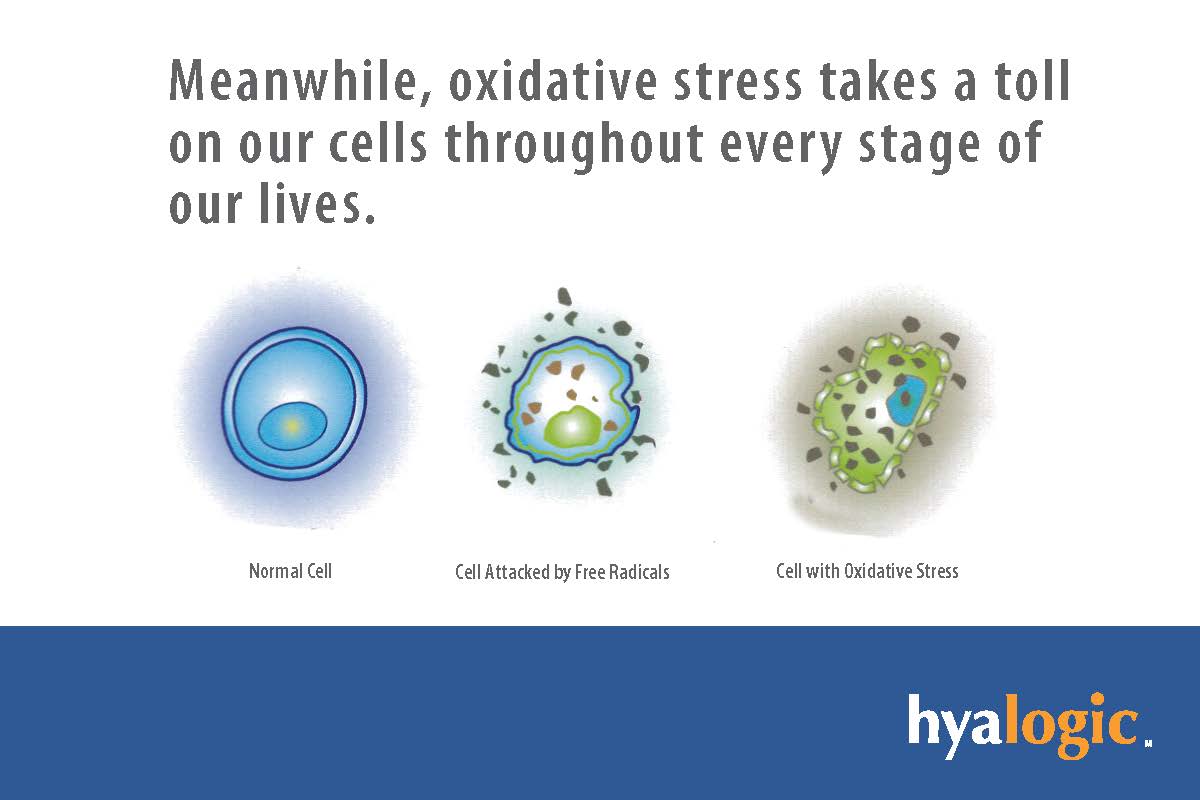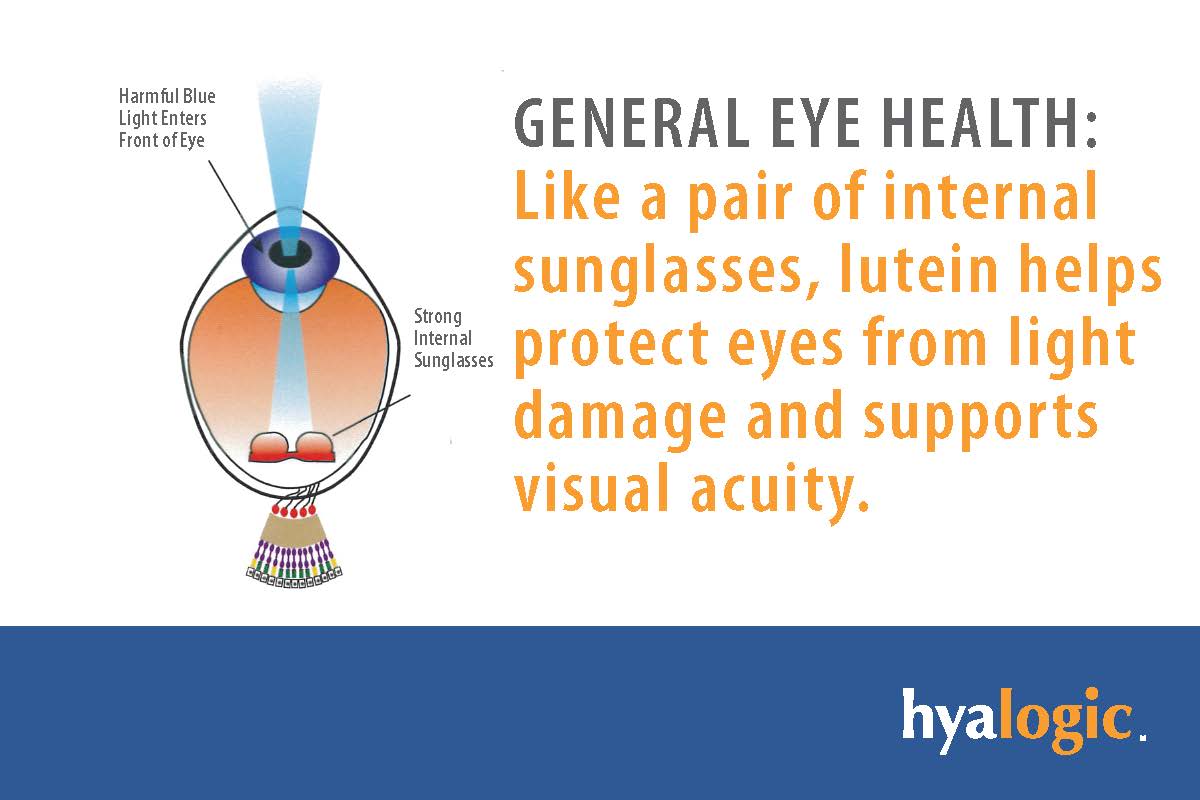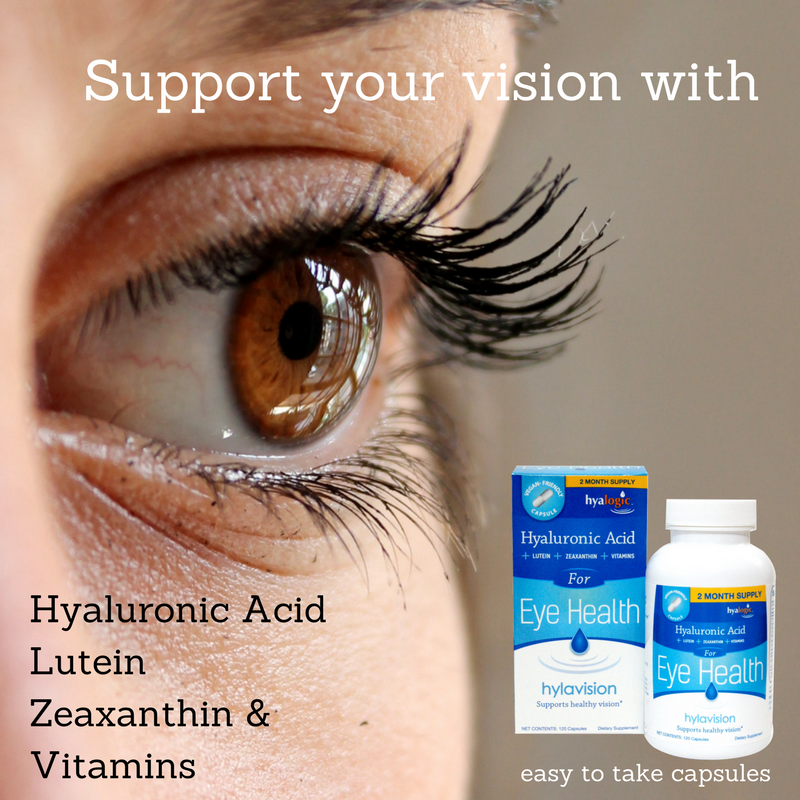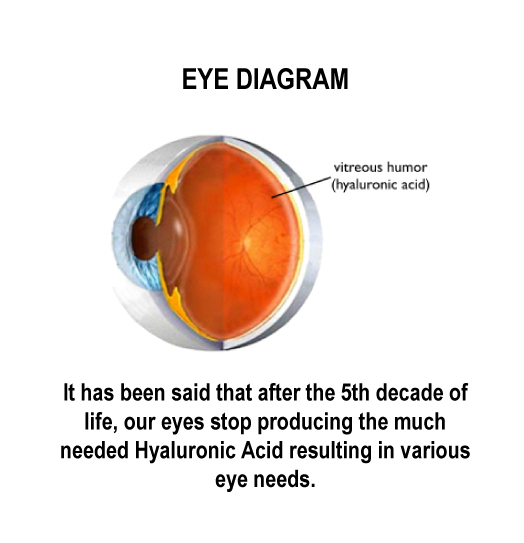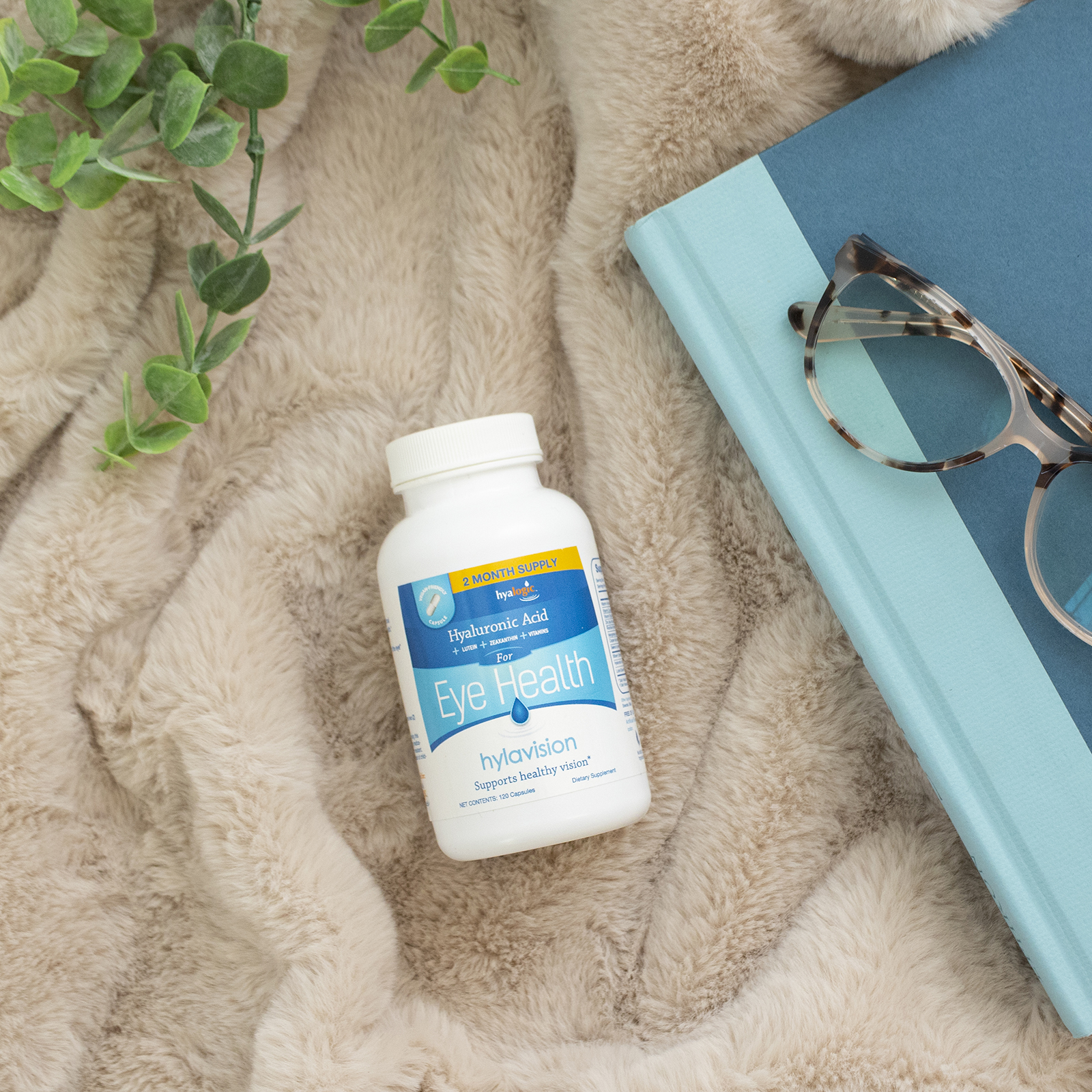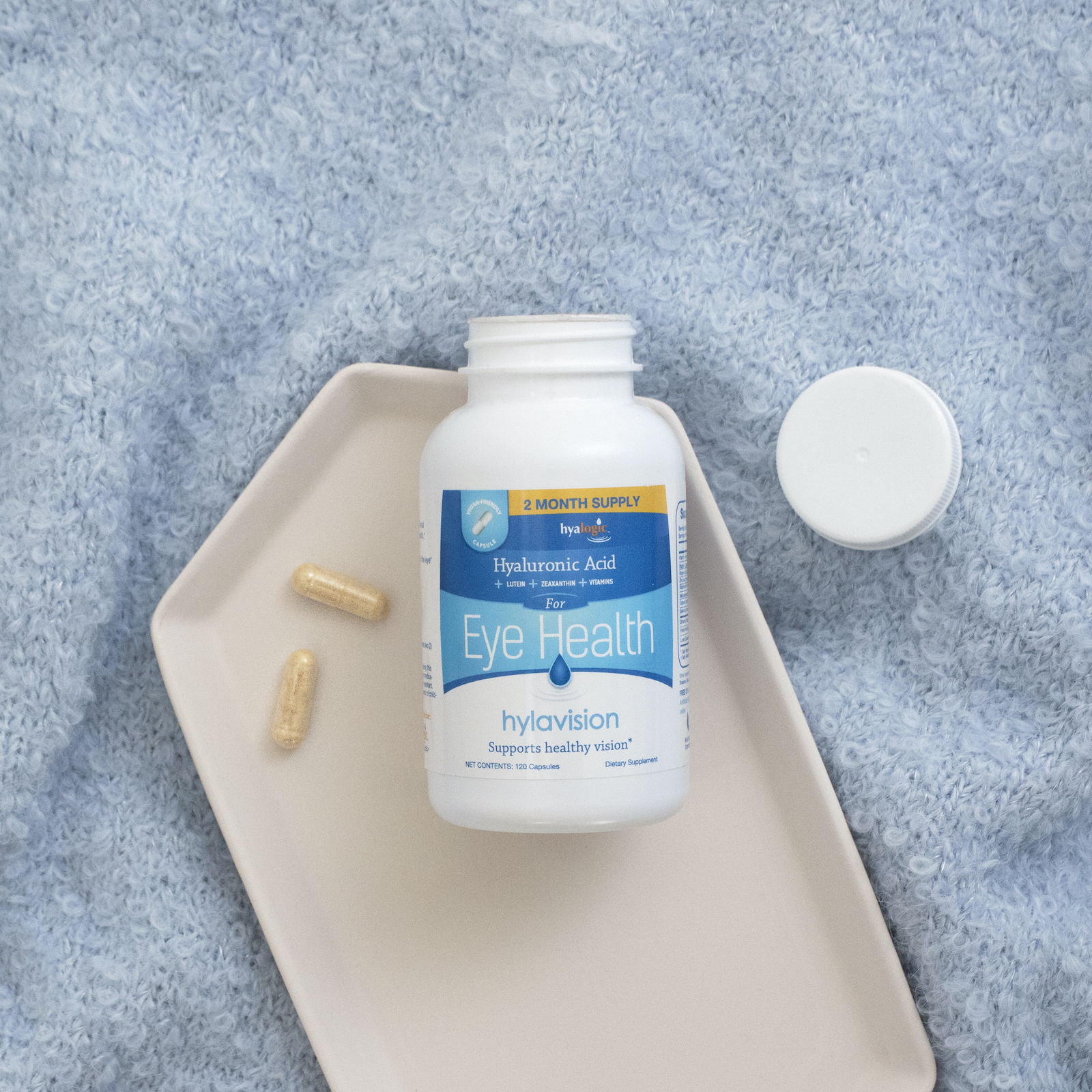 HylaVision™
Leave a Review
Support your eye health with HylaVision™, featuring Hyaluronic Acid.
Experts note a rise in the number of those with poor vision.  Reasons for this increase are linked to aging, increased exposure to harmful environmental factors, and a lack of nutrients that support healthy eyes in our daily diet.†
Like the rest of your body, your eyes need proper nutrition to stay healthy and maintain the everyday functions we take for granted.  In addition to Hyaluronic Acid, we add Lutein, Zeaxanthin, Bilberry, Vitamins A, C, E, and Zinc, creating a well-rounded vision health product for people of all ages.†
HylaVision™ is an oral supplement that supports eye health and performance†. Gluten, wheat, yeast and sugar free. (120 capsules)
We believe in the shortest ingredient list possible. You don't need the entire periodic table to be effective, and we work tirelessly to include only the necessities.
Vegetable Cellulose, Vegetable Magnesium Stearate, Silica
Directions: As a dietary supplement, consume 2 capsules once a day; preferably with food.
Warning: Consult your physician prior to using this product if you are pregnant, nursing, taking medication, or have a medical condition. Tamper-resistant. Do not use if seal is broken. Keep out of reach of children.
Store in a cool, dry place.
Hylavision™ contains hydrating, high molecular weight Hyaluronic Acid in each capsule.
Additional ingredients include Lutein, Zeaxanthin, Bilberry, Vitamins A, C, and E, and Zinc. Together they provide a convenient and easy-to-use vision support supplement for individuals of any age.†
Useful
Frequently Asked Questions
What is Lutein and Zeaxanthin?
Lutein and Zeaxanthin have the ability to filter out harmful light rays and support the retinal and macular health of the eye. These pigments are antioxidant carotenoids and are a critical part of the macular health. Lutein and Zeaxanthin also help maintain healthy cells and tissues in the eye, absorbing dangerous light waves and acting as antioxidants.†
What is Bilberry Extract?
Bilberry Extract has an anti-oxidative property and supports healthy blood flow to the eyes.†
What are Vitamins A, C, E and Zinc?
All four of these vitamins are known for their powerful antioxidant properties.†
Are there any side effects?
HylaVision™ has no known side effects that have been reported for the ingredients in the product. Always take this product on a full stomach.
Can HylaVision™ be taken with other vitamin or natural supplements?
It is not advisable to take more than one multi-vitamin at a time. We would advise that you consult your medical practitioner before taking another vitamin supplement with HylaVision™.
I am a smoker/I used to smoke, can I take HylaVision™?
Recent studies that looked at beta-carotene intake (20-30mg) concluded a potential link between beta-carotene and increased risk of developing cancer. For this reason, smokers and other individuals at risk from cancer, are not encouraged to take high levels of beta-carotene. Levels of beta-carotene present in the daily dose of HylaVision™ are much lower than those studied, and are, therefore, considered to be within safe limits. If in doubt, consult a medical practitioner before starting to take HylaVision™.
Some of Our
Customer Favorites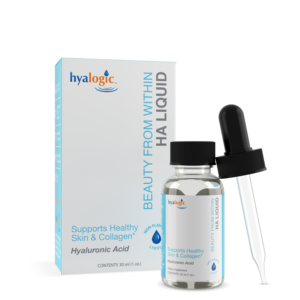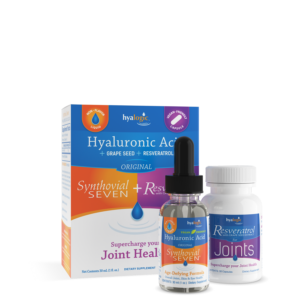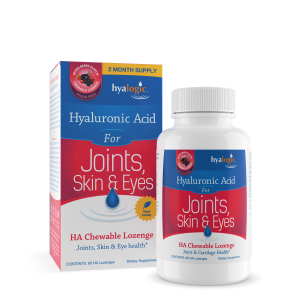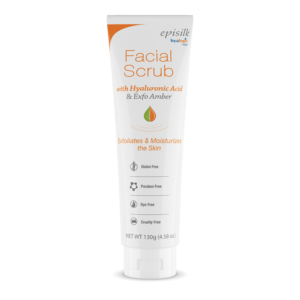 I have been using this product for 6 years. Couldn't purchase it from the company I ordered it from and been without for a month. This helps me with my eyes and vision. This product is the best that I have found. I'm so glad to find it again ! Thanks. After I started using this product, I have noticed less flashing of lights in my eyes and my eyes feel less tired and itchy. After I ran out of it, I noticed how much the product was helping my eyes focus too. I really love all the products through this company and I highly recommend them. The best product I've ever use for my eyes. Lubricates as well as it helps me get through my day! Hylavision™ worked wonders for me. Now my eyes feel great and I am more productive at my job. I work at a computer all day and my eyes are always strained and sore. Now at least I have product that can help assure me that I am giving my eyes all the nutrients they need.
Stay Hydrated
Latest Tips
When Columbia University scientists Karl Meyer and John Palmer first discovered hyaluronic acid (HA) in 1934, they could scarcely have... Healthy, youthful looking hair relies on ample hydration, both in the hair itself and in the scalp where the hair... Ageless beauty has long been the Holy Grail of the cosmetics industry. Just a quick glance online reveals the abundance...