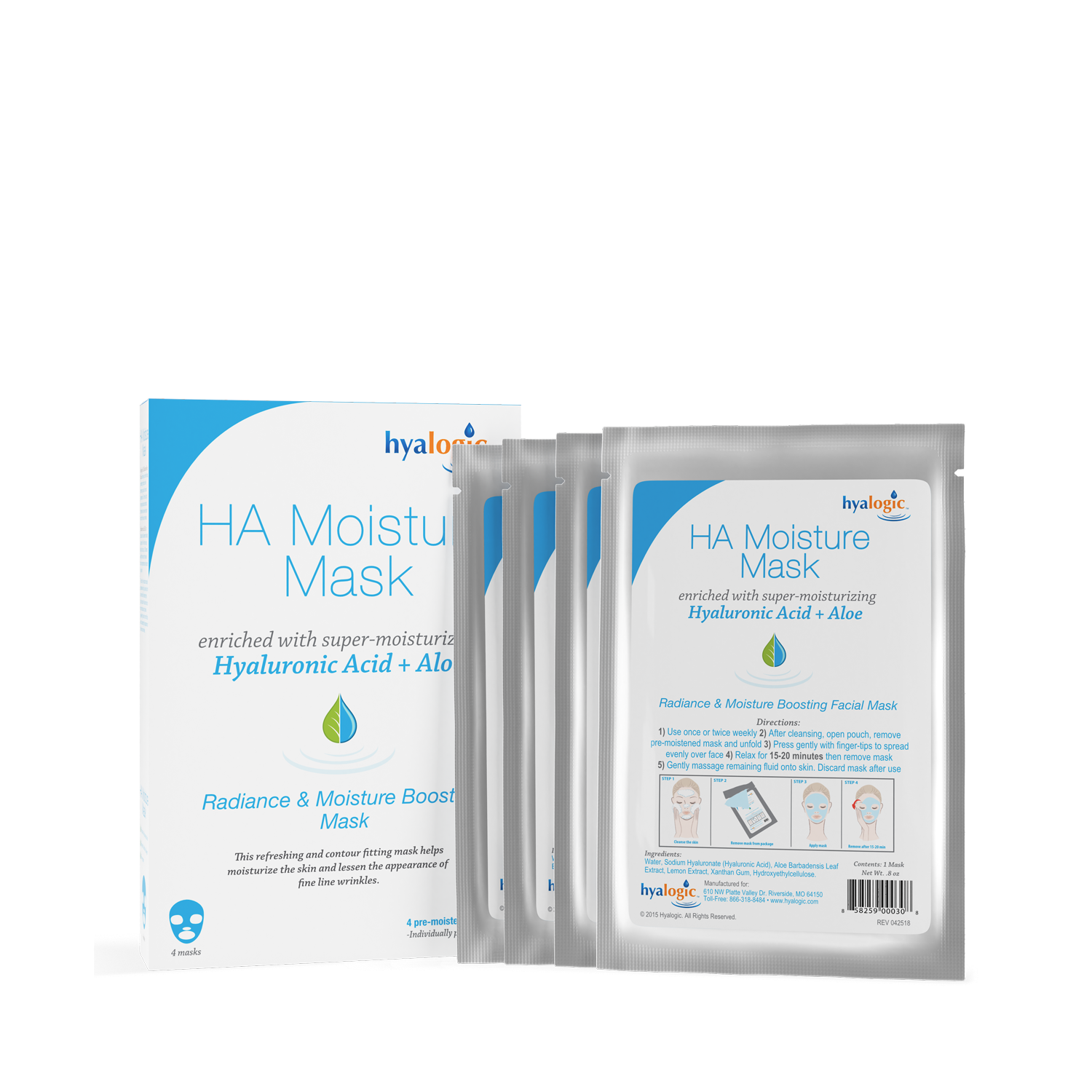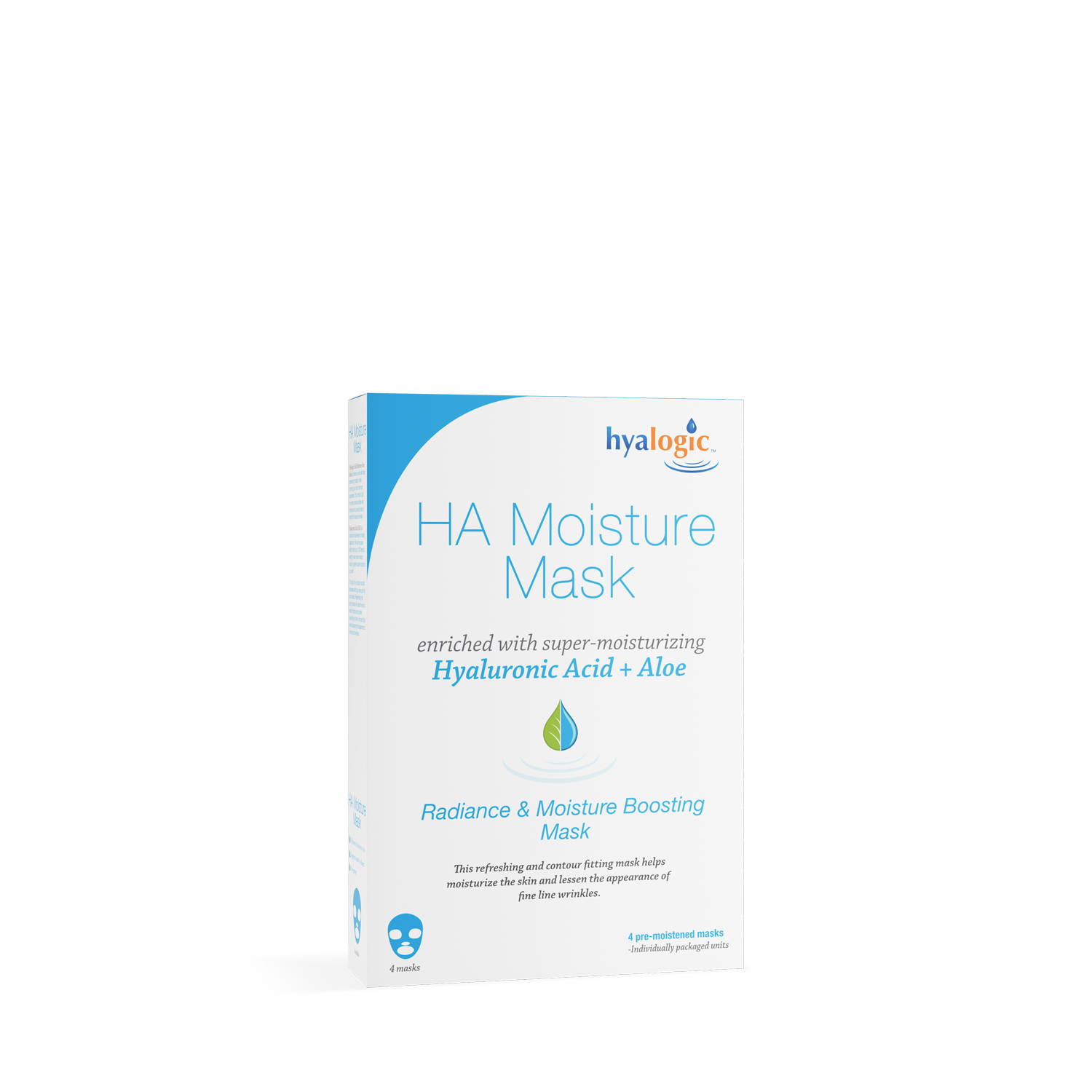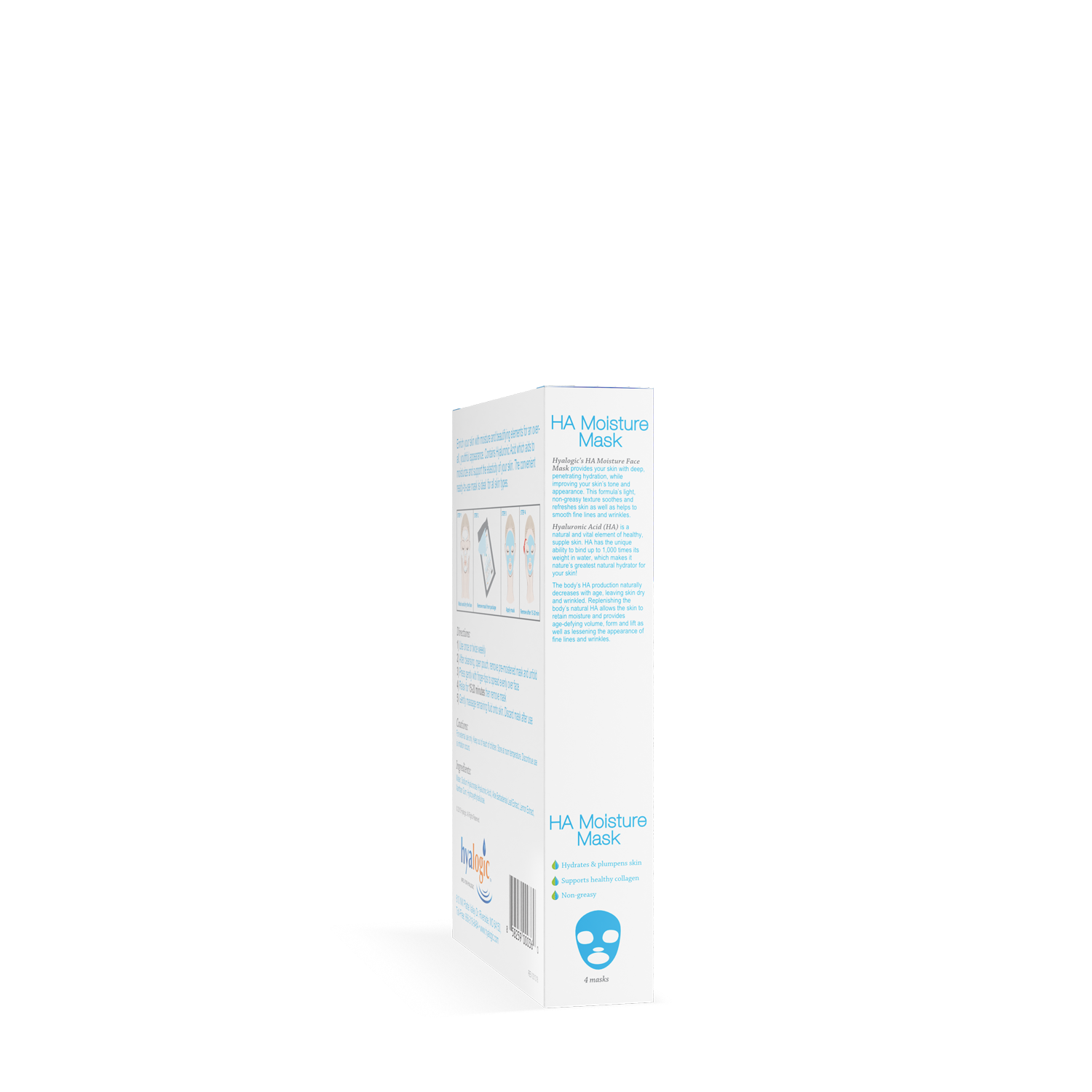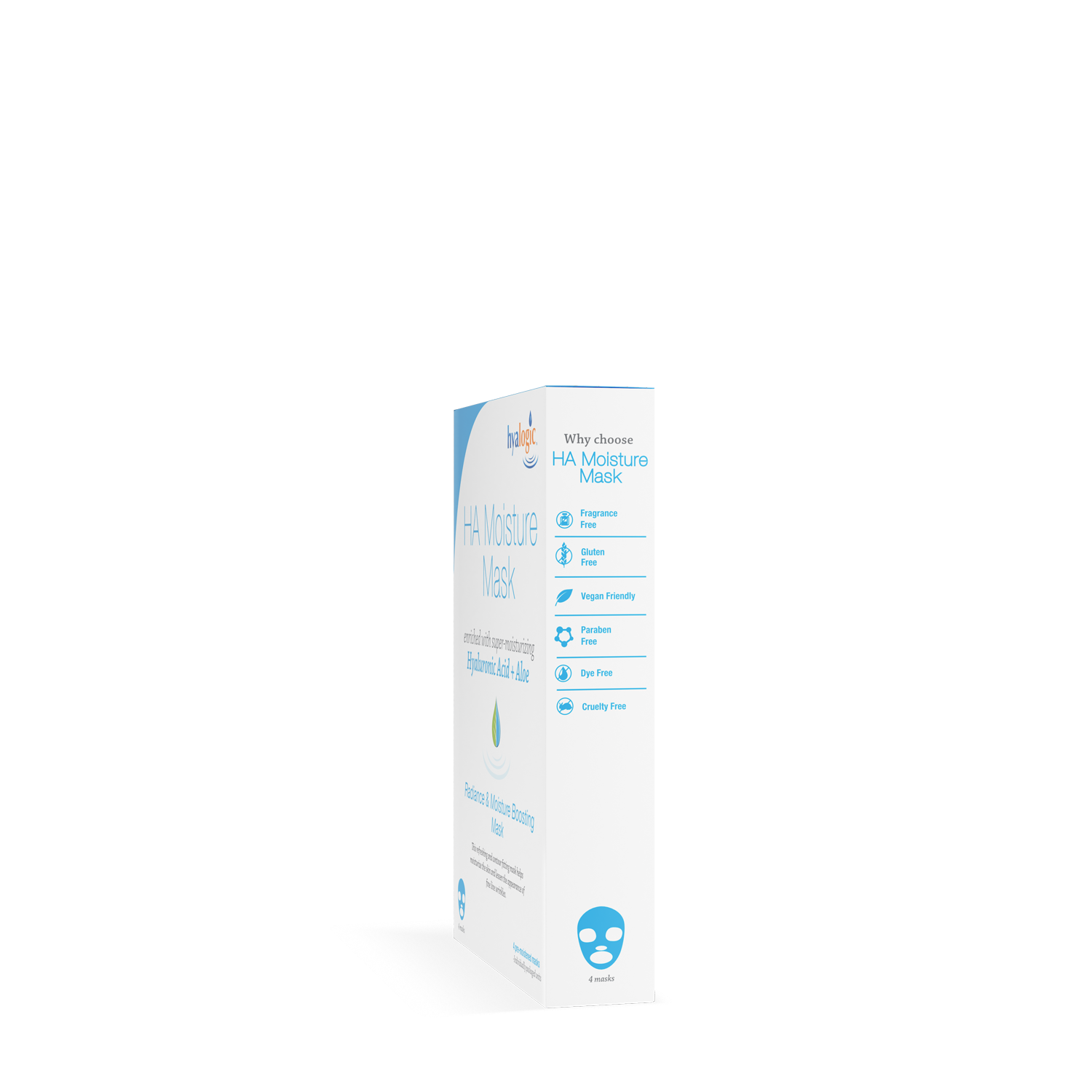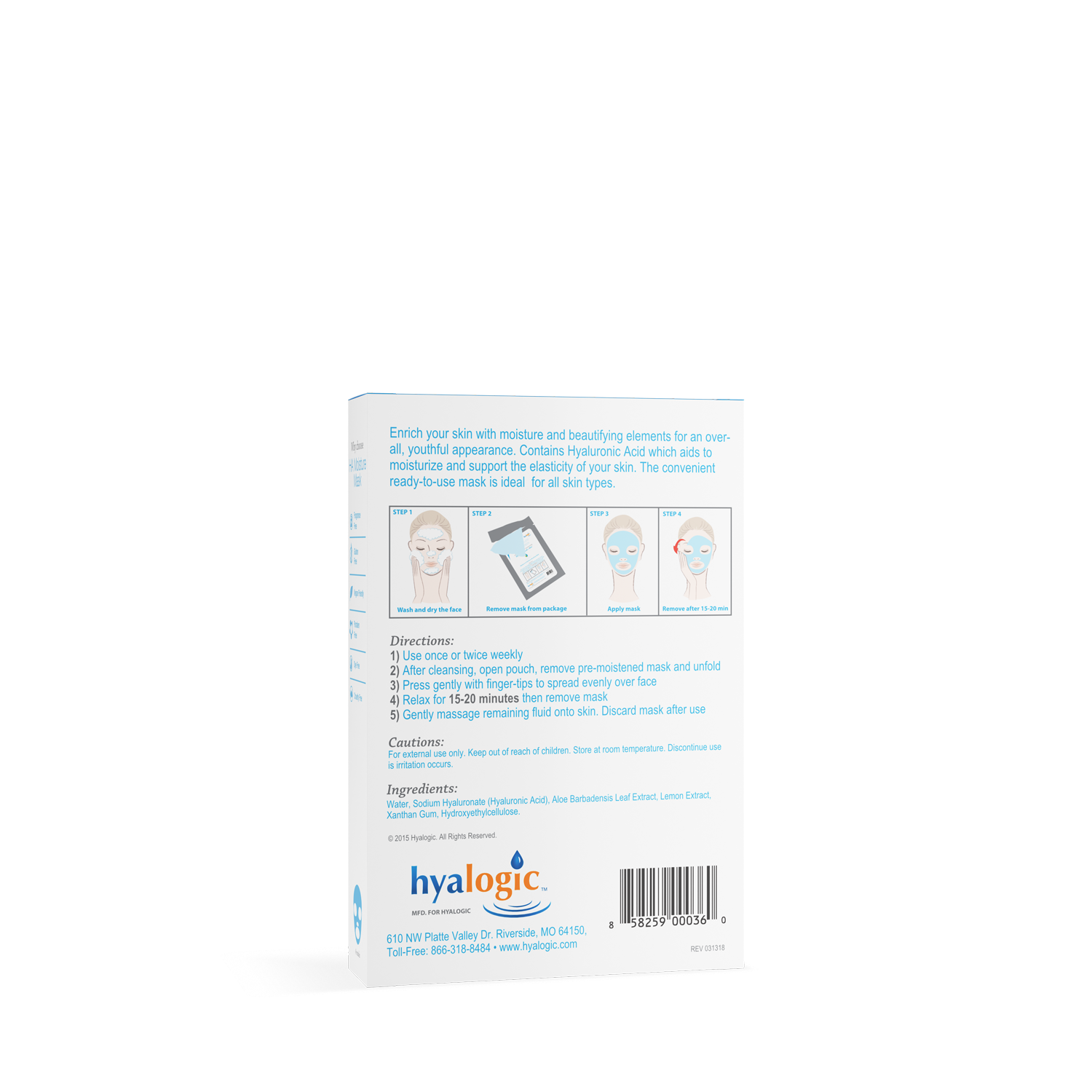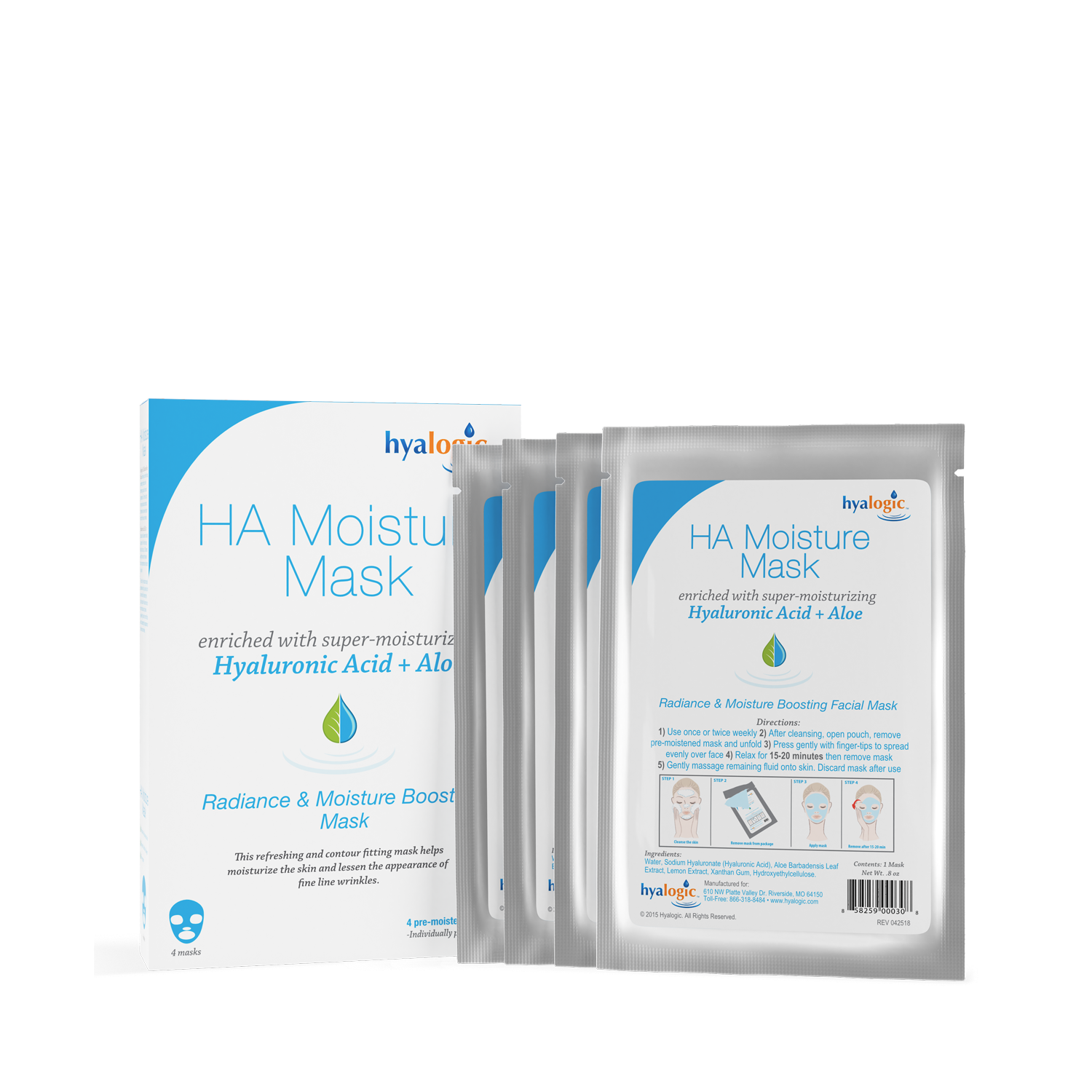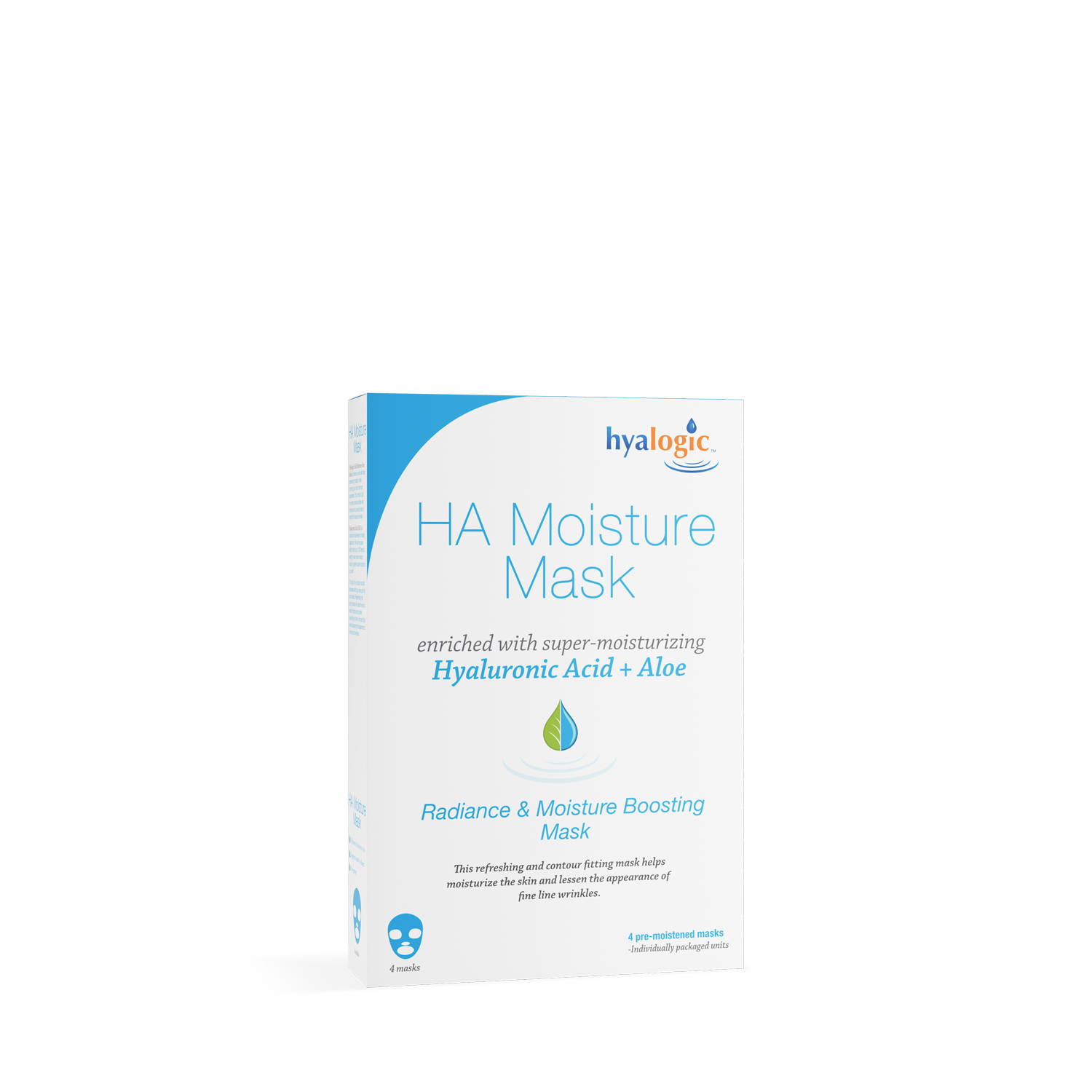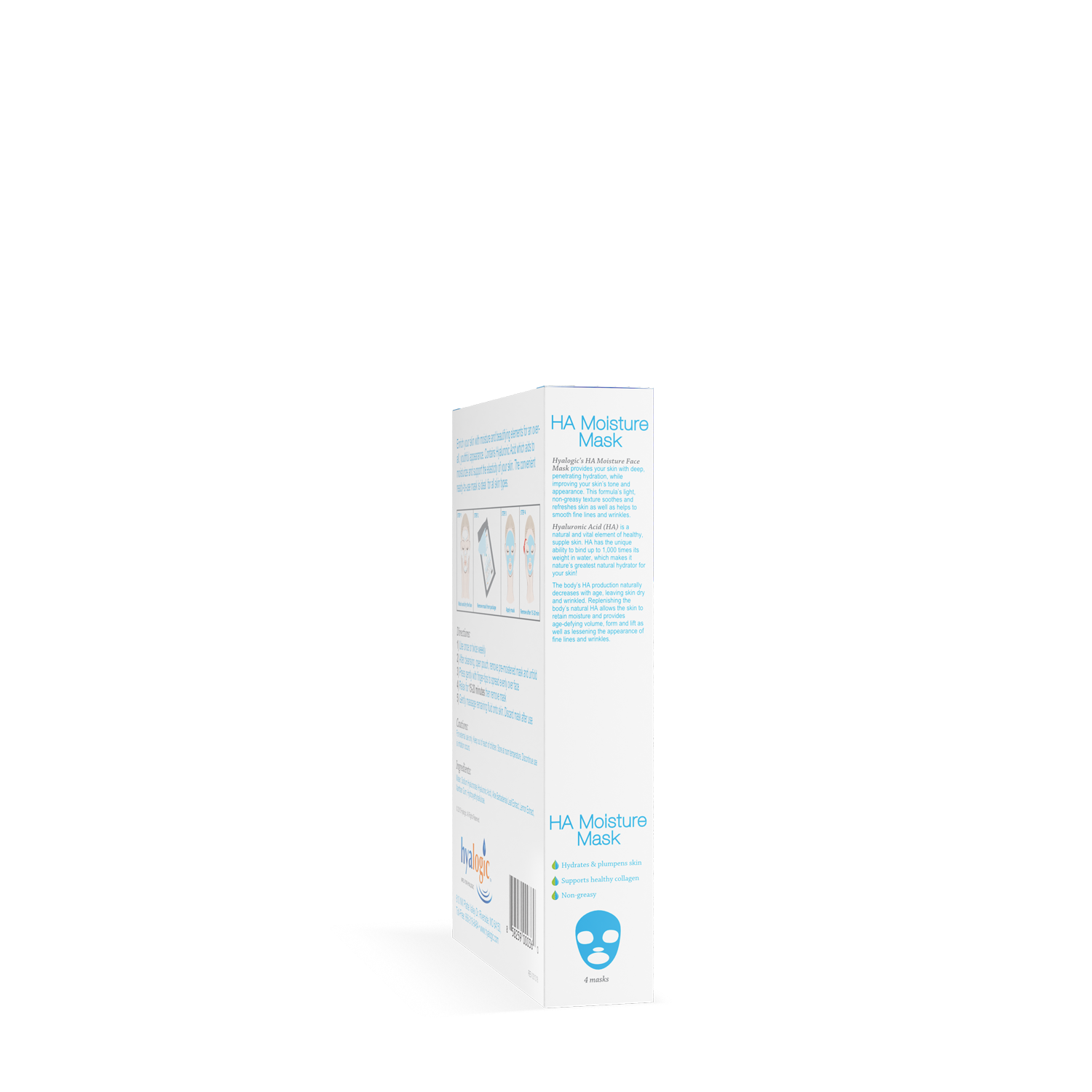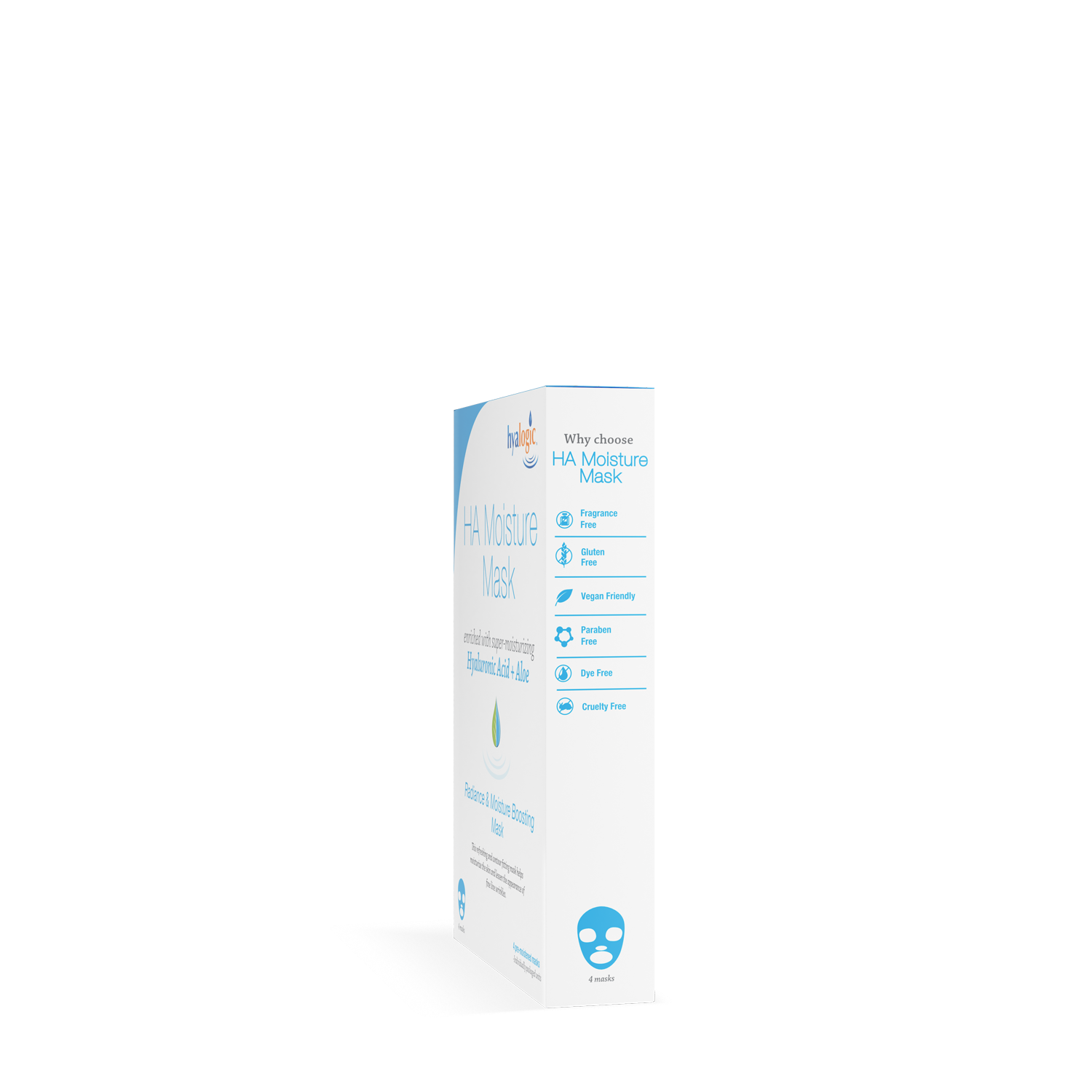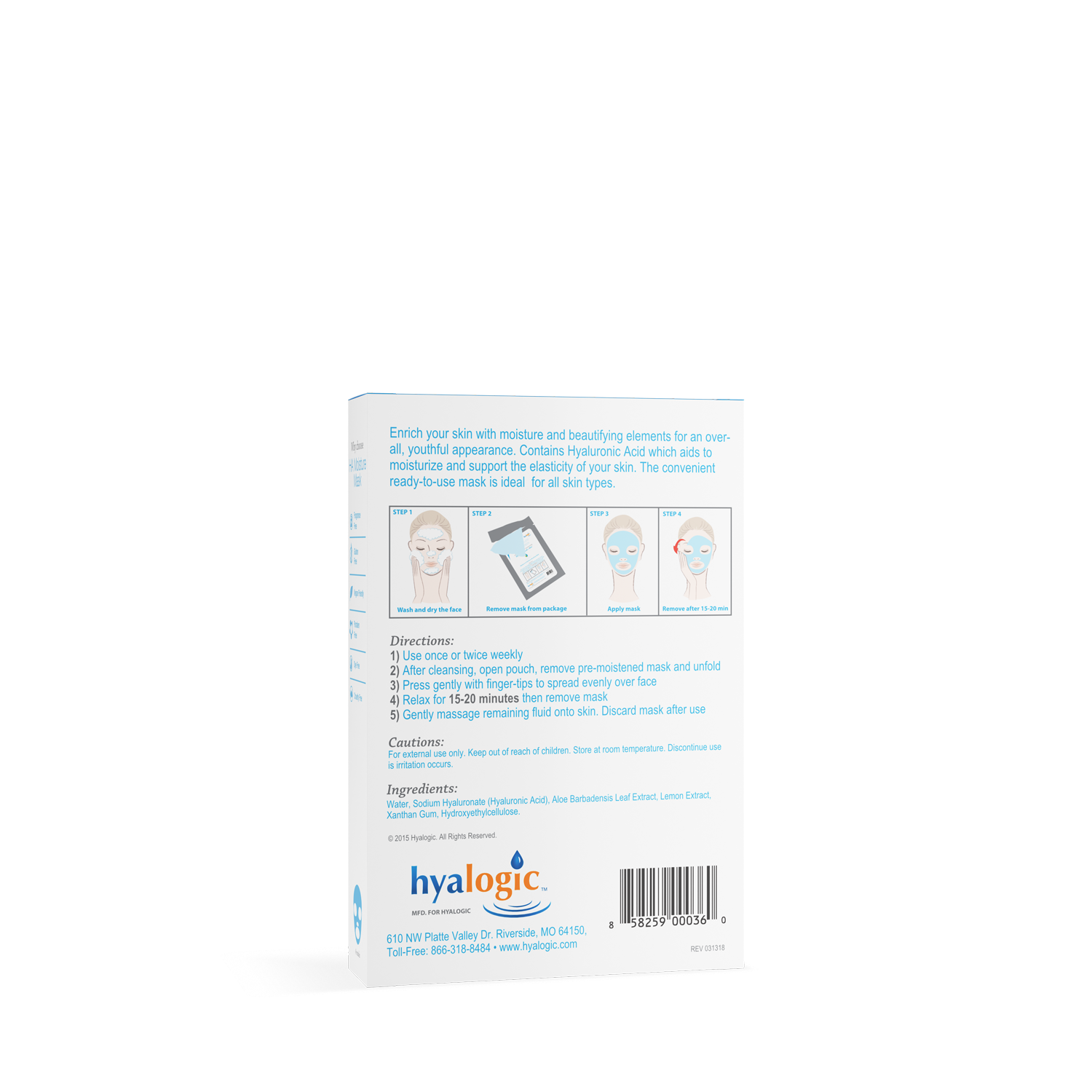 HA Moisture Mask
Leave a Review
Give your skin a spa treatment at home!
This reviving, relaxing Hyalogic® HA Moisture Mask is a cloth sheet, with premium Hyaluronic Acid. It moisturizes your skin and supports a youthful glow. This refreshing and contour fitting mask helps support proper moisture which can help lessen the appearance of blemish marks and fine line wrinkles.
Top aestheticians will often stretch plastic wrap over facial treatments to force-feed skin and to prevent product evaporation.
We believe in the shortest ingredient list possible. You don't need the entire periodic table to be effective, and we work tirelessly to include only the necessities.
Ingredients:
Water, Sodium Hyaluronate (Hyaluronic Acid), Aloe Barbadensis Leaf Extract, Lemon Extract, Xanthan Gum, Hydroxyethylcellulose. (4 pack)
Directions: 1) Use once or twice weekly. 2) After cleansing, open pouch, remove pre-moistened mask, and unfold.  3) Press gently with finger-tips to spread evenly over face.  4) Relax for 15-20 minutes, then remove mask.  5) Gently massage remaining fluid onto the skin. Discard mask after use.
Drench & Hydrate
Your Face
The HA Moisture Mask is a reviving, relaxing cloth sheet mask which literally drenches your skin with premium Hyaluronic Acid and supports a youthful glow.
Some of Our
Customer Favorites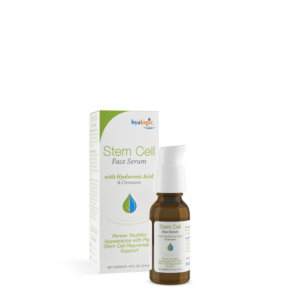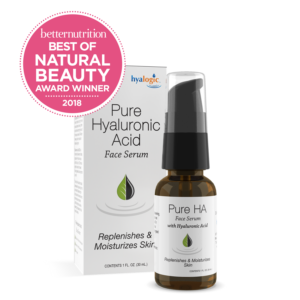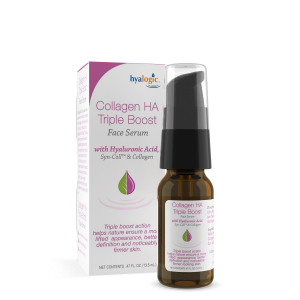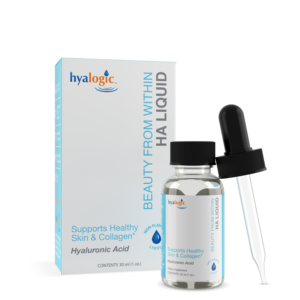 Enhance your beauty from within 💗⠀⠀⠀⠀⠀⠀⠀⠀⠀ ⠀⠀⠀⠀⠀⠀⠀⠀⠀ Our HA Collagen Builder enhances beauty from within by orally delivering key nutrients that support your body's natural collagen generation! Our natural formula is delicious, sugar-free, and berry-flavored.⠀⠀⠀⠀⠀⠀⠀⠀⠀ .⠀⠀⠀⠀⠀⠀⠀⠀⠀ .⠀⠀⠀⠀⠀⠀⠀⠀⠀ .⠀⠀⠀⠀⠀⠀⠀⠀⠀ .⠀⠀⠀⠀⠀⠀⠀⠀⠀ #hyaluronicacid #hyaluronic #collagen #biotin #hairskinandnails #healthynails #healthyskin #healthyhair #hairgoals #skincaregoals #strongnails #beautysupplements #nutritionalsupplements #collagenproduction #dailyroutine #healthylifestyle Are you hydrating?! We're not just talking about water…⠀⠀⠀⠀⠀⠀⠀⠀⠀ ⠀⠀⠀⠀⠀⠀⠀⠀⠀ 👉🏼 The human body is about 70% water, and that supply must be refreshed throughout the day, especially if you're active. We can also help our bodies hold and use water, too. ⠀⠀⠀⠀⠀⠀⠀⠀⠀ ⠀⠀⠀⠀⠀⠀⠀⠀⠀ 👉🏼 Hyaluronic Acid is capable of binding up to 1000x its weight in water. It can migrate throughout the body, bringing life-giving water where it's needed. Because your HA levels decrease with age, supplementing with it can support your joints, skin, hair, eyes and more!⠀⠀⠀⠀⠀⠀⠀⠀⠀ .⠀⠀⠀⠀⠀⠀⠀⠀⠀ .⠀⠀⠀⠀⠀⠀⠀⠀⠀ .⠀⠀⠀⠀⠀⠀⠀⠀⠀ .⠀⠀⠀⠀⠀⠀⠀⠀⠀ #hydrationtips #getactive #activelifestyle #liveinspired #healthyliving #selfcare #selflove #jointhealthmatters #jointhealth #skinhealth #healthyskin #glowingskin #hyaluronicacid #HA #hyaluronic Ever heard of Bentonite Clay?!⠀⠀⠀⠀⠀⠀⠀⠀⠀ ⠀⠀⠀⠀⠀⠀⠀⠀⠀ This unique ingredient can be found in our Facial Cleanser, and it's known for its ability to absorb toxins and impurities. Our lavish cleanser also includes premium Hyaluronic Acid to help moisturize the skin for a smooth and healthy appearance!⠀⠀⠀⠀⠀⠀⠀⠀⠀ .⠀⠀⠀⠀⠀⠀⠀⠀⠀ .⠀⠀⠀⠀⠀⠀⠀⠀⠀ .⠀⠀⠀⠀⠀⠀⠀⠀⠀ .⠀⠀⠀⠀⠀⠀⠀⠀⠀ #hyaluronicacid #HA #hyaluronic_acid #skincare #skincareroutine #cleanser#facialcleanser #hyaluronicacidserum #skincaretips #luxuryskincare #smootherskin #youthfulskin #glowingskin #hydratedskin #skincareobsessed #skincareexperts #naturalskincare #facemasks #beautifulskin The health of your scalp matters… ⠀⠀⠀⠀⠀⠀⠀⠀⠀ ⠀⠀⠀⠀⠀⠀⠀⠀⠀ Why? The surface of your scalp is the first line of protection against environmental damage, toxins, etc. And Hyaluronic acid nourishes and hydrates the millions of cells deep within your scalp!⠀⠀⠀⠀⠀⠀⠀⠀⠀ ⠀⠀⠀⠀⠀⠀⠀⠀⠀ Our hair RELIES on this HA to help retain nutrients, support new scalp structure, and hold up to the effects of environmental damage, while supporting a thicker, fuller hair appearance ✨⠀⠀⠀⠀⠀⠀⠀⠀⠀ .⠀⠀⠀⠀⠀⠀⠀⠀⠀ .⠀⠀⠀⠀⠀⠀⠀⠀⠀ .⠀⠀⠀⠀⠀⠀⠀⠀⠀ .⠀⠀⠀⠀⠀⠀⠀⠀⠀ #hyaluronicacid #hyaluronic #healthyhair #hydratedhair #hairroutine #hairtips #longhair #hairtips #hairandscalp #dailyroutine #HA #beautifulhair #hairgoals You may have heard about our Award-Winning Synthovial SEVEN, but did you know about Synthovial SEVEN Plus?⠀⠀⠀⠀⠀⠀⠀⠀⠀ ⠀⠀⠀⠀⠀⠀⠀⠀⠀ This kit combines our popular Synthovial SEVEN with Resveratrol and Grape Seed Extract to support healthy joints and help lessen the breakdown of Hyaluronic Acid levels in your body 🙌🏽 Supercharge your joint health with just one capsule and one dropper a day!⠀⠀⠀⠀⠀⠀⠀⠀⠀ .⠀⠀⠀⠀⠀⠀⠀⠀⠀ .⠀⠀⠀⠀⠀⠀⠀⠀⠀ .⠀⠀⠀⠀⠀⠀⠀⠀⠀ .⠀⠀⠀⠀⠀⠀⠀⠀⠀ #HyaDifference #hyaluronicacid #HA #hyaluronic #resveratrol #grapeseedextract #healthyjoints #jointhealth #jointhealthmatters #activelifestyle #getactive #getmoving #naturalsupplements #supplementsdaily #dailyroutine #healthandwellness #healthyliving Did you know that Hyaluronic Acid can support your gums?! As we age, the amount of HA in our gums lessens. Brushing daily with our fluoride-free Toothpaste Gel:⠀⠀⠀⠀⠀⠀⠀⠀⠀ ⠀⠀⠀⠀⠀⠀⠀⠀⠀ 👉🏼 Supports healthy teeth & gums ⠀⠀⠀⠀⠀⠀⠀⠀⠀ 👉🏼 Promotes good dental health⠀⠀⠀⠀⠀⠀⠀⠀⠀ 👉🏼 Supports healthy enamel surfaces⠀⠀⠀⠀⠀⠀⠀⠀⠀ .⠀⠀⠀⠀⠀⠀⠀⠀⠀ .⠀⠀⠀⠀⠀⠀⠀⠀⠀ .⠀⠀⠀⠀⠀⠀⠀⠀⠀ .⠀⠀⠀⠀⠀⠀⠀⠀⠀ #Hyaluronicacid #HyaDifference #HA #hyaluronic #healthygums #healthyteeth #dentalhealth #dentalroutine #gumhealth #toothpastegel #fluoridefree #toothpaste #dailyroutine #morningroutine #healthylifestyle Obsessed with that SMOOTH feeling after exfoliating your skin? You're gonna want to try our HA Facial Scrub 💛⠀⠀⠀⠀⠀⠀⠀⠀⠀ ⠀⠀⠀⠀⠀⠀⠀⠀⠀ Not only does it help exfoliate your skin, but it also helps hydrate it with Hyaluronic Acid. The best part? It's mild enough to use daily so you can enjoy that smooth feeling every day. ⠀⠀⠀⠀⠀⠀⠀⠀⠀ .⠀⠀⠀⠀⠀⠀⠀⠀⠀ .⠀⠀⠀⠀⠀⠀⠀⠀⠀ .⠀⠀⠀⠀⠀⠀⠀⠀⠀ .⠀⠀⠀⠀⠀⠀⠀⠀⠀ #hyaluronicacid #hyaluronic #HA #glowingskin #youthfulskin #healthyskin #glow #igskincare #skincaretips #agelessbeauty #skincareroutine #luxuryskincare #loveyourskin #beautifulskin #skincareexperts If you live an active lifestyle, chances are, your joints could use some support 🙌🏽⠀⠀⠀⠀⠀⠀⠀⠀⠀ ⠀⠀⠀⠀⠀⠀⠀⠀⠀ As we get older, our body's natural ability to produce Hyaluronic Acid diminishes. You can help support your body's HA levels by supplementing with Synthovial SEVEN. Bonus - It also supports healthy eyes AND skin!⠀⠀⠀⠀⠀⠀⠀⠀⠀ .⠀⠀⠀⠀⠀⠀⠀⠀⠀ .⠀⠀⠀⠀⠀⠀⠀⠀⠀ .⠀⠀⠀⠀⠀⠀⠀⠀⠀ .⠀⠀⠀⠀⠀⠀⠀⠀⠀ #hyaluronicacid #hyaluronic #HA #healthyjoints #jointhealthmatters #naturalsupplements #nutritionalsupplements #jointhealth #skinhealth #healthyskin #hydration #scienceofhydration #healthyliving #dailyroutine
Amazing!! Simply amazing sheet masks. I've used these for some time now but recently started doing at home microdermabrasion treatments weekly. Afterward I kick back with one of these face masks on for a good hour. My skin feels so incredible! I'm a single momma of a toddlersaurous Rex and this is the only time I get to myself after he goes to bed. I look forward to this treatment every week. To add to the amazing sheet mask is the top notch customer service. I love this company and their products. Thanks Hyalogic;) I did not think I would repurchase this product, or others, but there is a visible difference in/on my face. Be a regular user and you will definitely see a difference. I use the face mask twice a week and in between I use the collagen facial mist and pure HA on a daily basis as well as the facial scrub twice a week, sometimes more if I'm on the golf course multiple times during the week. I don't think you'll be disappointed, especially if you are looking for facial skin that is soft and never dry. This is not your average face mask. It leaves my skin looking so glowy, just how I like it! I would recommend this to anyone trying to get brighter and more glowy skin!! After using Hyalogic®'s HA Moisture Mask, my skin felt incredibly soft and hydrated! Nothing else comes close to giving me the amazing results that Hyalogic® does. The HA moisture mask is a bit pricey, and so I save it for special occasions. Especially I use it when doing video recordings that I make, preparing online workshops and also doing some YouTube videos. When my camera guy comes to town and my face is going to be out there, I want to look dewy. And so I light up my skin with this product. Short of being about five years old, it's the best way to go. If I were rich, I'd probably use this once per week as suggested. Meanwhile, I do love it. As a luxury. I'm so grateful to the Hyalogic® Company. Every product of theirs I've tried? It has been great.
Stay Hydrated
Latest Tips
Healthy, youthful looking hair relies on ample hydration, both in the hair itself and in the scalp where the hair... Ageless beauty has long been the Holy Grail of the cosmetics industry. Just a quick glance online reveals the abundance... In 1934, biochemist Karl Meyer and his colleague John Palmer, for the first time, described an unusual long-chain sugar molecule...