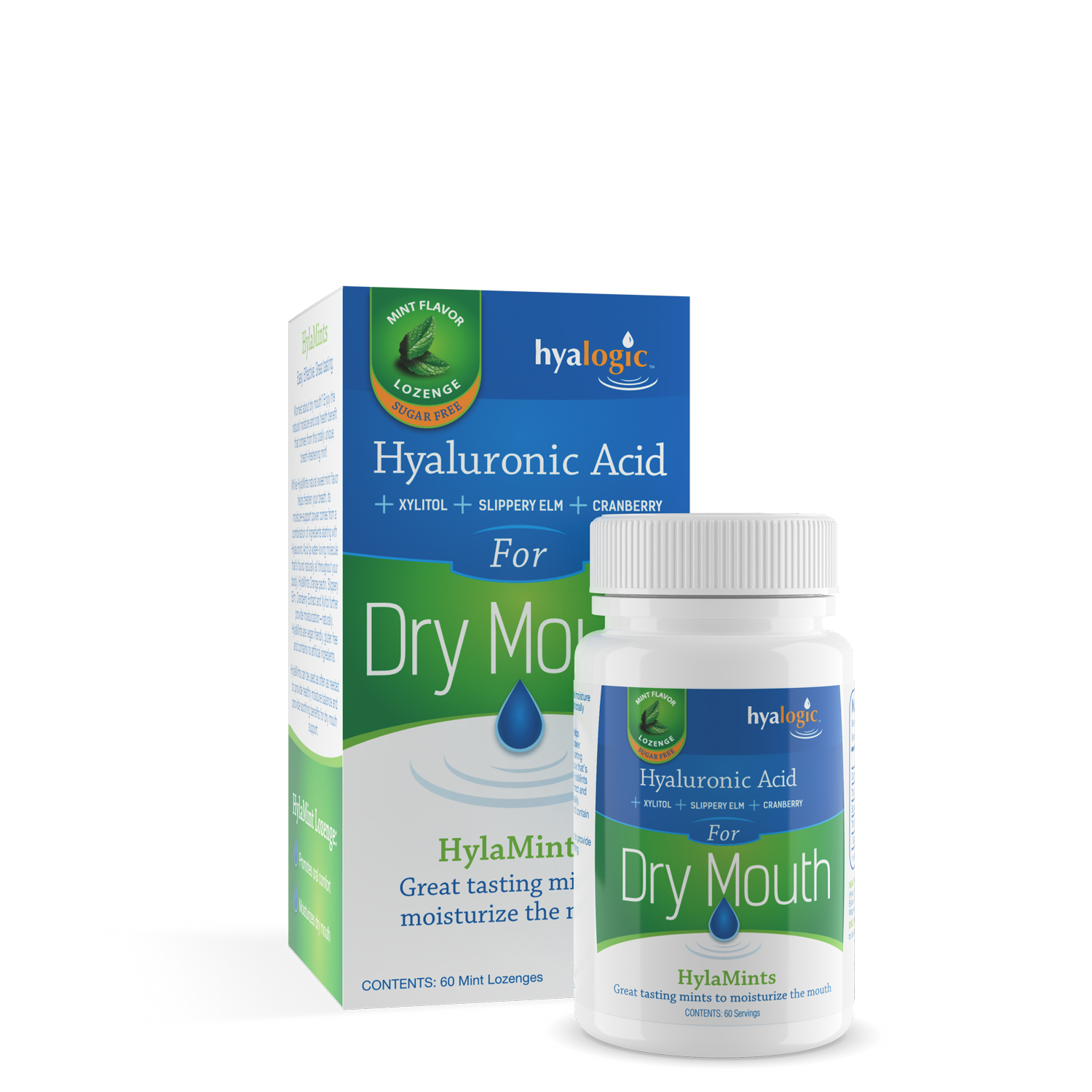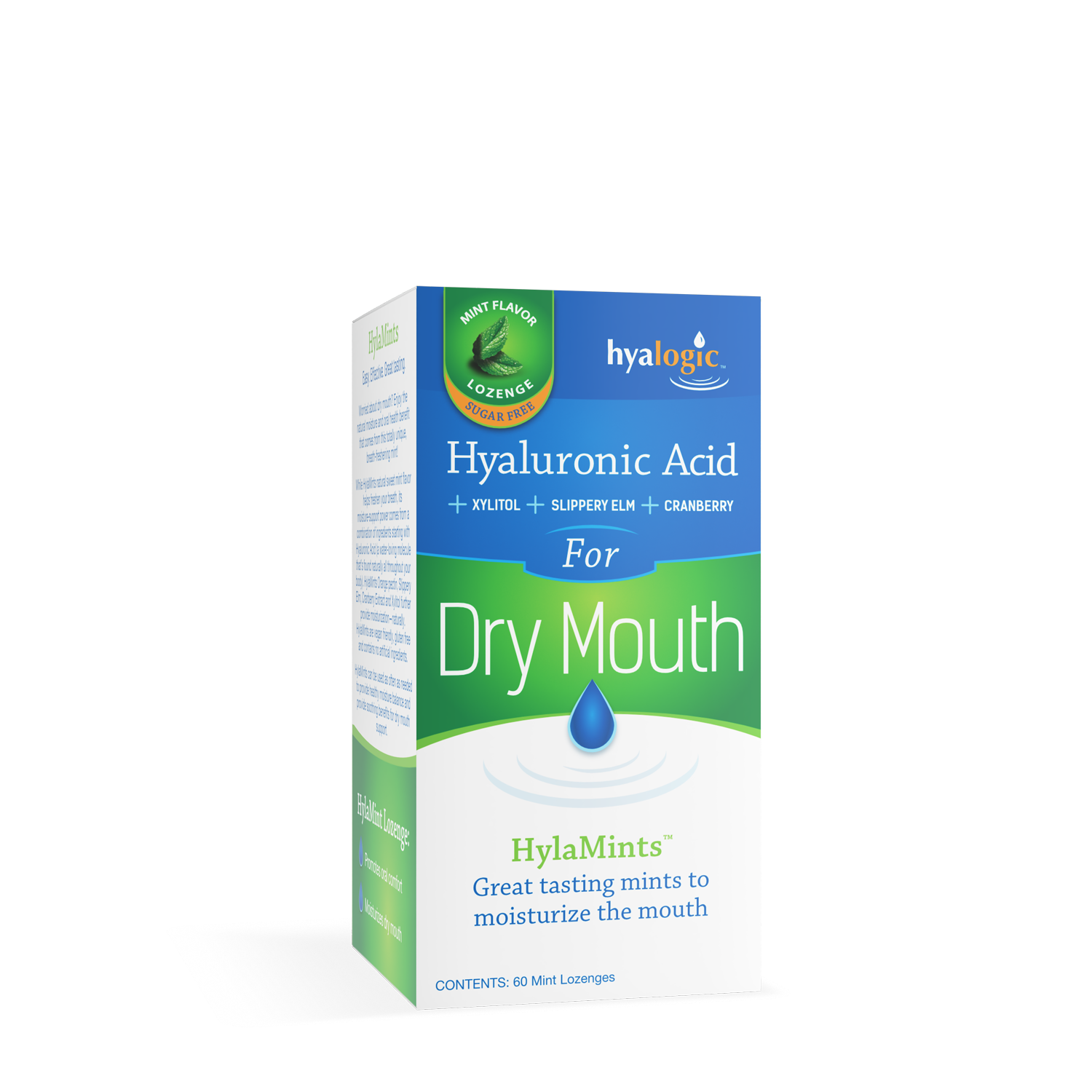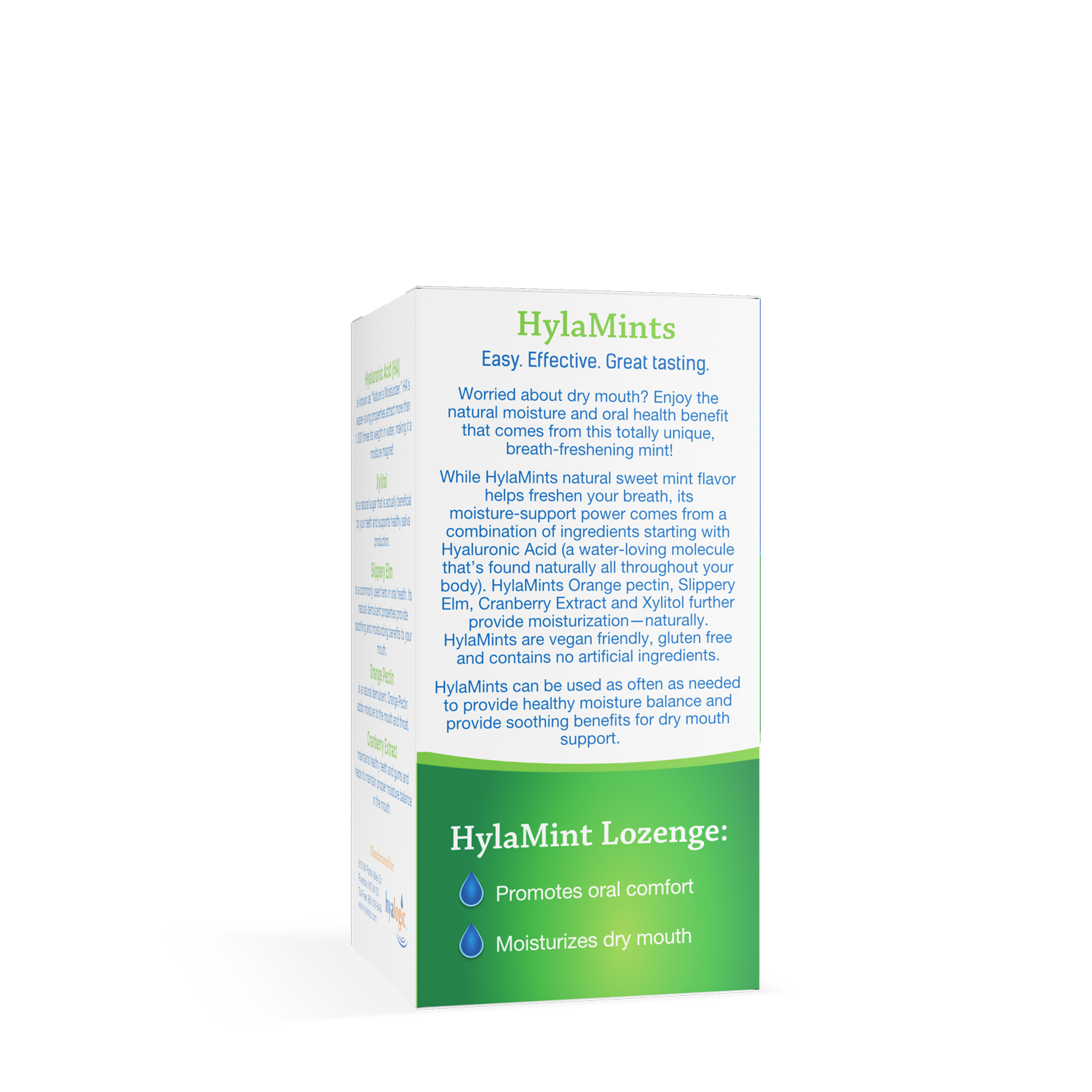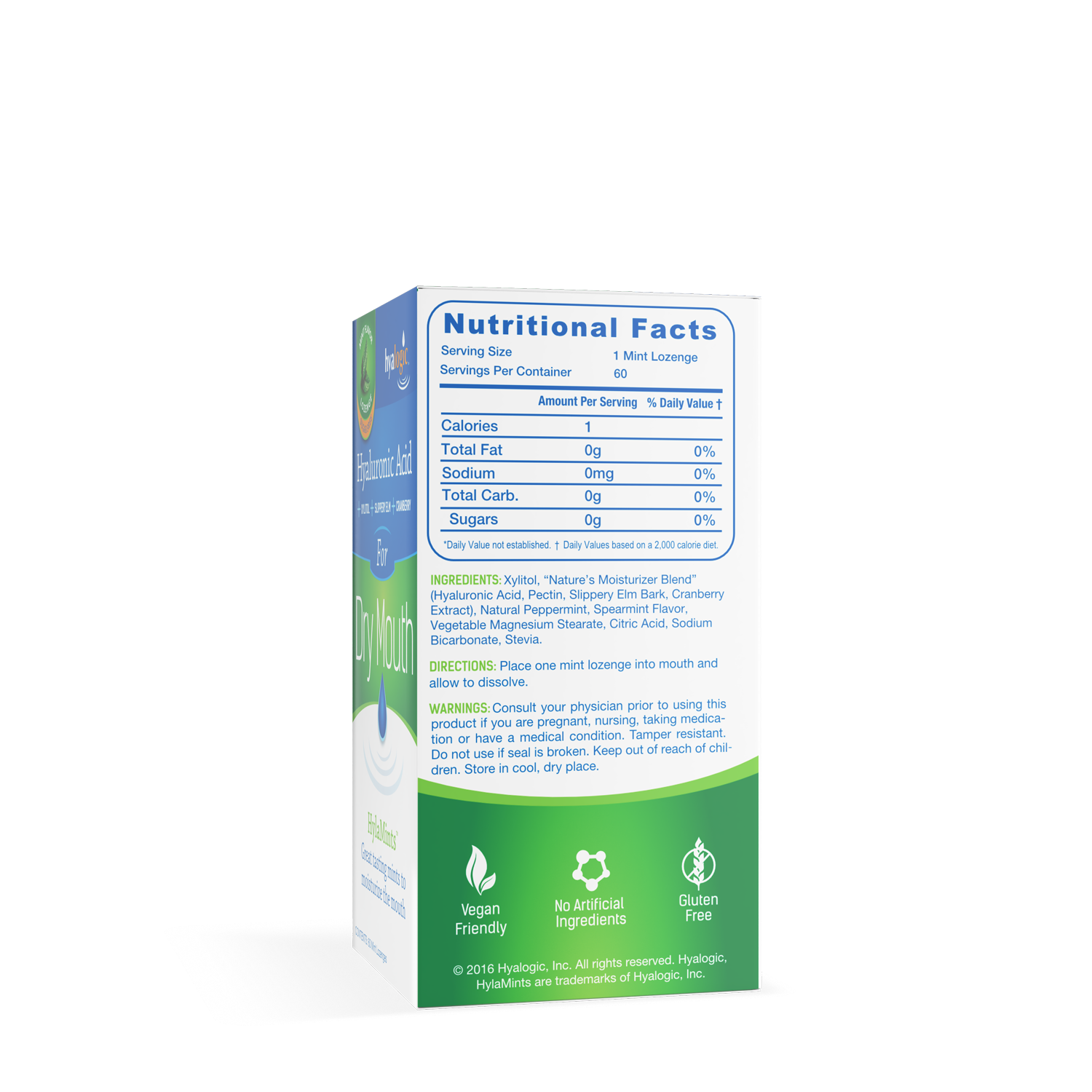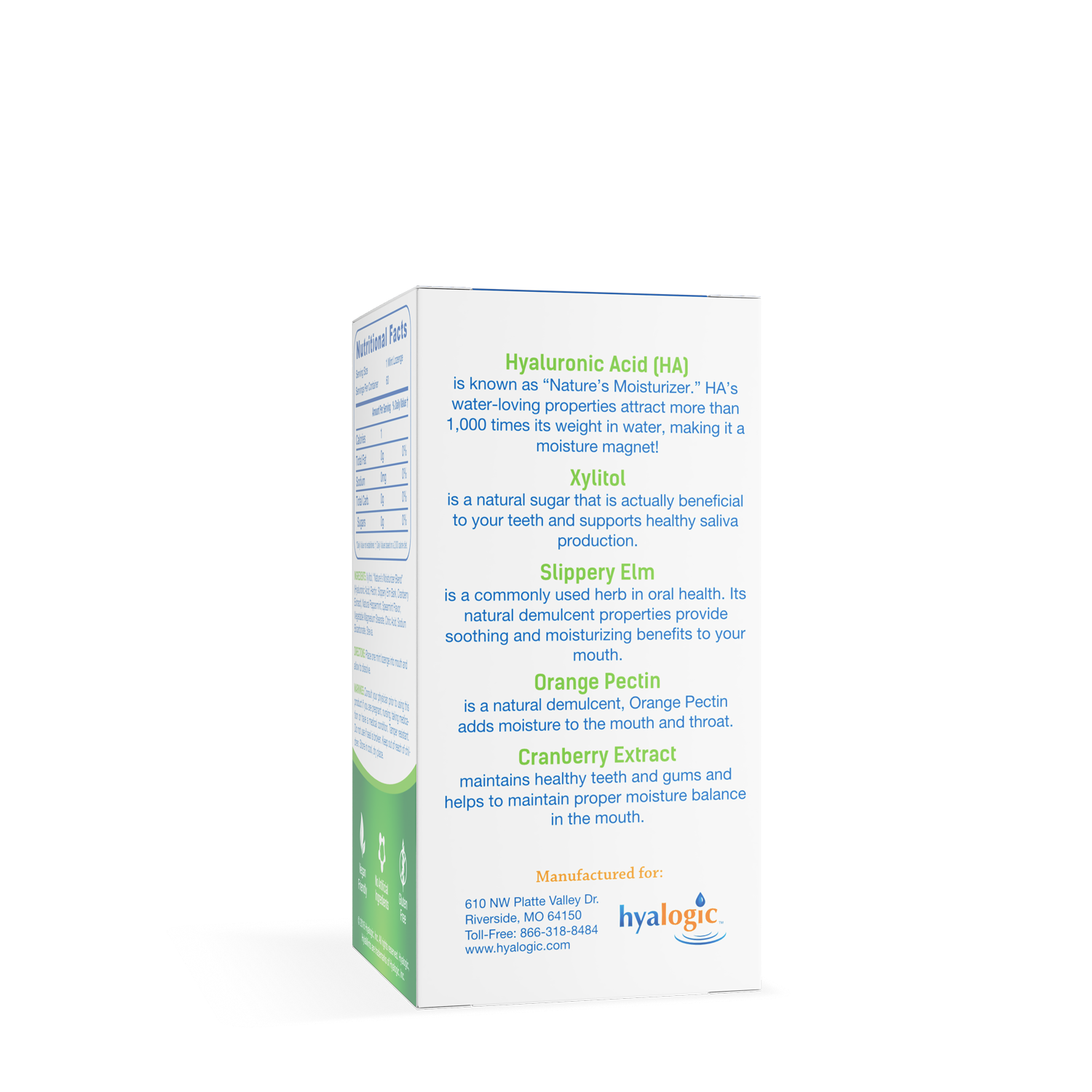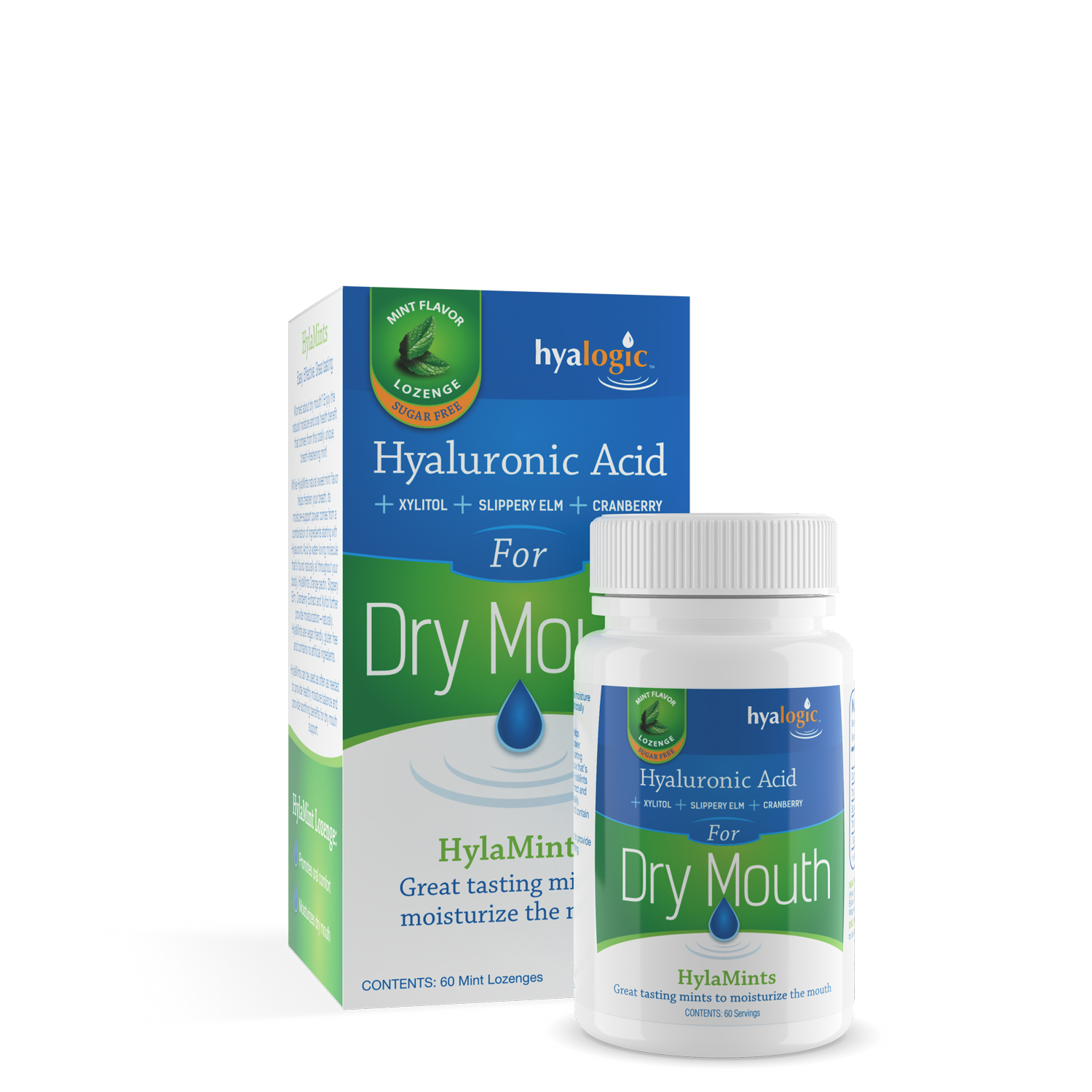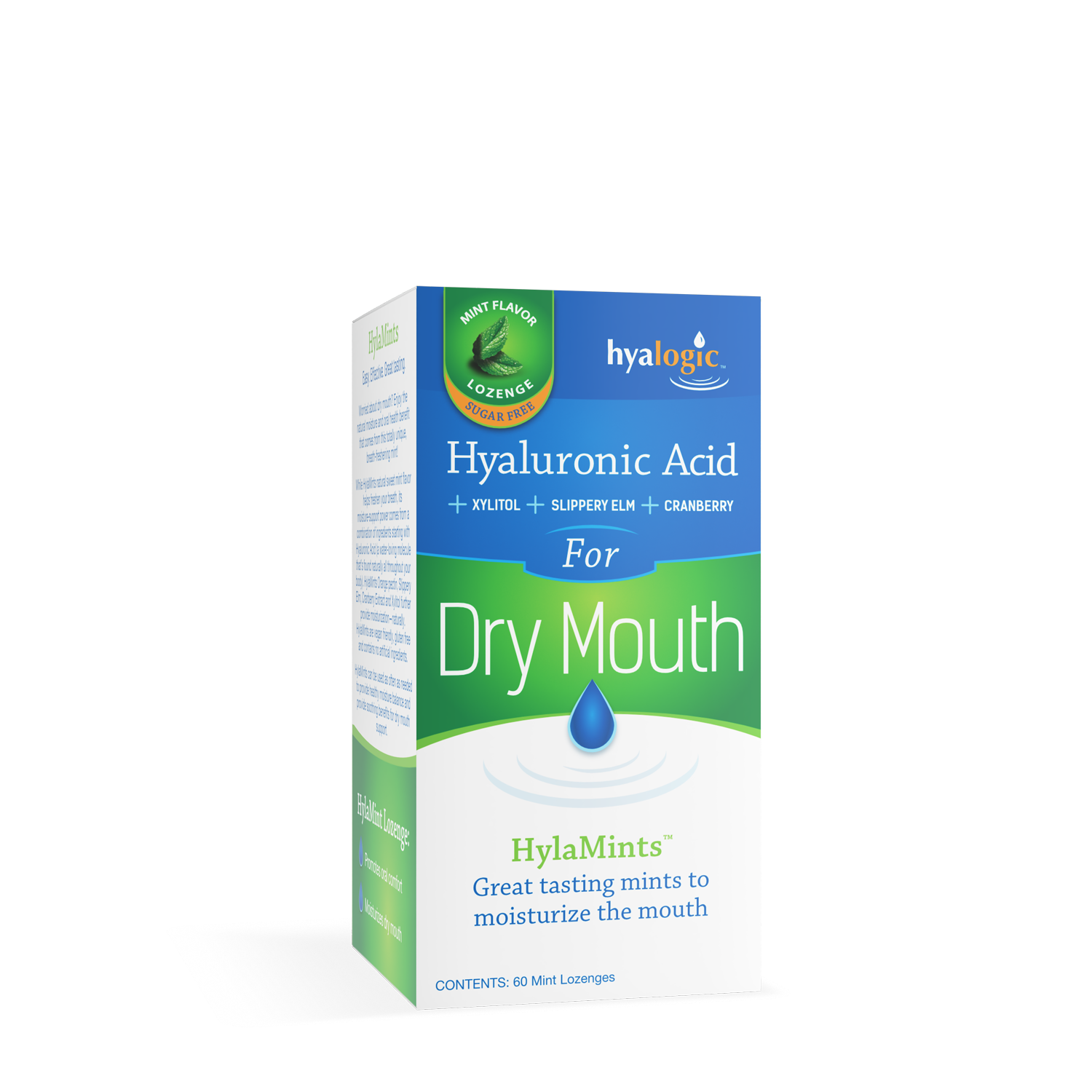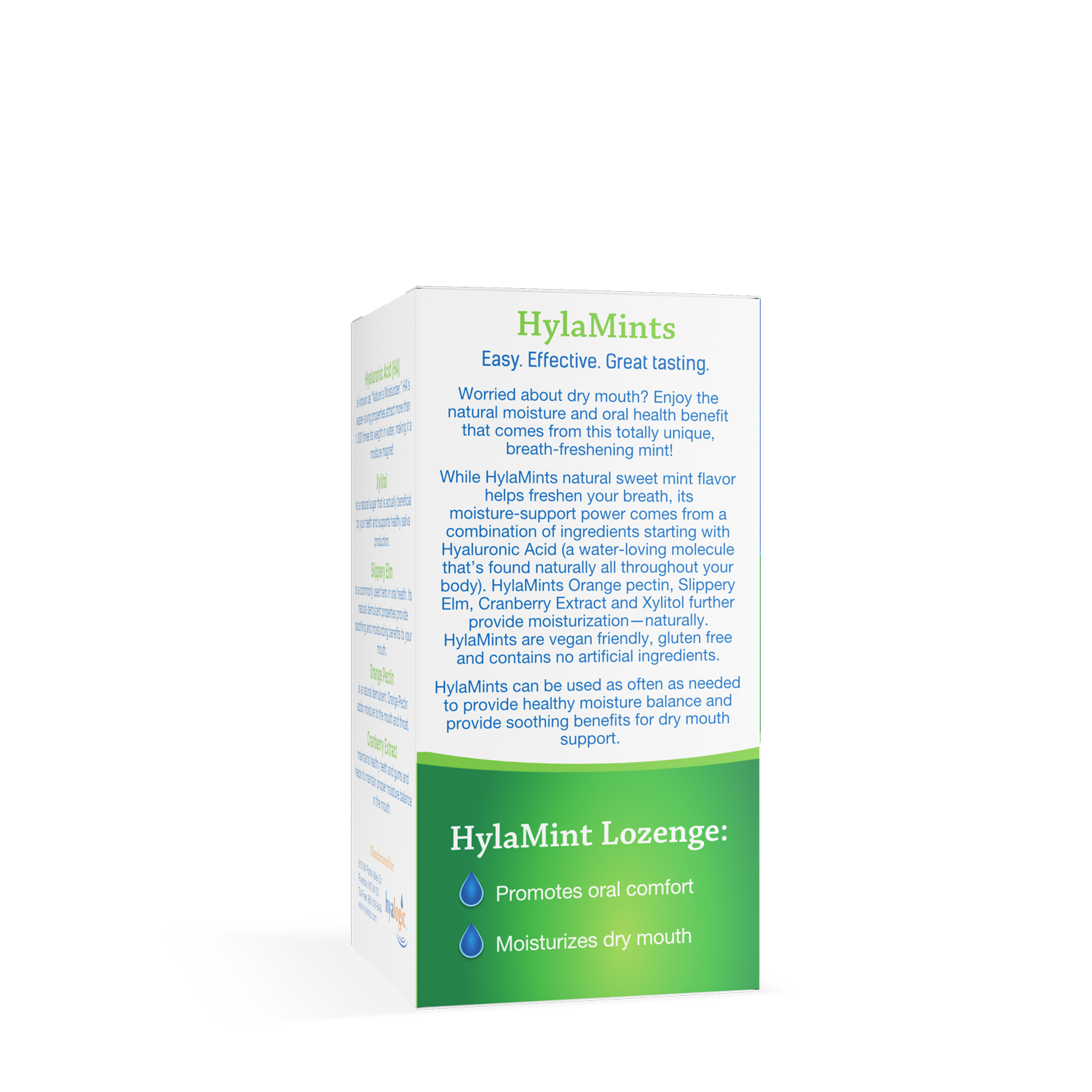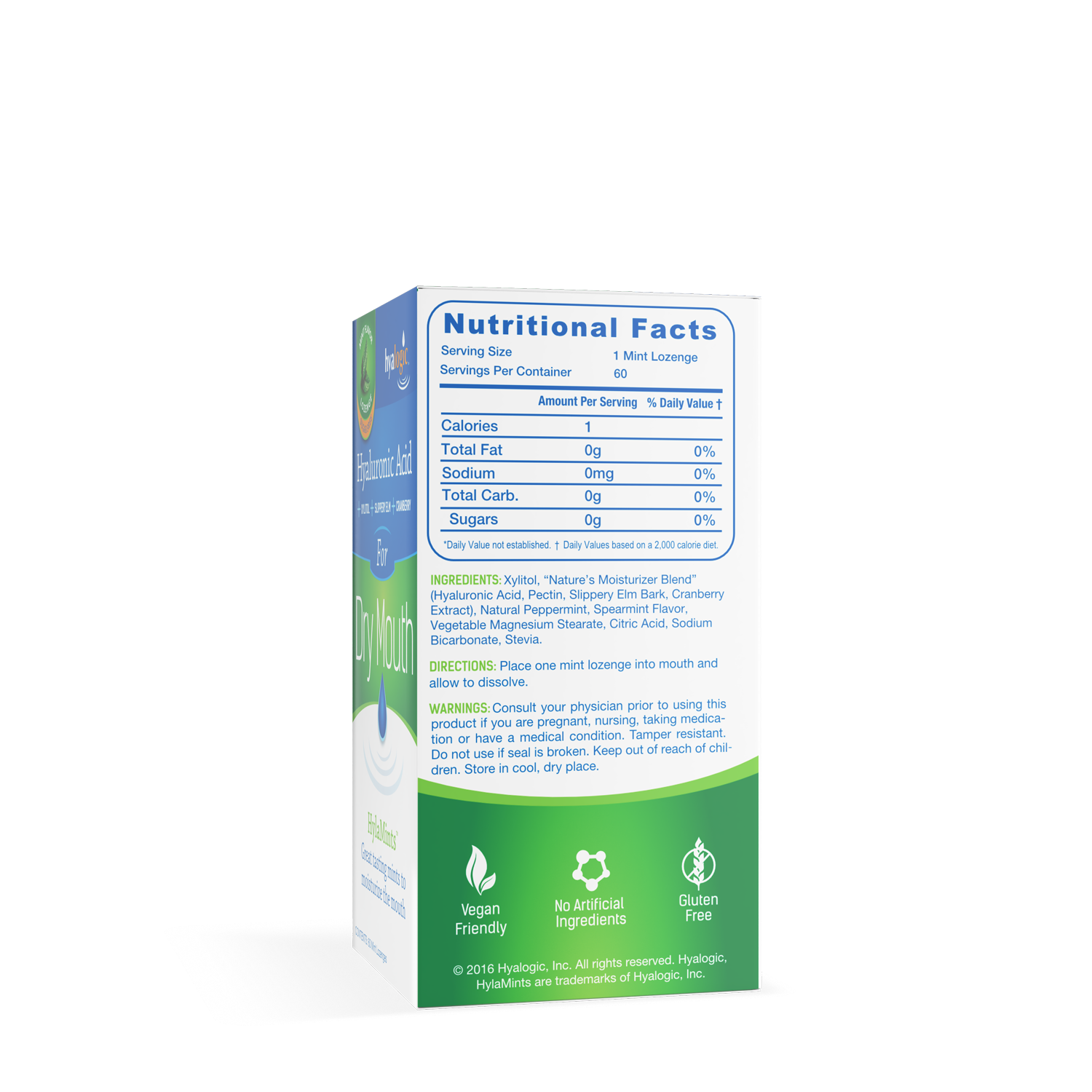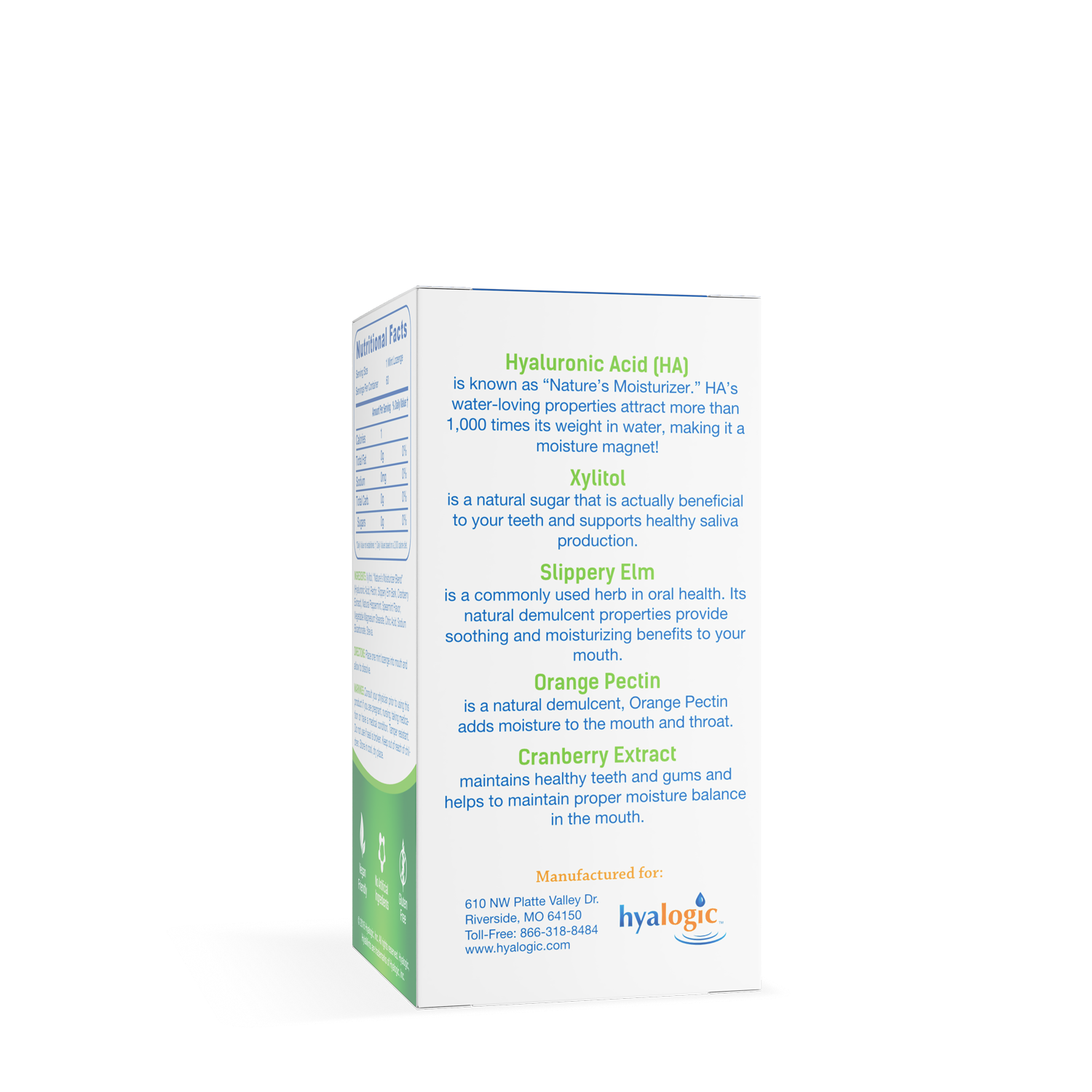 HylaMints™
Leave a Review
While HylaMints™ natural sweet mint flavor helps freshen your breath, its moisture-support power comes from a combination of ingredients starting with Hyaluronic Acid (a water-loving molecule that's found naturally all throughout your body). HylaMints™ orange pectin, slippery elm, cranberry extract and xylitol further provide moisturization—naturally. HylaMints™ is vegan friendly, gluten free and contains no artificial ingredients.†
HylaMints™ can be used as often as needed to support healthy oral moisture balance and provide soothing benefits for dry mouth conditions.
For consumers that are looking for a dry mouth lozenge that moisturizes and lubricates the mouth.
We believe in the shortest ingredient list possible. You don't need the entire periodic table to be effective, and we work tirelessly to include only the necessities.
Xylitol, "Nature's Moisturizer Blend" (Hyaluronic Acid, Pectin, Slipper Elm Bark, Cranberry Extract), Natural Peppermint, Spearmint Flavor, Vegetable Magnesium Stearate, Citric Acid, Sodium Bicarbonate
Directions: Place one mint lozenge into mouth and allow to dissolve.
Naturally Moisturize
Your Mouth
Worried about a dry mouth? Enjoy the natural moisture and oral health support that comes from this totally unique dry mouth, breath-freshening mint!† (60 count)
Some of Our
Customer Favorites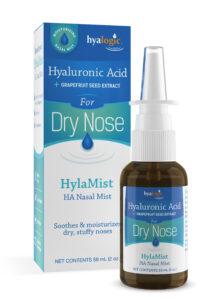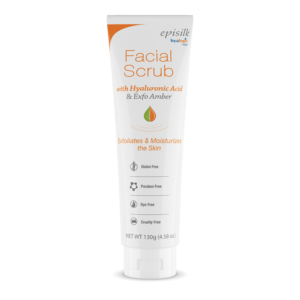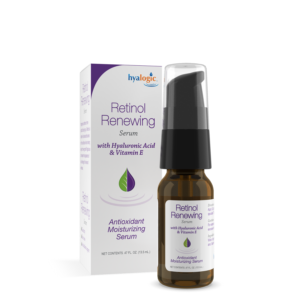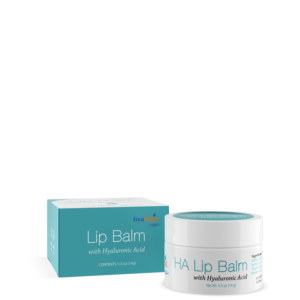 I've been looking for a natural product like this for my dry throat. It's really good. I'm very happy I tried them and will now stock up. Beautiful mint though it needs to be a touch stronger, please. These taste great and really work. Does exactly what you would hope: keeps mouth moist and comfortable...and makes the breath feel and smell fresh!
Stay Hydrated
Latest Tips
When Columbia University scientists Karl Meyer and John Palmer first discovered hyaluronic acid (HA) in 1934, they could scarcely have... Healthy, youthful looking hair relies on ample hydration, both in the hair itself and in the scalp where the hair... Ageless beauty has long been the Holy Grail of the cosmetics industry. Just a quick glance online reveals the abundance...