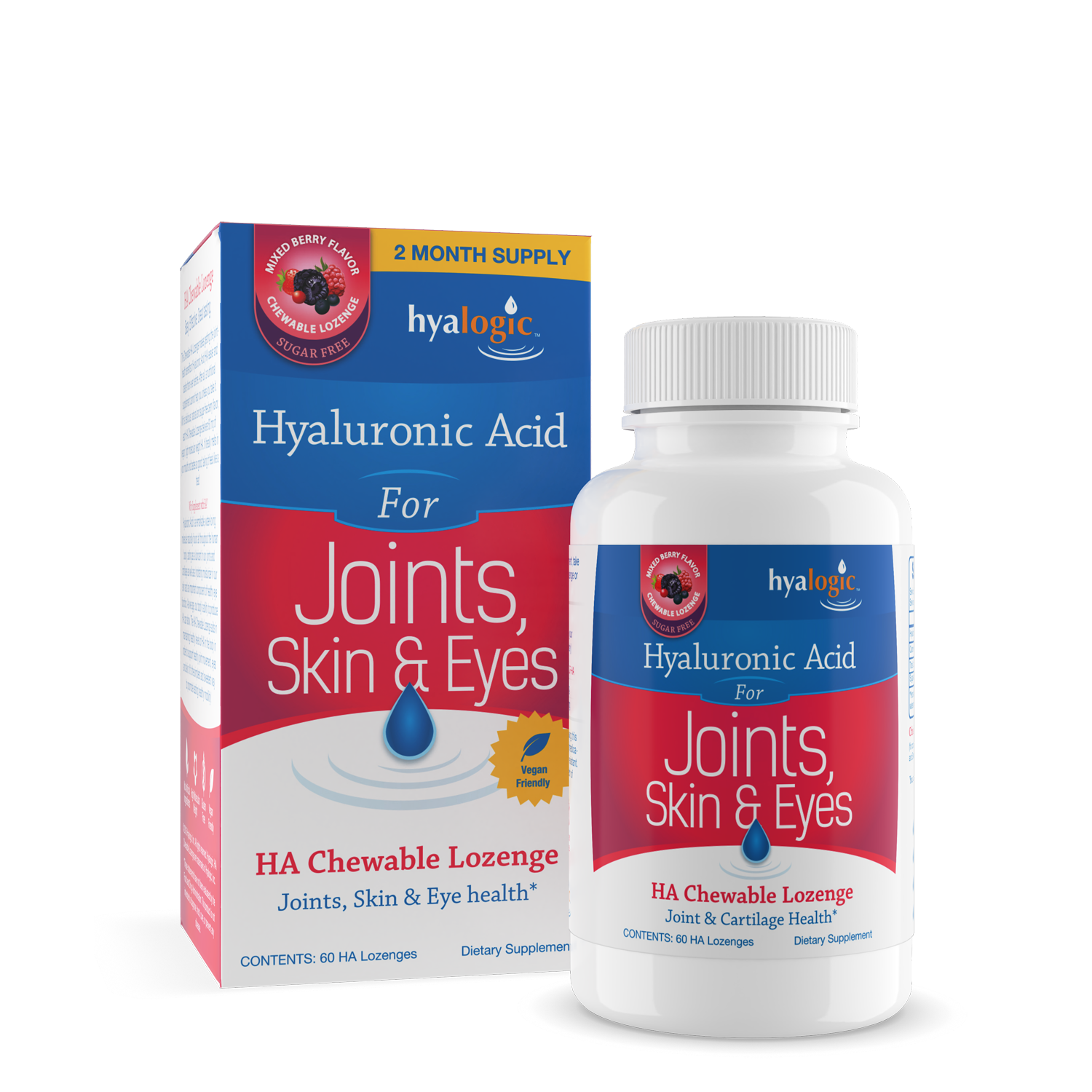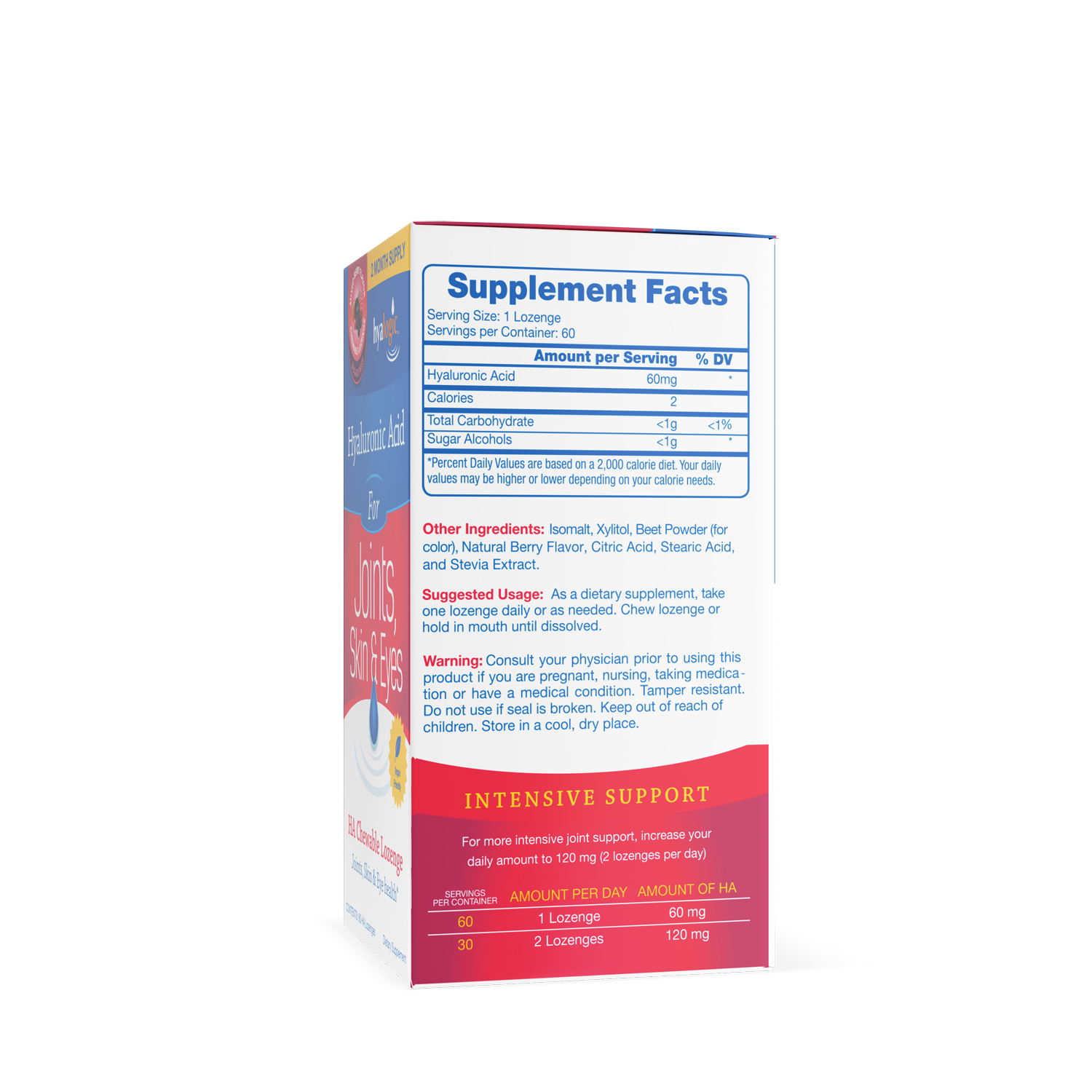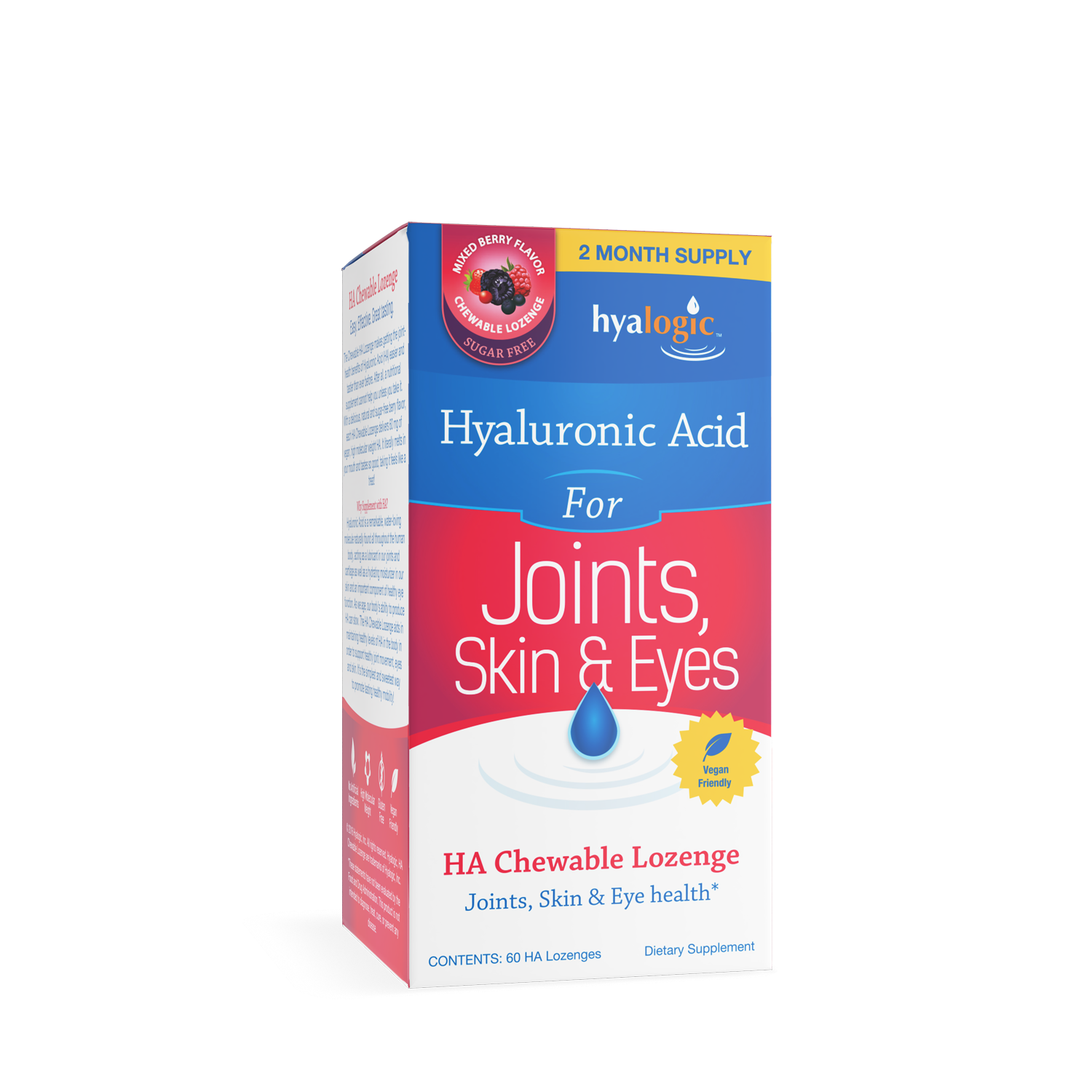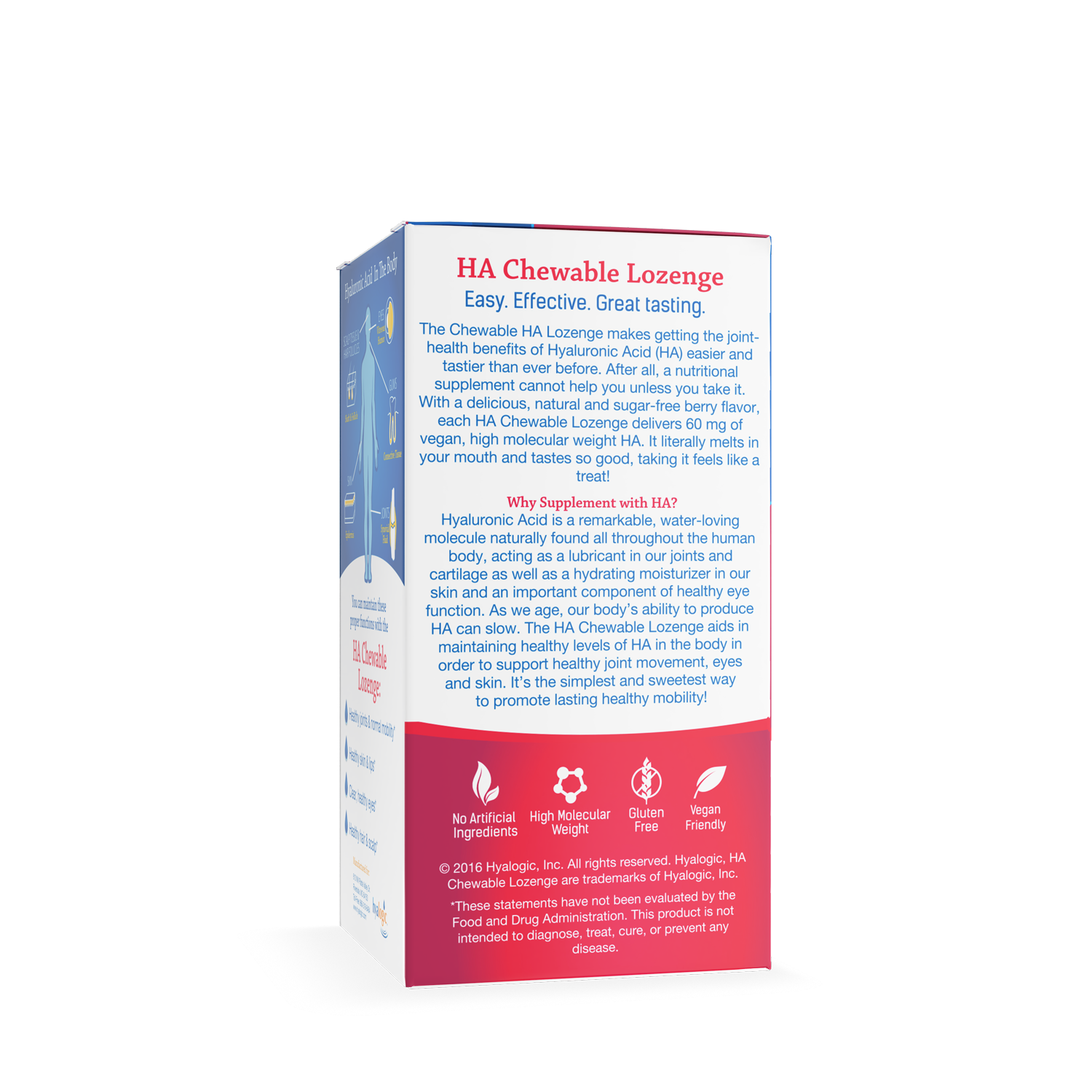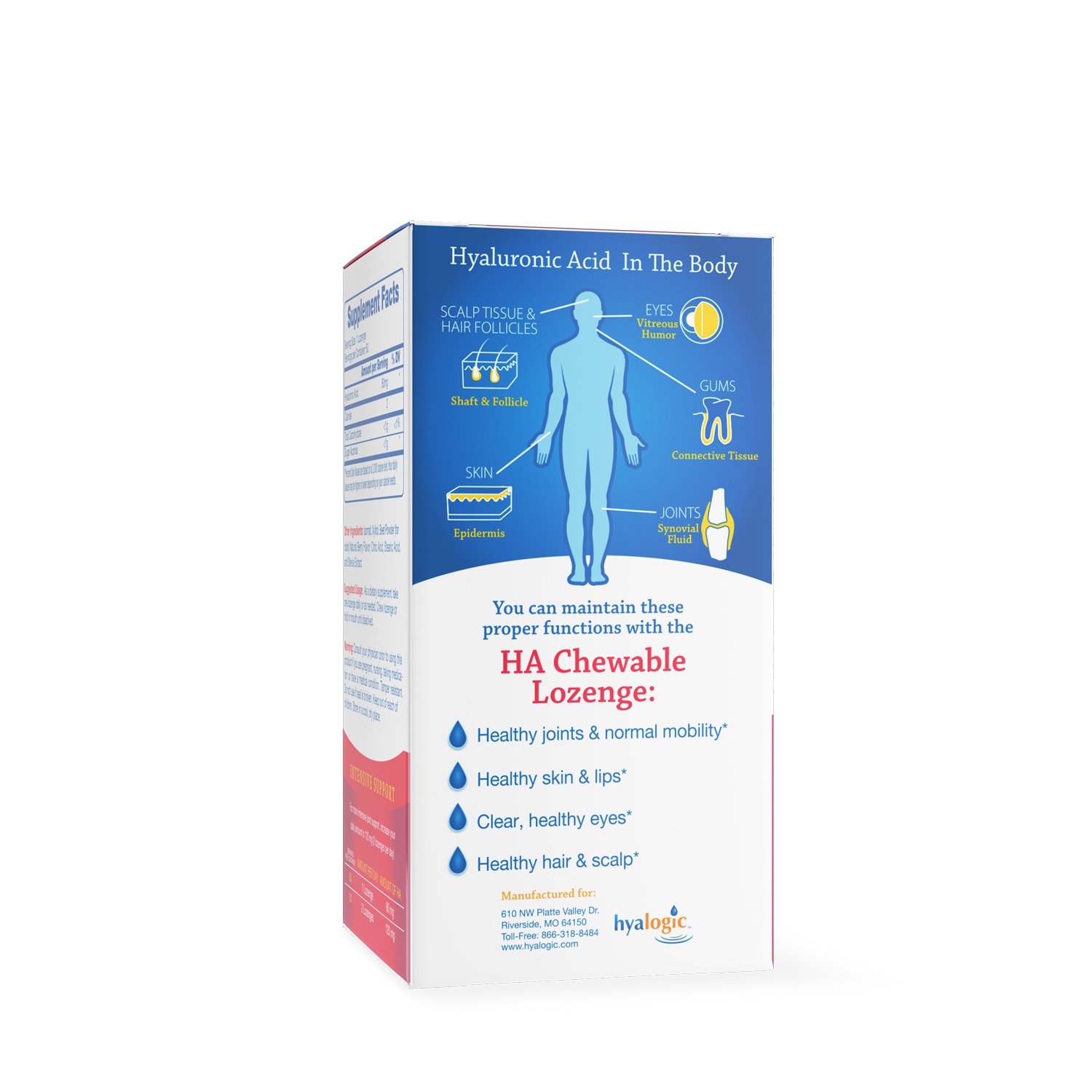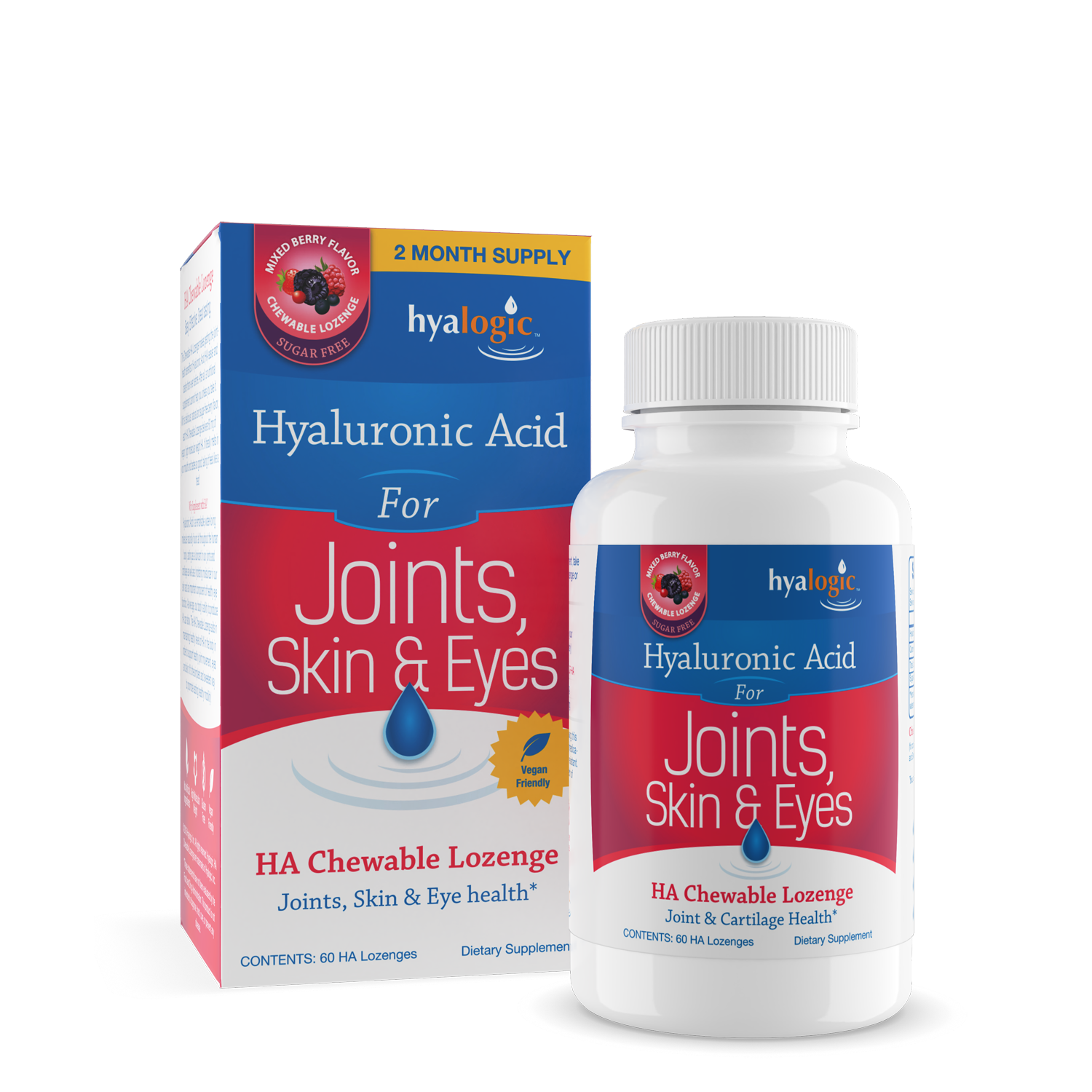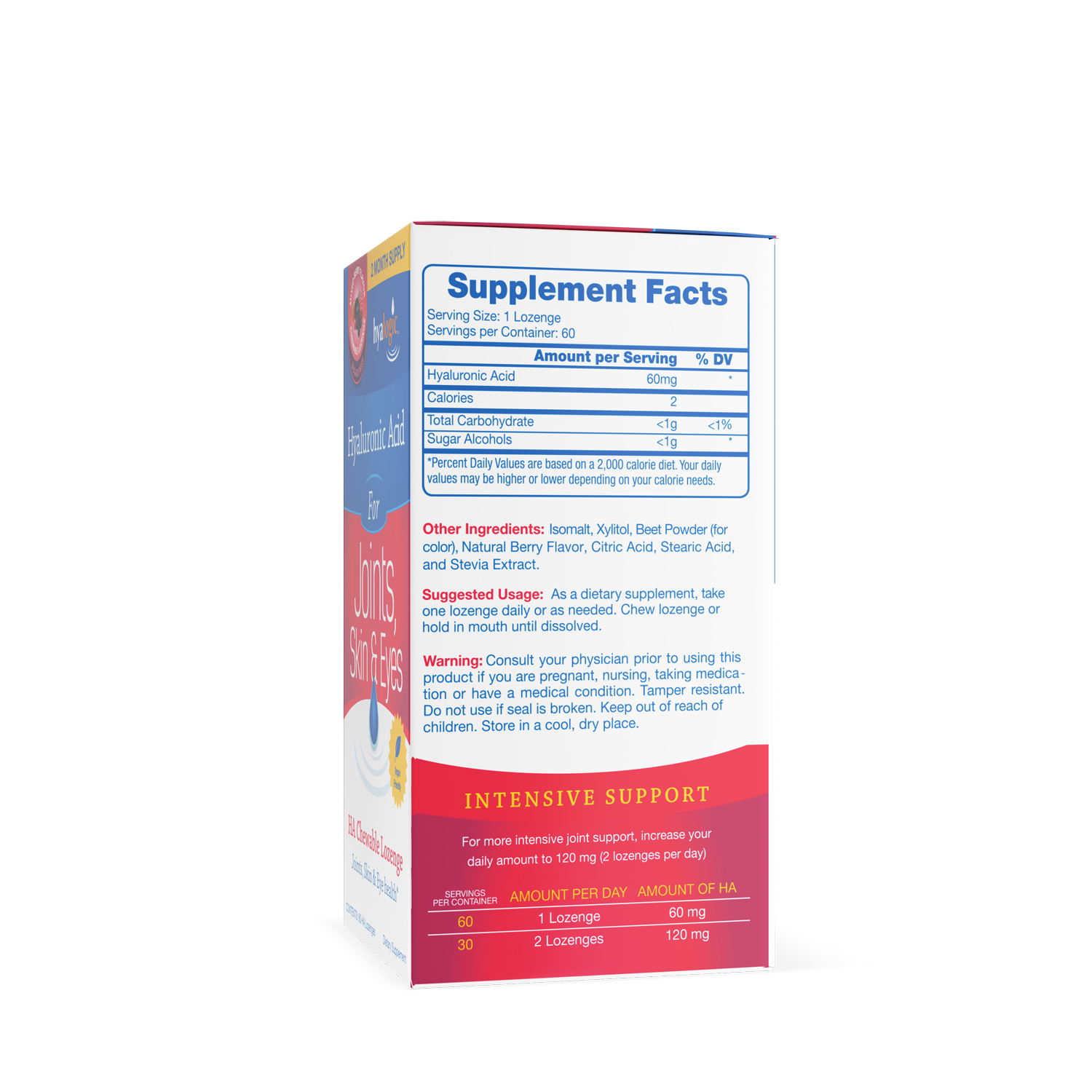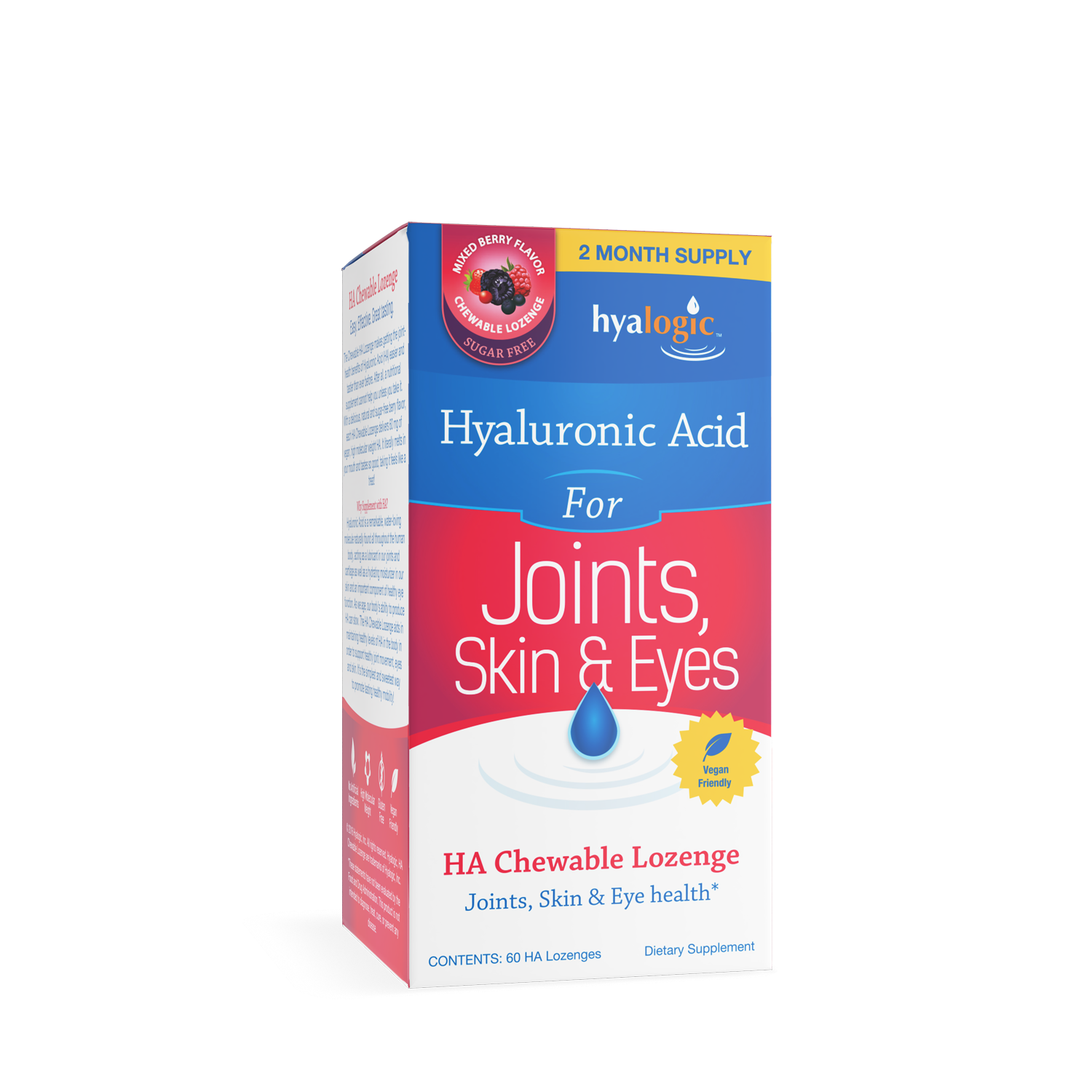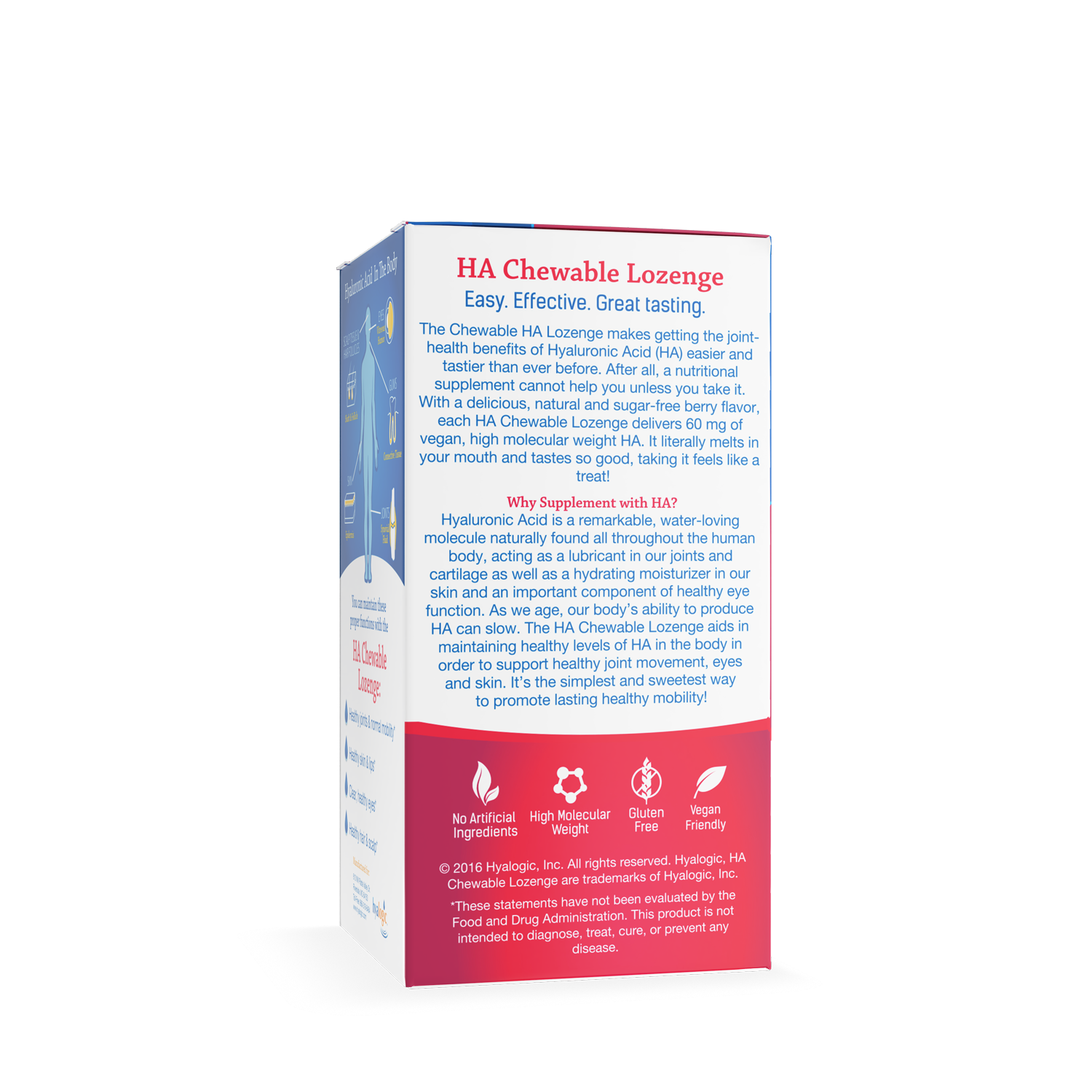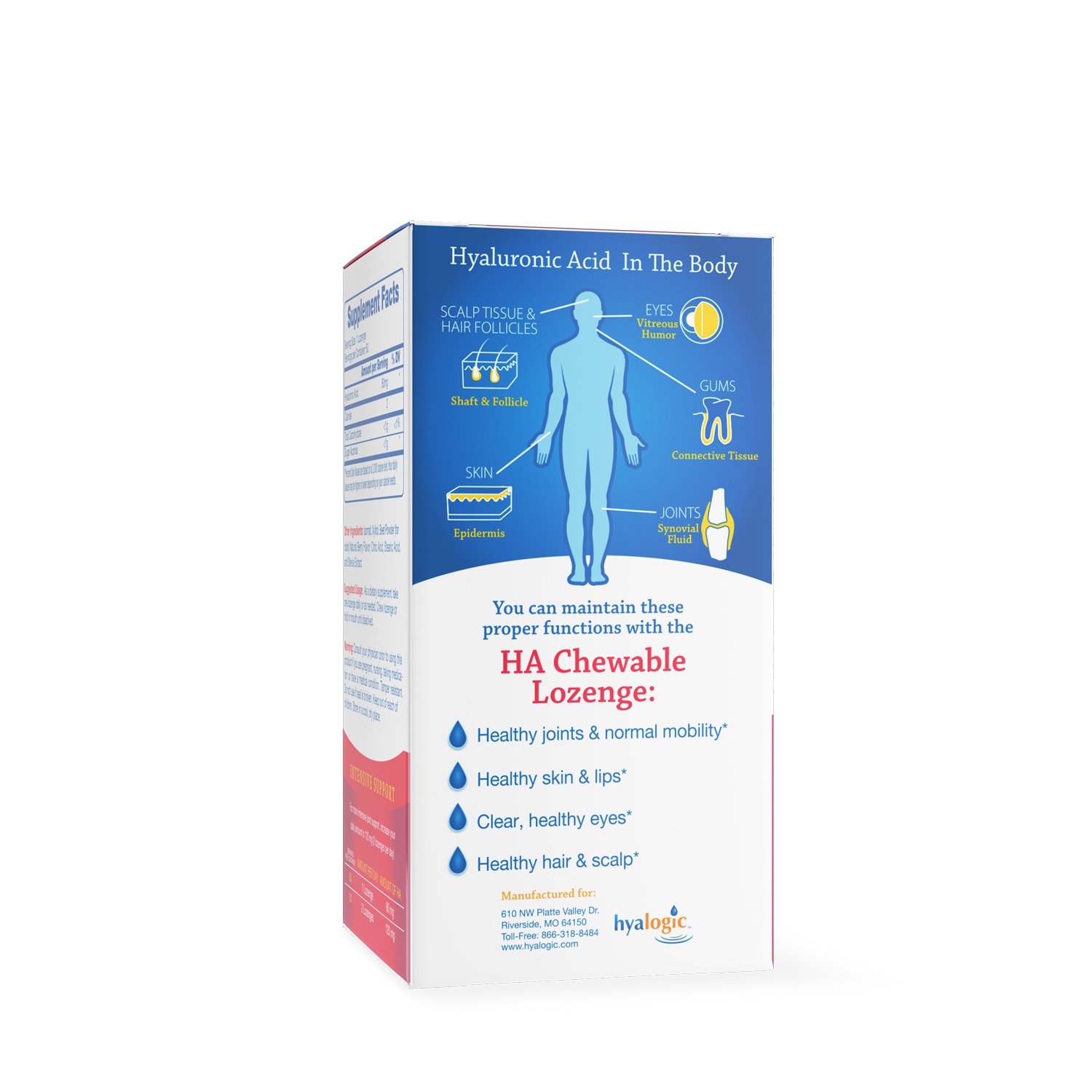 HA Chewable Lozenge
Leave a Review
The HA Chewable Lozenge makes getting the joint healths benefits of Hyalournoic Acid (HA) easier and tastier than ever before! With a delicious natural, sugar-free berry flavor, each HA Chewable Lozenge delivers 60 mg of vegan, high molecular wight HA.†
Sugar free & vegan
Delicious berry flavor
60 mg high molecular wight HA
It literally melts in your mouth. HA Chewable Lozenges taste so good, taking them feels like a treat. (60 count)
Ingredients: Hyaluronic Acid, Isomalt, Xylitol, Beet Powder (for color), Natural Berry Flavor, Citric Acid, Stearic Acid, and Stevia extract.
We believe in the shortest ingredient list possible. You don't need the entire periodic table to be effective, and we work tirelessly to include only the necessities.
HA occurs naturally throughout the human body. This viscous gel is one of the most hydrophilic (water-loving) molecules in nature and the perfect moisturizer.
Natural & Delicious
Sugar-Free Support
The chewable HA Lozenge makes getting the joint health benefits of Hyaluronic Acid (HA) easier and tastier than ever before. After all, a nutritional supplement cannot help you unless you take it.  With a delicious, natural and sugar-free berry flavor, each HA Chewable Lozenge delivers 60 mg of vegan, high molecular weight HA. It literally melts in your mouth and tastes so good, taking it feels like a treat!
Some of Our
Customer Favorites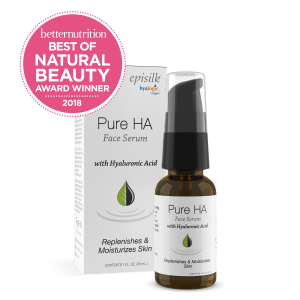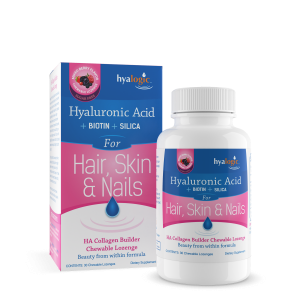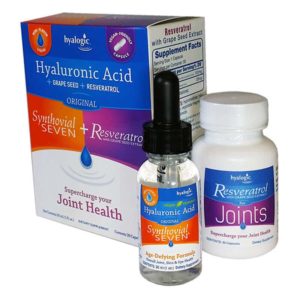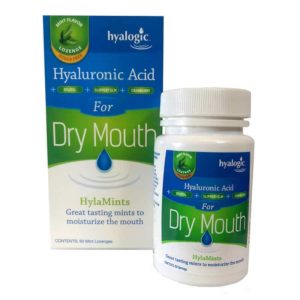 What may be a beautiful transition from Fall to Winter is a very drying transition for our skin...⠀⠀⠀⠀⠀⠀⠀⠀⠀ ⠀⠀⠀⠀⠀⠀⠀⠀⠀ Hydrate your skin with our premium-sourced, high quality Hyaluronic Acid. Each of our skincare products contain HA to help hydrate and replenish your skin. See link in bio to browse skincare!⠀⠀⠀⠀⠀⠀⠀⠀⠀ .⠀⠀⠀⠀⠀⠀⠀⠀⠀ .⠀⠀⠀⠀⠀⠀⠀⠀⠀ .⠀⠀⠀⠀⠀⠀⠀⠀⠀ .⠀⠀⠀⠀⠀⠀⠀⠀⠀ #hyaluronicacid #hyaluronic #hyaluronic_acid #skincare #replenish #moisturizer #dryskin #hydratedskin #skincaresquad #naturalskincare #crueltyfree #luxuryskincare #skincareregime #winter #winteressentials #healthyskin #glowingskin #instaskincare Squad goals 🙌🏽⠀⠀⠀⠀⠀⠀⠀⠀⠀ ⠀⠀⠀⠀⠀⠀⠀⠀⠀ Our Facial Scrub, Skin Perfecting Lotion, Facial Mist, Rose Water Toner, and Lip Balm are just a few of our powerful Hyaluronic Acid skincare products that will help get you through the cooler and drier months. Your skin will thank you. See link in bio to browse!⠀⠀⠀⠀⠀⠀⠀⠀⠀ .⠀⠀⠀⠀⠀⠀⠀⠀⠀ .⠀⠀⠀⠀⠀⠀⠀⠀⠀ .⠀⠀⠀⠀⠀⠀⠀⠀⠀ .⠀⠀⠀⠀⠀⠀⠀⠀⠀ #hyaluronicacid #hyaluronic #hyaluronic_acid #skincare #facialscrub #facialmist #rosewater #moisturizer #dryskin #hydratedskin #squadgoals #skincaresquad #lipbalm #naturalskincare #crueltyfree #luxuryskincare #skincareregime #winter #winteressentials #healthyskin #glowingskin Just because the air is getting dryer doesn't mean your eyes have to...⠀⠀⠀⠀⠀⠀⠀⠀⠀ ⠀⠀⠀⠀⠀⠀⠀⠀⠀ HylaTears™ lubricating eye drops provide soothing comfort and long lasting lubrication, keeping your eyes feeling refreshed throughout the day. Our formula helps maintains the natural moisture balance in your eyes, and provides long-lasting dry eye relief. ⠀⠀⠀⠀⠀⠀⠀⠀⠀ .⠀⠀⠀⠀⠀⠀⠀⠀⠀ .⠀⠀⠀⠀⠀⠀⠀⠀⠀ .⠀⠀⠀⠀⠀⠀⠀⠀⠀ .⠀⠀⠀⠀⠀⠀⠀⠀⠀ #Hyalogic #Hyadifference #scienceofhydration #eyesupport #dryeyes #healthyeyes #eyedrops #hyaluronicacid #hyaluronic #hyaluronic_acid #winter #coolermonths #moisturizing #hydrationnation #hydrationstation Who knew that getting joint, skin, and eye support could be so delicious!⠀⠀⠀⠀⠀⠀⠀⠀⠀ ⠀⠀⠀⠀⠀⠀⠀⠀⠀ Our HA Gummies are best-selling for a reason. They make getting the benefits of Hyaluronic Acid simple, delicious, and fun! Each naturally berry-flavored HA Gummy delivers 60 mg of premium quality, high molecular weight HA. ⠀⠀⠀⠀⠀⠀⠀⠀⠀ .⠀⠀⠀⠀⠀⠀⠀⠀⠀ .⠀⠀⠀⠀⠀⠀⠀⠀⠀ .⠀⠀⠀⠀⠀⠀⠀⠀⠀ .⠀⠀⠀⠀⠀⠀⠀⠀⠀ #hyaluronicacid #hyaluronic_acid #hyaluronic #bestselling #naturalsupplement #jointsupport #healthyjoints #healthyskin #skintips #beautyhacks #healthy #dailyroutine #wellness #hydration #healthyskinsupplements #beautifulskin #eyesupport #healthyeyes Do you live an active lifestyle? 🏌🚴🏻⠀⠀⠀⠀⠀⠀⠀⠀⠀ ⠀⠀⠀⠀⠀⠀⠀⠀⠀ If so, you've probably experienced joint concerns. Soothe and moisturize your joints and muscles with HylaRub! This non-greasy texture is fragrance free and includes hydrating Hyaluronic Acid. ⠀⠀⠀⠀⠀⠀⠀⠀⠀ .⠀⠀⠀⠀⠀⠀⠀⠀⠀ .⠀⠀⠀⠀⠀⠀⠀⠀⠀ .⠀⠀⠀⠀⠀⠀⠀⠀⠀ .⠀⠀⠀⠀⠀⠀⠀⠀⠀ #jointsupport #healthyjoints #joints #activelifestyle #active #hyaluronicacid #hyaluronic #hyaluronic_acid #healthymuscles #getactive #dailyroutine #healthy #naturalsupplement #instahealth #livehealthy #healthylifestyle #wellness #healthandwellness Did you know your eyelashes and brows can benefit from a little Hyaluronic Acid?⠀⠀⠀⠀⠀⠀⠀⠀⠀ ⠀⠀⠀⠀⠀⠀⠀⠀⠀ That's right. Our award-winning Lush Lash & Brow Serum with Hyaluronic Acid can protect and support the beauty of your lashes and brows. It also features nourishing Argan and Coconut Oils ✨⠀⠀⠀⠀⠀⠀⠀⠀⠀ .⠀⠀⠀⠀⠀⠀⠀⠀⠀ .⠀⠀⠀⠀⠀⠀⠀⠀⠀ .⠀⠀⠀⠀⠀⠀⠀⠀⠀ .⠀⠀⠀⠀⠀⠀⠀⠀⠀ #hyaluronicacid #hyalogic #hyaluronic #hyaluronic_acid #eyelashserum #fullerlashes #fullereyebrows #eyelashsupport #beautifullashes #beautytips #beautyhacks #awardwinning #eyebrowgoals #lusciouseyelashes #beautyproducts #naturalbeauty #cleanbeauty Enjoy the powerful hydrating benefits of Hyaluronic Acid and other moisturizing ingredients to soothe and support your skin! Our HA Facial Cream is rich and quenching, yet light in texture. . . . . #hyaluronicacid #hyaluronic #facialcream #moisturizer #hydrating #hydratingfacialcream #luxuryskincare #skincareregimen #skincareobsessed #beautytips #skincare #skincaretips #hydratedskin #instaskincare #healthierskin #glowingskin #skincaregoals #skincareproducts Have you made Synthovial Seven a part of your daily routine? ⠀⠀⠀⠀⠀⠀⠀⠀⠀ ⠀⠀⠀⠀⠀⠀⠀⠀⠀ Our Age-Defying Formula supports the lubrication of your joints, hydrated skin, and eye health. Just a dropper full a day is all you need to work toward a healthier version of yourself!⠀⠀⠀⠀⠀⠀⠀⠀⠀ .⠀⠀⠀⠀⠀⠀⠀⠀⠀ .⠀⠀⠀⠀⠀⠀⠀⠀⠀ .⠀⠀⠀⠀⠀⠀⠀⠀⠀ .⠀⠀⠀⠀⠀⠀⠀⠀⠀ #Hyadifference #Hyalogic #hyaluronicacid #hyaluronic #hyaluronic_acid #agedefying #healthierskin #youthfulskin #jointsupport #eyehealth #eyesupport #joints #bestselling #dailyroutine #healthy #naturalsupplement #beautyfromwithin #instahealth #healthyjoints
I have been using the Hyaluronic Acid for Joints, skin, and eyes lozenges for 2+ years now. I have a very strong family history of joint concerns. I was 47 years old when starting on the Hyaluronic Acid lozenges and already having problems with my movement. I started on the Hyaluronic acid lozenges and within 1 week felt a huge difference. Over another week or so, it even got better. I have had great, great results from this product. I have ran out a time or two and within a week noticed the difference of how much this product is helping. – I immediately ordered more and got back on it. I realize that I cannot be without this product and I am sure without a doubt that it has kept me from having bigger issues. Thank you Hyalogic for making such wonderful products that we can trust! This product really helps my dry mouth and tongue issues caused by poor dental work some years ago. It relieves the discomfort when I'm trying to relax at night. Since I began using the HA Chewable Lozenge twice a day the extremely severe dry eye issues I was having has improved significantly. I no longer need tear duct plugs. :) I take this every morning (and some evenings because they taste so good!). They taste great, and the slow release of the Hyaluronic Acid is what I like. I have taken this product for months and feel the difference.
Stay Hydrated
Latest Tips
When speaking of hydration, we typically think about quenching our thirst. But full-body hydration means so much more—including supporting your... When we think about preserving and increasing the health of our fingernails and toenails, we tend to think about external... With summer just around the corner, the mercury will soon be rising. If you plan to work, exercise, or play...