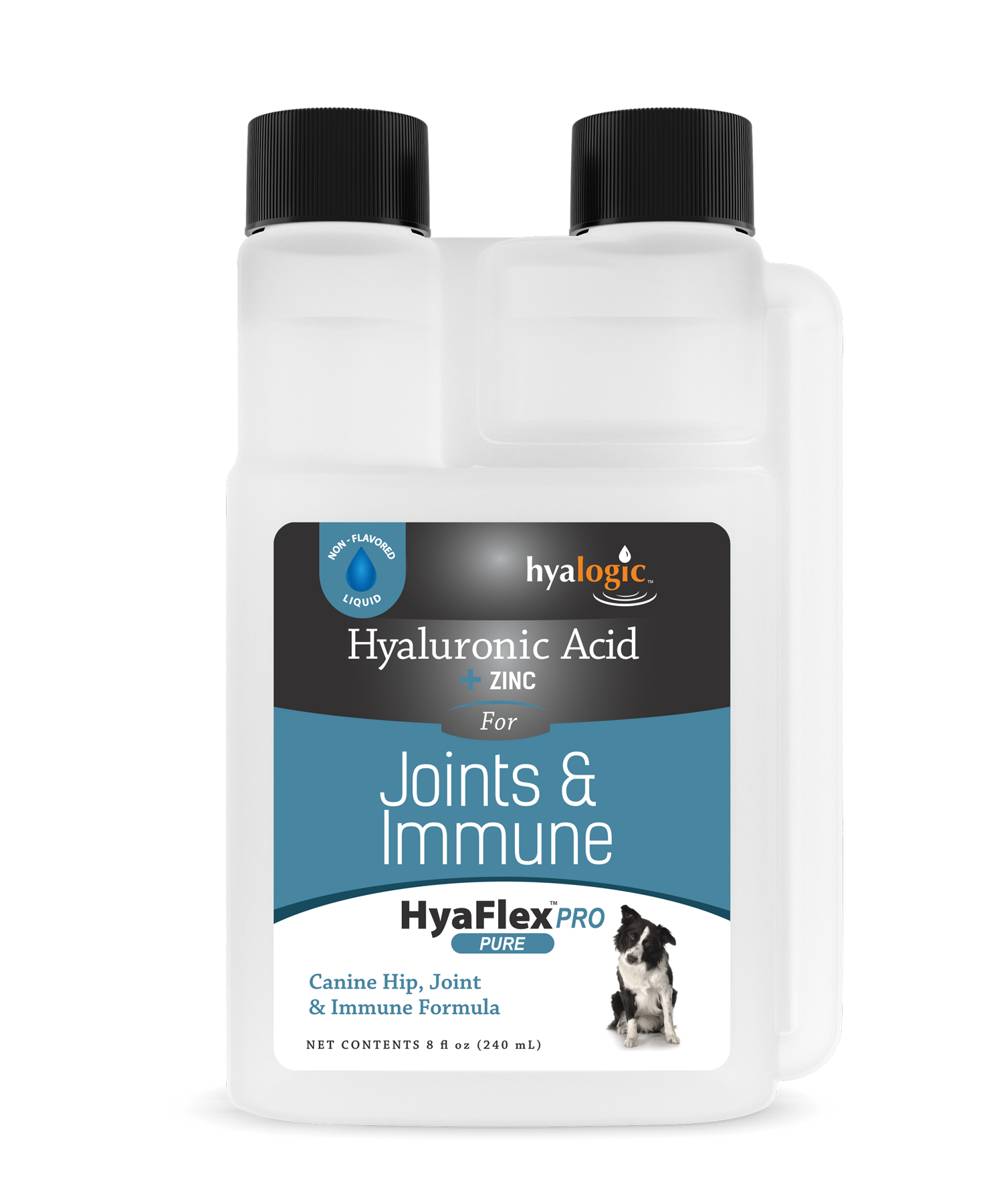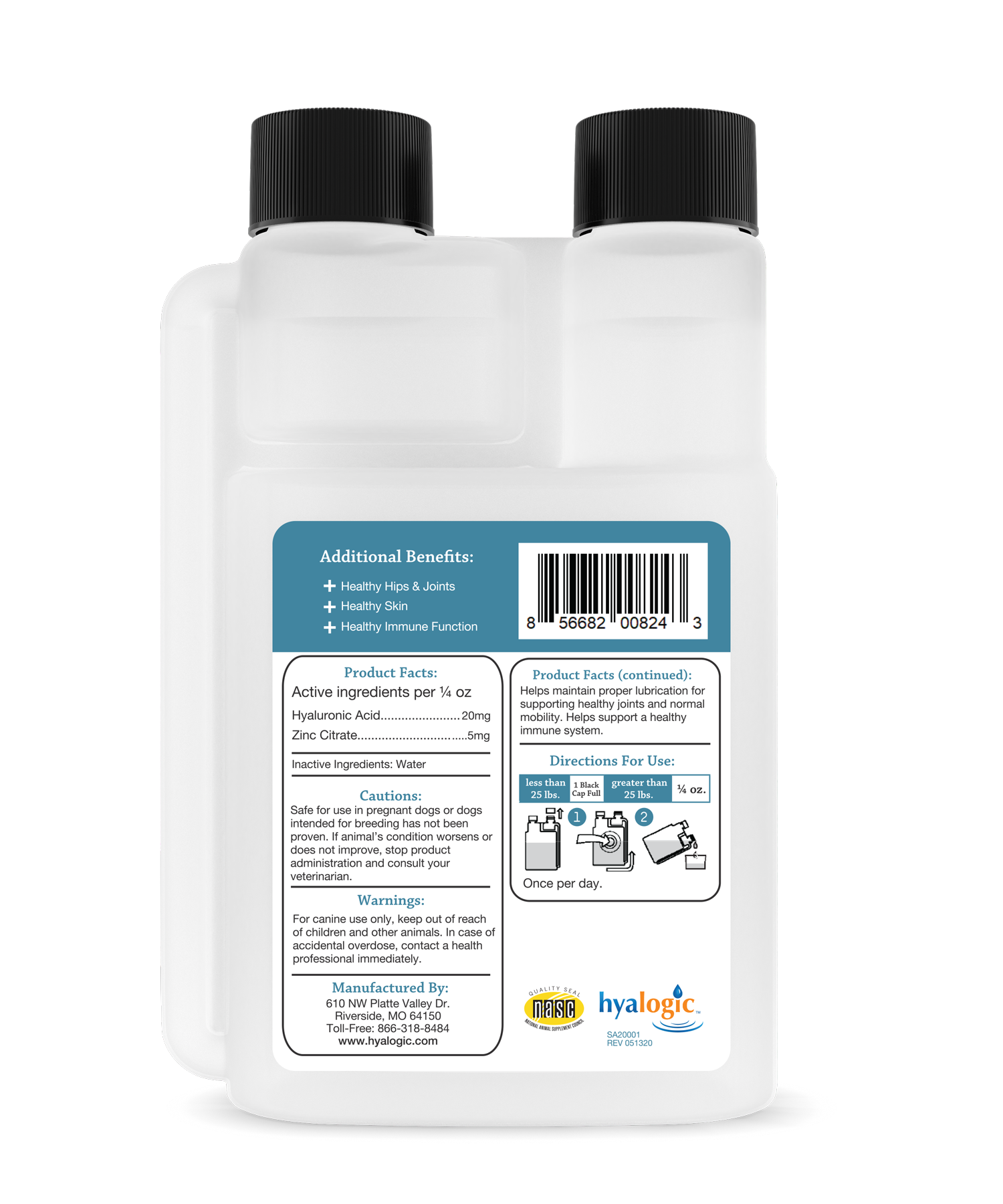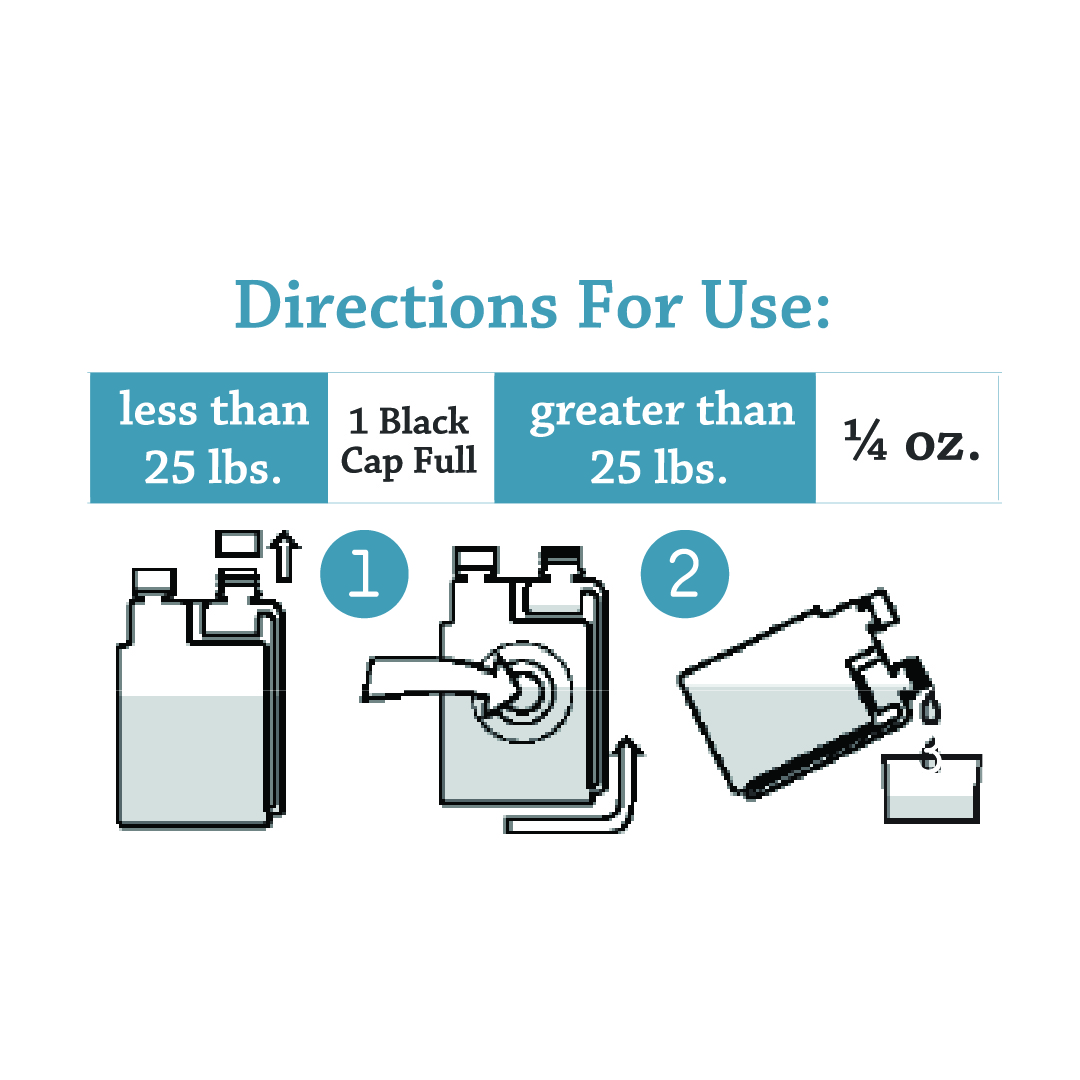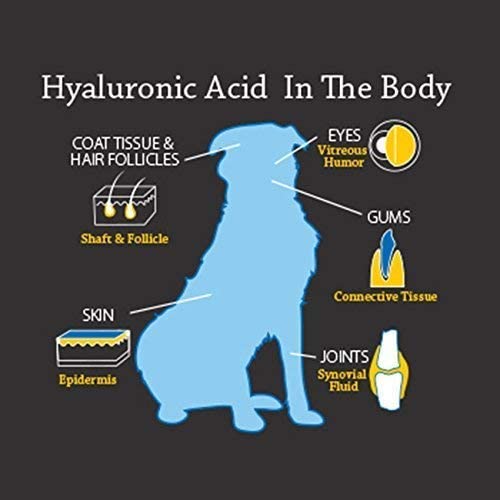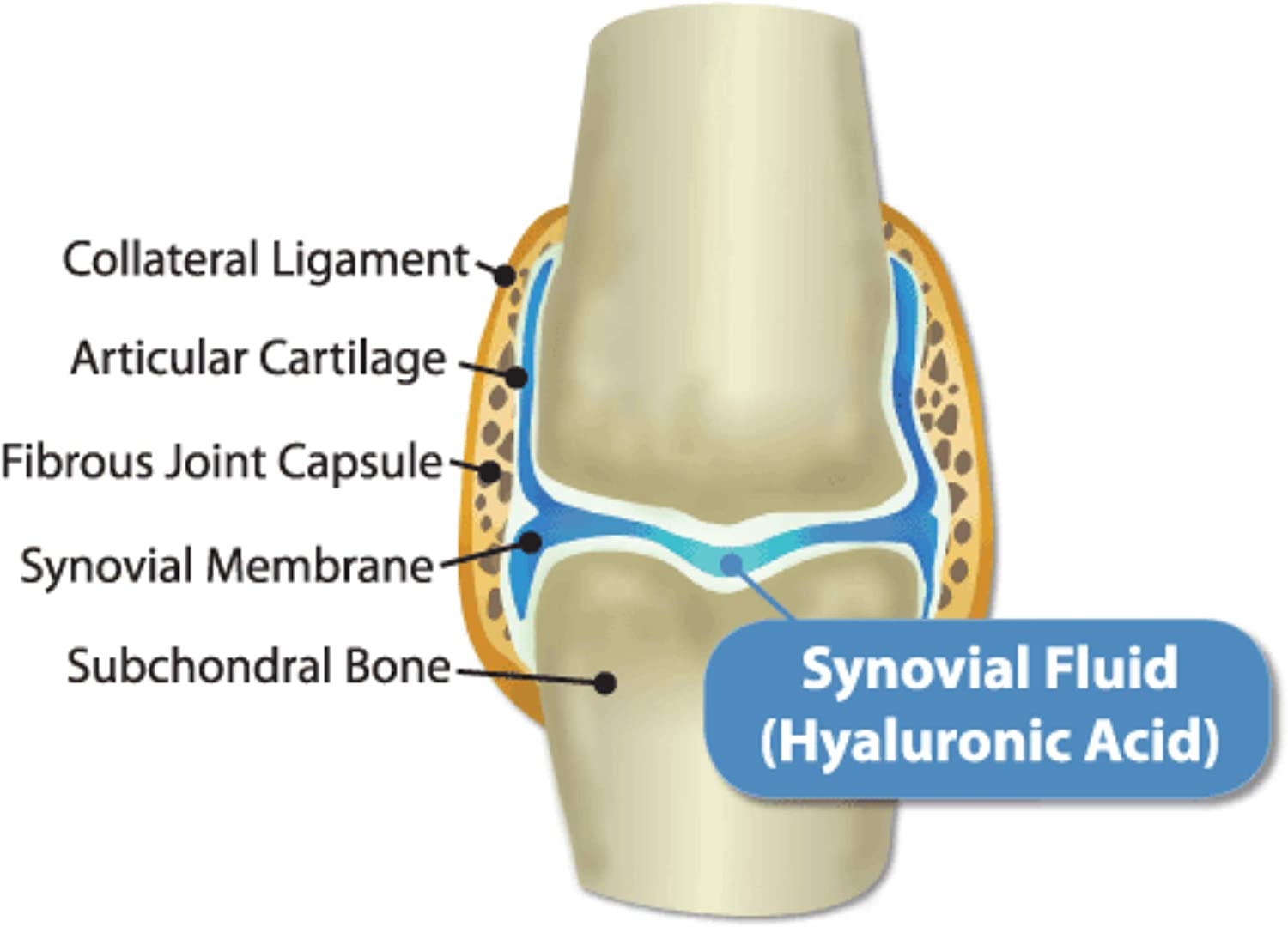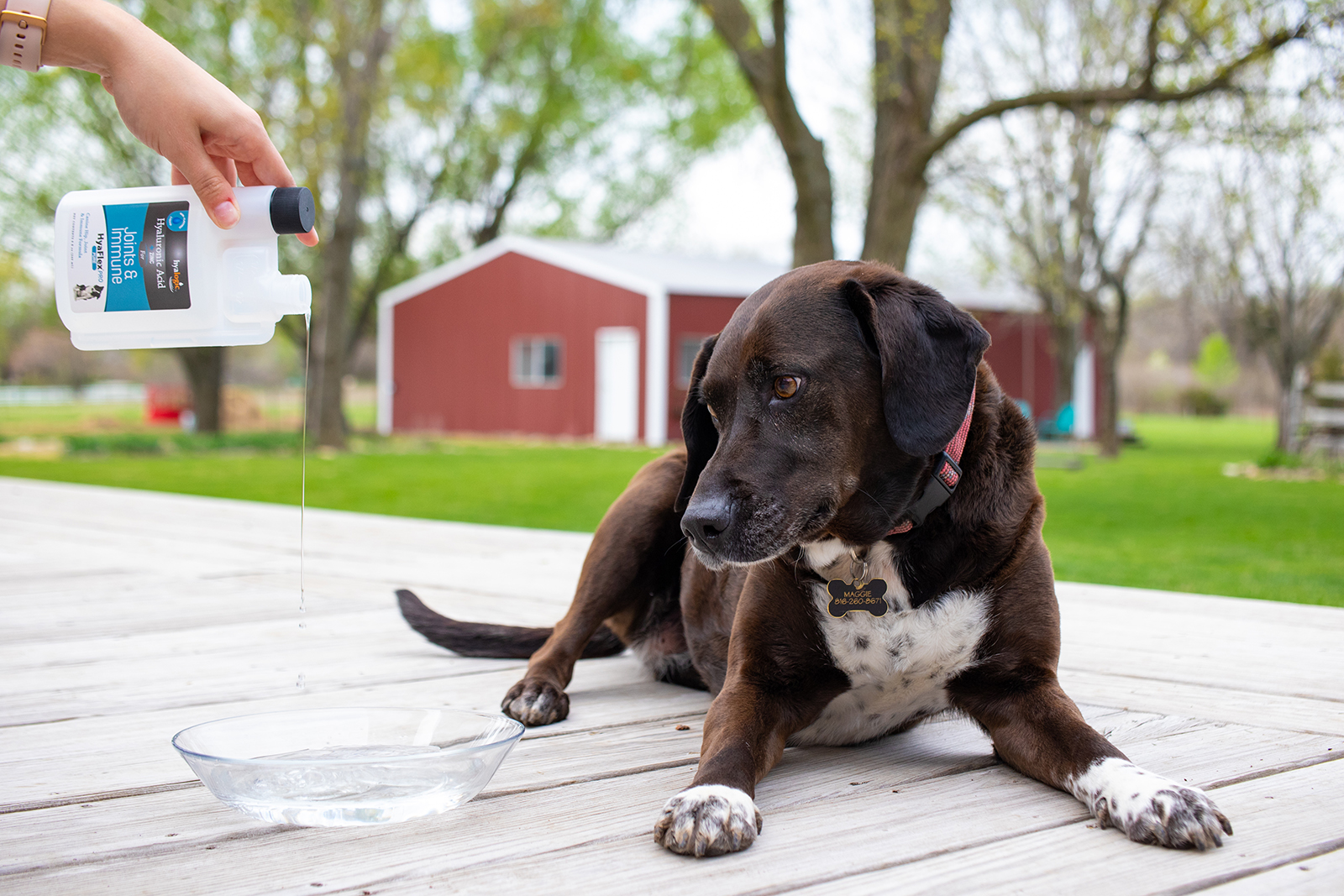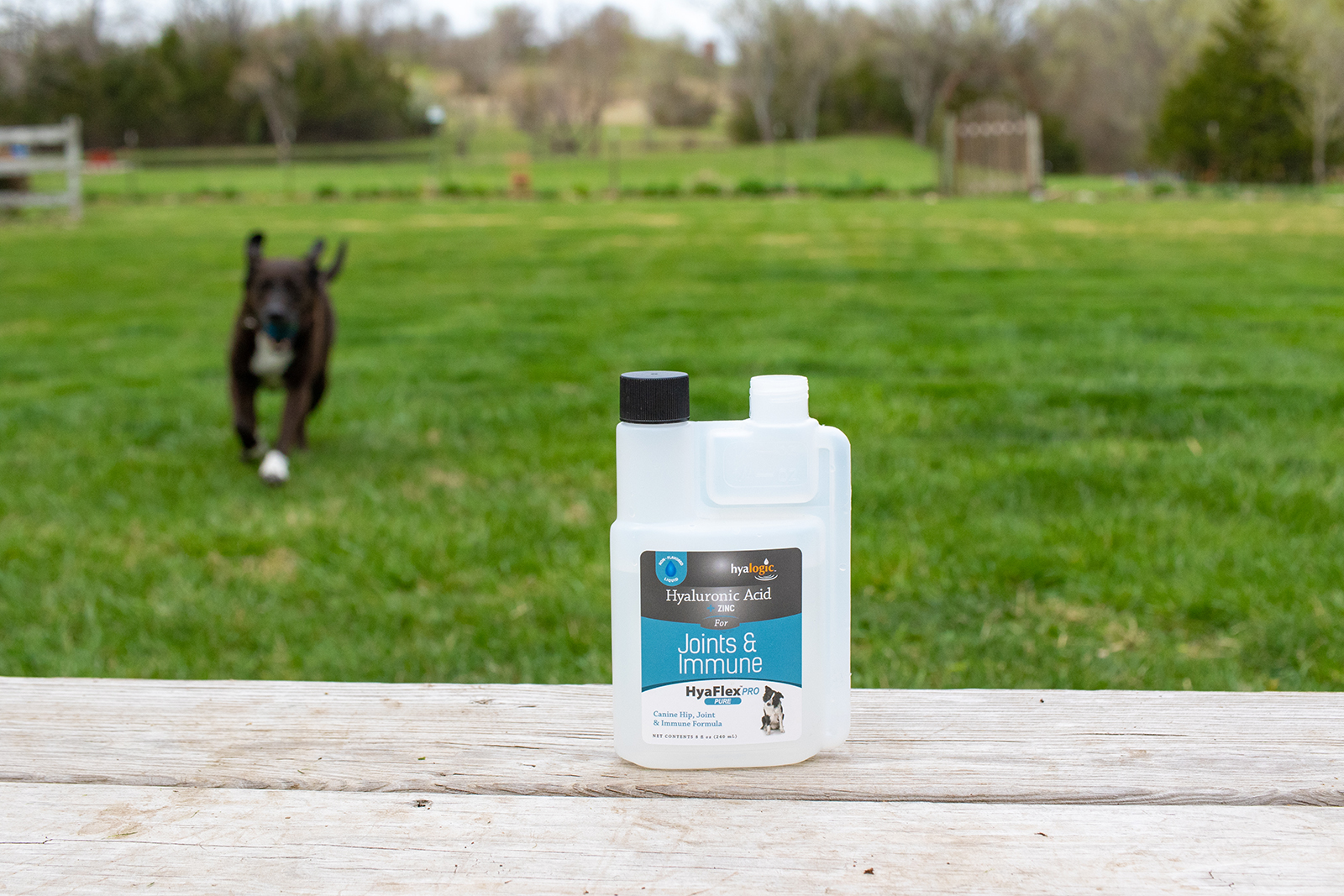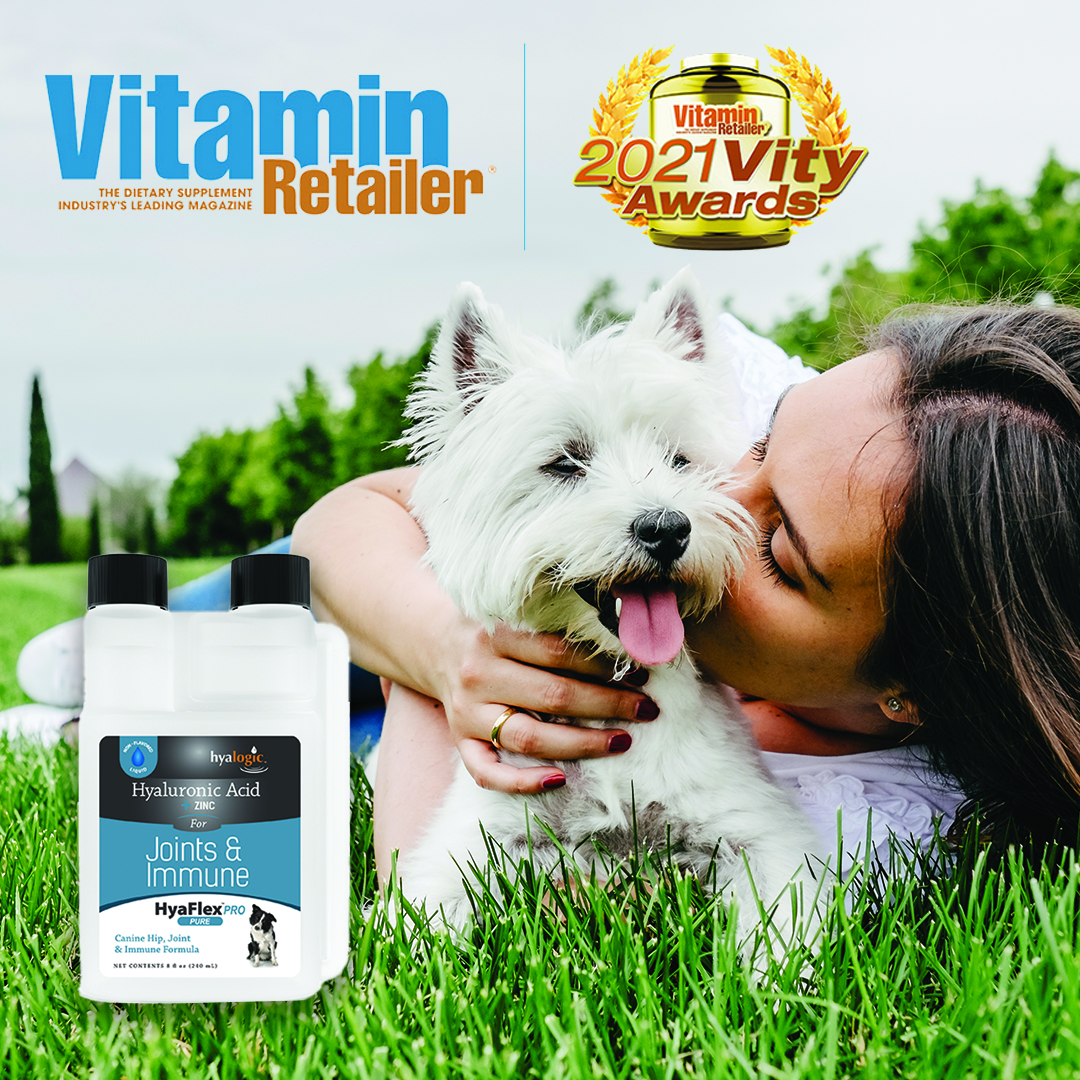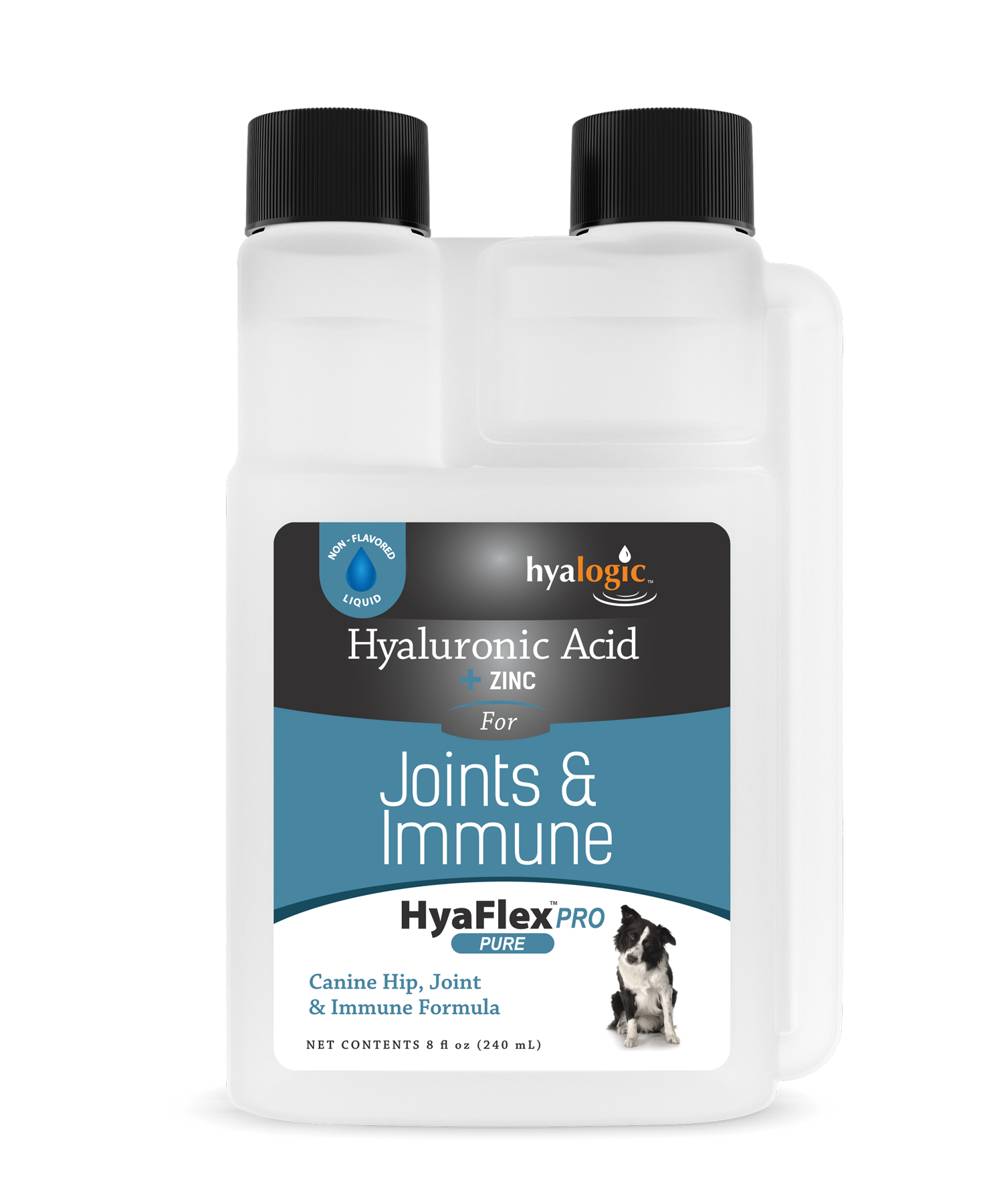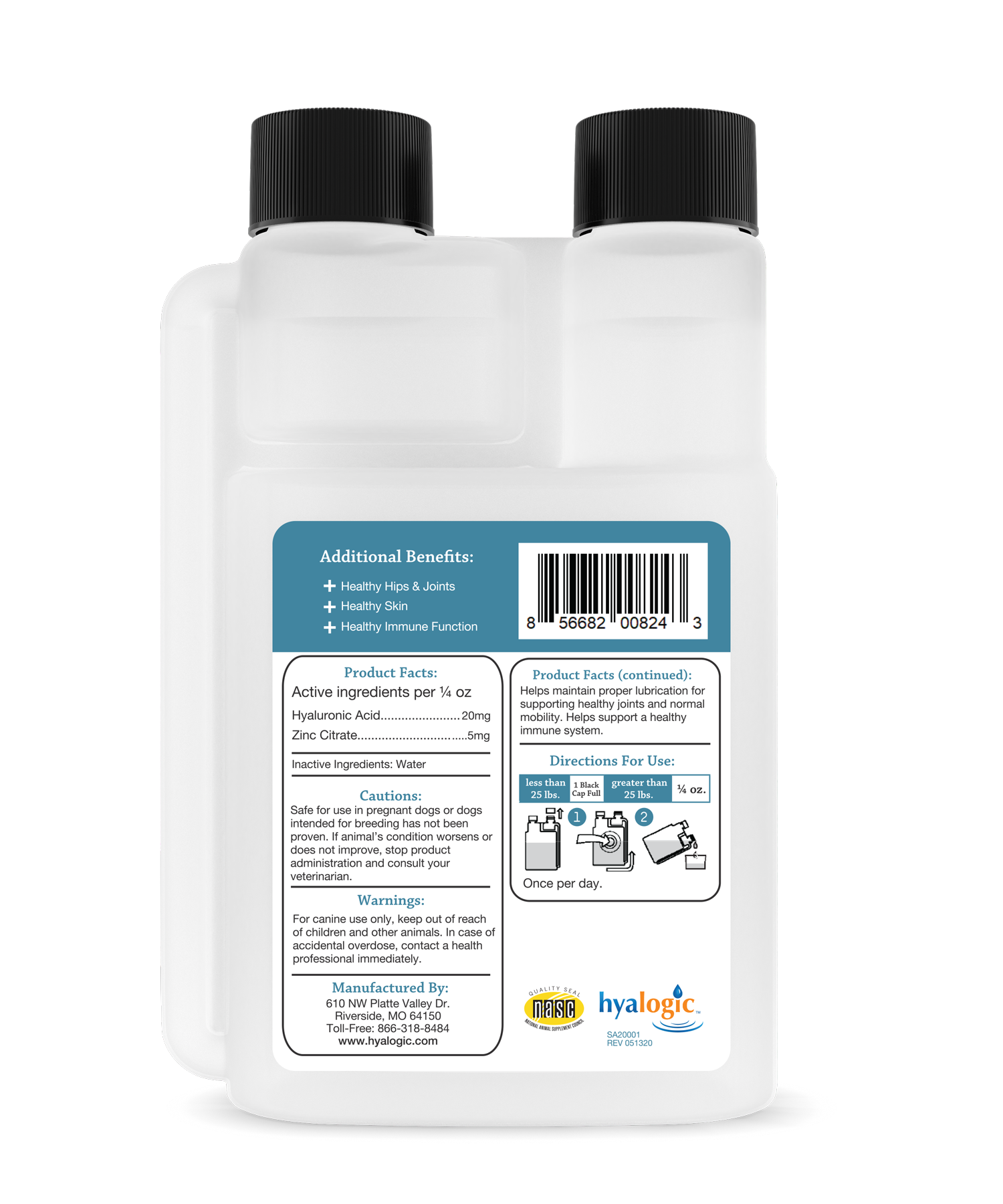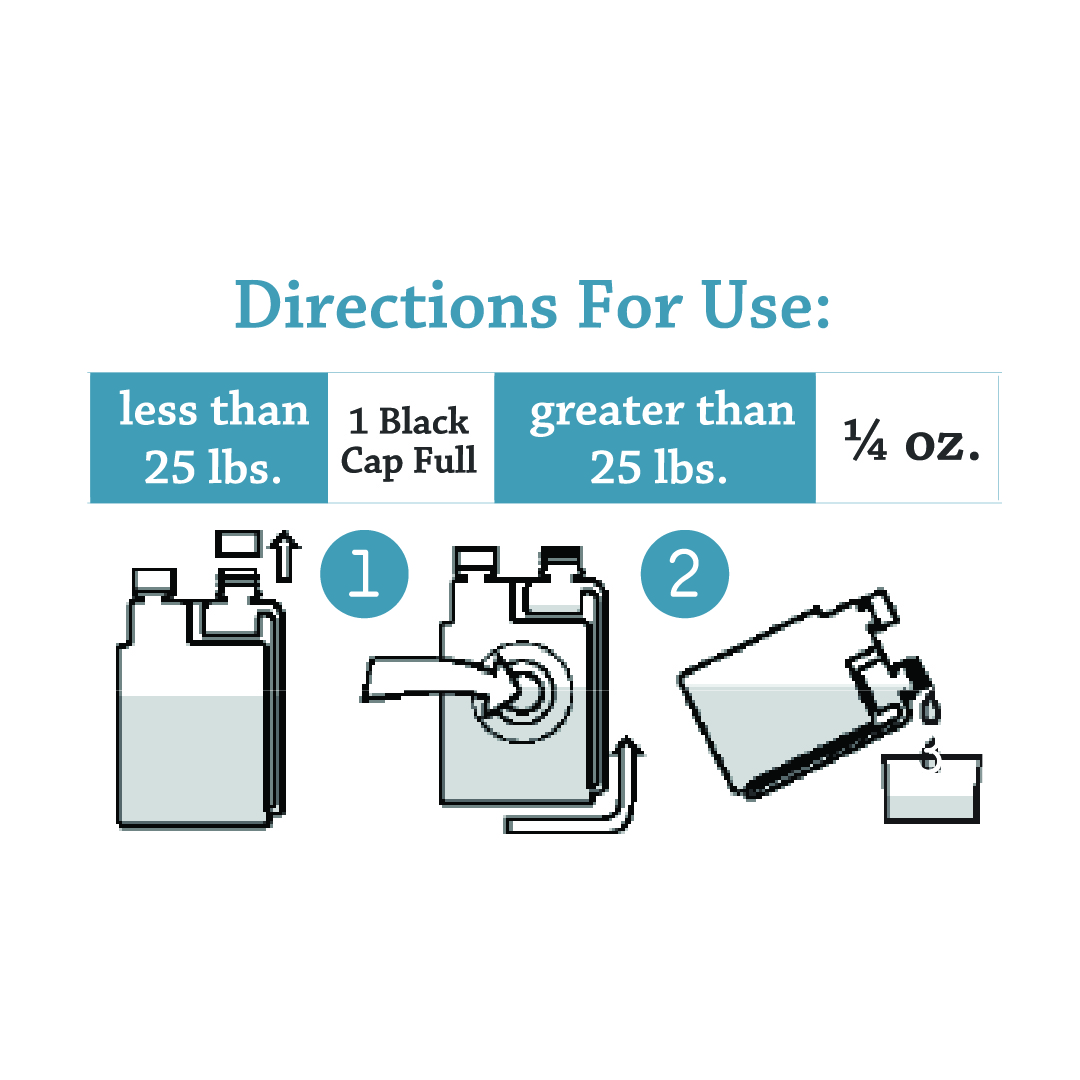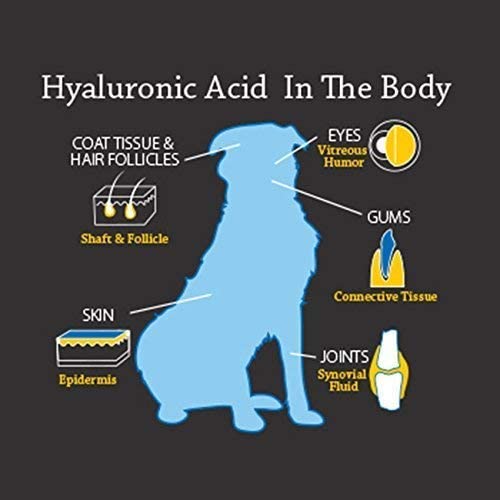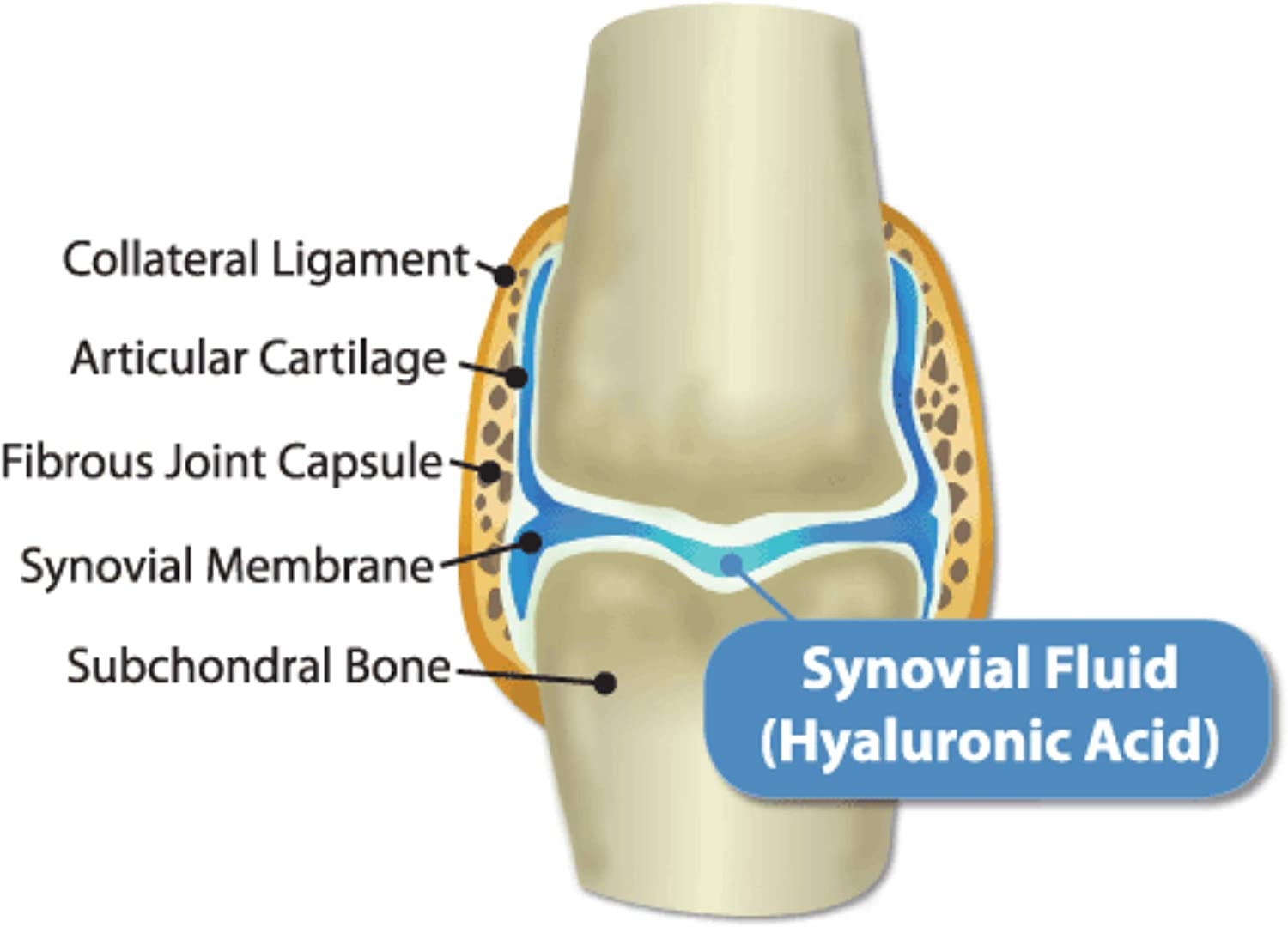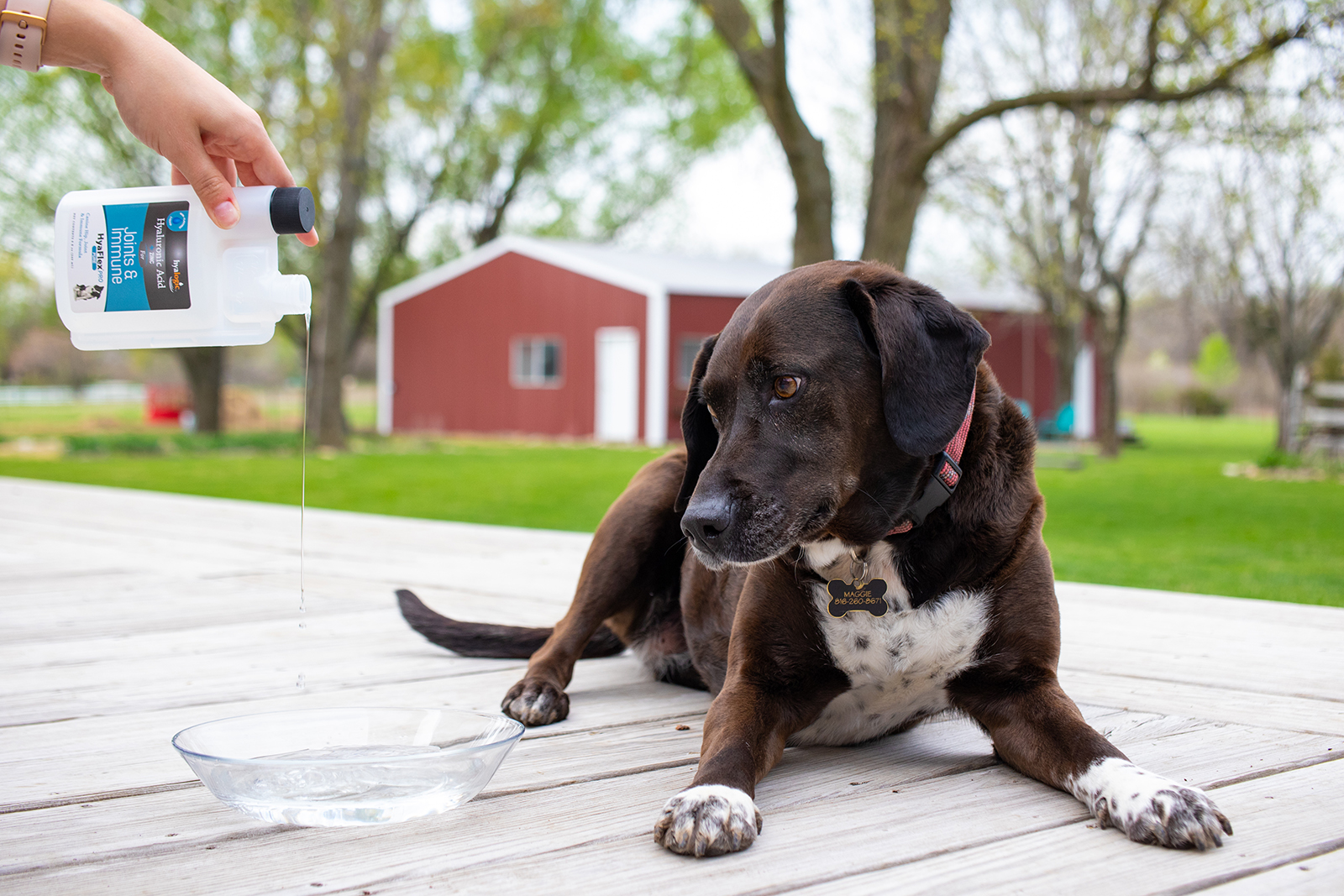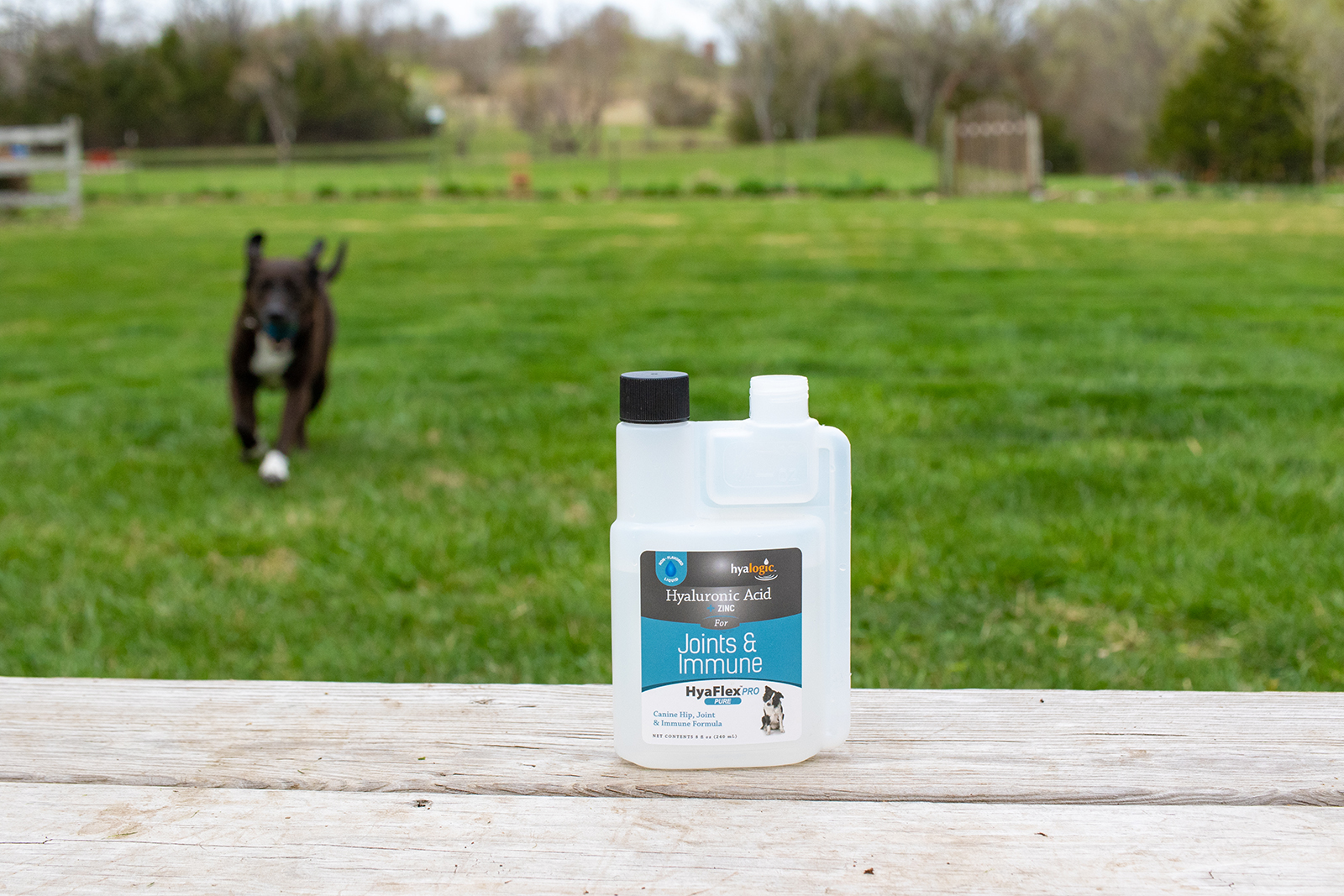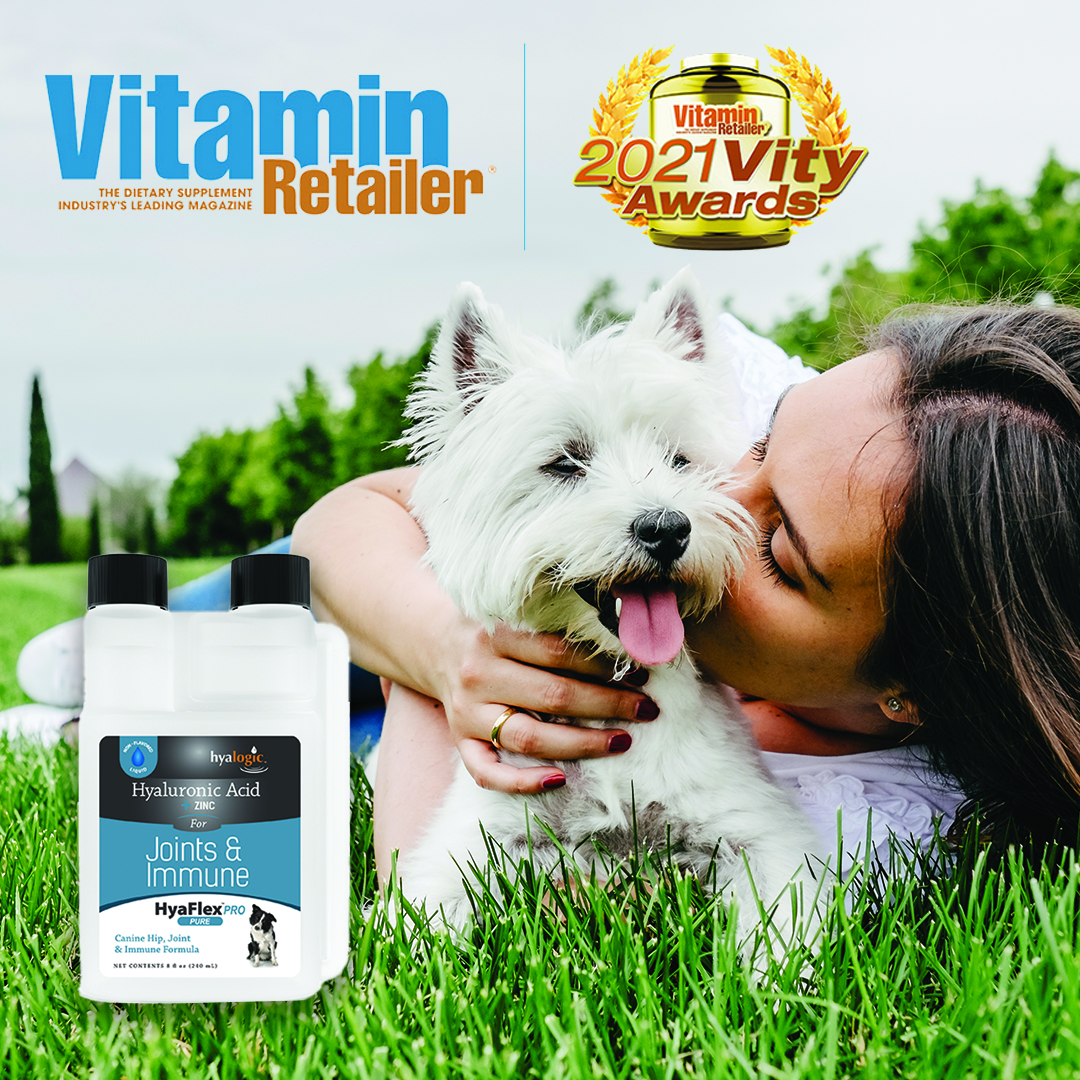 HyaFlex™ PRO PURE Joint & Immune Canine Liquid
Leave a Review
HyaFlex™ PRO PURE Joint & Immune Liquid offers dogs of all sizes liquid zinc for immune support and hyaluronic acid for keeping their joints, cartilage and connective tissue in top shape. It is perfect for dogs with high joint concerns.
Great for growing dogs, active dogs, younger dogs, and dogs with sensitivities and joint concerns. under physical stress. (8 oz bottle. 1-2 month supply depending on size of dog)
HyaFlex™ PRO PURE Hip, Joint & Immune  Liquid Hyaluronic Acid + Zinc helps support your dog's:
Healthy Hips, Joints & Cartilage
Healthy Skin and Eyes
Healthy Immune Function
Joint & Immune Support
For All Dogs
Hyaluronic Acid exist naturally in living organisms.  Found inside the joint structure to provide healthy lubrication.
Zinc is an essential mineral that supports the immune function.
Help give your dog the joint and immune support they need and enjoy the difference with them!
BETTER JOINT HEALTH: As your dogs age, their bodies produce less and less joint protecting hyaluronic acid (HA); factors such as age, breed, exercise, anatomy and diet all contribute to the health and comfort of your dog's hips and joints. Canine joints may become less flexible and movement can become limited or uncomfortable. An oral hyaluronic acid joint supplement can support your pets where their bodies fail them.
COMPLETE JOINT CARE: HyaFlex PRO PURE liquid joint supplement includes a combination of Hyaluronic Acid (HA) N Acetyl Glucosamine (NAG), Methylsulfonylmethane (MSM). Supports healthy joint, cartilage and connective tissue function. May help protect against free radical damage and supports antioxidant function. May help reduce the negative effects of stress.
DOG COAT & CARTILAGE SUPPORT: Hyaluronic acid for dogs is an important dog supplement for growing shiny coats, promoting healthy skin, and maintaining good gum and eye health. HA is important for your dog's cartilage too, supporting the life of the cartilage cushion. Great for active show dogs, recovering dogs under physical stress, larger dogs and dogs over 7 years old.
EASY & TASTELESS 30-60 DOSES: This HA supplement administers 1-2 months of of hyaluronic acid for dogs, quickly, easily and without fuss. The liquid bottle is easy to use and delivers the right amount of HA joint supplement. Simply drop the odorless, tasteless dog health supplement into their food, or directly into their mouth.
HIGH MOLECULAR WEIGHT & HIGH QUALITY: Hyalogic Hyaluronic Acid Joint Supplement for dogs has a high-molecular weight. We pride ourselves in providing you quality products that yield amazing results for your pets. Our product line, HyaFlex for dog or cat joint care and Hyalun PRO for equine performance supplements; will help keep your pet vibrant, healthy and happy, both inside and out.
IMMUNE SUPPORT: Give your dog the joint and immune support they need with Pro PURE formula that includes Zinc.
Actually amazing to see the difference this product makes. After providing to my dog every day for two weeks, his mobility, activity and overall happiness is absolutely noticeable. My dog is 7 and has been acting "old" over the past two years. His back began to arch, and he couldn't jump up on the bed and stairs had become a real problem. I have tried several products over the past year, and nothing has produced the results like Hyaflex Pure Pro. Highly recommended. Stay with it for two weeks and see what a difference iit makes. I have been using Hyaflex for only three days and my elderly dog is improving! I hope and pray that after the whole bottle that he will be in much better shape! Also dealing with this company has been a very informative and pleasurable experience. Outstanding people!
Stay Hydrated
Latest Tips
When Columbia University scientists Karl Meyer and John Palmer first discovered hyaluronic acid (HA) in 1934, they could scarcely have... Healthy, youthful looking hair relies on ample hydration, both in the hair itself and in the scalp where the hair... Ageless beauty has long been the Holy Grail of the cosmetics industry. Just a quick glance online reveals the abundance...