Hyalogic® Launches New Plant Derived Stem Cell Skincare Product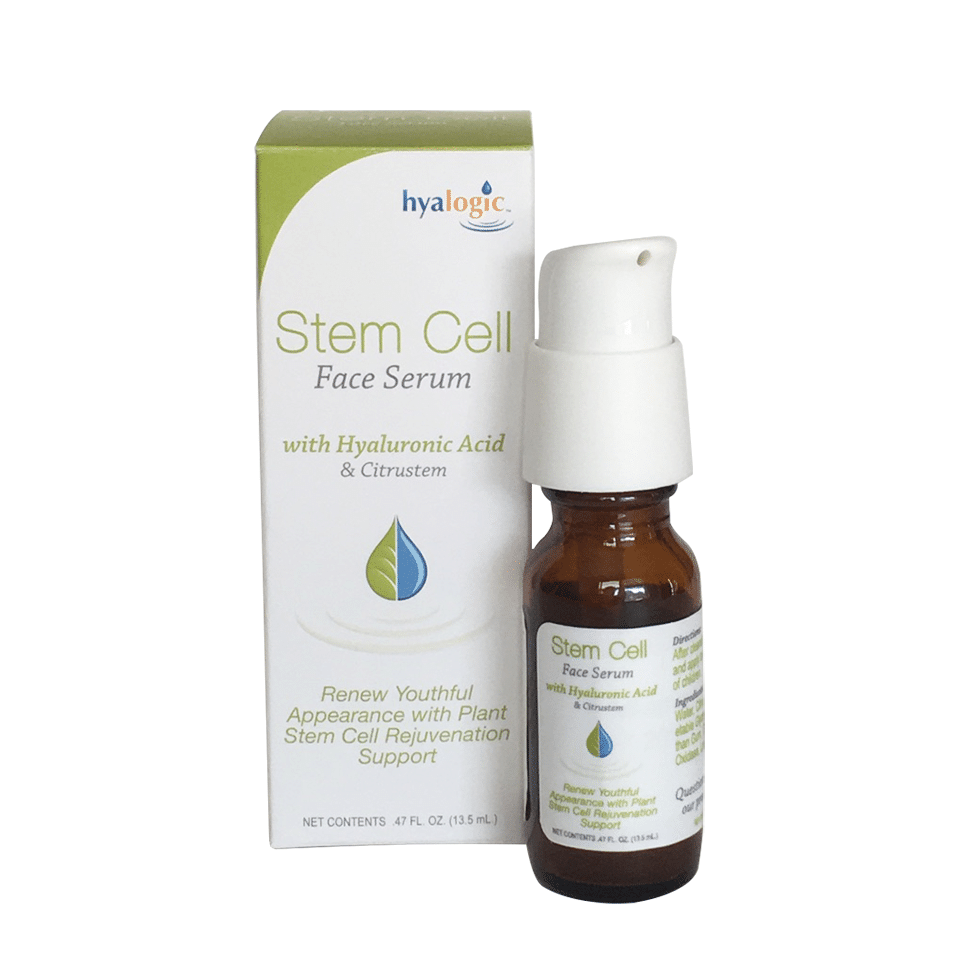 Kansas City, MO, May 12, 2016 – Hyalogic®, the leader in pure Hyaluronic Acid products, is excited to announce the arrival of a new, innovative skincare product. Natural product beauty lovers nationwide are celebrating the arrival of Stem Cell Face Serum made with premium Hyaluronic Acid (HA) and the restorative ingredient, Citrustem.
Stem Cell Face Serum is infused with orange stem cells to help revive your complexion, renew youthful appearance and bring new life and energy to your skin.  In the quest for the ultimate anti-aging solution, plant stem cells are the leaders in skincare innovation, results, and benefits. It is also paraben free, gluten free, fragrance free; dye free and as all Hyalogic® products, cruelty free.
This revolutionary Stem Cell Face Serum will aid in:
Protecting longevity of skin stem cells
Delaying senescence of essential cells
Combating chronological aging
Preserving the youthful look and the vitality of your skin
Hyalogic® is proud to add this exciting new Stem Cell Face Serum to our award-winning natural skincare lineup, which includes – Episilk™ Pure HA Face Serum, Episilk™ Instant Facelift Face Serum, Episilk™ Dark Circle Lightening Face Serum, Episilk™ Age Spot Lightening Face Serum, Episilk™ Coenzyme Q10 Face Serum, Episilk™ Facial Relax Face Serum, HA Skin Perfecting Lotion, Episilk™ Facial Scrub, HA Facial Cream, HA Moisture Mask, HA Facial Mist, HA Lip Balm, HA Scar Serum and the brand new Face & Body Bar Soap – all made with premium Hyaluronic Acid.
Stem Cell Face Serum Ingredients:
Water, Citrus Aurantium Dulcis (Orange) Callus Culture Extract, Vegetable Glycerin, Sodium Hyaluronate (Hyaluronic Acid), Glucose, Xanthan Gum, Citrus Grandis Peel (Grapefruit White) Oil, Glucose Oxidase, Lactoperoxidase.
HyaluronicAcid (HA) is a natural and vital element of healthy, supple skin. HA has the unique ability to bind up to 1,000 times its weight in water, which makes it nature's greatest natural hydrator for your skin!
What is Citrustem? It is the architect of the skin – produced from stem cells obtained from the orange (Citrus sinensis) and is derived from plants or fruits to help natural development of elasticity and cell adhesion. This restorative ingredient works with the body's natural organization of function of the skin for a more youthful appearance and supports your own skin's anti-aging effects.
Darren Landis, President of Hyalogic® commented: "Since 2003, Hyalogic® has been committed to creating premium products with innovative ingredients that provide real, natural results. We're excited to bring customers the advanced skincare solutions and innovations in our new Stem Cell Face Serum and their cutting-edge ingredients to the market to be used daily for optimum results.  We are continuing to innovate and will be introducing several new skincare products in 2016. Hyaluronic Acid is a leading ingredient in both the mainstream and the natural product markets. We are delighted to offer Hyalogic® skincare products, personal care products, supplement and animal care products in over 2000 retailers worldwide and online."