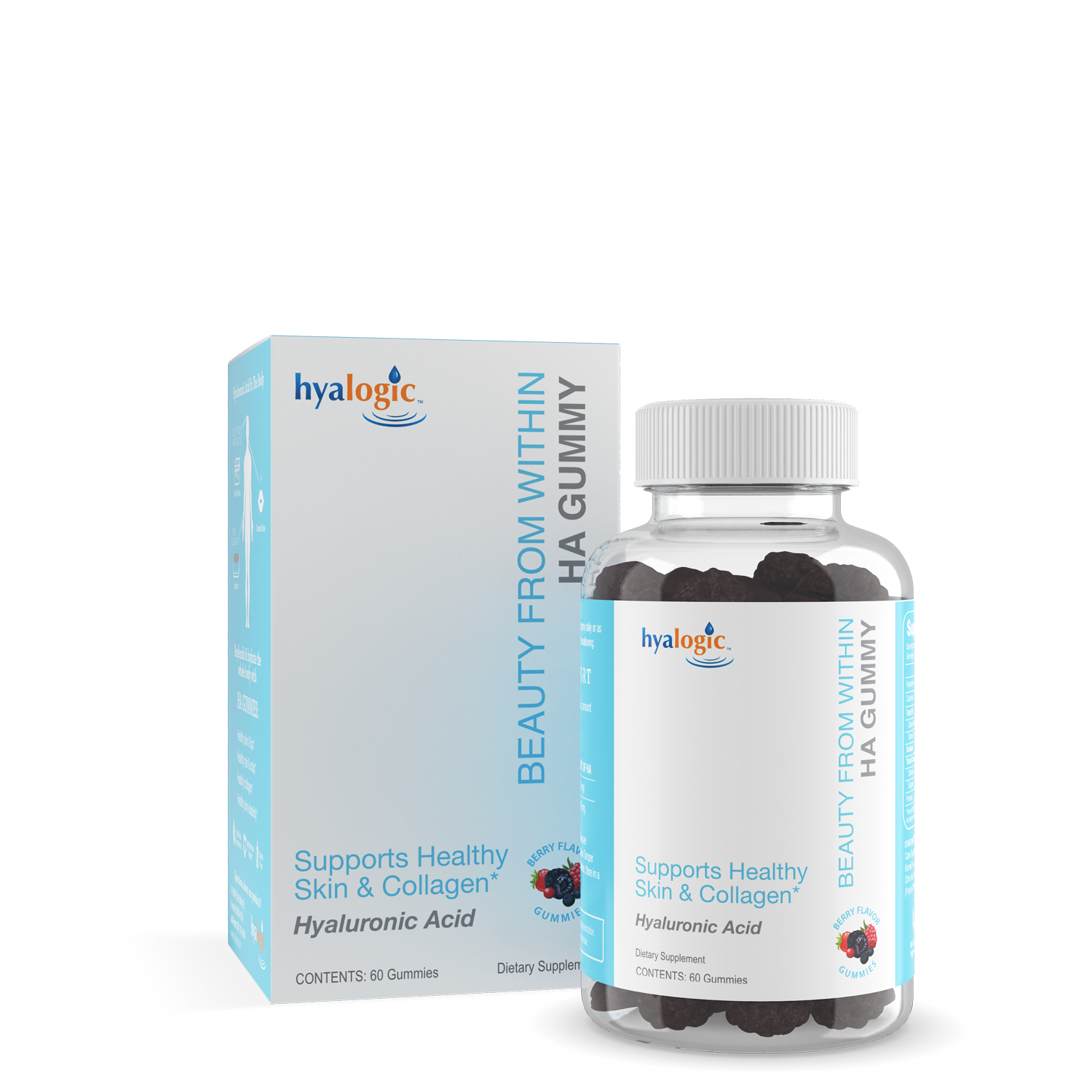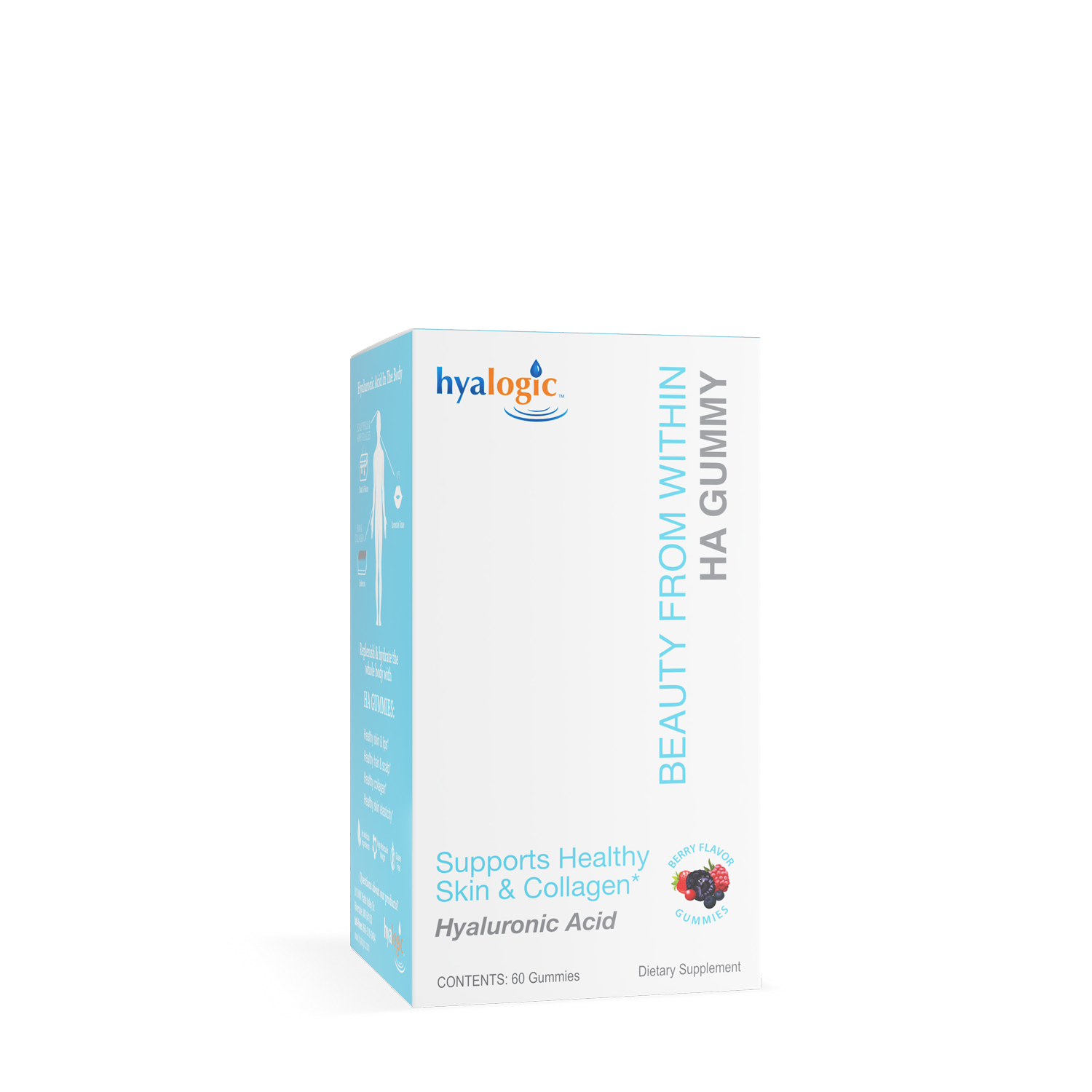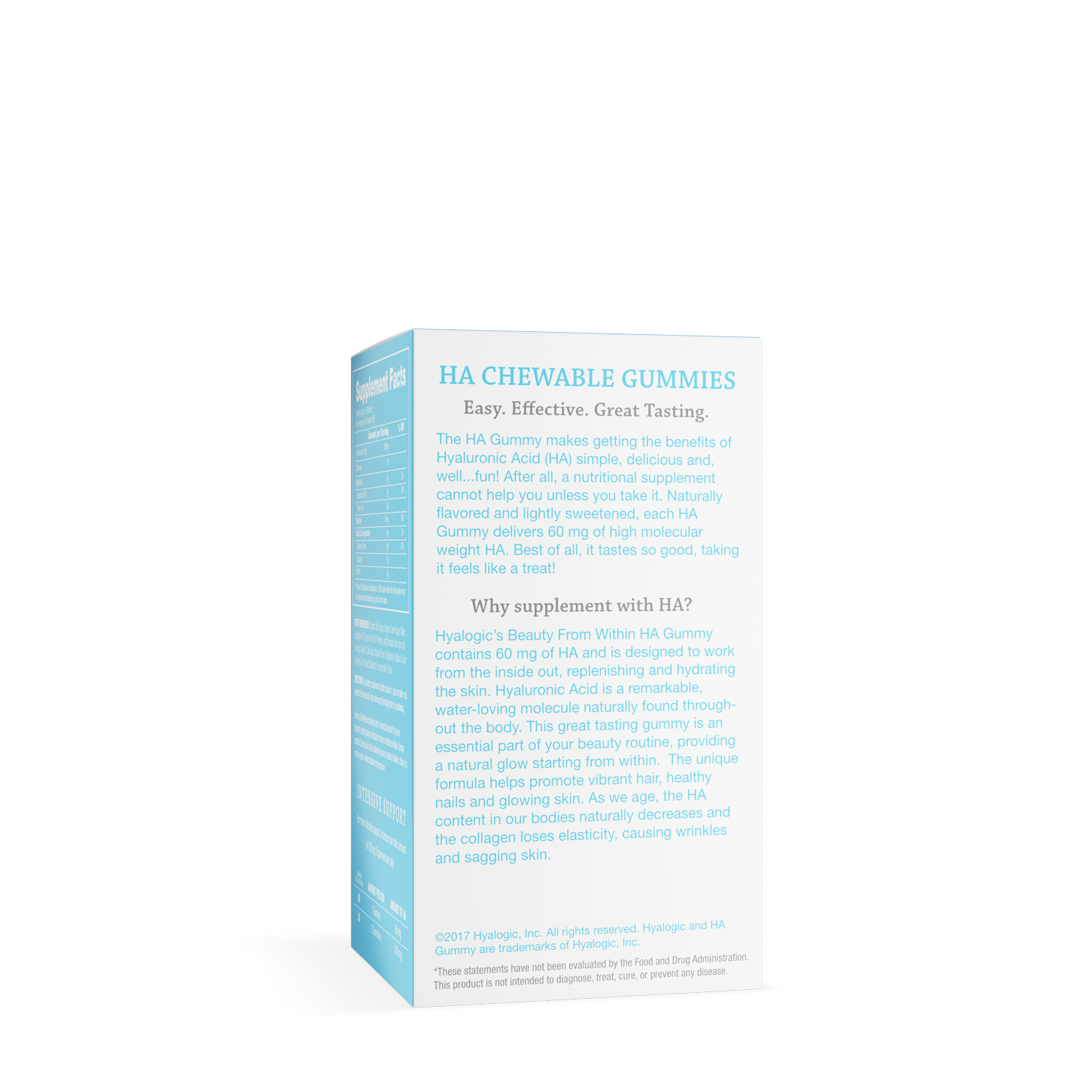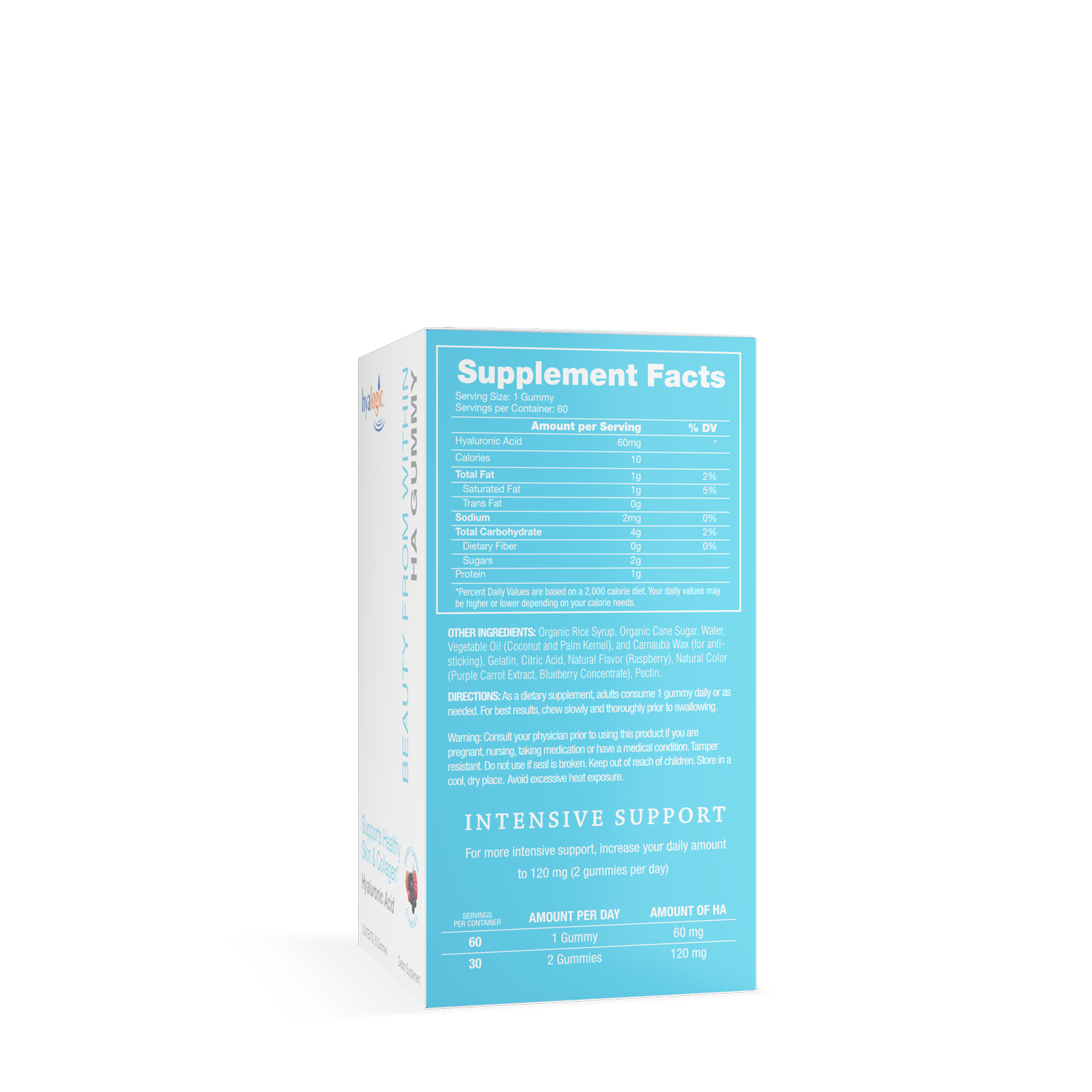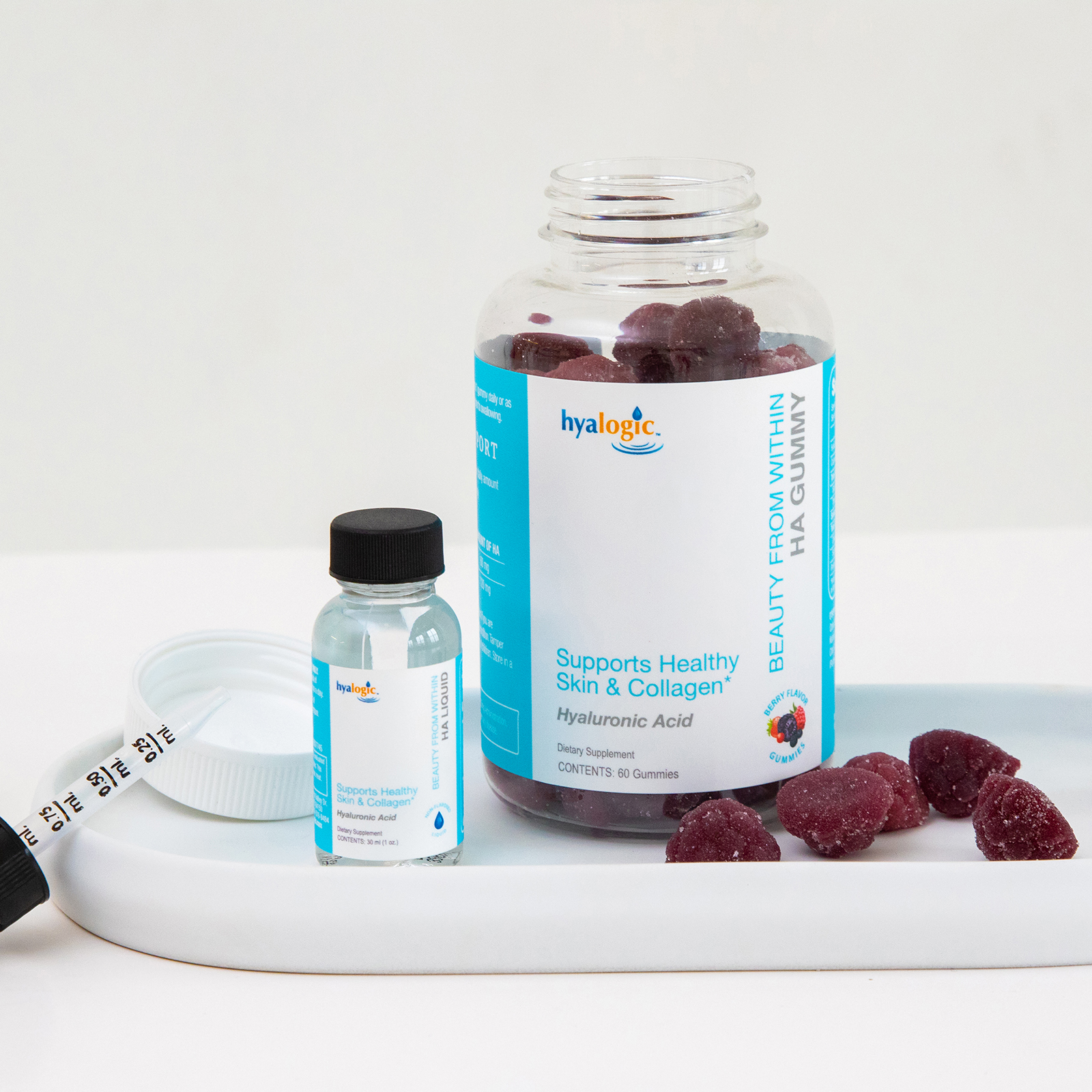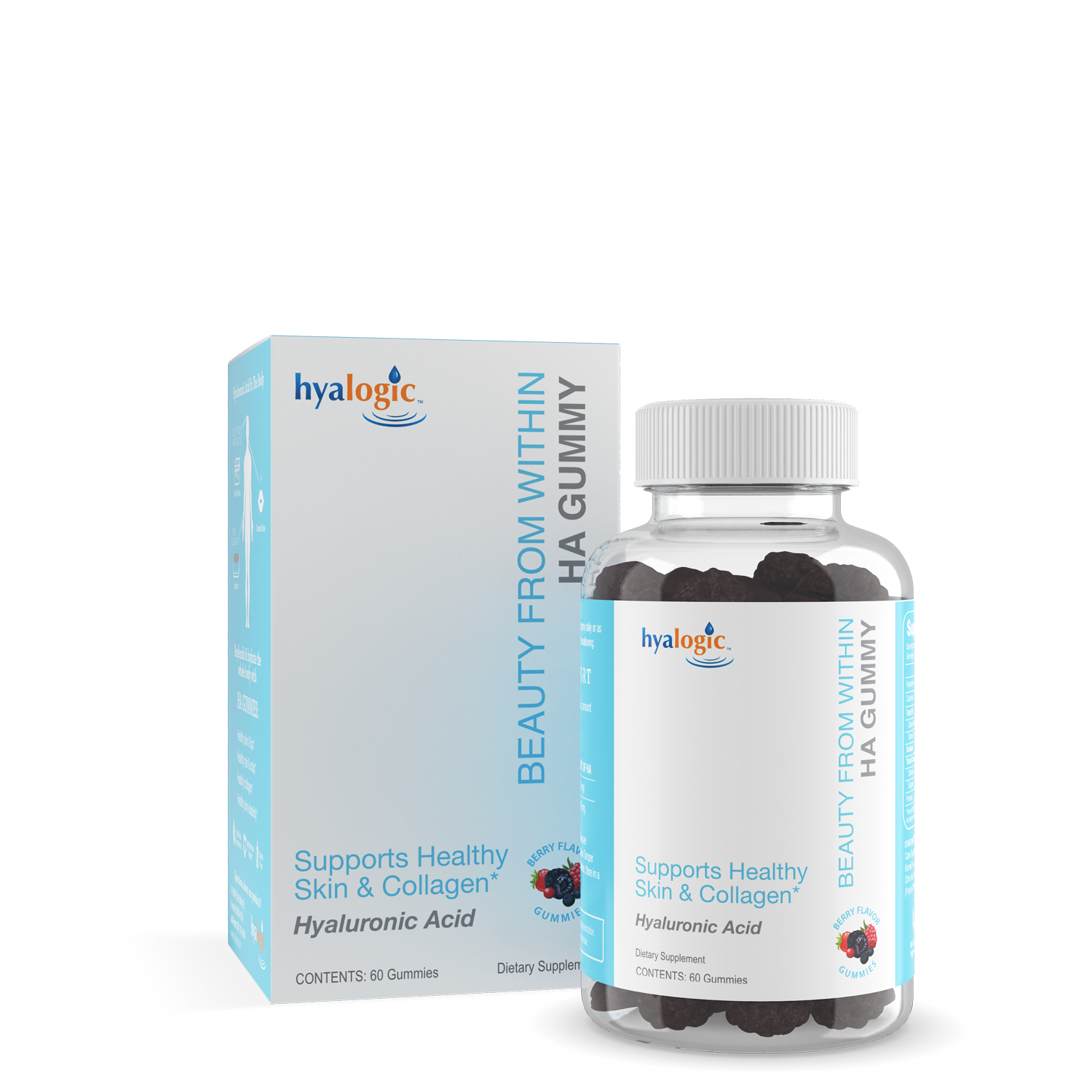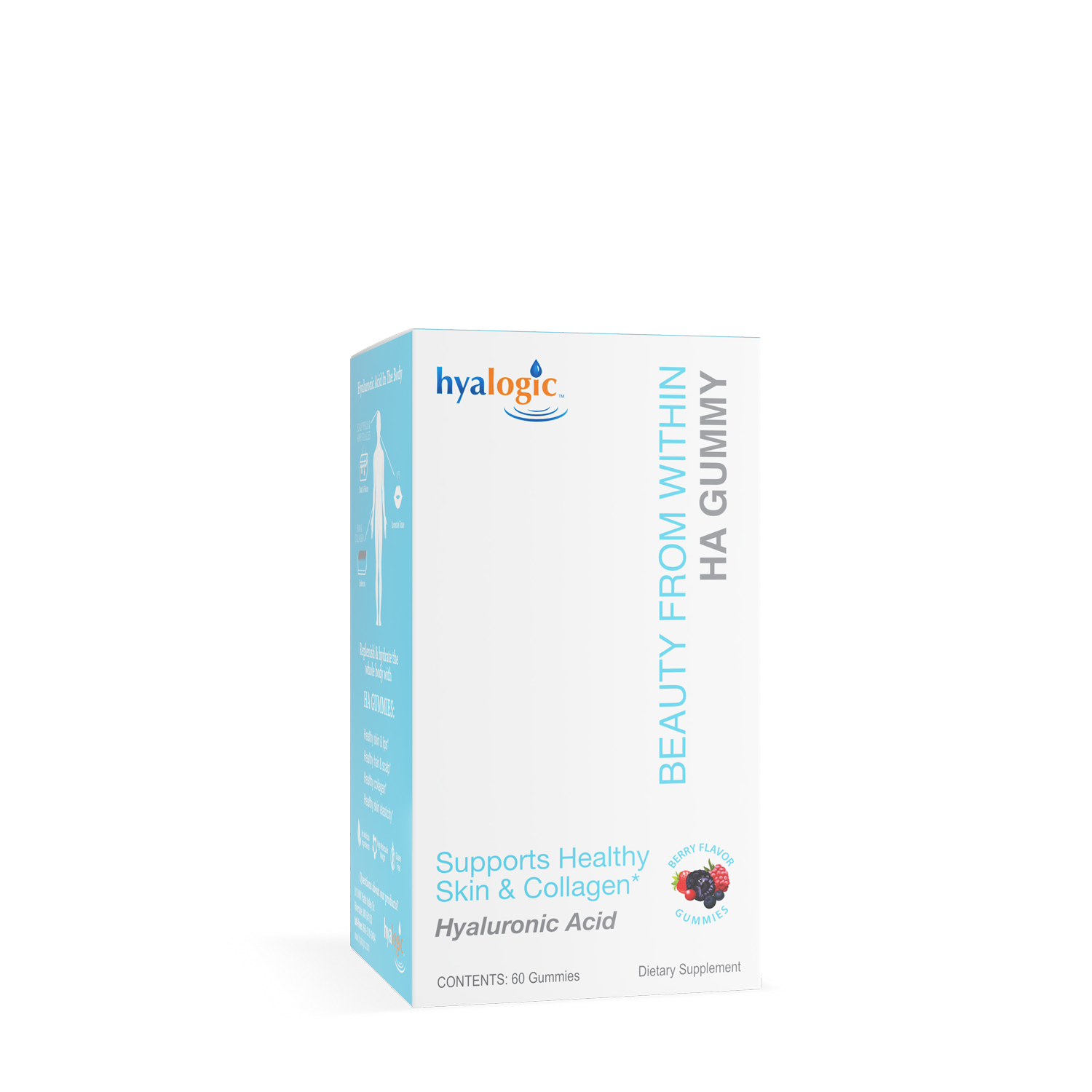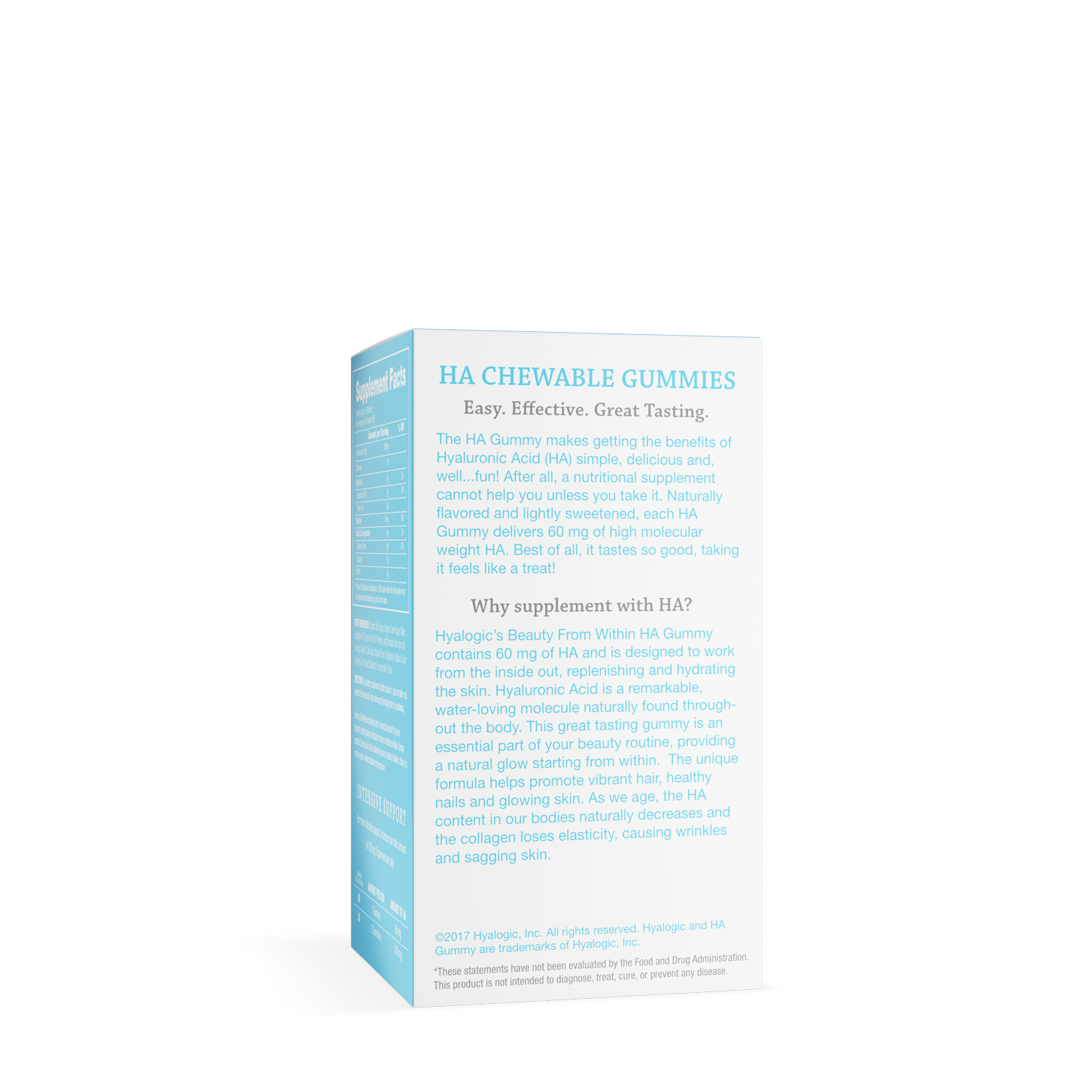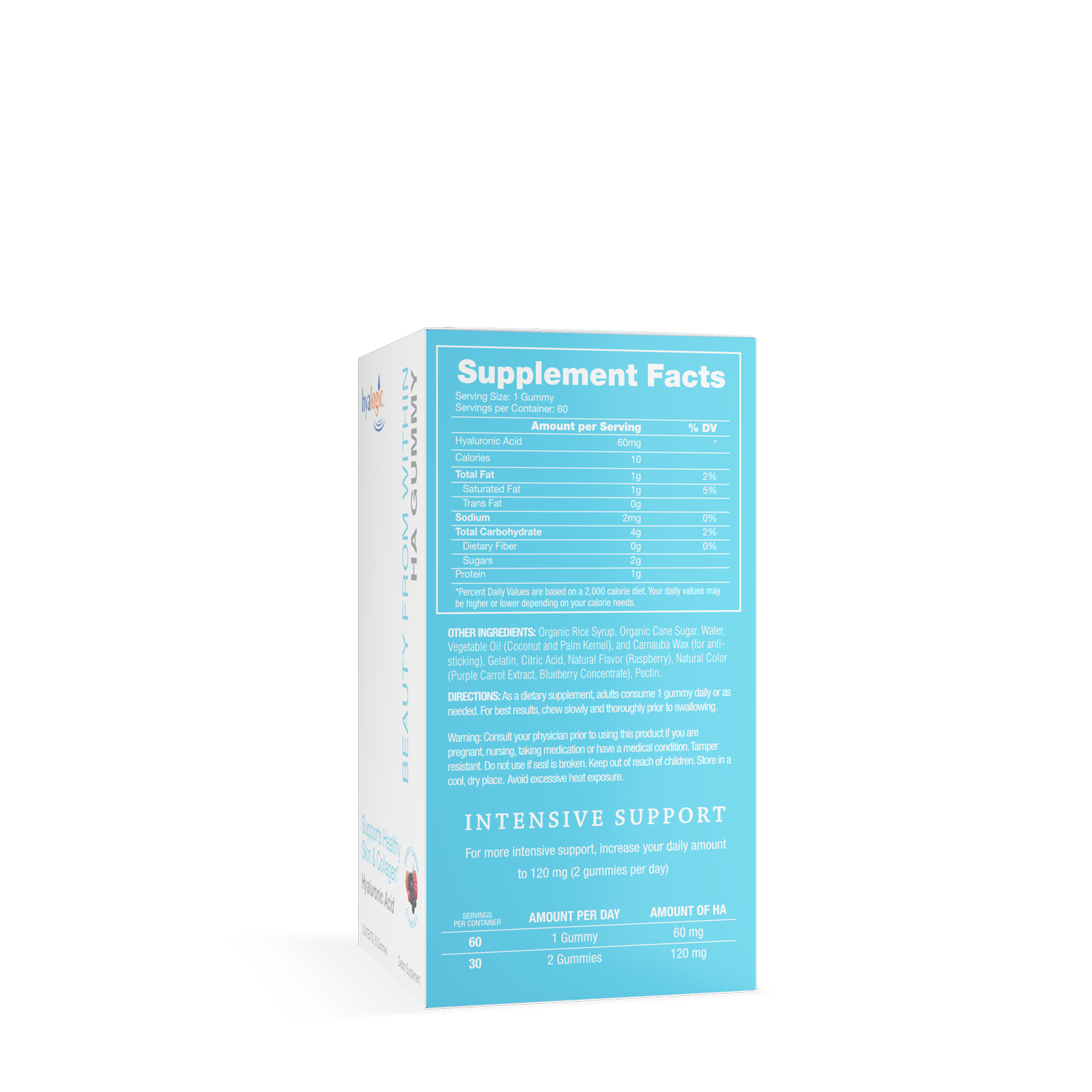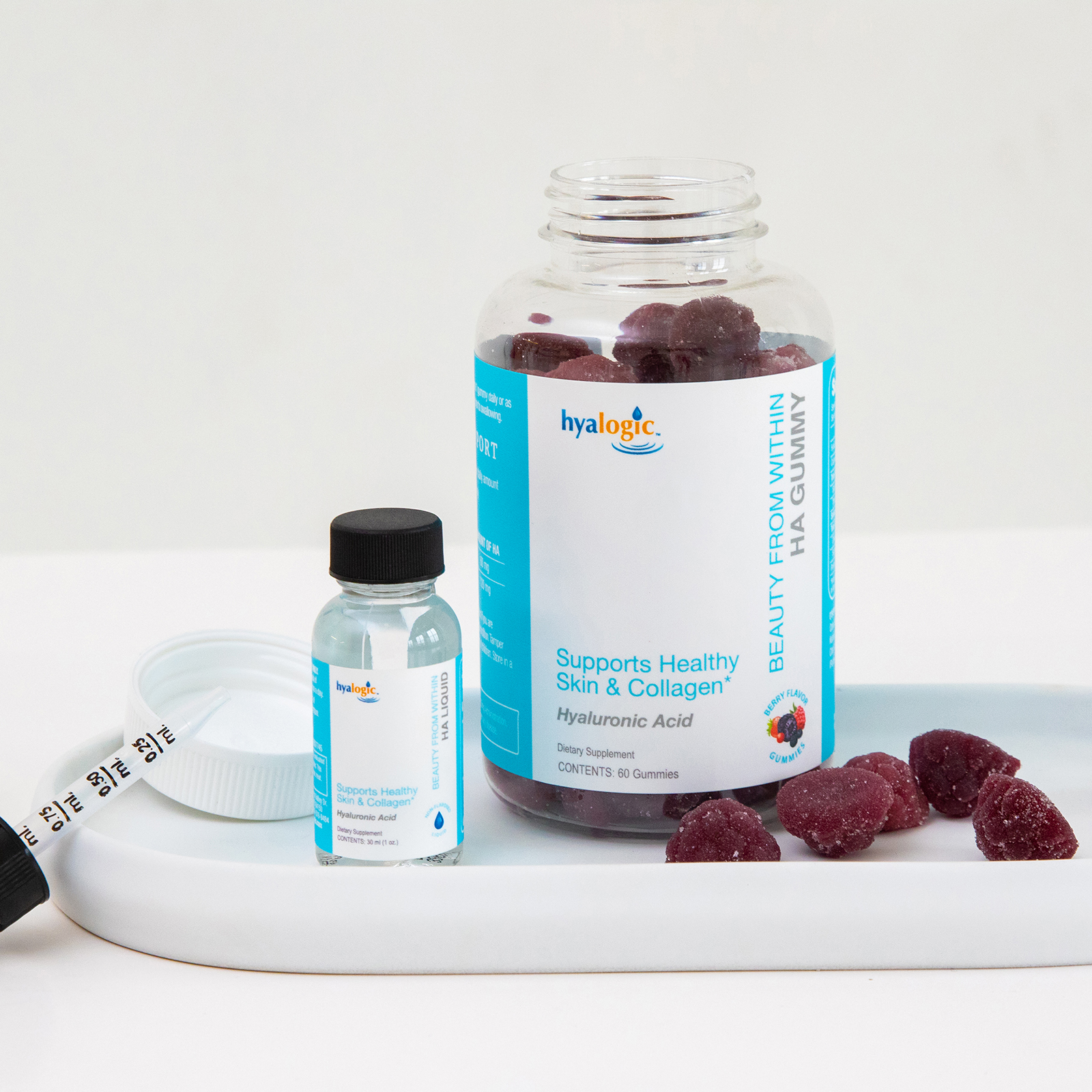 Beauty From Within HA Gummy
Leave a Review
Hyalogic®'s Beauty From Within HA Gummy contains 60 mg of HA and is designed to work from the inside out, replenishing and hydrating the skin. This great tasting gummy is an essential part of your beauty routine, providing a natural glow starting from within. The unique formula helps promote vibrant hair, healthy nails and glowing skin.†
Healthy skin & lips†
Healthy hair & scalp†
Healthy collagen†
Healthy skin elasticity†
For consumers that are looking for a convenient gummy to hydrate from within.
We believe in the shortest ingredient list possible. You don't need the entire periodic table to be effective, and we work tirelessly to include only the necessities.
Organic Rice Syrup, Organic Cane Sugar, Water, Vegetable Oil (Coconut and Palm Kernel and Carnauba Wax (for anti-sticking), Gelatin, Citric Acid, Natural Flavor (Raspberry), Natural Color (Purple Carrot Extract, Blueberry Concentrate), Pectin
Directions: As a dietary supplement, adults consume one gummy daily or as needed. For best results, chew slowly and thoroughly prior to swallowing. For more intensive support, increase your daily amount to 2 gummies per day.
Caution: Consult your physician prior to using this product if you are pregnant, nursing, taking medications, or have any medical conditions. Tamper-resistant. Do not use if seal is broken. Keep out of reach of children. Store in a cool, dry place. Avoid excessive heat exposure.
Delicious Hydration
From Within
Beauty From Within HA Gummy is a great tasting, berry-flavored gummy that helps promote hydration throughout your body.† (60 count)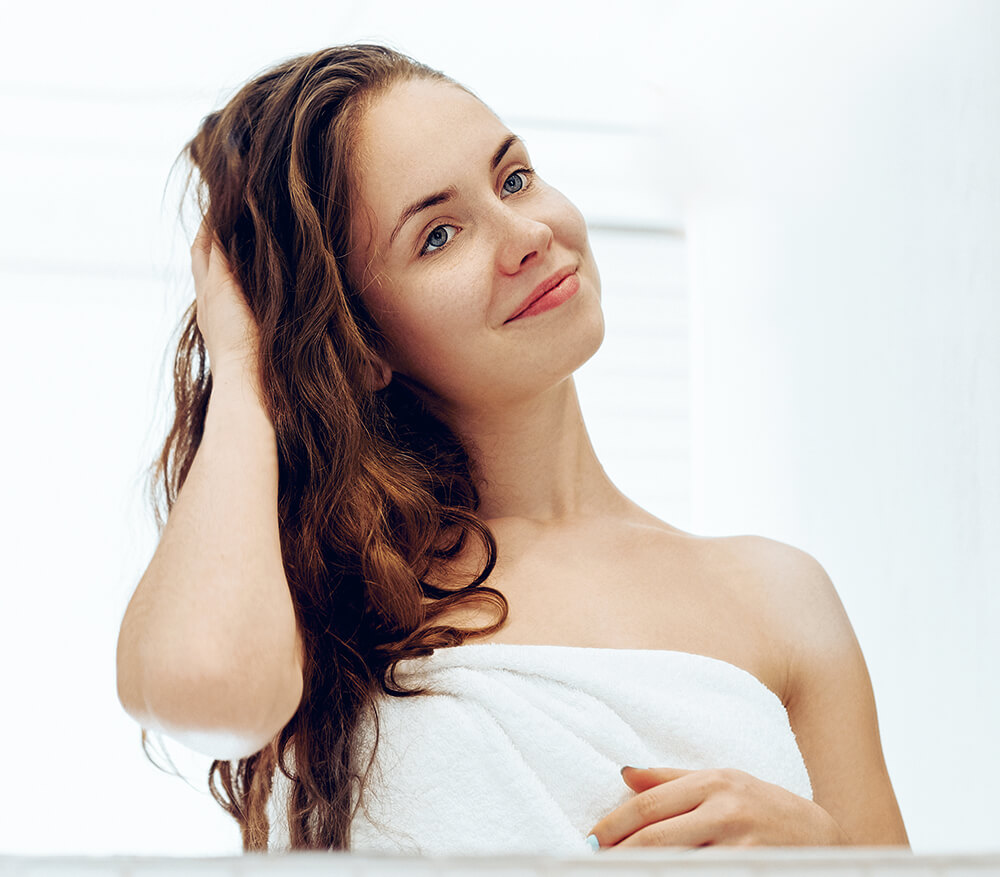 Some of Our
Customer Favorites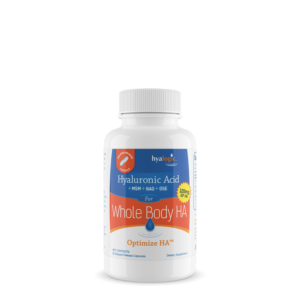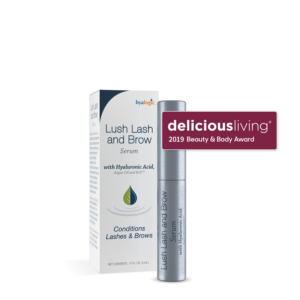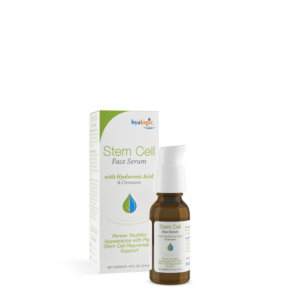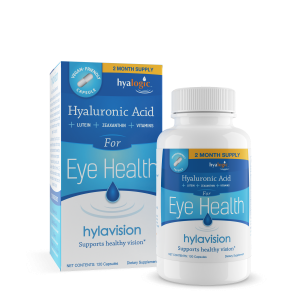 Enhance your beauty from within 💗⠀⠀⠀⠀⠀⠀⠀⠀⠀ ⠀⠀⠀⠀⠀⠀⠀⠀⠀ Our HA Collagen Builder enhances beauty from within by orally delivering key nutrients that support your body's natural collagen generation! Our natural formula is delicious, sugar-free, and berry-flavored.⠀⠀⠀⠀⠀⠀⠀⠀⠀ .⠀⠀⠀⠀⠀⠀⠀⠀⠀ .⠀⠀⠀⠀⠀⠀⠀⠀⠀ .⠀⠀⠀⠀⠀⠀⠀⠀⠀ .⠀⠀⠀⠀⠀⠀⠀⠀⠀ #hyaluronicacid #hyaluronic #collagen #biotin #hairskinandnails #healthynails #healthyskin #healthyhair #hairgoals #skincaregoals #strongnails #beautysupplements #nutritionalsupplements #collagenproduction #dailyroutine #healthylifestyle Are you hydrating?! We're not just talking about water…⠀⠀⠀⠀⠀⠀⠀⠀⠀ ⠀⠀⠀⠀⠀⠀⠀⠀⠀ 👉🏼 The human body is about 70% water, and that supply must be refreshed throughout the day, especially if you're active. We can also help our bodies hold and use water, too. ⠀⠀⠀⠀⠀⠀⠀⠀⠀ ⠀⠀⠀⠀⠀⠀⠀⠀⠀ 👉🏼 Hyaluronic Acid is capable of binding up to 1000x its weight in water. It can migrate throughout the body, bringing life-giving water where it's needed. Because your HA levels decrease with age, supplementing with it can support your joints, skin, hair, eyes and more!⠀⠀⠀⠀⠀⠀⠀⠀⠀ .⠀⠀⠀⠀⠀⠀⠀⠀⠀ .⠀⠀⠀⠀⠀⠀⠀⠀⠀ .⠀⠀⠀⠀⠀⠀⠀⠀⠀ .⠀⠀⠀⠀⠀⠀⠀⠀⠀ #hydrationtips #getactive #activelifestyle #liveinspired #healthyliving #selfcare #selflove #jointhealthmatters #jointhealth #skinhealth #healthyskin #glowingskin #hyaluronicacid #HA #hyaluronic Ever heard of Bentonite Clay?!⠀⠀⠀⠀⠀⠀⠀⠀⠀ ⠀⠀⠀⠀⠀⠀⠀⠀⠀ This unique ingredient can be found in our Facial Cleanser, and it's known for its ability to absorb toxins and impurities. Our lavish cleanser also includes premium Hyaluronic Acid to help moisturize the skin for a smooth and healthy appearance!⠀⠀⠀⠀⠀⠀⠀⠀⠀ .⠀⠀⠀⠀⠀⠀⠀⠀⠀ .⠀⠀⠀⠀⠀⠀⠀⠀⠀ .⠀⠀⠀⠀⠀⠀⠀⠀⠀ .⠀⠀⠀⠀⠀⠀⠀⠀⠀ #hyaluronicacid #HA #hyaluronic_acid #skincare #skincareroutine #cleanser#facialcleanser #hyaluronicacidserum #skincaretips #luxuryskincare #smootherskin #youthfulskin #glowingskin #hydratedskin #skincareobsessed #skincareexperts #naturalskincare #facemasks #beautifulskin The health of your scalp matters… ⠀⠀⠀⠀⠀⠀⠀⠀⠀ ⠀⠀⠀⠀⠀⠀⠀⠀⠀ Why? The surface of your scalp is the first line of protection against environmental damage, toxins, etc. And Hyaluronic acid nourishes and hydrates the millions of cells deep within your scalp!⠀⠀⠀⠀⠀⠀⠀⠀⠀ ⠀⠀⠀⠀⠀⠀⠀⠀⠀ Our hair RELIES on this HA to help retain nutrients, support new scalp structure, and hold up to the effects of environmental damage, while supporting a thicker, fuller hair appearance ✨⠀⠀⠀⠀⠀⠀⠀⠀⠀ .⠀⠀⠀⠀⠀⠀⠀⠀⠀ .⠀⠀⠀⠀⠀⠀⠀⠀⠀ .⠀⠀⠀⠀⠀⠀⠀⠀⠀ .⠀⠀⠀⠀⠀⠀⠀⠀⠀ #hyaluronicacid #hyaluronic #healthyhair #hydratedhair #hairroutine #hairtips #longhair #hairtips #hairandscalp #dailyroutine #HA #beautifulhair #hairgoals You may have heard about our Award-Winning Synthovial SEVEN, but did you know about Synthovial SEVEN Plus?⠀⠀⠀⠀⠀⠀⠀⠀⠀ ⠀⠀⠀⠀⠀⠀⠀⠀⠀ This kit combines our popular Synthovial SEVEN with Resveratrol and Grape Seed Extract to support healthy joints and help lessen the breakdown of Hyaluronic Acid levels in your body 🙌🏽 Supercharge your joint health with just one capsule and one dropper a day!⠀⠀⠀⠀⠀⠀⠀⠀⠀ .⠀⠀⠀⠀⠀⠀⠀⠀⠀ .⠀⠀⠀⠀⠀⠀⠀⠀⠀ .⠀⠀⠀⠀⠀⠀⠀⠀⠀ .⠀⠀⠀⠀⠀⠀⠀⠀⠀ #HyaDifference #hyaluronicacid #HA #hyaluronic #resveratrol #grapeseedextract #healthyjoints #jointhealth #jointhealthmatters #activelifestyle #getactive #getmoving #naturalsupplements #supplementsdaily #dailyroutine #healthandwellness #healthyliving Did you know that Hyaluronic Acid can support your gums?! As we age, the amount of HA in our gums lessens. Brushing daily with our fluoride-free Toothpaste Gel:⠀⠀⠀⠀⠀⠀⠀⠀⠀ ⠀⠀⠀⠀⠀⠀⠀⠀⠀ 👉🏼 Supports healthy teeth & gums ⠀⠀⠀⠀⠀⠀⠀⠀⠀ 👉🏼 Promotes good dental health⠀⠀⠀⠀⠀⠀⠀⠀⠀ 👉🏼 Supports healthy enamel surfaces⠀⠀⠀⠀⠀⠀⠀⠀⠀ .⠀⠀⠀⠀⠀⠀⠀⠀⠀ .⠀⠀⠀⠀⠀⠀⠀⠀⠀ .⠀⠀⠀⠀⠀⠀⠀⠀⠀ .⠀⠀⠀⠀⠀⠀⠀⠀⠀ #Hyaluronicacid #HyaDifference #HA #hyaluronic #healthygums #healthyteeth #dentalhealth #dentalroutine #gumhealth #toothpastegel #fluoridefree #toothpaste #dailyroutine #morningroutine #healthylifestyle Obsessed with that SMOOTH feeling after exfoliating your skin? You're gonna want to try our HA Facial Scrub 💛⠀⠀⠀⠀⠀⠀⠀⠀⠀ ⠀⠀⠀⠀⠀⠀⠀⠀⠀ Not only does it help exfoliate your skin, but it also helps hydrate it with Hyaluronic Acid. The best part? It's mild enough to use daily so you can enjoy that smooth feeling every day. ⠀⠀⠀⠀⠀⠀⠀⠀⠀ .⠀⠀⠀⠀⠀⠀⠀⠀⠀ .⠀⠀⠀⠀⠀⠀⠀⠀⠀ .⠀⠀⠀⠀⠀⠀⠀⠀⠀ .⠀⠀⠀⠀⠀⠀⠀⠀⠀ #hyaluronicacid #hyaluronic #HA #glowingskin #youthfulskin #healthyskin #glow #igskincare #skincaretips #agelessbeauty #skincareroutine #luxuryskincare #loveyourskin #beautifulskin #skincareexperts If you live an active lifestyle, chances are, your joints could use some support 🙌🏽⠀⠀⠀⠀⠀⠀⠀⠀⠀ ⠀⠀⠀⠀⠀⠀⠀⠀⠀ As we get older, our body's natural ability to produce Hyaluronic Acid diminishes. You can help support your body's HA levels by supplementing with Synthovial SEVEN. Bonus - It also supports healthy eyes AND skin!⠀⠀⠀⠀⠀⠀⠀⠀⠀ .⠀⠀⠀⠀⠀⠀⠀⠀⠀ .⠀⠀⠀⠀⠀⠀⠀⠀⠀ .⠀⠀⠀⠀⠀⠀⠀⠀⠀ .⠀⠀⠀⠀⠀⠀⠀⠀⠀ #hyaluronicacid #hyaluronic #HA #healthyjoints #jointhealthmatters #naturalsupplements #nutritionalsupplements #jointhealth #skinhealth #healthyskin #hydration #scienceofhydration #healthyliving #dailyroutine
I am so thrilled I discovered Hyalogic at my local health food store! I have been using their face serums religiously since. (I personally love the Plant Stem Cell serum as well as the Instant Facelift hyaluronic acid). As much as I believe in a strong topical skincare game, I also know that a true glow comes from within. I eat very healthy but my hair/nails were still brittle due to stress and the skin under my eyes was thin. So I bought the Hair & Skin hyaluronic acid gummies hoping they would help. And... OMG!! They work so well!!! I take 2 per day for the past 3 months and I see visible results. Skin looks radiant, under eyes look less hollow. Hair is definitely thicker!!! And shinier/more manageable. Also my nails are thick and don't break easily anymore. Best part- these gummies taste soooo good!!! I look forward to taking them every day. Thank you Hyalogic for making products that actually work!! I absolutely love this product. It is so easy to take daily (actually a treat). Since taking this product (2 months) I have notice my joints feel better and my skin is beginning to feels more fuller/thicker. Thank you for this delicious supplement❤️
Stay Hydrated
Latest Tips
Healthy, youthful looking hair relies on ample hydration, both in the hair itself and in the scalp where the hair... Ageless beauty has long been the Holy Grail of the cosmetics industry. Just a quick glance online reveals the abundance... In 1934, biochemist Karl Meyer and his colleague John Palmer, for the first time, described an unusual long-chain sugar molecule...